Architecture+Designe || SANTUARIO LA VIRGEN MILAGROSA ⛪ EN LIMA-PERÚ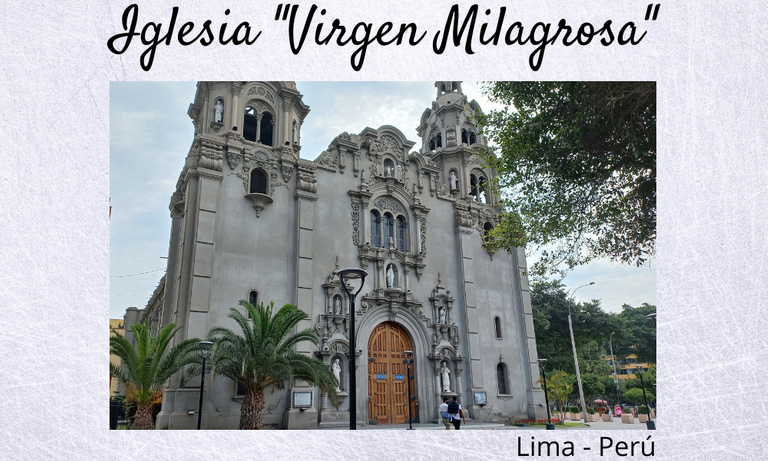 Bendecido día apreciados lectores, bienvenidos una vez más a mi blog. En esta ocasión les comparto algunas fotografías de la Iglesia de la Virgen Milagrosa ubicada en el distrito Miraflores de la ciudad de Lima.
Blessed day dear readers, welcome once again to my blog. On this occasion I share with you some photographs of the Church of the Miraculous Virgin located in the Miraflores district of the city of Lima.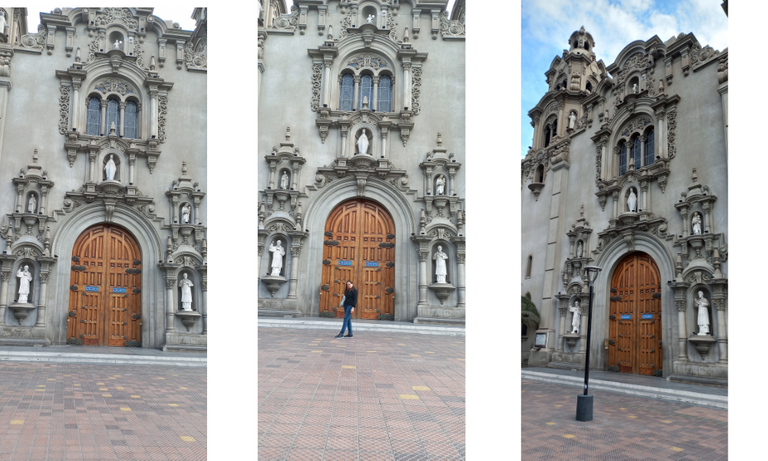 Desde hace un tiempo mis visitas al distrito Miraflores se han vuelto más frecuente ya que es un sitio muy interesante y rico en cultura; con muchos lugares hermosos para visitar y tomar lindas fotografías. En unos de estos paseos conocí la Iglesia de La Virgen Milagrosa.
Una estructura muy llamativa situada a la entrada del Parque Central del distrito, mejor conocido como el Parque Kennedy.
Este parque es muy famoso y popular por sus hermosos jardines y por ser el lugar favorito de los artistas para mostrar y promocionar sus pinturas. Es un lugar ideal para pasear con la familia, en especial los domingos por la tarde despues de salir de misa.
For some time now my visits to the Miraflores district have become more frequent since it is a very interesting and culturally rich place; with many beautiful places to visit and take nice pictures.

On one of these walks I visited the Church of La Virgen Milagrosa.
A very striking structure located at the entrance of the district's Central Park, better known as Kennedy Park.
This park is very famous and popular for its beautiful gardens and for being the favorite place for artists to show and promote their paintings. It is an ideal place to walk with the family, especially on Sunday afternoons after leaving mass.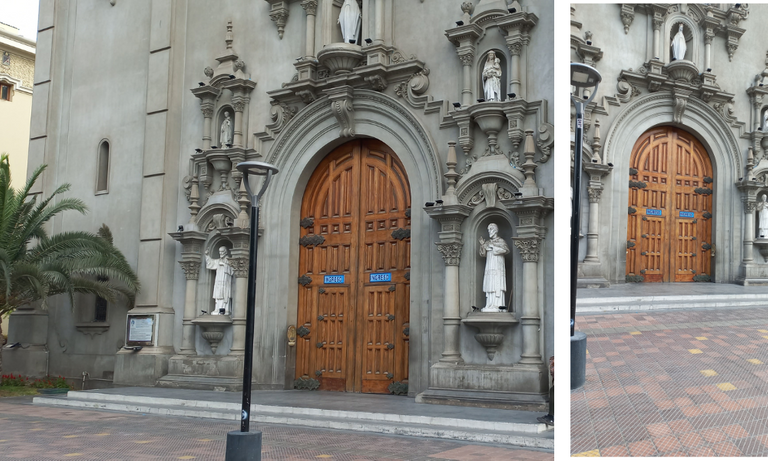 Como primera impresión, me llamó mucho la atención que en un lugar que se caracteriza por construcciones muy modernas y con un ambiente tan cosmopolita, existiera una iglesia con este diseño. Siento mucha inclinación por las edificaciones antiguas, pero en especial por las iglesias, por lo que al llegar a casa decidí buscar en la web información referente a esta obra arquitectónica. En esta publicación les comparto la poca información que encontré al respecto.
As a first impression, I was very surprised that in a place that is characterized by very modern buildings and with such a cosmopolitan atmosphere, there was a church with this design. I have a great inclination for old buildings, but especially for churches so when I got home I decided to search the web for information about this architectural work. In this publication I share with you the little information I found about it.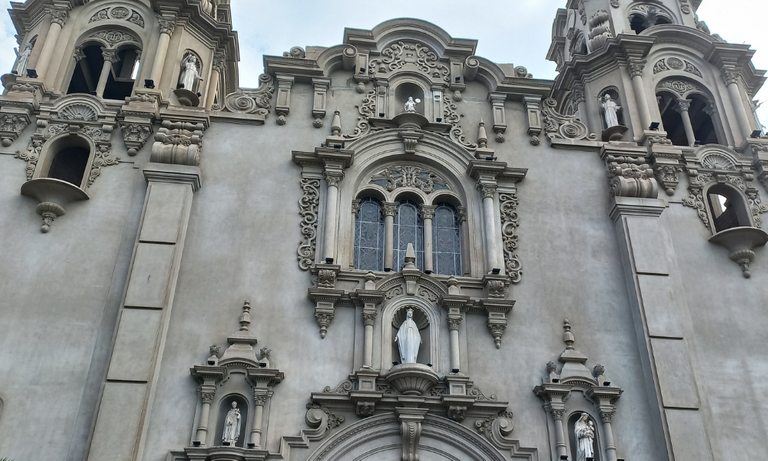 Para mi sorpresa, la estructura no es tan antigua. Fue finalizada en el año 1930, es obra del arquitecto polaco Ricardo Malachowski quien llegó al Perú en la segunda decada del siglo XX. Esta iglesia cuenta con una fachada al estilo Neocolonial. Está consagrada a la veneración de la Virgen Milagrosa razón a la que se debe su nombre actual. Sin embargo, anteriormente era conocida con el nombre de San Miguel de Miraflores.
To my surprise, the structure is not so old. It was finished in 1930, it is the work of the Polish architect Ricardo Malachowski who arrived in Peru in the second decade of the twentieth century. This church has a Neocolonial style façade. It is dedicated to the veneration of the Miraculous Virgin, which is the reason for its present name. However, it was previously known by the name of San Miguel de Miraflores.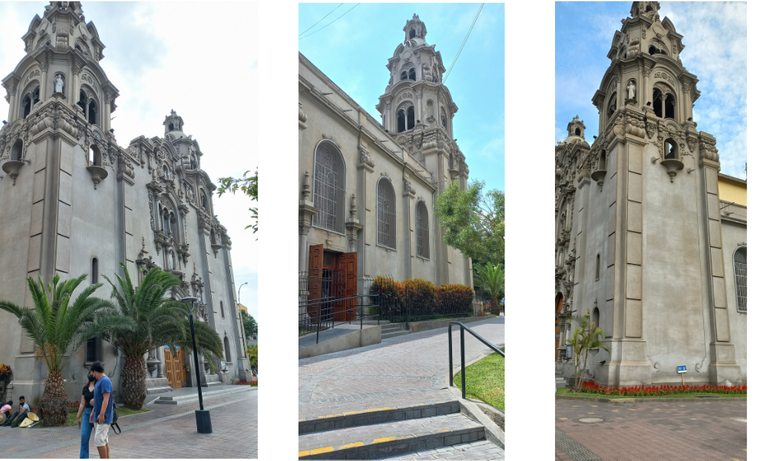 Esta iglesia es majestuosa tanto por dentro como por fuera. Tiene dos naves laterales y una nave central con un ábside, que es la parte posterior del altar mayor que sobresale al exterior.
En la parte interior, los muros laterales están adornados con hermosos vitrales que reflejan varios episodios de la vida de Jesús. En la parte más alta y sobre el altar mayor se encuentra la imagen de la Virgen Milagrosa.
This church is majestic both inside and out. It has two side naves and a central nave with an apse, which is the rear part of the main altar that protrudes to the outside.

Inside, the side walls are adorned with beautiful stained glass windows that reflect various episodes from the life of Jesus. In the highest part and on the main altar is the image of the Miraculous Virgin.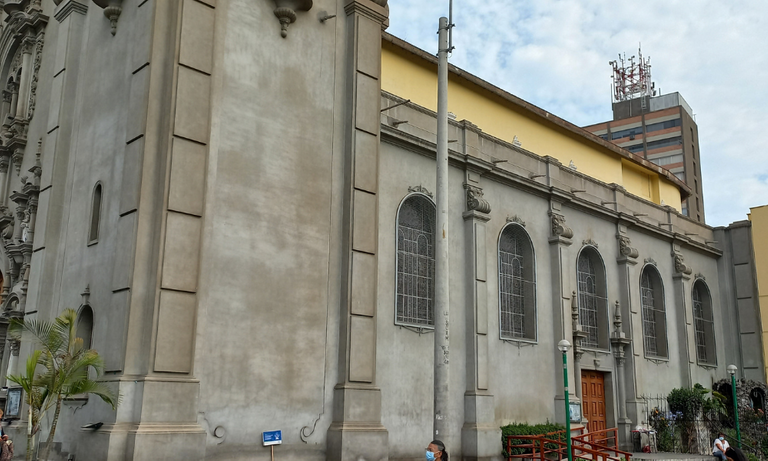 Esta iglesia está muy bien conservada; está a cargo de los hermanos Vicentinos y ofrece misas de de Lunes a Domingos en diferentes horarios y es el lugar preferido por los habitantes de Miraflores para celebrar Bautizos y Matrimonios debido a su belleza externa e interna.
Al lado de la Iglesia se encuentra la Municipalidad de Miraflores en un edificio también muy imponente y llamativo por su diseño arquitectónico del cual les hablé en una de mis publicaciones anteriores. Municipalidad de Miraflores
This church is very well preserved; It is in charge of the Vincentian brothers and offers masses from Monday to Sunday at different times and is the preferred place for the inhabitants of Miraflores to celebrate Baptisms and Marriages due to its external and internal beauty.

Next to the church is the Municipality of Miraflores in a building also very imposing and striking for its architectural design which I told you about in one of my previous posts. Municipality of Miraflores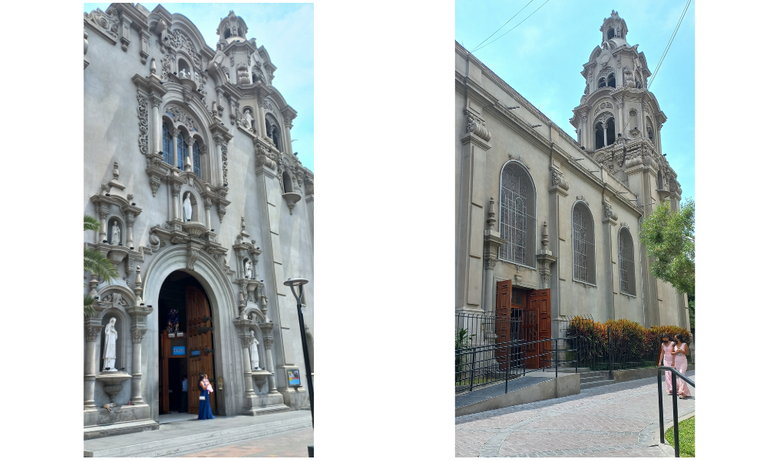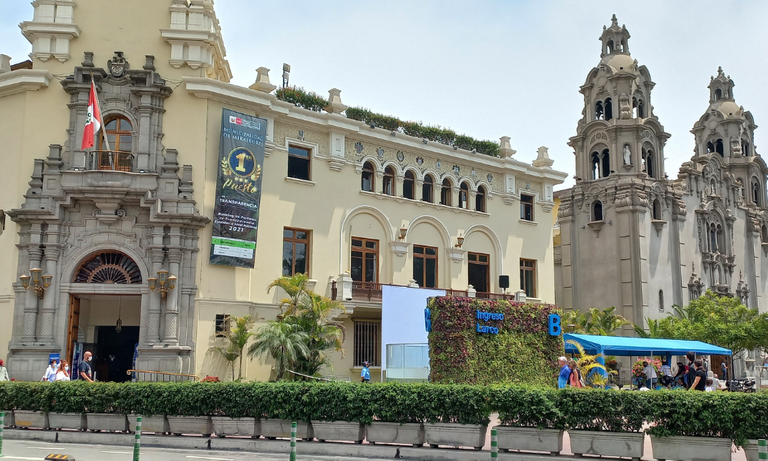 Hasta aquí mi publicación del día de hoy, espero seguir conociendo muchos edificios con estruturas interesantes y hermosas como esta para compartir con todos ustedes. Gracias por leer, saludos y bendiciones.
So far my publication of today, I hope to continue knowing many buildings with interesting and beautiful structures like this to share with you. Thank you for reading, greetings and blessings.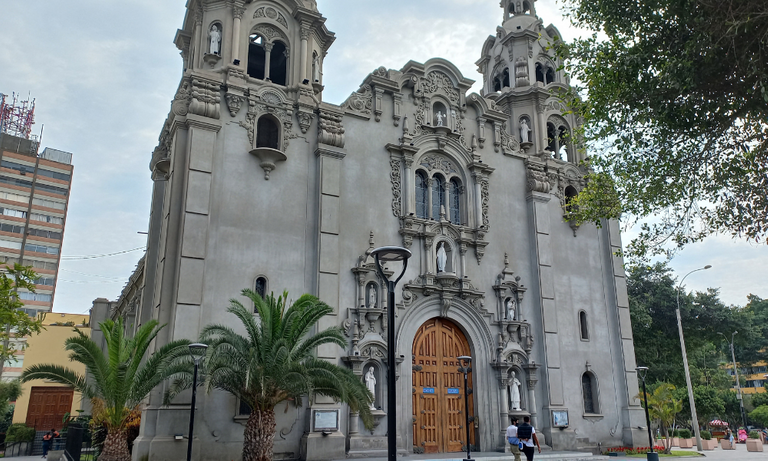 ---
Source / Fuentes
Turismo en Iglesia Matriz de Miraflores Parroquia Virgen Milagrosa
Localization / Ubicación
Santuario Arquidiocesano La Virgen Milagrosa
Ca. Lima 345, Miraflores 15074
---


Todas las fotos fueron tomadas con mi celular Samsung A32.
El banner de portada y los separadores de textos son diseñados por mi en Canva.com
Uso traductor Deepl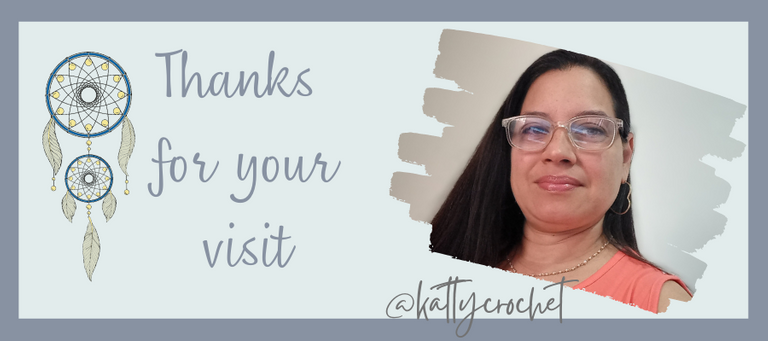 ---
---