MWM|| My Granny collection is growing.|| Granny #5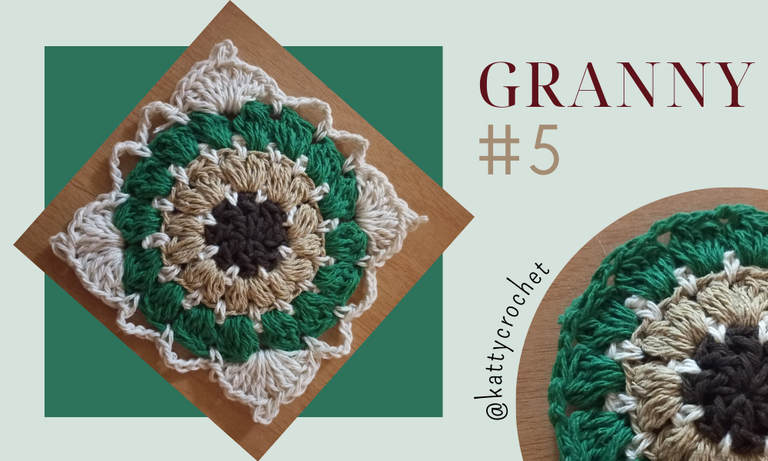 Bendecido día apreciados amigos de Hive y en especial de NeedleWorkMonday. Espero se encuentren muy bien, es deseo un bonito fin de semana.
En la publicación de hoy les comparto el Granny número 5 de mi colección de granny squares. Esta colección está creciendo poco a poco y me emociona seguir aprendiendo nuevos diseños y probando nuevos patrones.
Blessed day dear friends of Hive and especially of NeedleWorkMonday. I hope you are well, I wish you a nice weekend.

In today's post I share with you Granny number 5 from my collection of granny squares. This collection is growing little by little and I am excited to continue learning new designs and trying new patterns.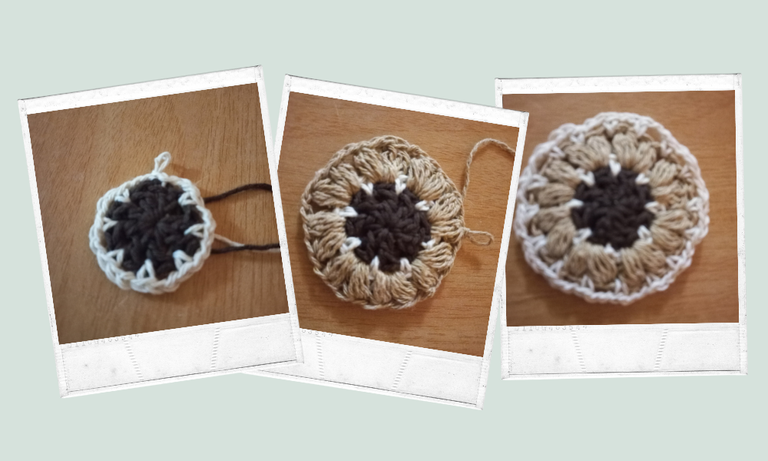 El granny de hoy es un poco diferente a los anteriores porque tiene más vueltas y diferentes puntadas en cada vuelta. Cuando vi este granny realmente me enamoré del diseño y aunque no encontré un gráfico con el patrón, me arriesgué a tejerlo solo con la imagen de referencia.
Debo confesar que me resultó un poco complicado descifrar la cantidad de puntadas que debía tejer en cada vuelta e incluso debí destejer en dos oportunidades, pero finalmente pude comprender el patrón y hacerlo lo más parecido posible.
Today's granny is a little different from the previous ones because it has more rows and different stitches in each row. When I saw this granny I really fell in love with the design and although I didn't find a graphic with the pattern, I took the risk of knitting it just with the reference image.

I must confess that it was a little difficult for me to decipher the number of stitches I had to knit in each round and I even had to unknit twice, but I was finally able to understand the pattern and make it as similar as possible.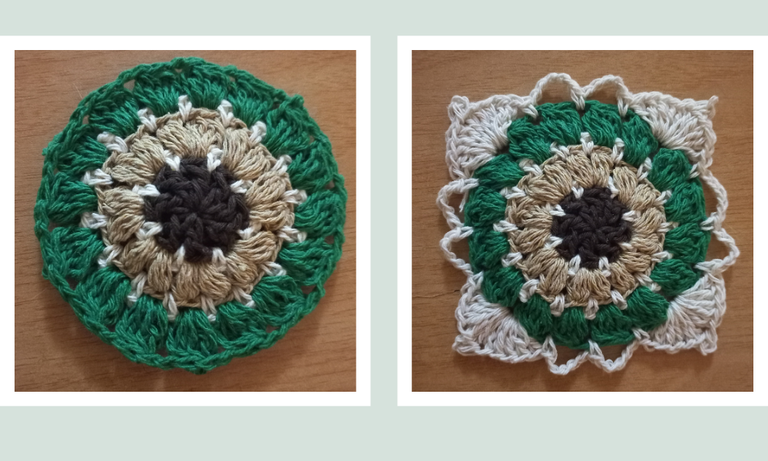 Yo realmente prefiero tejer con gráficos, creo que es porque aprendí a tejer con revistas de ganchillo y estoy muy familiarizada con el lenguaje de los gráficos. Sin embargo, cuando un proyecto me gusta mucho y no tiene gráficos entonces me guío con la foto de referencia o busco videotutoriales. Aún no me he atrevido a realizar mi primer patrón graficado pero me encantaría aprender a hacerlo. He visto que actualmente existen aplicaciones con las que se pueden realizar gráficos para crochet de una manera más fácil y práctica. Esto es algo que está en mi lista de cosas por aprender.
I really prefer to knit with charts, I think it's because I learned to knit from crochet magazines and I'm very familiar with the language of charts. However, when I really like a project and it doesn't have graphics, then I rely on the reference photo or look for video tutorials. I have not yet dared to make my first graphic pattern but I would love to learn how to do it. I have seen that there are currently applications with which you can make crochet graphics in an easier and more practical way. This is something that is on my list of things to learn.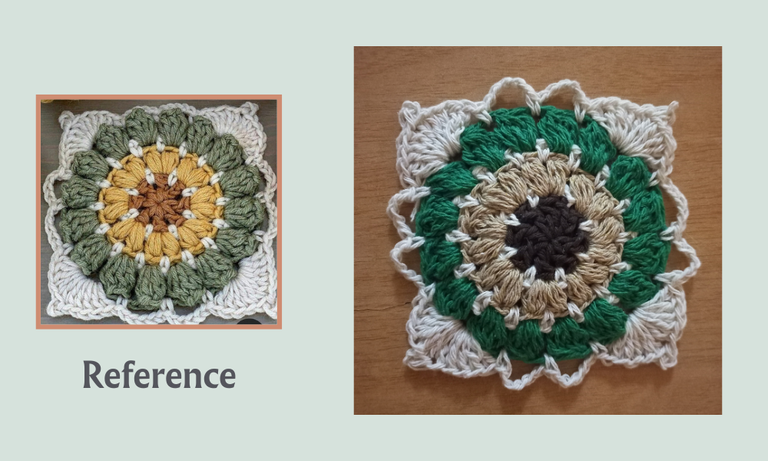 Este diseño de granny me parece ideal para realizar un bonito y elegante mantel, coméntame si se te ocurre otra idea donde podamos utilizar este lindo patrón. Para este patrón trate de usar los colores parecidos a los de la imagen de referencia, pero creo que lo tejeré nuevamente probando otras combinaciones de colores a ver como luce.
This granny design seems ideal to make a beautiful and elegant tablecloth, tell me if you can think of another idea where we can use this cute pattern. For this pattern I tried to use colors similar to those in the reference image, but I think I will knit it again trying other color combinations to see how it looks.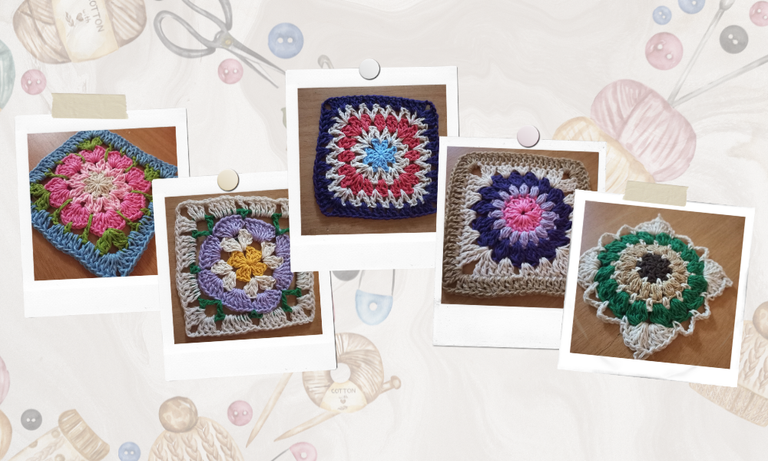 Mi colección lleva, por ahora, tan solo 5 modelos diferentes de grannys, pero creo que esta será una colección mucho más grande de lo que imagino porque todos los días encuentro nuevos diseños que me encantan. Me despido por ahora, agradeciendo el apoyo que siempre le dan a mi contenido y deseándoles un maravilloso fin de semana.
Saludos y bendiciones. 🤗💖
My collection has, for now, only 5 different granny models, but I think this will be a much larger collection than I imagine because every day I find new designs that I love. I say goodbye for now, thanking you for the support you always give to my content and wishing you a wonderful weekend.

Greetings and blessings. 🤗💖


Todas las fotos fueron tomadas con mi celular Samsung A32.
El banner de portada y los separadores de textos son diseñados por mi en Canva.com
Uso traductor Deepl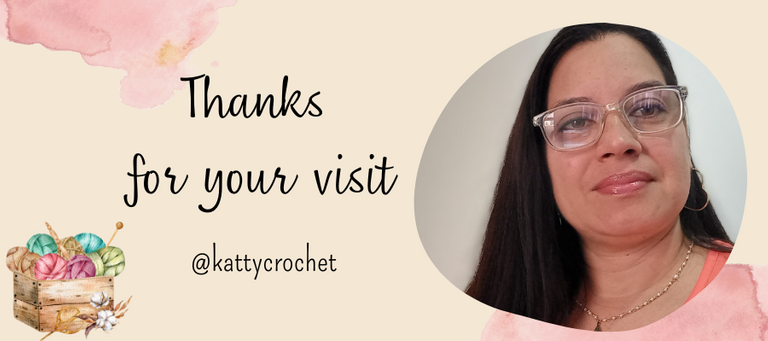 ---
---