MY NEEDLEWORKMONDAY : Protective cover for my power bank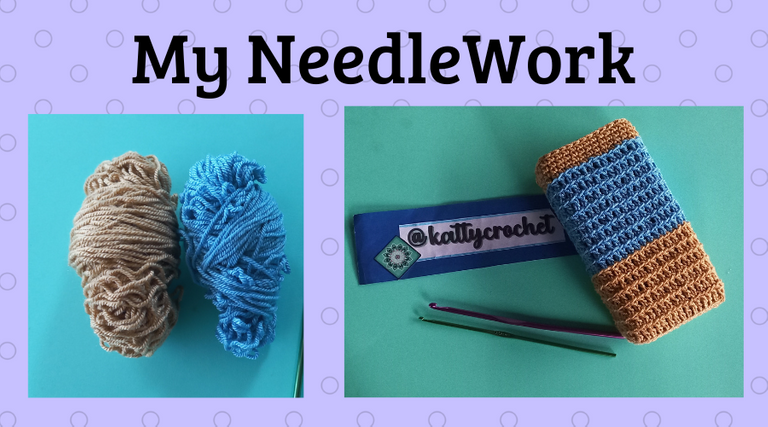 Bendecido y maravilloso inicio de semana mis queridos Needleworkers. Bienvenidos una vez más a mi espacio creativo. Me complace volver a participar en nuestro acostumbrado Lunes de agujas.
Como les comenté en mis publicaciones anteriores, en estos días he estado tejiendo mucho. He vuelto a tomar ritmo habitual con el crochet y cada vez son más los proyectos que surgen en mi cabeza.
Por lo pronto estoy tejiendo cosas prácticas que tengan una utilidad inmediata. Sin embargo, quiero también tejer algunos adornos para la sala y la cocina de mi casa.
Blessed and wonderful start to the week my dear Needleworkers. Welcome once again to my creative space. I am pleased to once again participate in our customary Needle Monday.

As I told you in my previous posts, these days I have been knitting a lot. I have returned to my usual rhythm with crochet and more and more projects are coming up in my head.

For now I am knitting practical things that will have an immediate use. However, I also want to weave some decorations for my living room and kitchen.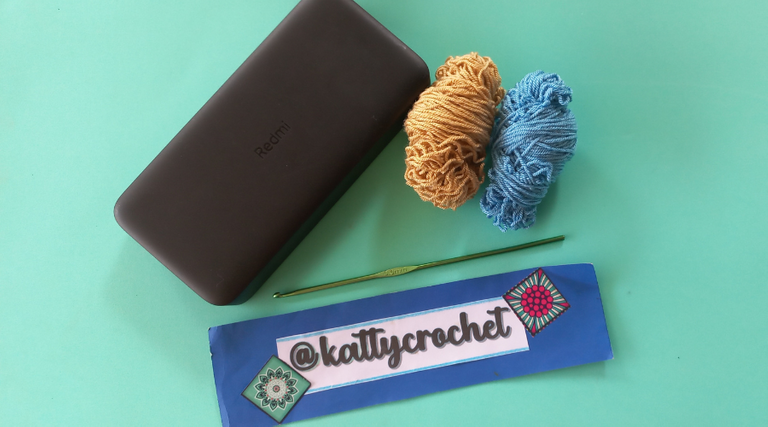 El proyecto que les presento el día de hoy, surgió de la necesidad de proteger mi power bank del polvo y la suciedad. Cuando decidí volver a mi país, una de las cosas que más me preocupaba era la problemática del servicio de internet y de electricidad, por eso se me ocurrió adquirir este equipo llamado "Power bank" que me sirve para cargar mis dispositivos electrónicos en caso de que nos quedemos sin electricidad por varias horas.
Al ser un dispositivo portátil lo hace más vulnerable a que se ensucie y se ponga feo y opaco. Por lo que se me ocurrió tejerle una funda protectora.
The project that I present to you today arose from the need to protect my power bank from dust and dirt. When I decided to return to my country, one of the things that worried me the most was the problem of the internet service and electricity, that's why it occurred to me to buy this piece of equipment called "Power bank" that helps me to charge my electronic devices in case of that we are without electricity for several hours.

Being a portable device makes it more vulnerable to getting dirty, ugly and dull. So it occurred to me to weave a protective cover for it.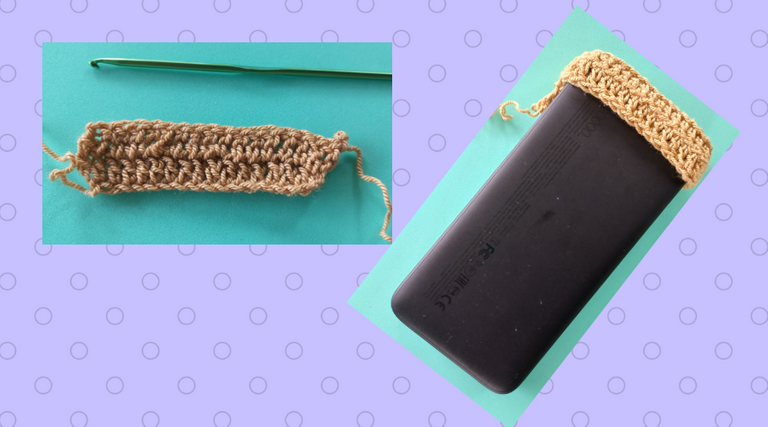 Para realizar esta funda utilicé sobrantes de un hilo acrílico que usé para un proyecto anterior que pronto compartiré con ustedes. No necesité emplear patrón alguno, ya que quería tejerlo a la medida exacta del power bank. Para ello tomé la medida y comencé a hacer la cadena de inicio. Opté por tejer en puntos altos con relieve y crear dos grandes franjas en colores beige y celeste.
To make this cover I used leftover acrylic yarn that I used for a previous project that I will share with you soon. I did not need to use any pattern, since I wanted to weave it to the exact size of the power bank. For this I took the measurement and began to make the starting chain. I opted to knit in high stitches with relief and create two large stripes in beige and light blue.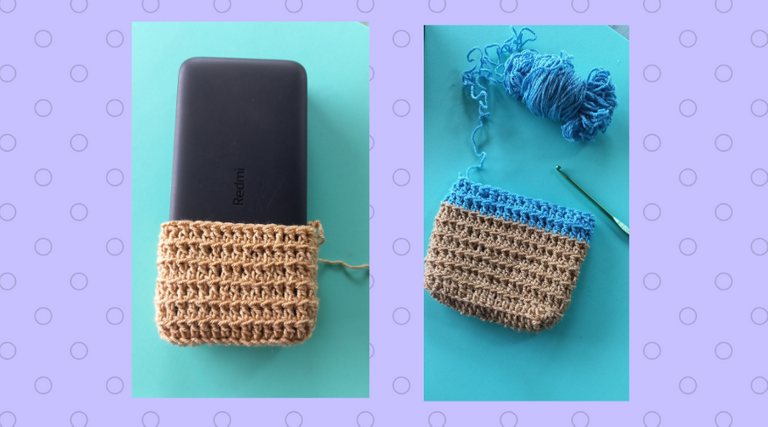 A pesar de que el hilo es un poco grueso, decidí usar un crochet de 3 mm para que el tejido quedará un poco más firme y tupido. A medida que iba tejiendo, iba midiendo la funda al power bank para comprobar que quedara justo a la medida. Tejí la mitad en color beige y luego agregué el color celeste, para finalmente cerrar con tres vueltas de puntos bajos en el color beige.
Even though the yarn is a bit thick, I decided to use a 3 mm crochet hook so that the fabric will be a bit firmer and more dense. As I was weaving, I was measuring the cover to the power bank to check that it was just the right size. I knitted half in beige and then added the light blue color, to finally close with three rows of single crochets in beige.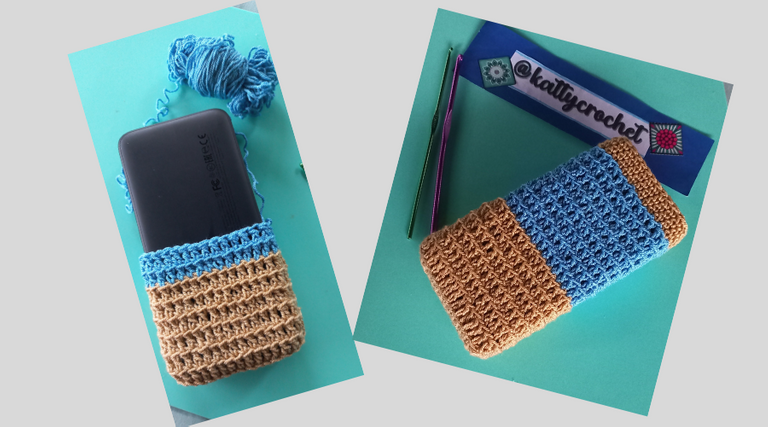 Realmente me gustó mucho el resultado final ya que quedó justo a la meedida y mi power bank quedó más protegido.
Fue un verdadero gusto compartir con ustedes uno más de mis proyectos a crochet. Pronto volveré para presentarles nuevas ideas y nuevos proyectos tejidos.
Gracias por leer, saludos y bendiciones.
I really liked the final result, since it was just the right size and my power bank was more protected.

It was a real pleasure to share with you one more of my crochet projects. Soon I will be back to introduce you to new ideas and new knitted projects.
Thanks for reading, greetings and blessings.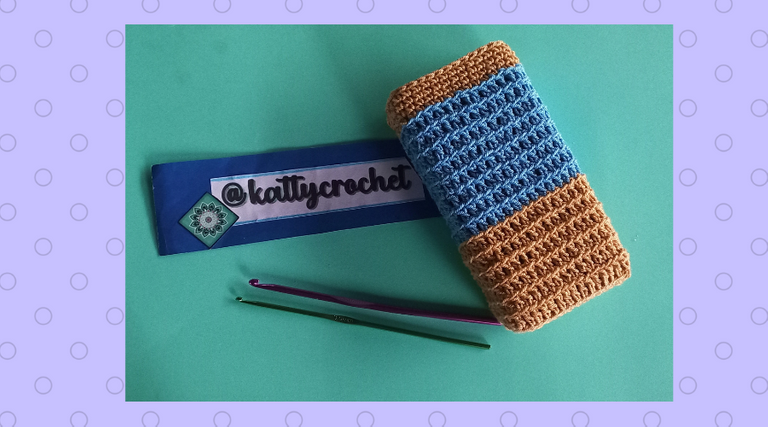 Todas las fotos fueron tomadas con mi celular Samsung A32.
Banners, separadores de textos y firma digital son diseñados por mi en Canva.com
Uso traductor Deepl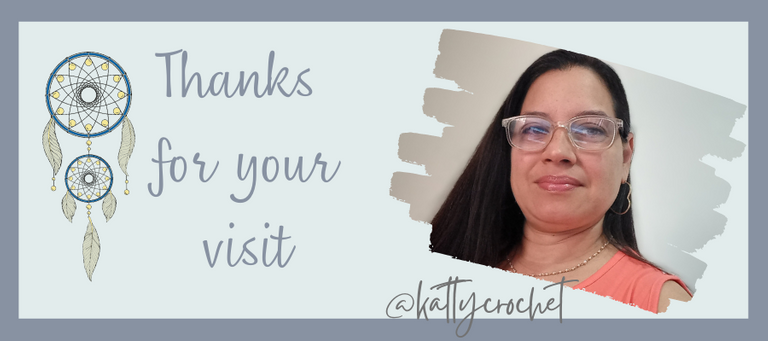 ---
---