Stock Images || CHRISTMAS Text Dividers FREE to use 🎄🎇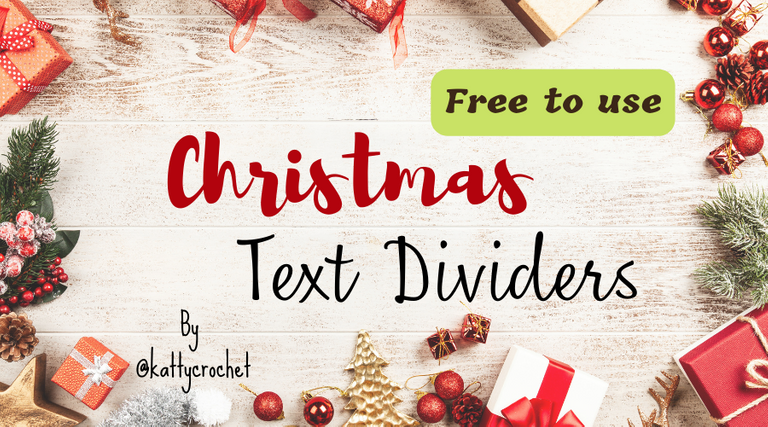 Bendecido día apreciados amigos de Hive, deseo para ustedes un excelente fin de semana. Ya estamos finalizando el mes de Noviembre y eso significa que la navidad está cada vez más cerca.
En muchos paises comienzan los preparativos para las fiestas decembrinas y en nuestra plataforma ya se empiezan a ver publicaciones con temas navideños, es por ello que hoy les traigo un nuevo set de separadores de texto. En esta opotunidad con temática de navidad.
Blessed day dear friends of Hive, I wish you an excellent weekend. We are already ending the month of November and that means that Christmas is getting closer and closer.

In many countries are starting the preparations for the Christmas holidays and in our platform we are already starting to see publications with Christmas themes, that's why today I bring you a new set of text separators. In this opotunidad with Christmas theme.
Todos estos separadores son de uso libre para los usuarios de Hive. Sólo recuerden dar los créditos al final de su publicación y usar la etiqueta
freeimageshare
si deciden usarlos.
Gracias por visitar mi blog.
Saludos y bendiciones.
All of these tabs are free to use for Hive users. Just remember to give the credits at the end of your post and use the freeimageshare tag if you decide to use them. Thank you for visiting my blog.

Greetings and blessings.

#christmas #navidad #dividers #snowman

https://files.peakd.com/file/peakd-hive/kattycrochet/48TpRfgNv1f41F66cu6dvcHHW5RZhqbSS4tnL4JUaxH6VWFqLtrnrc8QVYY1xD2yaH.png



https://files.peakd.com/file/peakd-hive/kattycrochet/48TpM3XS7tSUYXYjcGKWjF1mcRYS6iF8TadMZceStrUyBvL4yYQi9jSPvfsJqaEG4F.png



https://files.peakd.com/file/peakd-hive/kattycrochet/48TpKRsvUBiERX53cqNykrooFHANExn2nEy1w4LgS48cMttQFrWk8c8go5tCA16ENc.png


https://files.peakd.com/file/peakd-hive/kattycrochet/48a5gHLEamwWpeqnwPd4AjkNsDJrMxEKSGJtzAPcG9d3u7haLVo2hHQs9yxZeLSh4k.png



https://files.peakd.com/file/peakd-hive/kattycrochet/48VkG3akHWnBjpzXd3MGvmXkDbxsdoF7UYEWAbRPf1aJmDVVzz9k6bCsg21EVrnWUo.png



https://files.peakd.com/file/peakd-hive/kattycrochet/48VkBF6pmGZAppp2LMqwKSrtE5Bb4pwHLX99SFxVaHxa4G1tJWAzoForDHTFdFm5yw.png



https://files.peakd.com/file/peakd-hive/kattycrochet/48UnLKosT7wzv3c2X9EGMU2QRmJfPtFKpvcqaikXE4f23ow9nm8KMEXsTcLMnoFyya.png



https://files.peakd.com/file/peakd-hive/kattycrochet/48aZrsvuPsdtDLmubCpwgr21KUMvwgzyEP2iPth1uRUnftPTPMP5zTLrT9KwoL6efq.png



https://files.peakd.com/file/peakd-hive/kattycrochet/48SNUP6SDaiY3YhYSt7iVkVn9RWDFKdap5rwuDJDSNdhVcPXMWmzCF839WoipYZKAP.png



https://files.peakd.com/file/peakd-hive/kattycrochet/48XfsugunXP3vjnXP3u84sGctQ6XWiicx8oaYSmdaVk9gmDcrDQrzrjGqv45SpsNVC.png



https://files.peakd.com/file/peakd-hive/kattycrochet/48RQeZ8qRpX4mnbdCH2m8VAKWWjVzDB83VyZNvM3a18vZNSZ3McfgEJMENZPwVvqvn.png



https://files.peakd.com/file/peakd-hive/kattycrochet/48SNaGxDEgANsnivrn9edgHPetudye3UGAGYQMYgDG1h59fZFFqm3o7vZHbqQiEcoN.png



https://files.peakd.com/file/peakd-hive/kattycrochet/48Wi6MLfTTWKU5tvr5eyWqEGBszK8QftHvV9Qo4Z1WfNkBv3Ab5Ki5vjb8LxrfGXVA.png



https://files.peakd.com/file/peakd-hive/kattycrochet/48TLUWY3MYDDmSxfZda5Xo9up7uRntCkC33jNikBpW7XRuskwCyFUH6tcL8Lqqz1vx.gif



https://files.peakd.com/file/peakd-hive/kattycrochet/48QSjT67HujjWPp1WD2rs7nTu7mZSdXEyFyb4mJiNwR7QY47yKavgNoar9JiRJVJfw.gif




El banner de portada y los separadores de textos
son diseñados por mi en Canva.com
Uso traductor Deepl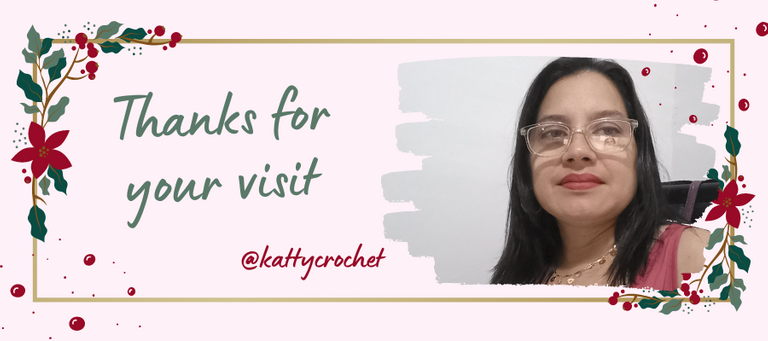 ---
---