Hive Daily Price Forecast (11/01/20) - Quiet Day... Setting Up For a Big move?
On Sunday, Hive was quiet, trading around $0.113-0.115, while in sideways traffic. Hive seems to be in a consolidation model before it continues to grow.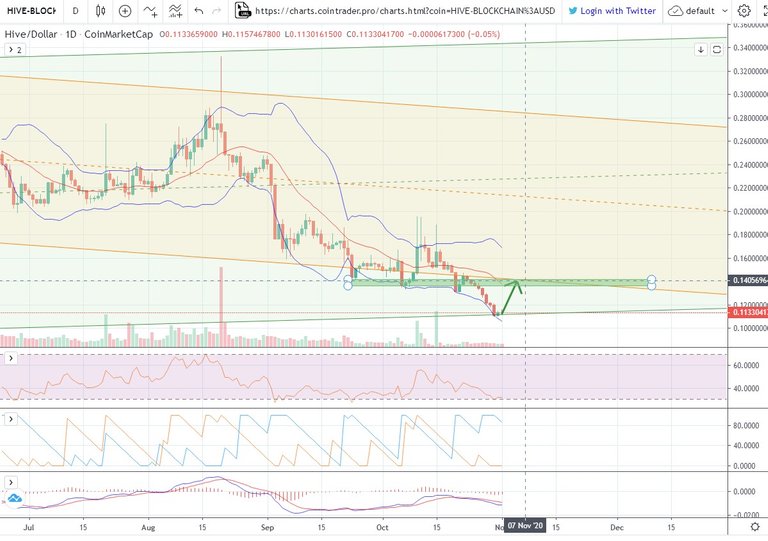 Outlook:Hive today has done little by moving down a narrow range to close the day with almost no change. The Hive graph looks like a step ladder that takes 2 steps up, then 1 step down, rinsing and repeating. It is a healthy downward trend that works well and supported by all macroeconomic factors that are possible at the moment. We can see some growth in the next few days, but it should be a temporary movement, if at all. It is important to note that a jump to $0.14 is possible, that buyers will intervene, as Hive will be much more undervalued compared to BTC and in general.
Support:Look for support for about $0.111. As mentioned earlier, I am looking for a bounce from support to try again at $0.140.
Resistance:$0.14 is my short-term resistance until Hive breaks it down. As soon as Hive crosses the 0.14$, we will look for confirmation of support, and then look above to 0.22$ and 0.27$. Given the volatility in the markets and the bearish sentiment, Hive may consider further weakness as a collateral damage.
About Us:
If you enjoy these posts, please support the channel by "Tipping" this post below. They cost you nothing and give me a small reward, which makes me a little happier to share these personal analyses with you at no cost.
Posted Using LeoFinance Beta
---
---