Cryptobrewmaster Rewards of the Week 10 / Recompensas de la Semana en Cryptobrewmaster 10 [EN/ES]
Hello friends this week to overcome the 3000 cbm, I can make an "unlock" for a price of 499 cbm, water treatment long ago that I had bought this will serve to save every time I produce water, I know that the next thing was to make beer but magically I'm selling everything I produce however the price is very low but it is still sale.
Hola amigos esta semana al superar los 3000 cbm, puedo hacer un "unlock" por un precio de 499 cbm, water treatment hace tiempo que lo habia comprado esto servira para ahorrar cada vez que produzca agua, se que lo proximo era hacer cerveza pero magicamente estoy vendiendo todo lo que produzco sin embargo el precio es muy bajo pero igual es venta.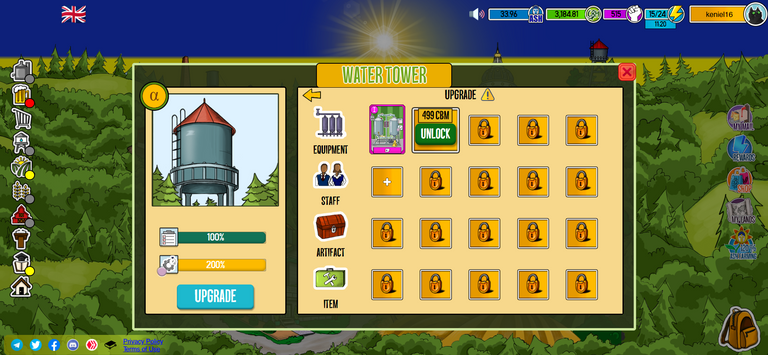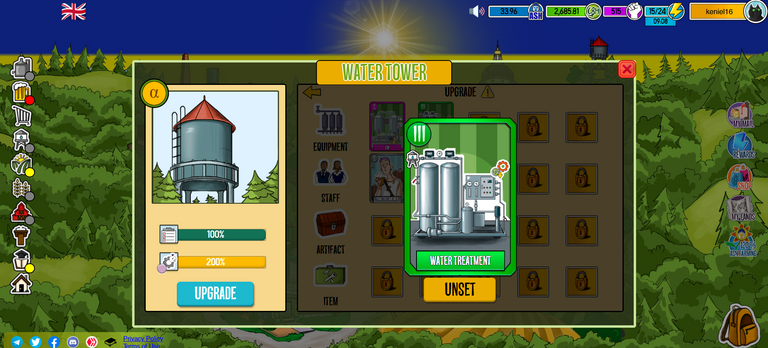 Again I had great luck and got a gift, for producing many ingredients something simple but great, the Nfts Sales Manager that decreases the -12% of the time to create beers, the more NFTs I have the more time and cbm I save and at the same time I produce better ingredients, I would like to advance faster but everything in time.
Nuevamente tuve gran suerte y obtuve un regalo, por producir muchos ingredientes algo simple pero genial, el Nfts Sales Manager que disminuye el -12% del tiempo de crear cervezas, entre mas NFTs tengo mas tiempo y cbm ahorro y a la vez produzco mejores ingredientes, quisiera avanzar mas rapido pero todo a su tiempo.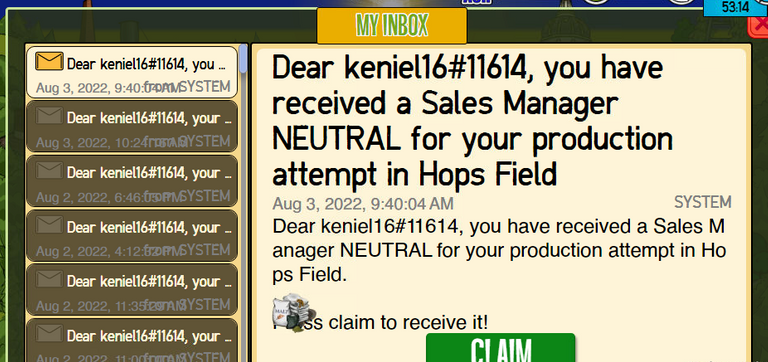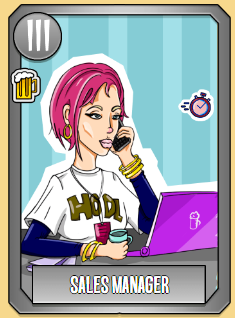 Now with the wonderful rewards of the week, however I have had to say several things this time I am renting the buildings for 28 days, so my cbm decreased, however I have a small discount when renting, besides that I am having the need to buy water in the market it is an excellent time for everyone to produce water again.
Ahora con las maravillosas recompensas de la semana, sin embargo he tenido que decir varias cosas en esta ocasion estoy rentando los edificios por 28 dias, por eso mis cbm disminuyeron, sin embargo tengo un pequeño descuento al rentar, ademas de eso estoy teniendo la necesidad de comprar agua en el mercado es un excelente momento para que todos produzcan agua nuevamente.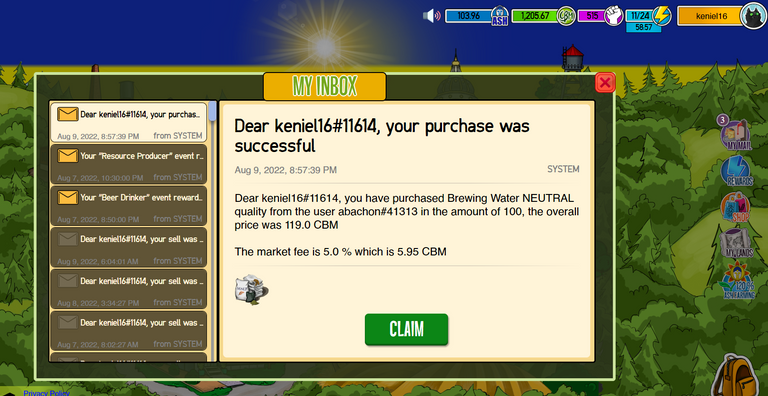 In the resource producer event I was in place 5 giving me some interesting ingredients that I can not produce and also 60 ash although the ash is a currency that is not worth more because it has no more functions attached for example I reached 515 influence and it is no longer necessary for me to continue buying ash, so hopefully this currency will have more functionality in the future.
En el evento de resource producer quede en lugar 5 dandome unos interesantes ingredientes que no puedo producir y tambien 60 ash aunque los ash es una moneda que no vale mas debido a que no tiene mas funciones anexadas por ejemplo yo llegue a 515 de influencia y ya no es necesario para mi seguir comprando ash, asi que esperemos que esta moneda tenga mayor funcionalidad en un futuro.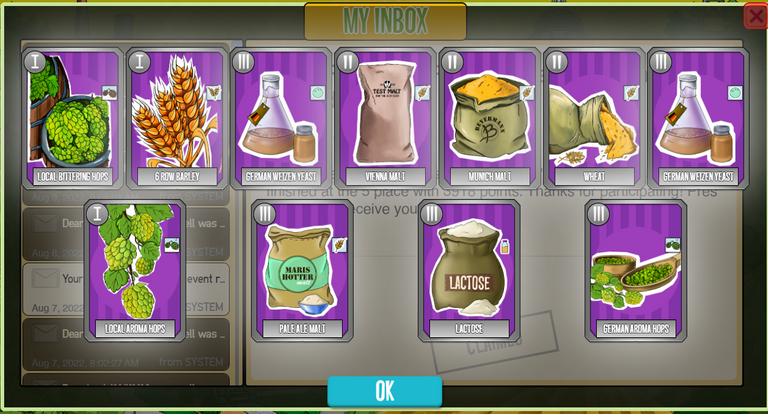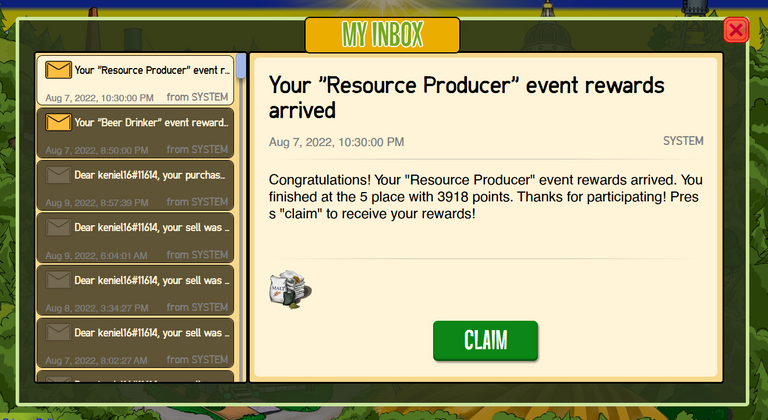 The beer drinker competition was a difficult battle, I am in 6th place, I think it would be easier if I was producing beer but it is a luxury that I still could not give me, I will collect many ingredients before starting to create beers and I will update as much as I can the buildings to rent, the cost in cbm to do everything is very high, so I won't start calculating, at some point I will have all the upgrades, looking at the ingredients there are several interesting ones, that are going to my inventory to accumulate in a big pile of ingredients for not selling, and finally I got 50 ash more to my pocket, it would be interesting to know if this currency is limited as the starpro.
La competencia de beer drinker si fue una batalla dificil, estoy en el 6 lugar, creo que seria mas facil si estuviera produciendo cerveza pero es un lujo que aun no me podido dar recolectare muchos ingredientes antes de empezar a crear cervezas y actualizare todo lo que pueda los edificios para rentar, el gasto en cbm para realizar todo es muy alto, asi que no me pondre a sacar cálculos, en algun momento tendre todas las actualizaciones, observando los ingredientes hay varios interesantes, que van a mi inventario a acumularse en una gran pila de ingredientes por no vender, y por ultimo obtuve 50 ash mas a mi bolsillo seria interesante saber si esta moneda es limitada como el starpro.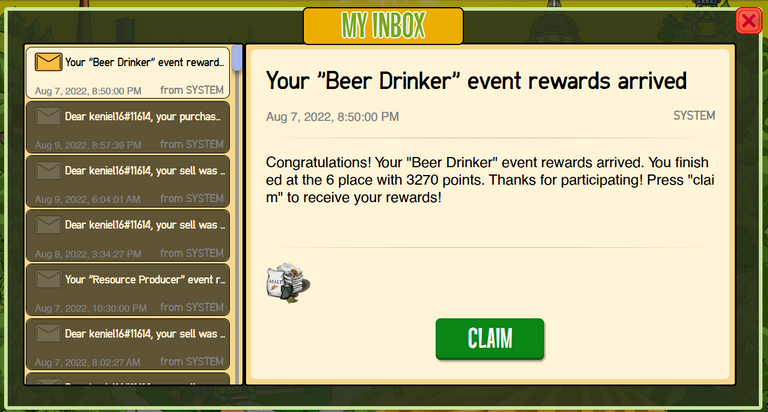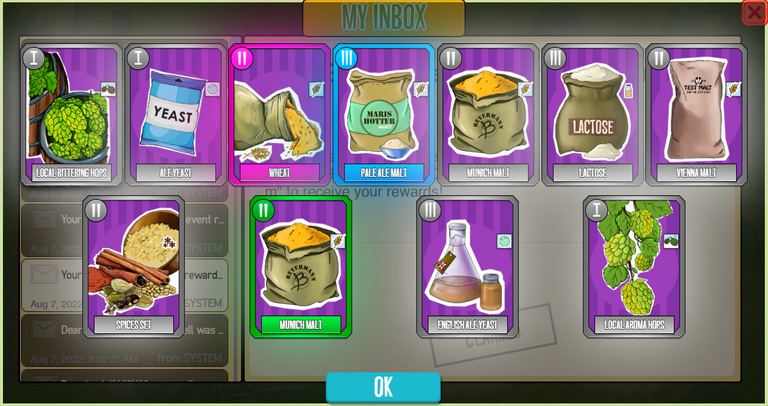 https://www.cryptex24.io/registration?ref=70a2a7d0!

https://www.cryptobrewmaster.io/game/invite?ref=3155a923331f48e29178d6c5245ace05&code=AlphaBonus
---
---