Share My Battle - Molten Ash Golem [EN - ES]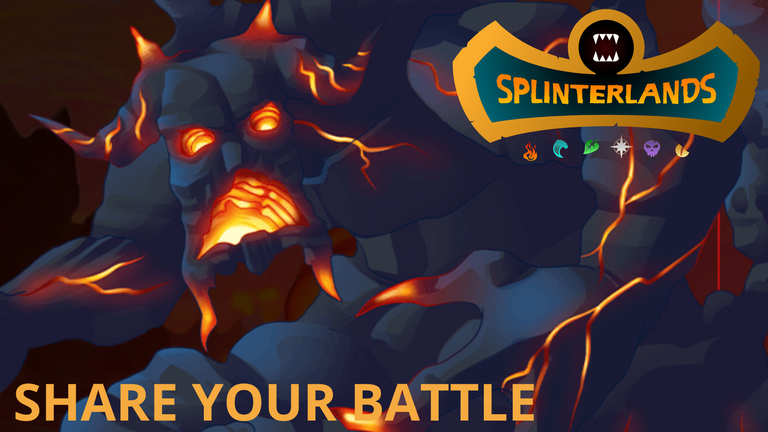 Hello friends, I am returning to splinterlands and although I am losing 80% of my games with my starter pack, it motivates me to improve the cards, and buy some as I grow in the game I think the game has had many updates which I like and have made me return and want to play, but I will leave this for another post for now let's talk about molten ash golem.
Hola amigos, estoy volviendo a splinterlands y aunque estoy perdiendo el 80% de mis partidas con mi pack de inicio, me motiva a mejorar las tarjetas, y comprar algunas mientras voy creciendo en el juego tengo creo que el juego a tenido muchas actualizaciones de las cuales me gustan y me han hecho retornar y querer jugar, pero esto lo dejare para otra publicación por ahora hablemos sobre molten ash golem.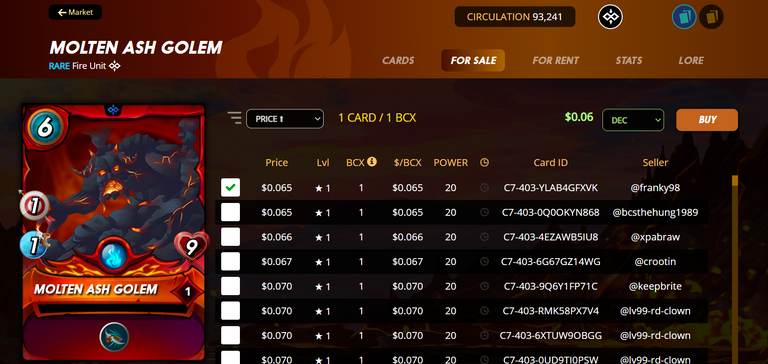 I love that the cards have a story so when I click on the lore option and read the text I can't help but share with you a little piece of it.
"The Molten Ash Golems are birthed from a creature known as the Forgotten One. Created by the High Magus of the Crypteia and serving as his personal servant, the Forgotten One is a fiery beast of might and malice".
Me encanta que las tarjetas tengan una historia por eso cuando entre en la opcion lore y leo el texto no puedo evitar compartir con ustedes un pequeño pedazo del mismo.

"Los Golems de Ceniza Fundida nacen de una criatura conocida como el Olvidado. Creado por el Alto Mago de la Crypteia y sirviendo como su sirviente personal, el Olvidado es una bestia ardiente de poder y malicia."
Now to the battle
Lineup.
In my opinion The Molten Ash Golems is a tank type card, look at that it has 9 life in its first level that leads us to place it in first place, but as it can also attack at long range is better option to place it at the end in my case allowed me to have 2 tanks in this round, with good defense in the first and last card, with the ability of close range allows all the range can continue fighting being in first position I like that ability, it eliminates the weakness of the range type really, scavo firebolt I added it because of the close range ability of molten ash golem and his 4 life however the 2 additional cards I like are living lava which is an excellent tank with its shield ability that reduces damage and if it doesn't miss the attack it is an excellent card, and the second card I like is fineas rage which I always put in second position it holds a lot with 8 life points it has 5 speed it has never missed an attack and 2 attack and its reach ability can attack from second position so I always add it in that position.
Here is the link to see the full battle:
https://splinterlands.com?p=battle&id=sl_2263adfea7e6252b5c74372febe7fd28&ref=keniel16
Ahora a la batalla

Alineación.

Para mi parecer The Molten Ash Golems es una tarjeta tipo tanque fijense que tiene 9 de vida en su primer nivel eso nos lleva a colocarla de primer lugar, pero como ademas puede atacar a larga distancia es mejor opción colocarla al final en mi caso me permitio tener 2 tanques en esta ronda, con buena defensa en la primera y ultima tarjeta, con la habilidad de close range permite que todos los range puedan seguir peleando estando en primera posicion me gusta esa habilidad, elimina la debilidad de los tipo range realmente, scavo firebolt lo agregue debido a la habilidad de close range de molten ash golem y su 4 de vida sin embargo las 2 cartas en adicional que me gustan son living lava que es un excelente tanque con su habilidad shield que reduce el daño y si no falla el ataque es un excelente tarjeta, y la segunda tarjeta que me gusta es fineas rageque siempre la coloco en segunda posición aguanta bastante con 8 puntos de vida tiene 5 de velocidad nunca me ha fallado un ataque y 2 de ataque y su habilidad reach puede atacar desde la segunda posición asi que siempre la agrego en esa posición.

Aqui el enlace para ver la batalla completa:

https://splinterlands.com?p=battle&id=sl_2263adfea7e6252b5c74372febe7fd28&ref=keniel16
My strategy
If it worked this time it was a very hard battle.
Next time, it would be good to keep buying more cards, the ones with 0 mana would have helped me in this round to not depend on luck, and of course there is always the option of leveling up but I'll go little by little.
Mi estrategia
Si funciono en esta ocasion fue muy dura la batalla.

La proxima vez, seria bueno seguir comprando mas tarjetas la que tienen mana en 0 me hubieran servido en esta ronda para no depender de la suerte, y claro siempre esta la opcion de subir de nivel pero ire poco a poco.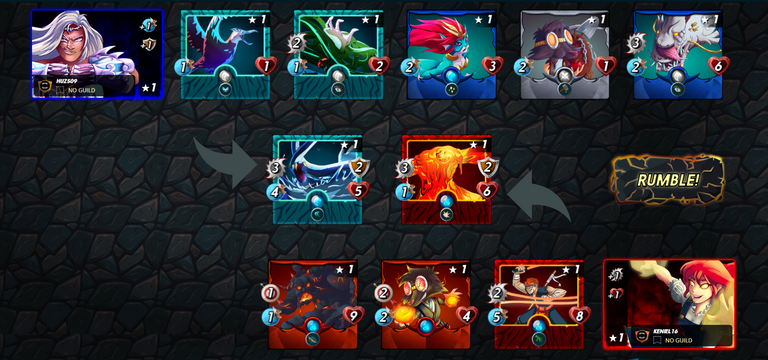 Stats
You can see that at level 10 this card has an ability that I like, it decreases the melee attack to all enemies, a very useful and proper ability of a good tank, besides increasing its range power from 1 to 3, I'm a little excited to start upgrading the cards.
Estadisticas

Se puede observar que en el nivel 10 esta tarjeta tiene una habilidad que me gusta, disminuye el ataque melee a todos los enemigos un habilidad muy util y propia de un buen tanque ademas de aumentar su poder de range de 1 a 3, estoy un poco emocionado de empezar a actualizar las tarjetas.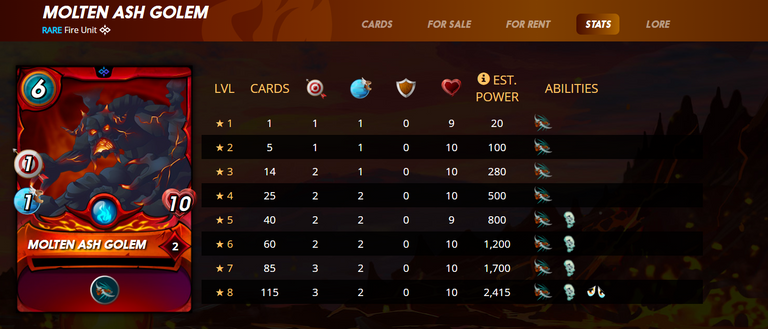 Right now we have in circulation more than 93,000 units.
For this publication buy 1 card of Molten Ash Golem the price is low it costs 0.06 dollars and there are in circulation more than 93000 units you can buy many and level up quickly at a good cost the only thing to take into account is that you need a summon of the same level.
Ahora mismo tenemos en circulación más de 93.000 unidades.

Para esta publicación compre 1 tarjeta de Molten Ash Golem el precio es bajo cuesta 0,06 dólares y hay en circulacion mas de 93000 unidades se puede comprar muchas y subir de nivel rapidamente a un buen costo lo unico a tomar en cuenta es que necesitas un invocar del mismo nivel.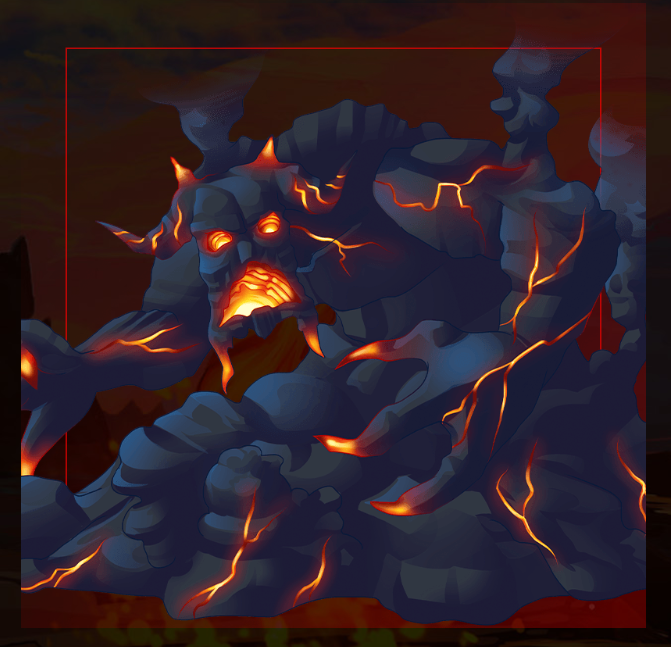 Translated with www.DeepL.com/Translator.


Link: SPLINTERLANDS
---
---