2018 Canada $5 Lucky Dragon and the 1949 Canada $1 Commemorative Dollar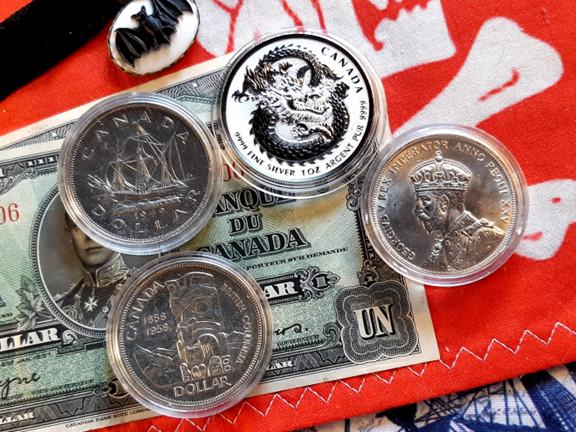 "Black birds tend to like shiny things" ~ The Bloody Raven
It's been a busy, anxiety filled week for me off line with my Home Remediation contractor playing games with me and my tenant regarding home repairs. Despite the situation, my Canada Day posts must go on.
The Canadian Bullion coin!
From my bullion stack and one of my top 10 favorites, and a treat for you Dragon fans.
2018 Canada 5 Dollar Lucky Dollar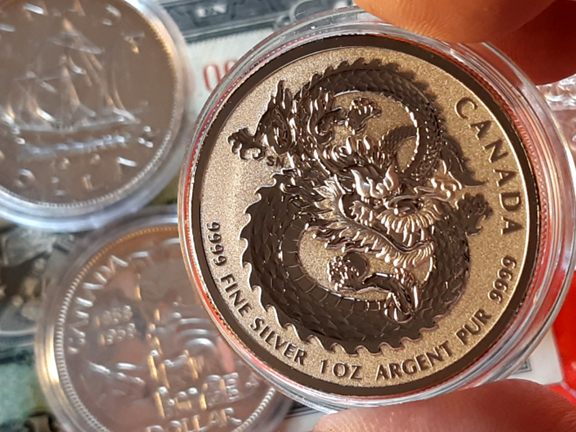 Reverse; The Lucky Dragon
Text; CANADA, 9999 FINE SILVER,1OZ, ARGENT PUR 9999
Diameter 38mm, Thickness 3.0mm
Silver 0.9999, Weight 31.1g
Designer; Simon Ng
Gorgeous. And the frosted field and cameo finish on the dragon head features provides a remarkable contrast making photography easy. In hindsight I should have gotten a tube of these beauties.
According to Chinese numerology, the number 8 (eight) is considered "the" lucky number. Coupled with the powerful cultural symbol of the Chinese Imperial dragon, this would be a best seller in Chinese, east Asian, and all dragon coin collectors all around the world.
2018 Canada 5 Dollar Lucky Dollar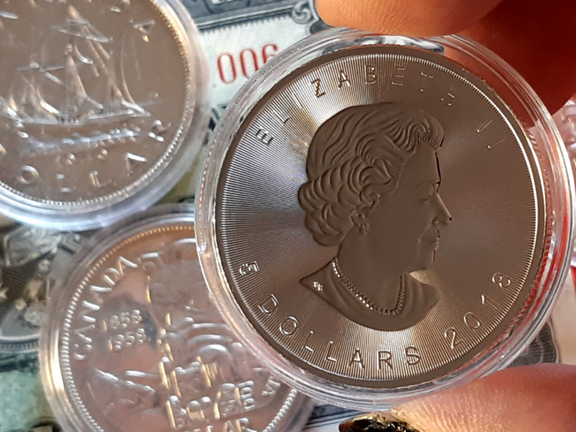 Obverse; Elizabeth II facing right
Text; ELIZABETH II, 5 DOLLARS, 2018
Edge; Reeded
Reference Ch# RC 1321
Engraver; Susan Taylor
Designer; Susanna Blunt
Mintage 200,000
My only tiny critique for this coin is that it should have been consistent with the Hong Kong/Singapore Tael weight standard of 38g or 37.79g. Though the Royal Canadian Mint (RCM) has a variety of Dragon themed coins including an $8 Gold Lucky flower dragon and a different $8 8g Silver Dragon Luck coin, the these coins would not really make sense as a Dragon Collection but rather as individual coins. 2017 to 2020 has seen the RCM go 'Dragon crazy' but a boon for Dragon coin collectors wouldn't care about that huge collector's premium.
Canada's 1949 Business strike Dollar
I loved this coin when I first saw it back when I was barely ten years old. Rather than this uncirculated specimen, my father let me play with an identical worn coin such that it didn't bother him with me handling it with my chocolate-stained kiddy pirate hands.
1949 Canada One Dollar Welcome Newfoundland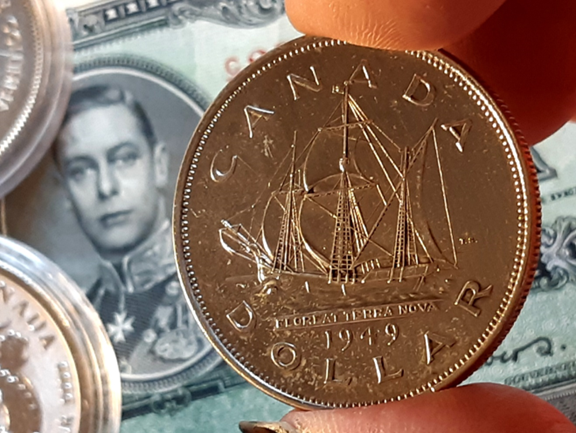 Reverse; Ship; The Matthew heading left/port
Text; CANADA, FLOREAT TERRA NOVA, 1949, DOLLAR
Silver 0.800, Weight 23.3g
Diameter 36mm, Thickness 2.84mm
Designer; Thomas Shingles
Engraver; Ernest Maunder
I have featured this 1949 $1 dollar coin back in February 2020 but for the benefit of my new readers since and keeping in context with Canada Day Circulating commemorative Silver series. This time featuring it with a twist.
In review, this coin commemorates Newfoundland's entering into Canadian Confederation in 1949. And at the same time celebrates the Matthew as Explorer John Cabot's ship back in 1497 at discovering the rugged coast of what came to be Newfoundland.
1949 Canada One Dollar Welcome Newfoundland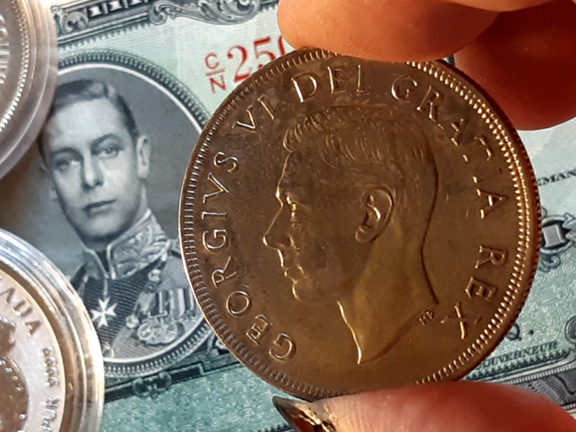 Obverse; King George VI facing left.
Text; GEORGIVS VI DEI GRATIA REX
Mintage of 672,218
Edge; Milled
Reference KM#47
Engraver; Thomas Humphrey Paget
And for that new twist.
Is the corresponding banknote at the time.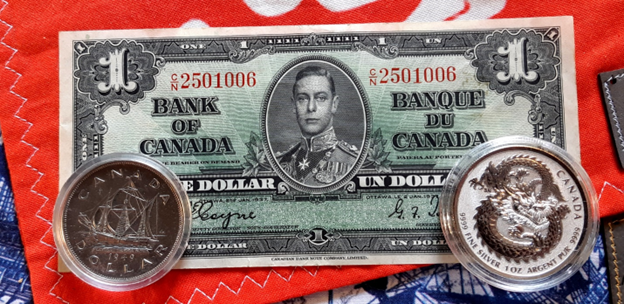 1937 Bank of Canada $1 – King George VI
Charlton Reference# BC-21D
160,000,000 printed by the CBN
Thanks to @punkysdad for loaning this banknote.
The previous series of 1935 Bank of Canada notes were separate English and French versions, the 1937 series incorporated both languages on one note.
Located at the front of the note the phrase, "Will pay to the Bearer on Demand" means that this note represents 1 Dollar in silver or gold coin of settlement of transactions and debts.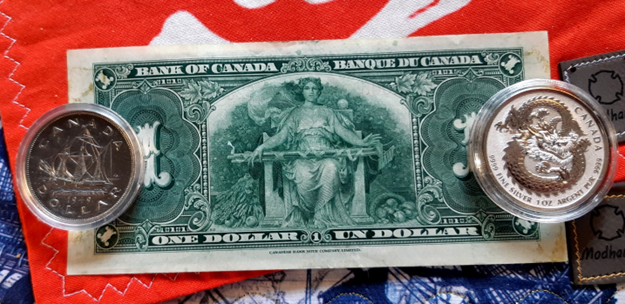 Allegorical figure of Agriculture
With the establishment of the Bank of Canada Act in 1934, the Bank of Canada was required to hold gold and silver in it's reserve 25% of the banknotes outstanding and deposit liabilities. Yes, fractional reserve banking since 1935.
Prior to this, the Dominion of Canada backed their banknotes in land.
I'll be continuing this little Canada Day series through July with the old Constitutional Confederational? Or perhaps more accurately, Demonetized Canadian circulating silver coinage. I'll be featuring next the 1958, 1967 with a few more select bullion tossed in.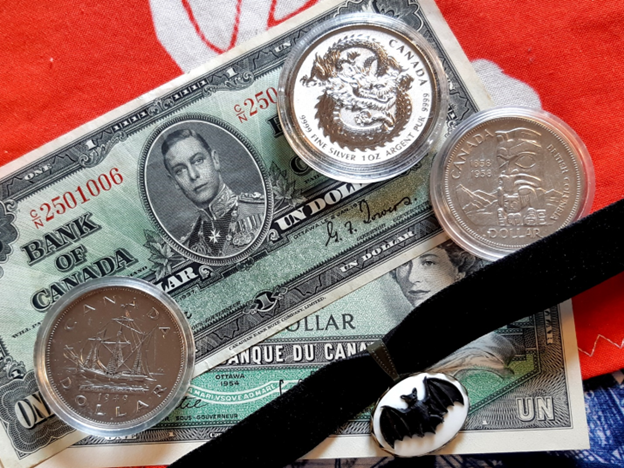 Until my next post! ☠️


Stacking Canadian Silver and Hive for that rainy day, are you?"
And thank you for coming aboard my post today.
The #piratesunday tag is the scurvy scheme of Captain @stokjockey for #silvergoldstackers pirates to proudly showcase their shiny booty and plunder for all to see. Landlubbers arrrh… welcomed to participate and be a Pirate at heart so open yer treasure chests an' show us what booty yea got!
References
My own pictures shot with a Samsung SM-A530W
P. Image under Pixabay
W. Wiki Commons
💀 Page Dividers by thekittygirl 🎃
Sources
Wiki; The Bank of Canada Act 1934
Silver.com; 2017 $5 Canada Lucky Dragon
2018 Canada 5 Dollar Lucky Dragon
1949 Canada One Dollar Welcome Newfoundland
Pirate Hanky Background by ModHanks.com
Cameo Bat Choker from The Black Wardrobe
Canadian Government Paper Money, 19th Edition 2007 RJ Graham, Charlton Press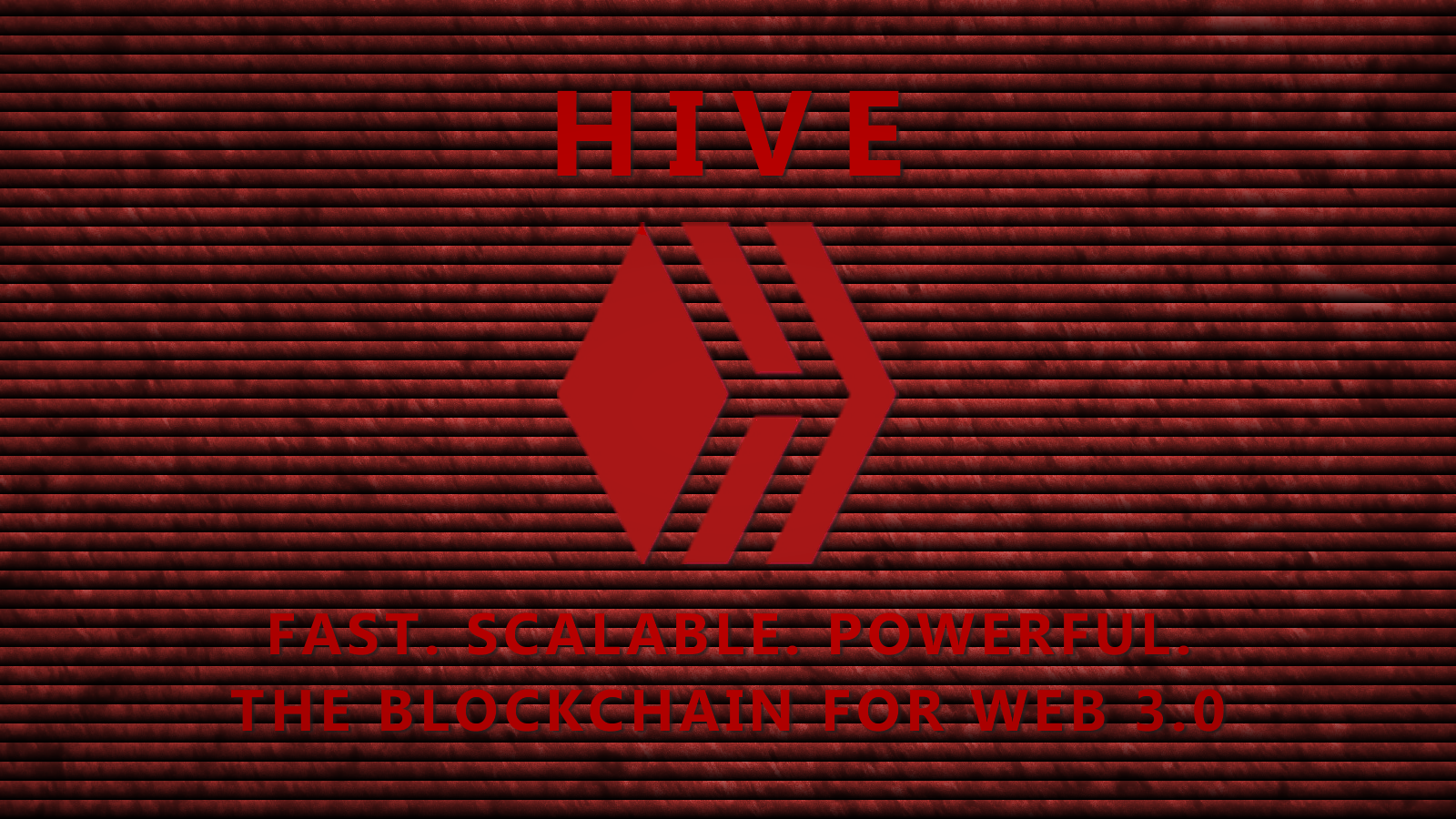 I work in a Health Unit. I am a Gothic Nurse. - Salutem laboro in Unit. Nonne ego sum Antiqua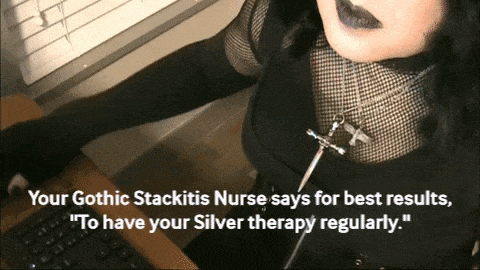 ---
---