Canada Day bullion is here and so is #hivepowerupday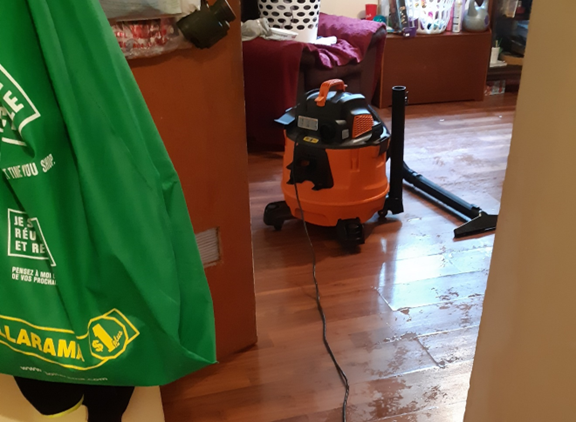 "Black birds...the ship's taking on water! We're did it come from?" ~ The Bloody Raven
Wouldn't you know it.
More than a week ago my Tenant calls me on my cell that there is an emergency and that I need to shut off the house's water immediately. A chain of events including the combination of a plugged toilet and a faulty flush mechanism led to this early morning flooding disaster.
To sum things up, the inspection and assessment deemed this as a class 3 biohazard, that is equivalent to a sewer water contaminated flooding. A Remediation crew had already sprayed yellow some stuff and setup a bunch of fans and dehumidifiers to prevent mold from getting a foothold.
I'll be out at least a month's rent plus a deductible. And that's why I have an Emergency Reserve fund saved up. I still have a third of it in cash with the other two-thirds locked into gold. No sweat I'm set. But if you feel the need to support someone then please support @enginewitty's family.
The Canada Day Shiny Bullion
Back to business.
What can I say but aside from the natural beautiful and expansive landscapes of the country of Canada? Tall, lush rain forests, majestic mountains, fertile grasslands, fresh water that make Canada primarily a resource-based economy.
Canada is eleventh in world production of Silver by country at 24.8 million ounces but only an eight compared to Number one Mexico in 2018 according to Sprottusa.
Allow me to show you a few of my favorite bullion pieces from my stack.
2015 Canada 8 Dollar Maple Leaves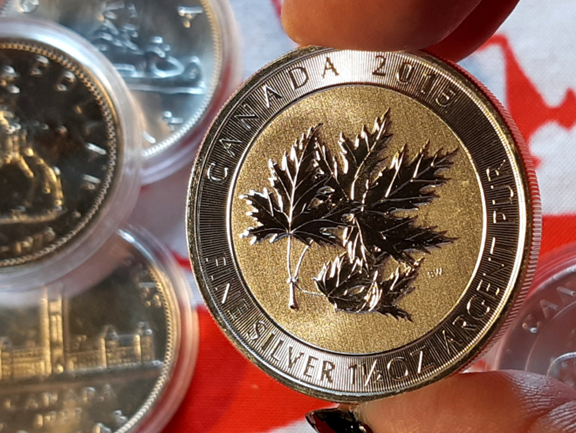 Reverse; Three Maple Leaves
Text; CANADA 2015, FINE SILVER 1 1/2 OZ ARGENT PUR
Diameter 38mm, Thickness 4.5mm
Silver 0.9999, Weight 46.64g
Engraver; Stan Witten
This chunky coin designed by Stan Witten, is an eye catcher to me. Distinct from the regular Bullion Maple Leaf in a much more natural representation of the regional Western Provinces, Central Provinces, and the Maritime Provinces. All unified to the same tree.
2015 Canada 8 Dollar Maple Leaves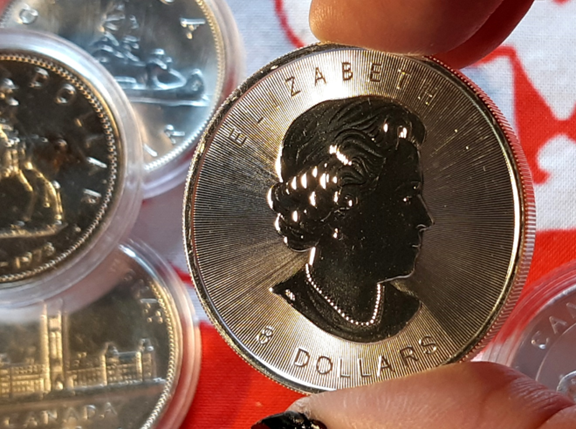 Obverse; Elizabeth II facing right
Text; ELIZABETH II, 8 DOLLARS
Edge; Reeded
Reference Ch# RC 1461
Engraver; Susan Taylor
Next, and always impressed by a well-dressed officer in a sharp uniform, even better on a mounted steed and not necessarily a squad car.
2020 Canada 10 Dollars 100th Anniversary Royal Canadian Mounted Police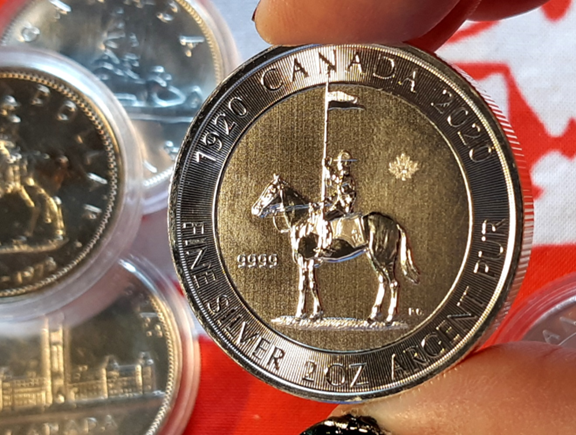 Reverse; Mountie on Horseback facing left
Text; 1920 CANADA 2020, 9999, FINE SILVER 2OZ ARGENT PUR
Diameter 38mm, Thickness 5.9mm
Silver 0.9999, Weight 62.68g
Artist; Paul Cedarberg
Another Canadian Icon represented many times before on earlier commemoratives and now for the first time on bullion coins and minted on even a heftier 2 oz. 62g size. Artist Paul Cedarberg's reboot of his original work on the $1 1973 RCMP Commemorative silver coin.
"Honk, if you want to get arrested eh?" ~Anonymous Canadian 🍁🚚🚛🚚🚛🚚🍁
Also, an interesting match for obverse is the selection of George V for the obverse marking 1920s monarch or alternatively Queen Victoria 1873. If it is not ER II as we have enough of her likeness on too many coins. We Canadian Tax payers support her lavish lifestyle enough to the annual tune of $50 million per year.
2020 Canada 10 Dollars 100th Anniversary Royal Canadian Mounted Police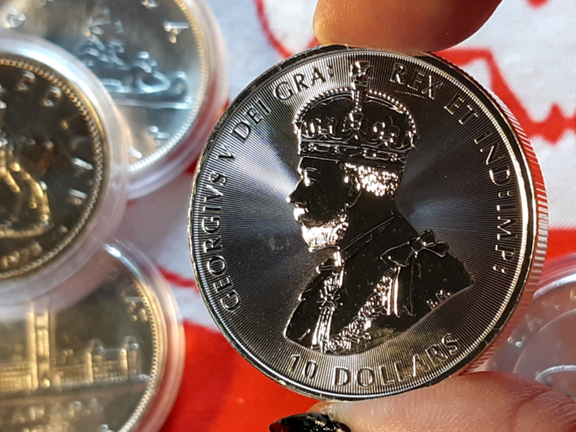 Obverse; George V facing left
Text; GEORGIVS V DEI GRA REX ET IND:IMP:, 10 DOLLARS
Edge; Reeded
Reference Ch# RC 1505
Engraver; Sir E.B. Mackennal
Canada's Business strike Commemorative Dollar
1964 Canada One Dollar Confederation Conferences in Charlottetown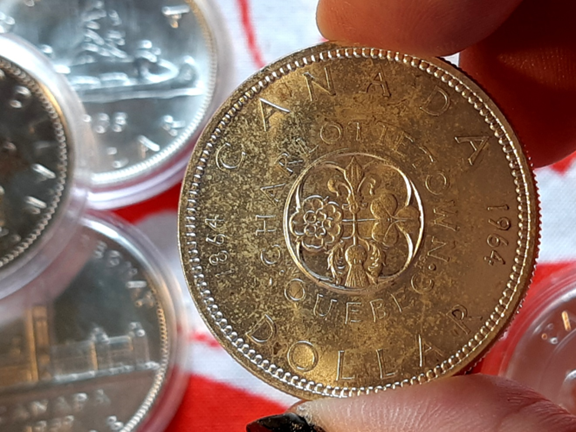 Reverse; Center Emblem of a French fleur-de-lis, Irish shamrock, Scottish thistle, and the English rose.
Text; 1864 CANADA 1964, CHARLOTTETOWN, ·QUÉBEC·, DOLLAR
Silver 0.800, Weight 23.3g
Diameter 36mm, Thickness 2.84mm
Designer: Dinko Vodanovic
Canadian politics is boring, so I'll make it very short.
This 1964 Silver dollar commemorates the beginning of Canadian confederation with it's first conference of Delegates from three British North American Provinces at Charlottetown, Prince Edward Island on September 1st to the 9th, 1864.
On July 1st, 1867 the federation Dominion of Canada was formed by four provinces; the province of Canada who split to form Ontario and Quebec, the province of New Brunswick, and the province of Nova Scotia.
And the Federal government has been growing into the creature we have today.
1964 Canada One Dollar Confederation Conferences in Charlottetown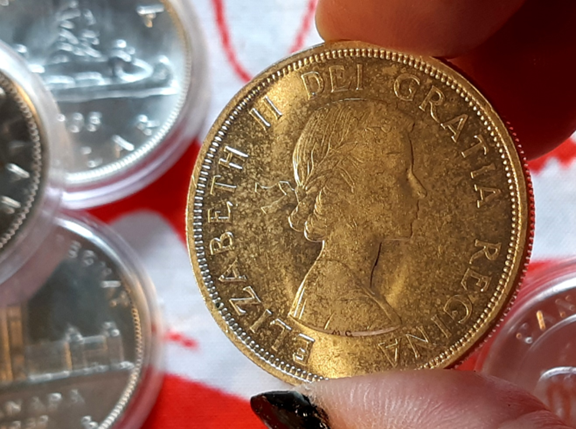 Obverse; Young Elizabeth Regina II facing right.
Text; ELIZABETH II DEI GRATIA REGINA
Mintage of 7,296,832
Edge; Milled
Reference KM#58
Designer: Mary Gillick
The perplexed young computer gamer stuffed his gloved hands in his gortex jacket pockets and shrugged his shoulders, "I just donated $10 to the Truckers Caravan yesterday then today I get a message from CSIS saying… 'All you bank account are belong to us eh'." ~ Another anonymous Canadian.🍁🚚🚛🚚🚛🚚🍁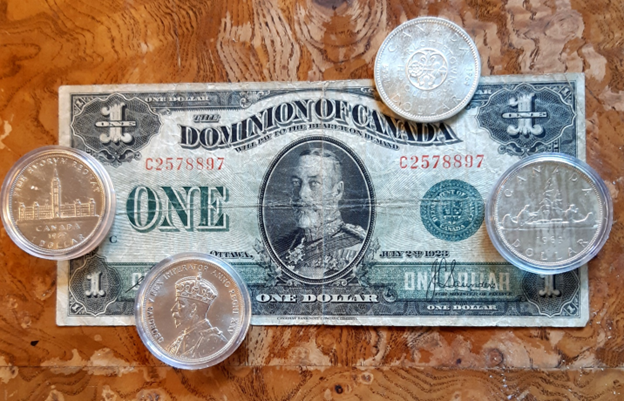 1923 Dominion of Canada $1 – King George V, Green Seal, Series C
Reference # DC-25J
20,000,000 printed
Thank you @punkysdad for loaning me this banknote.
I will be continuing this little Canada Day series through July 1st with the old Constitutional Confederational? Or perhaps, to be more accurate, Demonetized Canadian circulating silver coinage. I'll be featuring 1949, 1958, 1967 with a few more bullion tossed in.
My apologies for being brief this time around.
🍁Before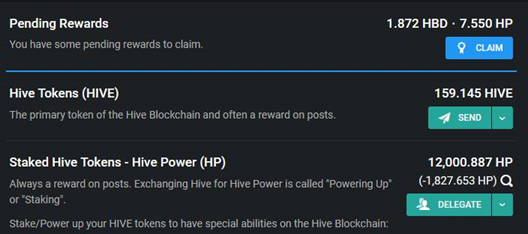 I noticed that I broke the 12k Hive Power barrier just prior to today.
After🍁

Done. See you next #hivepowerupday on Aug 1st

Stacking Canadian Silver and Hive for that rainy day, are you?"
And thank you for coming aboard my post today.


The #worldcoinwednesday tag is one of many strategic tags hatched by none other than the TAG MASTER @silverd510 to take over all social block chains one post at a time. Give in to the Master and reveal your wondrous silver world coins.
References
My own pictures shot with a Samsung SM-A530W
P. Image under Pixabay
W. Wiki Commons
💀 Page Dividers by thekittygirl 🎃
Sources
Numista; 2015 Canada 8 Dollar Maple Leaves
Numista; 2020 Canada 10 Dollars 100th Anniversary Royal Canadian Mounted Police
Numist; 1964 Canada One Dollar Confederation Conferences in Charlottetown
Pirate Hanky Background by ModHanks.com
Wiki; Canadian Confederation
Wiki; Charlottetown Conference
Cameo Raven Brooch from The Black Wardrobe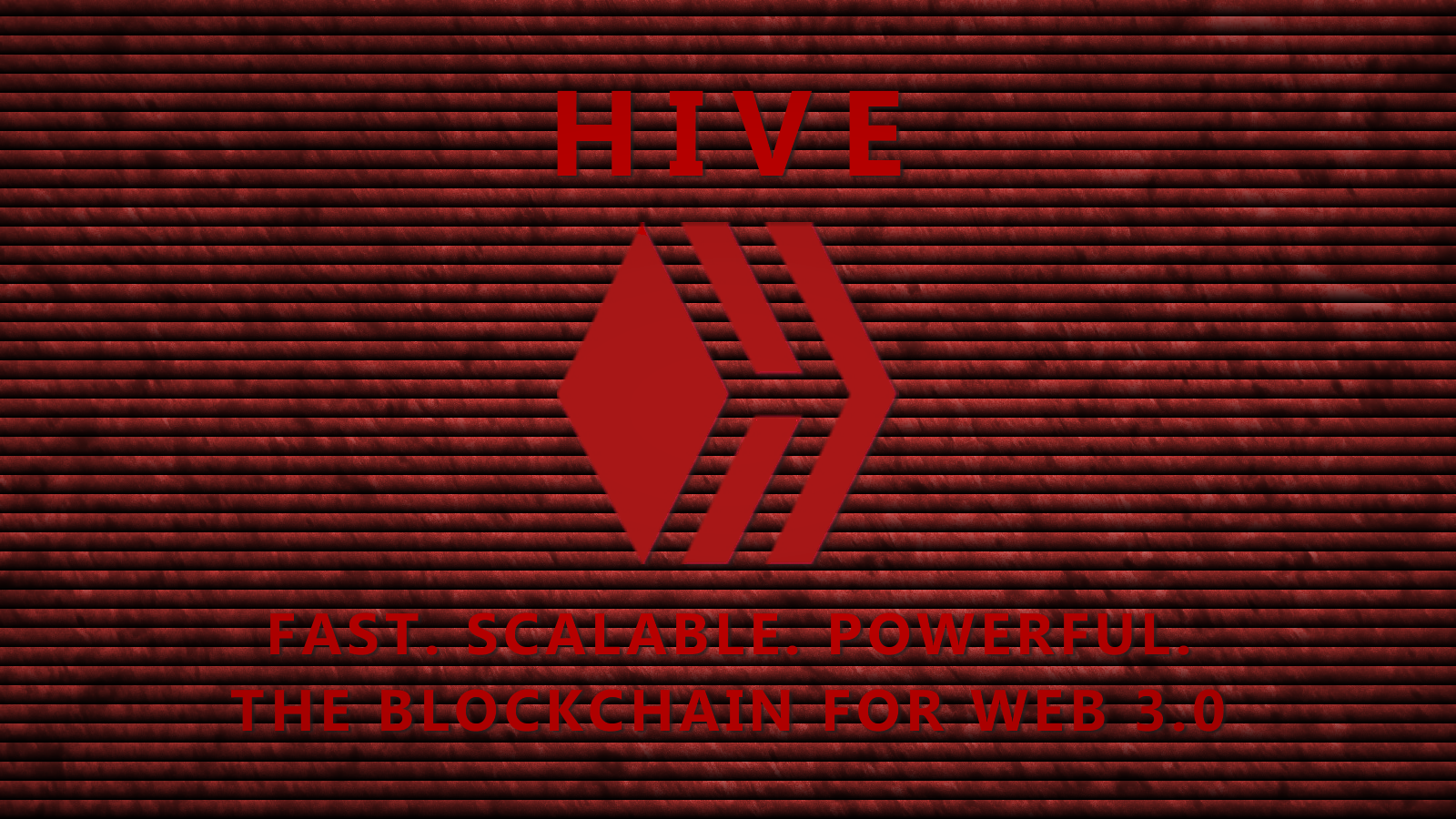 I work in a Health Unit. I am a Gothic Nurse. - Salutem laboro in Unit. Nonne ego sum Antiqua.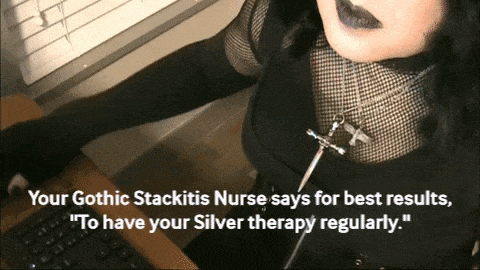 ---
---