Monarch Precious Metal's 2020 and 2022 5 Troy oz Silver Viking Bars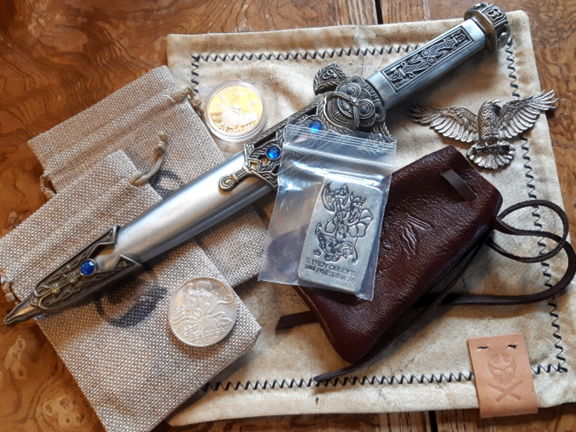 "Black birds tend to like shiny things" ~ The Bloody Raven
I bet you have your eyeballs on the pretty shiny silver dagger. It was a gift from YouTuber and Chief Rant Officer of DrWho's Discord Server Crew Tessa C. It came as part of a Nyssacat373 gift package over a year ago and have been looking for a post to theme together. Recently, I contracted the same Nordic Stackitis Variant as @silverd510's, combined with the Viking face symbol on the guard of this fancy letter opener, and a post is born.
More on the dagger later, first the Silver bars.
Monarch Precious Metals 5 Troy oz Viking Bars
2020 Monarch Viking Warrior with Battle Axe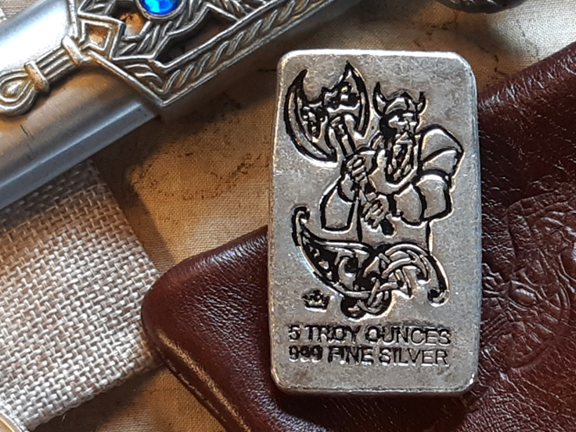 Front; Viking with a Battle axe, Viking design, MPM logo
Text; 5 TROY OUNCES, 999 FINE SILVER
Finish; Brilliant Uncirculated
Monarch Precious metals introduced this bar in 2020 along with it's Viking Warrior Flail and Shield bar. The product is simple and seemed like an experiment but took off in popularity enough to be a fixture for future products. While Covid may have put those 2021 plans on hold, MPM wasn't sitting on their laurels.
2020 Monarch Viking Warrior with Battle Axe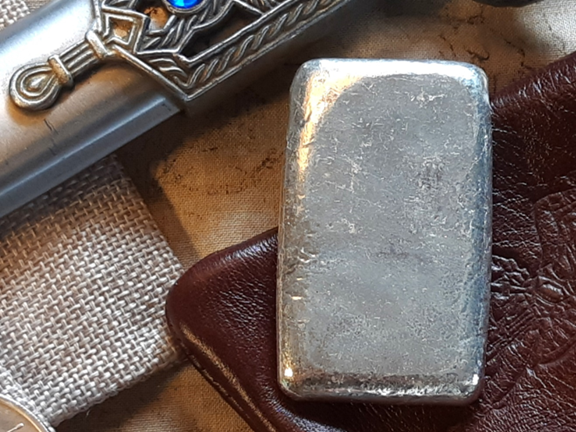 Back; Plain but shiny
Text; None.
64mm x 38mm x 7mm
Edge; Smooth/rounded
Packaging; Plastic Ziplock bag
When business finally opens up in 2022 Monarch introduces a new set of three Viking series poured bars; the Dual Axe Viking, the Viking Archer, and this Viking Shield Maiden. The designers of Monarch have upped their game adding more features giving more of a context to the theme of this product.
2022 Monarch Viking Warrior Shield Maiden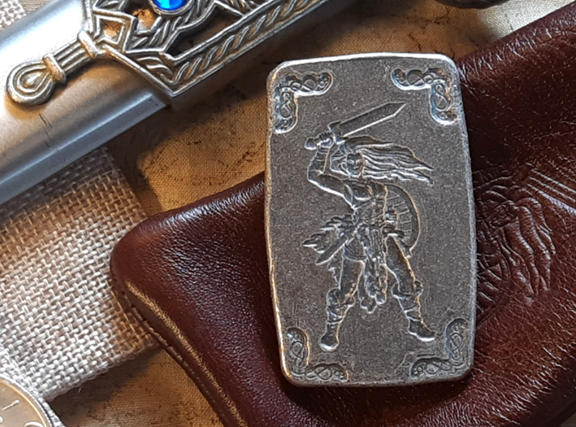 Front; Viking Shield Maiden, Wood carving Viking art.
Text; None.
Finish; Toned/Antiqued
Features like switching to an antique finish, Celtic styled lettering, a matching suede leather pouch and my favorite add is the Longboat obverse. Great added value in a time of high Silver premiums.
2022 Monarch Viking Warrior Shield Maiden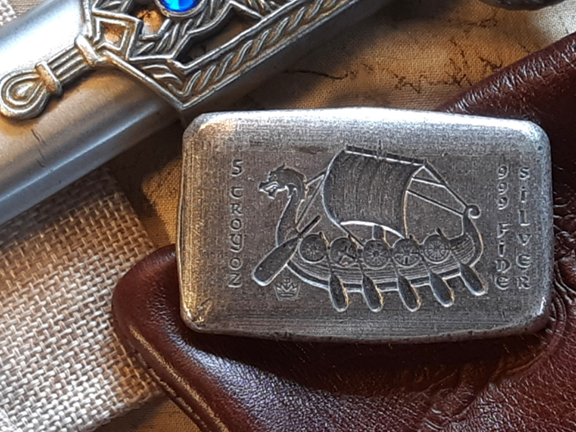 Back; Viking Longboat heading Left, MPM Logo
Text; 5 TROY OZ, 999 FINE SILVER
65mm x 41mm x 6.2mm
Edge; Smooth, rounded.
Matching Suede leather pouch with drawstring.
The Silver Dagger
*What is a dagger?" A sharp pointed, dual edged knife used in close combat by either thrusting or stabbing.
I admit that I do not know much about Viking weaponry. Though the markings appear Viking like yet do not bear any of the known Viking/Celtis traditional styles. Having expended too much valuable time identifying the markings of this replica I had to assume this as a fantasy piece.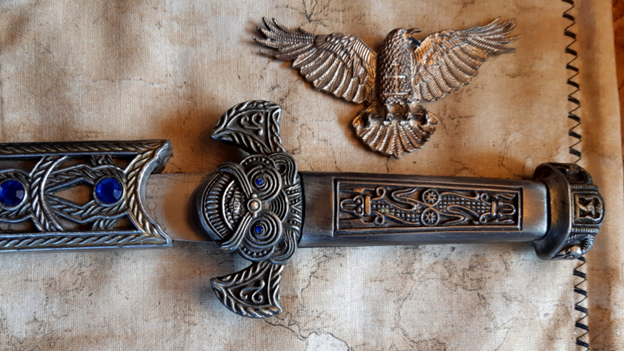 This design is put together in a ceremonial or ritual style that it would fit in a Lord of the Rings movie or seen on the game Skyrim. The hilt style is similar to the Suontaka and the rain guard face figure of this replica.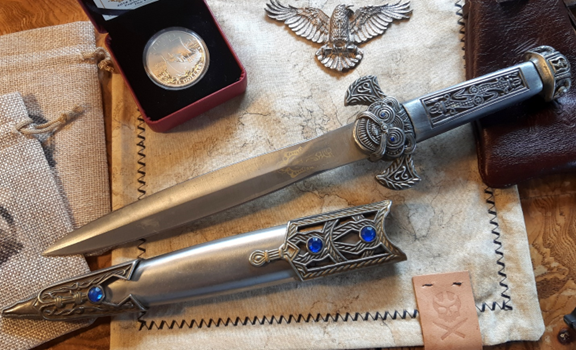 It wasn't until I came back to a popular armory website that I had previously window shopped and found this as the Silver Shaman dagger. Bingo!
At 12.5" total length at a weight of 11 oz, this dagger has good balance at the guard where my thumb would be positioned. Classed as a Decoration meaning that it is a not a functional weapon but it would still look great slipped under my waist band should I decide to dress up as Viking queen Lagertha or as Hildegard of the Valkyries this Halloween.🎃
According to 12th century Viking legend, Lagertha was ruler of Norway, Shield maiden, as well as wife of the legendary Viking King Ragnar Lodbrok. The original Author Saxo documented her exploits participating in raids but modern day historians doubt them as authentic and much more fiction.
Well, at least it shows that Viking culture being more progressive in than most of us think, making booty raids more a family affair.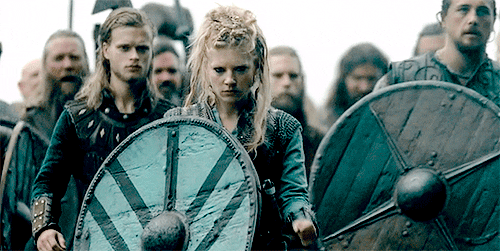 Stacking Silver and Hive like Viking royalty for that rainy day, Ja?"

The #piratesunday tag is the scurvy scheme of Captain @stokjockey for #silvergoldstackers pirates to proudly showcase their shiny booty and plunder for all to see. Landlubbers arrrh… welcomed to participate and be a Pirate at heart so open yer treasure chests an' show us what booty yea got!
Related Post(s)
2014 Canada $15 The Vikings
Bullion Silver Hexes from Dead Crow Metals
References
My own pictures shot with a Samsung SM-A530W
P. Image under Pixabay
W. Wiki Commons
💀 Page Dividers by thekittygirl 🎃
Sources
2020 Monarch Viking Warrior with Battle Axe
2022 Monarch Viking Warrior Shield Maiden
Monarch Products in Canada
Wiki; Viking Ruler Lagertha
Map Background Handy from Black Flag EDC
999 Fine Silver Raven made by 'Silver to Burn' on YouTube.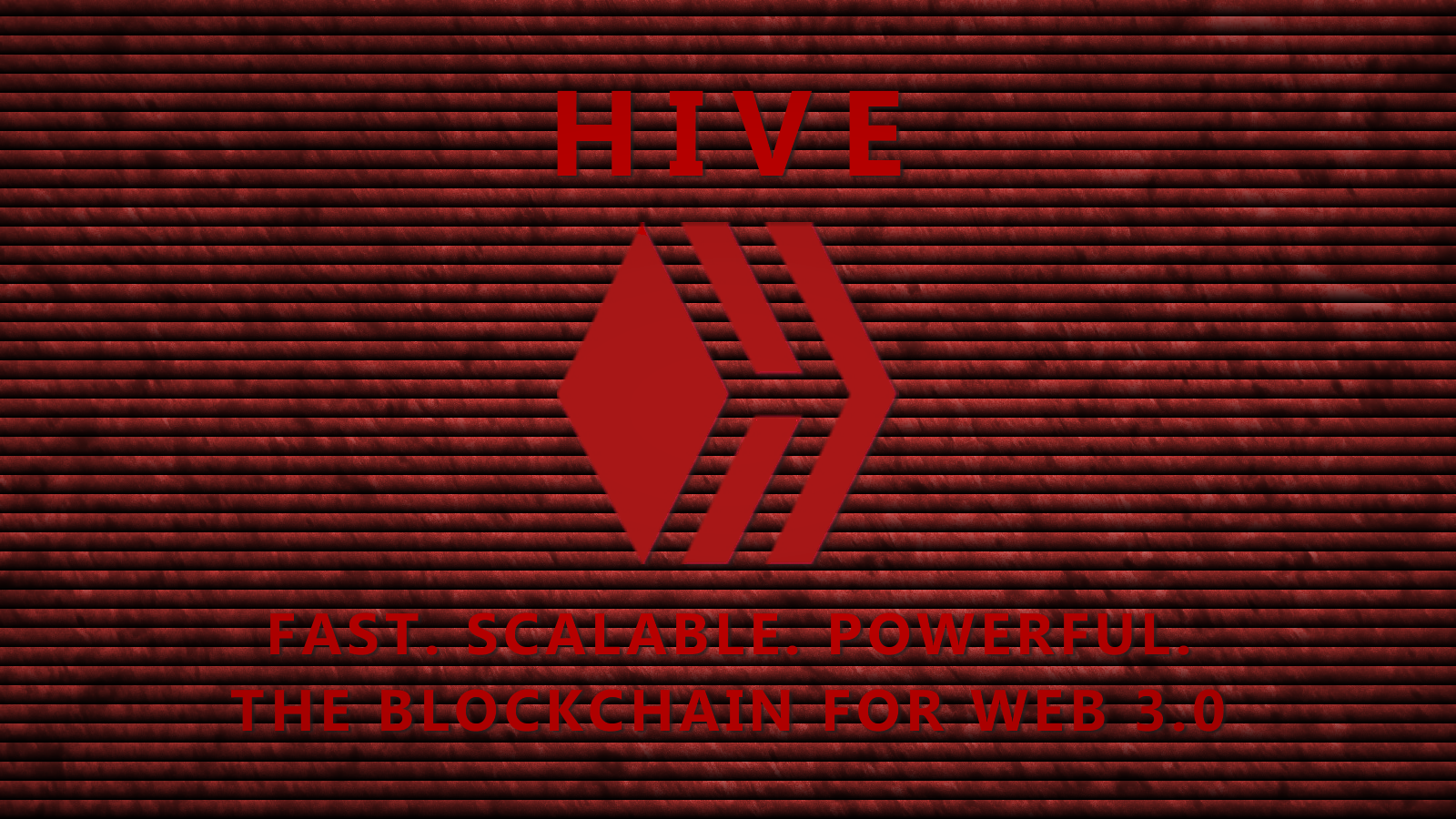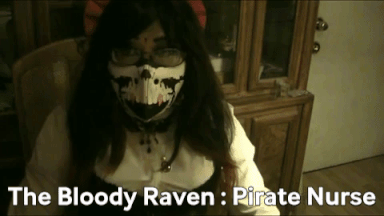 "Ahh ains nae bluudy Financial Advisor!"
---
---