Piratesunday; 2021 1 Royal, British Indian Ocean Territory: The Cutty Sark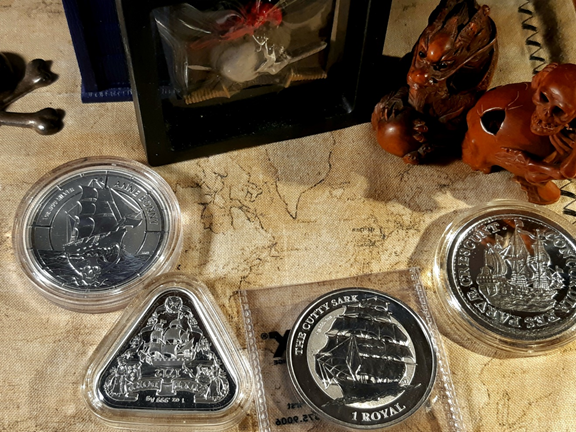 "Blackbirds tend to like shiny things." ~ The Bloody Raven
The Latest acquisition by the Bloody Raven's silver fleet.
I think @joshuaslane would be proud of this ship. Crafted by the fine shipwrights of Dumbarton Scotland in 1869 using the latest in Clipper class designs demanded by the profitable Tea Trade. With London becoming her home port for the Jock Willis Shipping Line, The Cutty Sark went into service February 16th, 1870 with her inaugural voyage to Shanghai, China. Her first round trip requiring a mere 107 days to complete her first season's run.
The Silver Coin.
2021 British Indian Ocean Territory 1 Royal Cutty Sark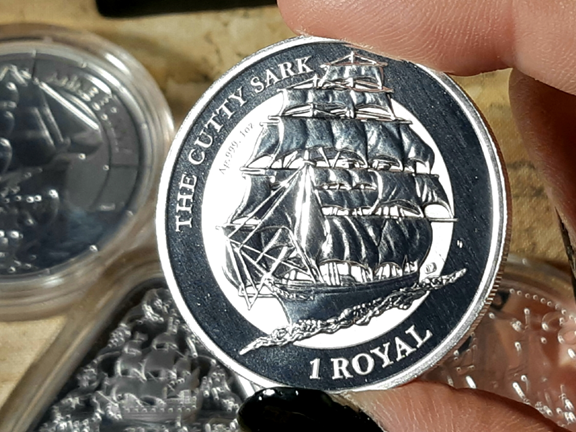 Reverse; The Cutty Sark in full sail to the left.
Text; THE CUTTY SARK, 1 ROYAL
Text; Ag.999.1oz, P (for Pobjoy)
Diameter 38.6mm, Thickness 3.0mm
Weight 31.103g
The Tea Trade between Great Britain and the far east was indeed profitable and ingrained as a part of the social culture as well as the economics around it. Often the name of the ship like the Cutty Sark become synonymous in the branding of the tea products imported over from the East Asia. As competition is concerned, publicity and reputation were important in vying for market share.
And for the Shipping Company, prestige as well as the benefit of charging higher cargo fees demanded by faster ships.
Tale of the Tape
The Cutty Sark by Jeff Wallis under Pixabay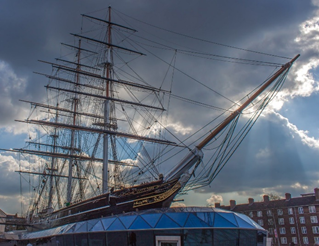 Class; Clipper
Name; The Cutty Sark
Builder; Scott & Linton
Cost; £16,150
First Owner; John Willis
Hull Length; 65m
Beam; 11m
Hold Depth; 6.4m
Tonnage; 963 GRT
Launched; November 22,1869
Maximum speed achieved; 32.4 kmh
Current Owner; Cutty Sark Preservation Society
Current Location; Royal Museum in Greenwich
☠
Royal Museum Greenwich Tour Website
A fast ship is what the buying public got with ships of the Clipper class and the Cutty Sark delivered record speeds that garnered deserved headlines in the News services and among social circles of all classes. The Cutty Sark achieved a maximum speed of 17.5 knots or 32.4 Kmh. Achieving a 24-hour distance of 363 nautical miles or 673 Kms. Achieving a 6-day period, 2,164 nautical miles or 4,008 kms.
2021 British Indian Ocean Territory 1 Royal Cutty Sark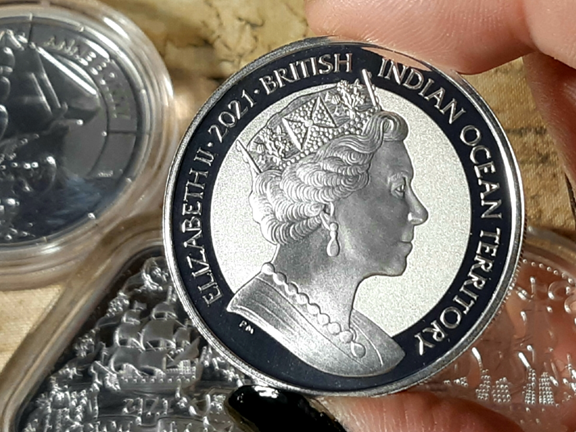 Obverse; Queen Elizabeth II facing right
Text; ELIZABETH II, 2021, BRITISH INDIAN OCEAN TERRITORY, PM
Pobjoy Mint, Mintage of 10,000
Edge Reeded
Reference N# 305884
What was traded in her Inaugural season? According to Captain George Moodie it was a cargo of Spirits, wine and beers to Shanghai China and the return trip 1,305,812 lbs of tea and from there east bound past the British Indian Ocean Territory and around the Cape of Good Hope back to London.
But it wasn't long when Tea shipments turned to favoring the Steamer vessels that had seen significant improvement in engine efficiency and reliability. The opening of both the Panama Canal and the later, the Suez Canal which hardly suited Clipper ships. After just a few years, the Cutty Sark and other Clippers gave way in favor to the Steamers. With the growing difficulty in sourcing Tea, The Cutty Sark turned to shipping Wool and other commodities before being sold to Portuguese interests and to function into secondary roles.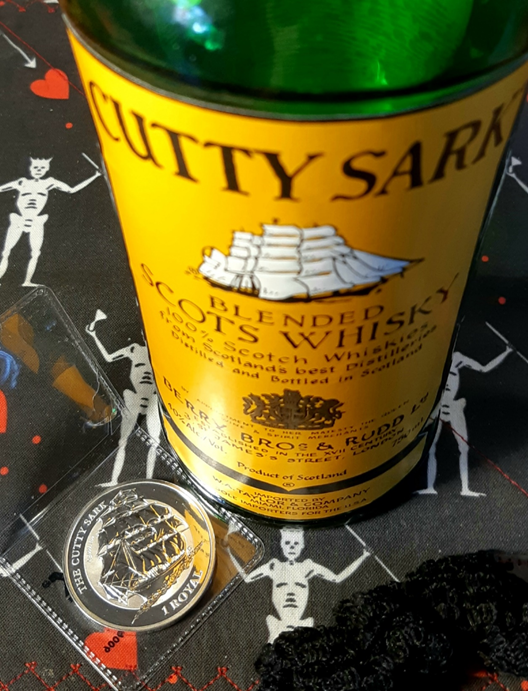 One famous event grabbing the headlines, was the Cutty Sark's race against another well known clipper The Thermopylae. A race beginning at Shanghai on June 18, 1872. After two weeks journey and building a 400 km lead the Cutty Sark lost her rudder as she passed Sunda Straight between Java and Sumatra. Rather than pulling into Capetown South Africa for repairs Captain Moodie ordered a rudder to be improvised en route which took six days to complete under unfavorable and dangerous weather conditions. The result was that the Cutty Sark arriving in London on the 18th of October, a week after the arrival of The Thermopylae.
This was Captain Moodie's last voyage and was replaced by Captain F.W. Moore.
How the name "The Cutty Sark" was chosen.
There were slightly different versions, but I liked the way the label of the bottle's Spirit maker stated it the best.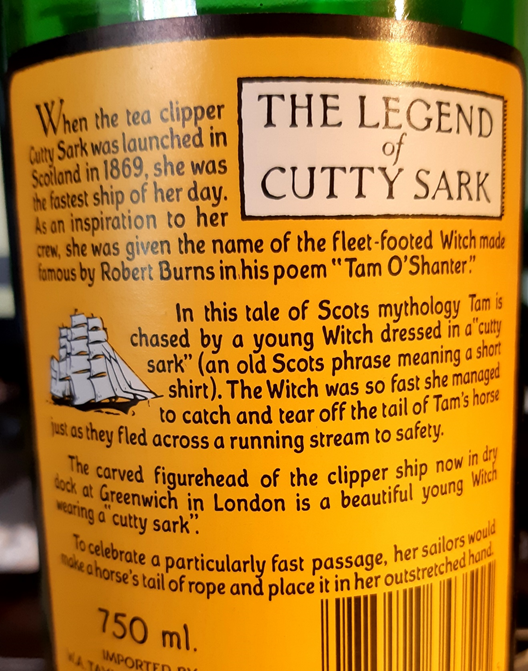 CUTTY SARK Blended Scotch Whiskey from a variety of Scotland's best Distillers by Berry Bros & Rudd Ltd, London. And it packs a stoatin whollop a wee bit more than this mirk lass of the Silverton kin 'andle!
'Cough cough…'
My thoughts of this coin.
The design of the reverse is striking. Like the descriptive observation of eye witnesses of sailors such as Basil Lubbock, Crewman of a Wool Clipper as The Cutty Sark catches up and overtakes. The reverse displays Her in full sail as if overtaking the observer by a grand view of her sleek lines and enormous billowing sails in an impressive display of raw speed. A scene that would inspire the imagination of Adventurers and Travelers in any century.
Added to the Bloody Raven's Clipper collection.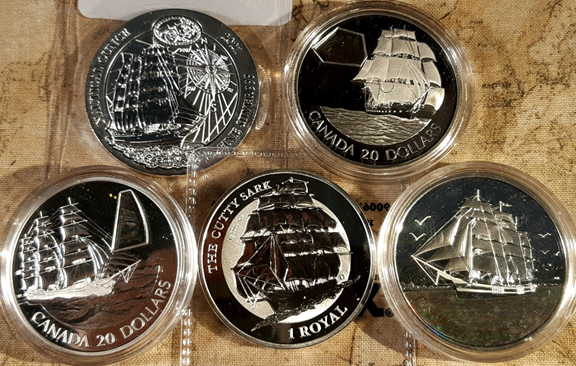 Always adding Silver and Crypto to my Stack for that rainy day or dark and story night!
And maybe stack a wee bit of Whiskey and Rum Liquor too?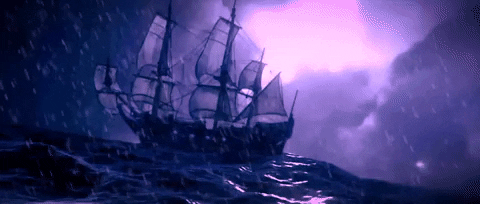 The Bloody Raven's "Ships of Silver" posts
2021 10 Pound St Helena coin Bar: The East Indiaman
2021 $1 AUD Black Flag Series The Red Flag Fleet
2020 $1 AUD Black Flag Series The Royal Fortune
2019 $1 AUD Black Flag Series Queen Anne's Revenge
2019 $1 AUD Shipwreck Series Batavia
2019 $2 Antigua & Barbuda Rum Runner
2018 $1 CAD Captain James Cook at Nootka Sound
2014 $15 CAD Exploring Canada Series The Vikings
2013 $20 CAD 300th Anniversary of Louisbourg
2012 $10 CAD War of 1812 Series HMS Shannon
2005 $20 CAD Tall Ships Series Three Masted Ships
1604 – 2004 $1 CAD First French Settlement Le Don de Dieu
2002 $20 CAD Transport Series William D Lawrence
2001 $20 CAD Transport Series Three Masted Ships The Marco Polo revisit
1999 $1 CAD Captain Juan Pérez's Discovery of the Queen Charlotte Islands
1993 Malta 5 Lire 430 Years in Defense of Christian Europe
1988 $10 AUD First Fleet Bicentenary Commemorative
1977 $25 Bermuda Dollar Silver Jubilee Commemorative
1977 Postmasters Royal Society of London: Expedition to Tuvalu
1973 $10 Bahama Independence Columbus' Santa Maria
1952 South Africa 5 Shilling Founding of Capetown: The Dromedaris
Vintage Silvertowne's 16th Century Spanish Galleon Round
The #piratesunday tag is the scurvy scheme of Captain @stokjockey for #silvergoldstackers pirates to proudly showcase their shiny booty and plunder for all to see. Landlubbers arrrh… welcomed to participate and be a Pirate at heart so open yer treasure chests an' show us what booty yea got!
References
1. My own pictures shot with a Samsung SM-A530W
P. Image under Pixabay
R. Clip art from 123RF
W. Wiki Commons
💀 Page Dividers by @thekittygirl 🎃
Sources
Numista; 2021 1 Royal British Indian Ocean Territory Cutty Sark
Wiki; The Cutty Sark Sailing Ship
Wiki; British Indian Ocean Territory
CIA, World Fact Book BIOT
APMEX; 2021 1 Royal BIOT Cutty Sark
British Pobjoy Mint


"Et lux in tenebris to serve laboro, sum sicarius" "I work in the shadows to serve the Light, I am an Assassin."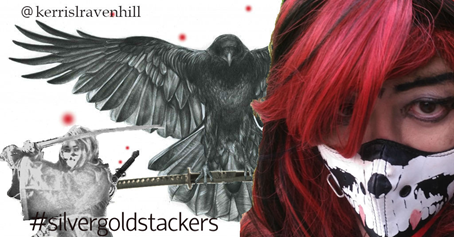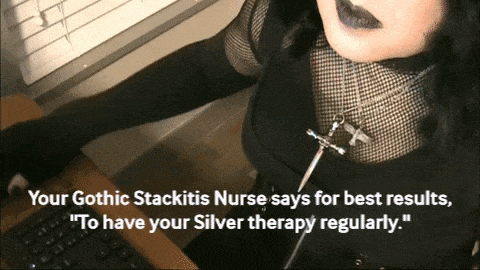 "Ahh ains nae bluudy Financial Advisor!"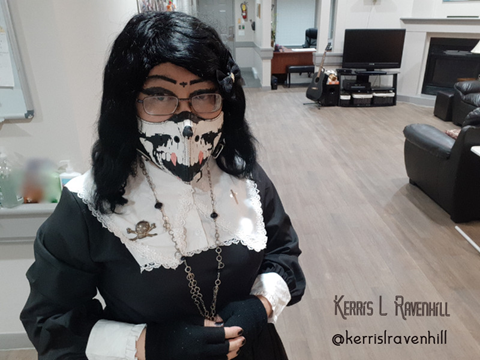 Posted Using LeoFinance Beta
---
---