Piratesunday; 2021 Niue $2 Pirates of the Caribbean – The Black Pearl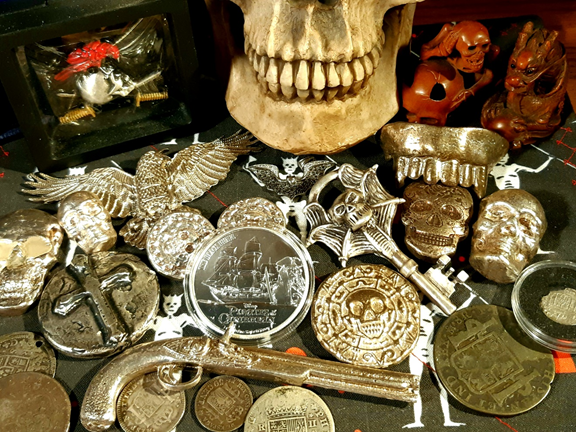 "Black birds tend to like shiny things." ~ The Bloody Raven
It was way back in 2003 Disney released the first of the action-adventure movies franchise: Pirates of the Caribbean - The Curse of the Black Pearl grossing $405 Million USD. I was a rookie Nurse with a toddler, a baby with a chance at a fresh start so I didn't see this picture until a friend loaned me the DVD to watch at my leisure. As you can expect, I enjoyed the film in it's overt pirate theme and generously intertwined with elements horror and an underlying supernatural tilt.
Nyssacat373 purchased this coin on my behalf from APMEX. The price premium seemed high over and above premiums of similar coins in this mintage. I will have attribute that to Disney's licensing pound of flesh for the New Zealand mint to legally produce this Niue coin.
The Black Pearl
2021 Niue $2 The Black Pearl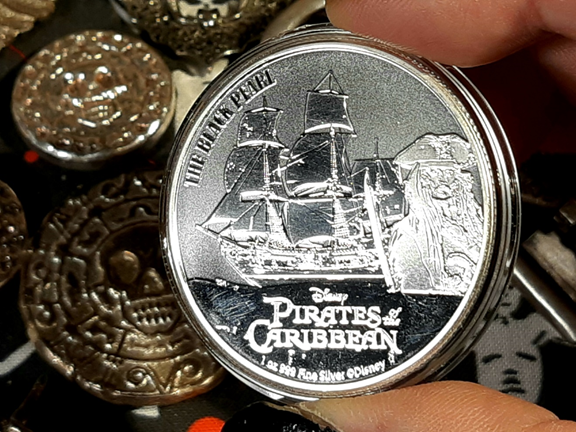 Reverse; The Black Pearl Pirate ship, Portrait of Captain Jack Sparrow
Text; The Black Pearl, Disney; Pirates of the Caribbean
Text; 1 oz 999 Fine Silver @ Disney
Diameter 40.7mm, Thickness 2.6mm
According to PotC Wiki, a fan site of this Movie franchise, this cursed fictional ship has it's own fictional history. It was originally named Wicked Wench under the command of Captain Morgan who perished in battle against the Spanish navy resulting in the command handed over to Captain Jack Sparrow.
Under Captain Jack's command, the Wicked Wench served as an East Indiaman ship in the East India Trading company in several voyages under Cutler Beckett's contract. Things went well until Captain Sparrow violated the terms by liberating a cargo of slaves that lead to the burning and sinking of the Wicked Wench with Jack branded a pirate.
The Black Pearl by Edward Russell under CCO 2.0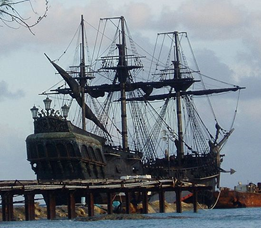 Class: East Indiaman Galleon
Length: 165 ft
Armament: 32 x 12pound Cannons
Sail plan: Full 3 mast sail plan
Port of Registry: Calabar/Tortuga
Claim to fame: Outrun the Flying Dutchman
-☠️



Jack, in a deal with Davy Jones and an indentured promise to serve the Flying Dutchman 100 years raised the Wicked Wench from the depths. Jack retook command of the blackened and battered Wicked Wench and renamed her The Black Pearl and lived up to his Pirate brand for the next thirteen years.
2021 Niue $2 The Black Pearl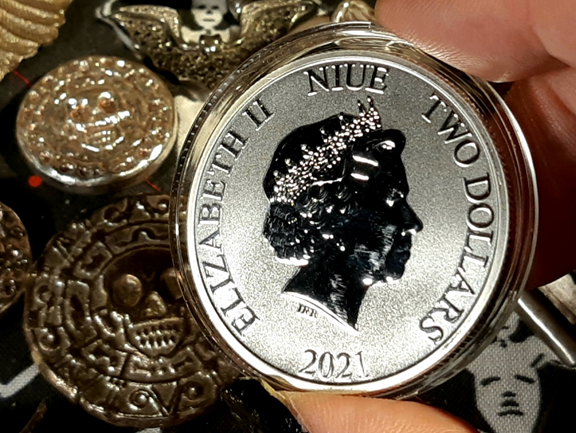 Obverse; Queen Elizabet II facing right
Text; ELIZABETH II, NIUE, TWO DOLLARS, 2021, IRB
New Zealand Mint, Mintage of 15,000
Engraver; Ian Rank-Broadley
Reference N#276423
The Curse
In the Curse of the Black Pearl, the context of the story is premised around the recovery of a cursed coin and a blood debt (sacrifice) to lift a curse placed upon the Crew of the Black Pearl for removing as little as one coin from the 882 coins from the Treasure of Cortes or Treasure of the Isla de Muerta's stone chest. Otherwise, live an existence as the Undead!
The legend claims that the Aztecs paid Hernan Cortes this treasure to cease the conquistador's murderous conquest, but the treasure further fueled his unbound greed and thus a terrible curse was placed upon those who remove any coin from its resting place in a cave on the Isle of Muerta.
1.77 Troy oz. Aztec Silver round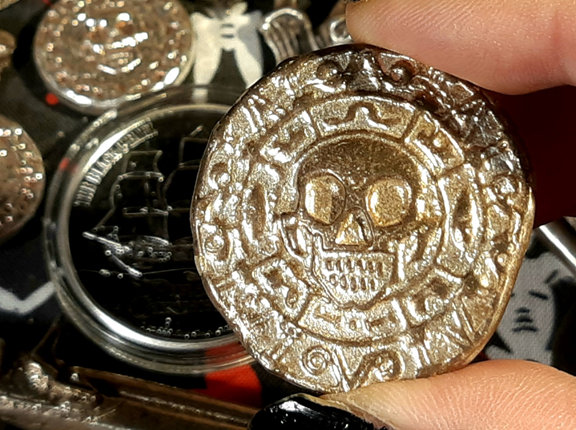 Front; Skull with Aztec Border
Diameter 37.7mm, Thickness 5.5mm
Weight 56.35g, .999 Fine Silver
This is a .999 fine silver replica of the coins portrayed in Curse of the Black Pearl is crafted by msagan75 on a YouTube Metals Mafia live stream on August 6, 2017. At the time, Msagan75 was new to Pouring silver art and this Aztec coin was among his very first. When finished, this round was immediately given away by random draw among the live stream viewers. It was my lucky day!
1.77 Troy oz. Aztec Silver round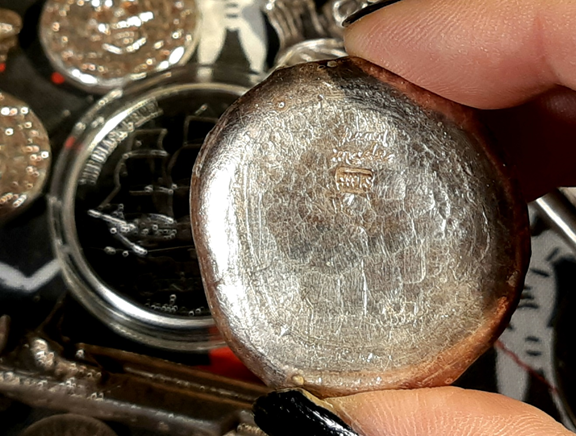 Back; Cooling lines at the outer edge, checking at the center
Stamp; "Hand made", ".999FS"
Artist; msagan75
Poured on Metals Mafia live stream Aug 6, 2017,
In Summary, I was slightly disappointed in the quality of the Black Pearl coin as I think that the Ship could have been cameoed to put the coin's main featured subject more up front and center than the distracting Captain Jack on the right being distinguished by his hair style. Sort of reminds me of Ching Shih's Black Flag coin concept.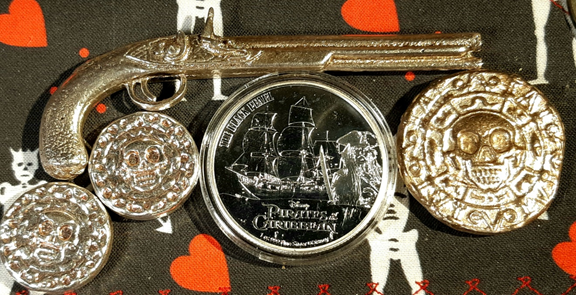 Silver Flintlock pistol is made by Wildpig Pours.
Small 25g Aztec Rounds are made by Yeager's Poured Silver
Blackbeard's Hanky from Modhanks.com
🎃
With coin handling issues that may be APMEX or the New Zealand mint, another annoying problem is that the coin was subject to a few handling abrasions below the waterline and the Queen's cheek prior to it being secured in the protective air-tite case.
So, one shall suffice to say. Regarding the Flying Dutchman companion coin, I'll maybe get just one. 👻

"Adding Silver and Crypto coins in my Stack for that rainy day, are you?"
"And thank you for coming aboard today."


The #piratesunday tag is the scurvy scheme of Captain @stokjockey for #silvergoldstackers pirates to proudly showcase their shiny booty and plunder for all to see. Landlubbers arrrh… welcomed to participate and be a Pirate at heart so open yer treasure chests an' show us what booty yea got!
References
1. My own pictures shot with a Samsung SM-A530W
P. Image under Pixabay
R. Clip art from 123RF
W. Wiki Commons
Sources
Numista; 2021 Niue $2 The Black Pearl
Pirates of the Caribbean PotC Wiki; The Black Pearl
Pirates of the Caribbean PotC Wiki; Treasure of Cortes
msagan75 on Instagram
WildPig Pours
Yeager's Poured Silver Plata Muerta round
Thank you again, Nyssacat373 for your assistance. 💋


"Et lux in tenebris to serve laboro, sum sicarius" "I work in the shadows to serve the Light, I am an Assassin"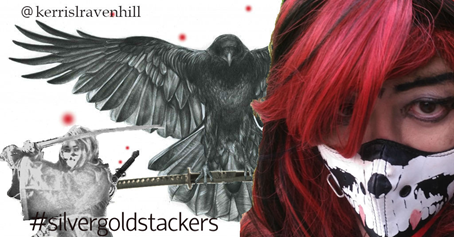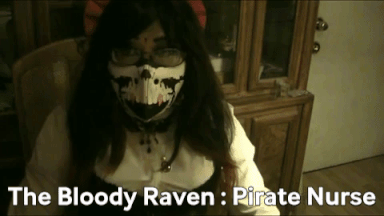 "Ahh ains nae bluudy Financial Advisor!"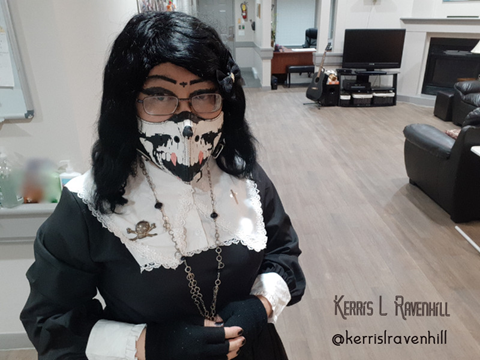 ---
---