#piratesunday: Reales Replica Treasure from Gold Spartan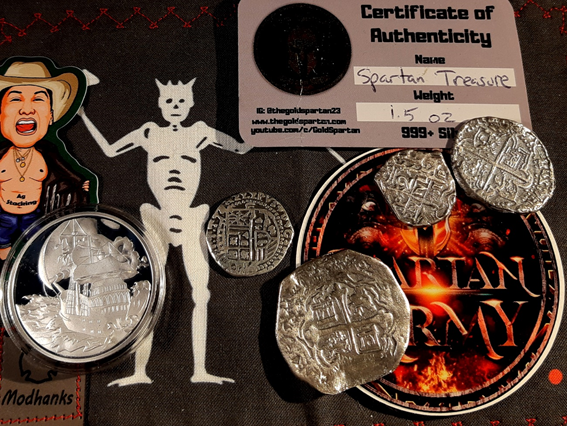 "Blackbirds tend to like shiny things." ~ The Bloody Raven
Due to time and energy constraints, I may have to make this post a teeny bit shorter than my usual style and depth. So, digging into my treasure chest of InBox mail, mostly from one person… This week we are adding to the Fun Pirate Stack!
Pirate Pieces of Eight, Four & Twos
The original 1600s Spanish Reales of this era are still largely hand made to specific standards and purity. Requiring skill to pour coins to specific weights, hand striking and any finishing processes to weight standards set by the Spanish Crown and Mint Master. By the 1700s coining silver was making strides quality and consistency.
3-coin, Spartan Treasure Set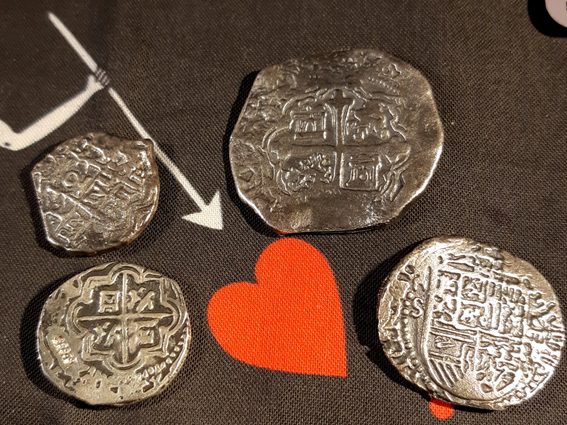 3 coin? Testing the weight… 1.75 Troy oz. But there are 4 coins!
💋, Captain Nyssacat373 sneaked another gift in my order. Bless his heart.
Silver 0.999 Antiqued
1.5 Troy oz 3-coin set; 8 Reale, 4 Reale, and 2 Reale size
I believe these replicas were modeled after the early 1600s to 1700 Spanish Reale. Identifiable features that put them smack in the Golden age of the Piracy beginning about 1650 to 1730. Though they do not have identifying marks like, "999 FS", artist's trademark or hall marks, to the un-patched and untrained eye, just enough features to easily distinguish these as just that, Replicas! I hope no one would be crazy enough to try and pass them off as the genuine thing.
Poured Pirate silver is fun Silver! ~ The Bloody Raven
The 4 Reale sized coin, Spartan Treasure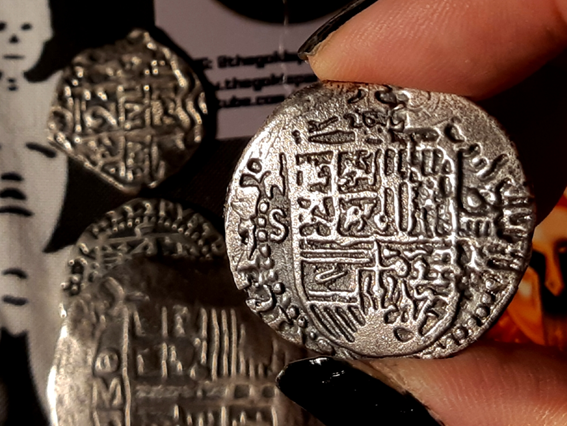 Obverse; Crowned Shield Coat of Arms
Text Obscured but on the real Reale, likely DEI GRATIA PHILIPE IV, V or CARLOS II
These 0.999 Fine Silver replica coins are an inexpensive alternative to getting the genuine Spanish Silver Reale. Idea for those who like to Stack Pirate Style but not pay the steep premiums of the genuine Pirate Era coins through the nose.
4 Reale sized coin, Spartan Treasure
Reverse; Arms of Castile and Leon
Text Obscured; but on the real Reale, likely REX, date, HISPANIARVM
Now for our Next Silver item
I didn't buy this lovely round.
When Captain Nyssacat373 and I purchased our sets of Spartan Treasure Reales and a few other items on the Pirate shopping/plunder list. He'd insert a shiny goodie or three along with a private & personal handwritten note before reposting the remaining order to me. The decal is self-explanatory as this round was owned by AgStacking on Instagram before it got into Nyssacat373's hands.💋
2008 Pirate Ship Round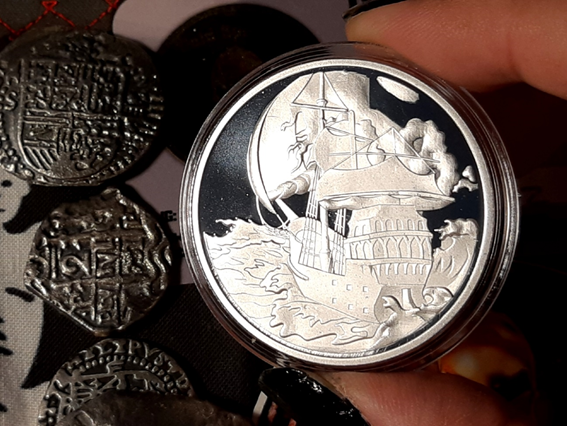 Reverse; Sailing Ship Port Quarter stern view
Diameter 39mm, Thickness 2.8mm
Minted by the Great River Mint, Missouri
He sure knows my taste in Pirate themed silver and the mystery that goes along with it.
The Obverse design of the ship may seem simple enough and perhaps a bit cartoonish. In my dark imagination I see it as a crewless ghost ship sailing aimlessly in a rough sea, and those who set their eyes upon it shutter in fear of it's mysterious haunted nature of ghost pirates. Which would make for an interesting story line.
2008 Pirate Ship Round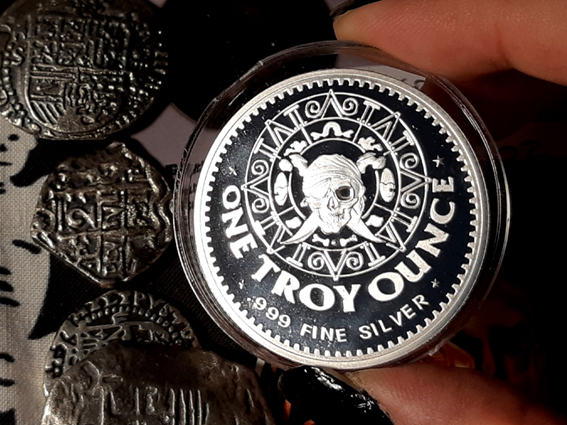 Obverse; Jolly Roger with an Aztec Motif
Legend; * ONE TROY OUNCE *
* .999 FINE SILVER *
Mintage unknown
Another mystery is the Great River Mint in Missouri. A small private mint that produce and retail their product line of silver rounds as well as offer custom services. There is not much on the company itself, nor do they archive previous products in the past. Perusing their current 'Out-of-Stock' products, I see that they are also having a difficult time sourcing silver for their business.
No surprise there.
More FUN added to the Stack.
Still spicing things up, what kind of fun silver do you have in your Stack?
And thank you for coming aboard my pirate blog today!
The #piratesunday tag is the scurvy scheme of Captain @stokjockey for #silvergoldstackers pirates to proudly showcase their shiny booty and plunder for all to see. Landlubbers arrrh…welcomed to participate and be a Pirate at heart so open yer treasure chests an' show us what booty yea got!




Sources
Web; thegoldspartan.com
Numista; 1706 Spain 4 Reales
Instagram; @thegoldspartan23
Instagram; @agstacking
Blackbeard's Handkerchief by Modhanks on IG
References
1. My own pictures shot with a Samsung SM-A530W
P. Image under Pixabay
R. Clip art from 123RF
W. Wiki Commons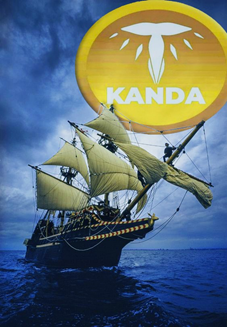 Educating Africans on the benefits of the Block chain
Join our Discord, https://discord.gg/cmbSM5B
"Et lux in tenebris to serve laboro, sum sicarius" "I work in the shadows to serve the Light, I am an Assassin"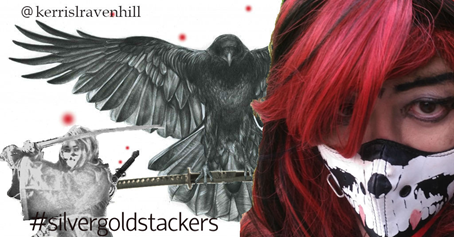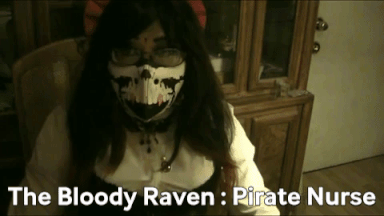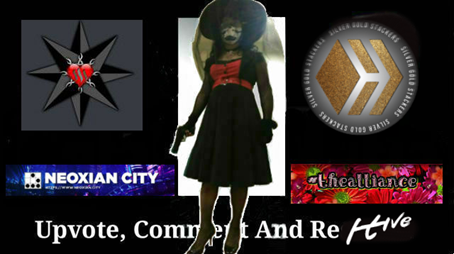 Posted Using LeoFinance Beta
---
---