Something Hand Poured: The Backstory to my Nemesis Pirate Bar
Bilge rats! I just have to live with being late again for another Welshie's Something Hand Poured Share Your Coin Challenge. The only way I can accommodate is move #piratesunday to #piratewednesday, I decided not to move.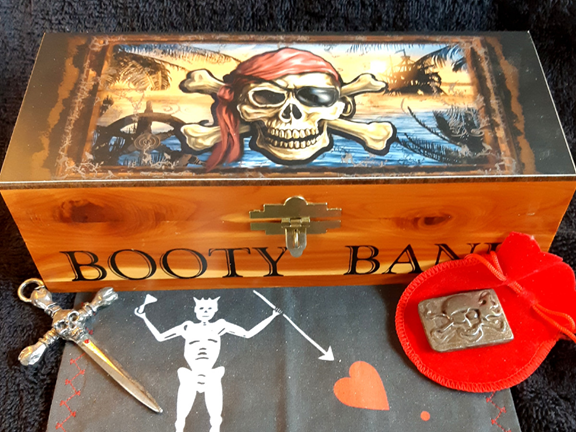 " Blackbirds tend to like Shiny Things" ~ The Bloody Raven
Aye, I remember it like it was yesterday. Back in early 2016, the Silver Stacking community on YouTube was when I met another pirate lass by the name of Silver Diva.
I was impressed by her little hoard of subtle Pirate style shiny so I subscribed to her channel and she subscribed back to me. Poured silver bars at this time was budding art form. Very few mints put out Pirate themed silver in any form. Not like have now with many talented private Stackers turning to this craft.
And looking back at 2016 to 2019 was sort of a Renaissance of poured silver art, an explosion of quality, creativity, value and availability and it still continues to grow as long as there is a steady supply of 999 silver.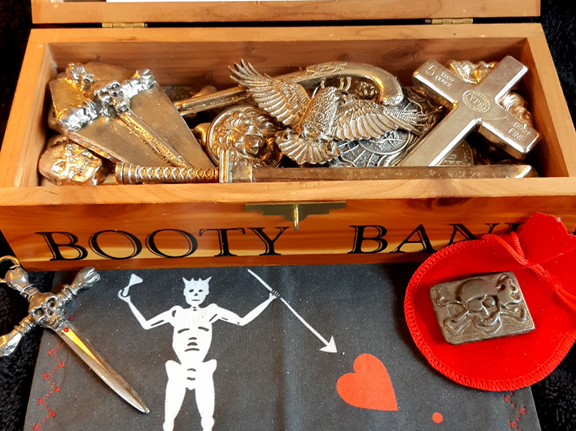 Silver Diva regularly showcased the products Pirate Booty bullion, PBB, with a few other pieces from known pourers at the time. It was a treat from the fare of recently released mint coins and rounds. The PBB Booty banks were a regular feature on her channel, a solid wood construction, brass hardware, and well-appointed with a pirate flourish beneath a smooth enamel finish. Immediately, I found myself checking PBB's EBay bullion store listings. I could order one at the cost equivalent of a little over two ounces of silver. How I would love to get one!
Diva already had previous giveaways of these Booty Banks but my heavy work schedule didn't allow me time to get in a decent video entry on short notice. To my surprise, Diva contacted me for my mailing address to send me something for supporting her channel. She knew I just loved pirate silver and I was at a loss of words to thank her. My first treasure chest!
The Nemesis Silver Pirate Bar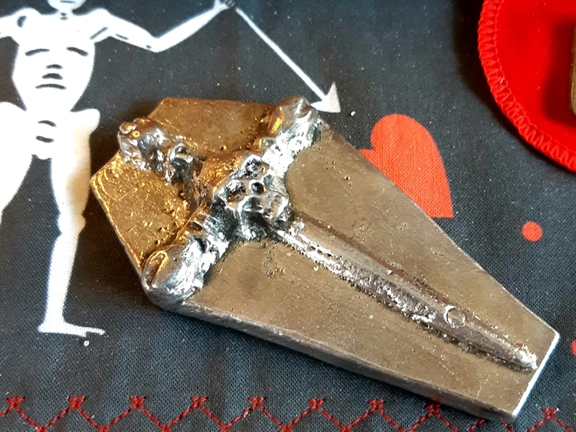 Reverse; Skulled Dagger on a Coffin Bar
No Text
0.999 Fine Silver, 267g
Length 91mm, Width 51mm, 15.2mm Thickness 3mm
The Nemesis bar appeared at the EBay store, not just this one but a trio of similar bars. I didn't have the cash at the time but I sure made it known that I wanted to add the bar to my Booty Bank and tried to put a hold on it until I save the cash for the bar plus $23 shipping charge. PBB couldn't guarantee it would be there when I came for it. I'm was such a silver pirate noobe.
A time came when Diva was approaching a 1000 Subscriber milestone and wanted to make a big splash giving away more banks and a medium sized silver bar emblazoned with a pair of Jolly Rogers going to the grand prize winner.
As I crafted my video entry I wasn't really concerned about getting another bank, it was more for the prize bar, though it seemed only secondary to the Nemesis bar. Maybe I could trade it up? There was a good chance I wouldn't win due to the volume of respondents. So my participating video was more of a "Thank You!" to Diva and PBB for the generous gift, and to the Hand Pouring Silver artists that made it to my tactical map.
The Nemesis Silver Pirate Bar
Obverse; PBB Stamp
Text; 8.5 TOZ, .999FS
Edge; Plain
Mintage; 4 Known bars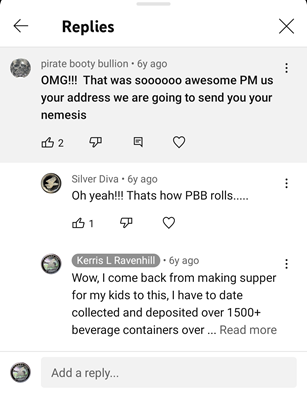 ☠️
Now back to our growing clique of Silver Diva fans, the giveaways were exciting in anticipation, PBB'S Booty banks were given away to random qualified participants that published a video "Shout Out" of her big giveaway to the Stacking community. To my realistic expectations, I didn't win.


However, I received a comment from PBB that he seemed very impressed by my participating video. He even paid for the cost of express postage. ⛵️ What a consolation prize!


@welshstacker also asked if I was happy with the purchase. I'll have to say, "Yes! as a pirate-in-my-own-mind who had invested in a Video editing package and over 50+ hours of editing time in this adventure." And at the same time, put me on the YouTube Stacking Community's map, Yes."
I kind of miss those old YouTube days. I've won more than my fair share of Giveaway Silver prizes, and all done in fun. The final chapter was the most memorable and yet the most difficult one to pull together.
I feel a bit sad that Silver Diva gave up publishing her videos some time ago. Her account footprint remains there but all of her videos have been taken down. But if I'm lucky I may catch a recent comment or two by her on another stacker member's channel.
The Saga of the Nemesis is spread over 14 videos.
Nemesis, What's in my Booty Bank My participation video entry.
Pirate Booty Bullion Treasure Map + Unboxing Featurette.

The Nemesis Unboxing Featurette
And that wasn't all from Silver Diva, but saving it for another time.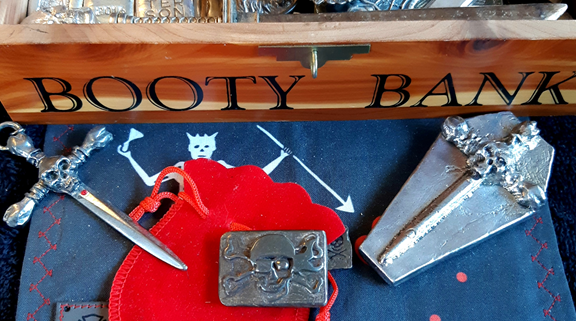 Added Hand Poured Silver to my Stack for that big stormy day!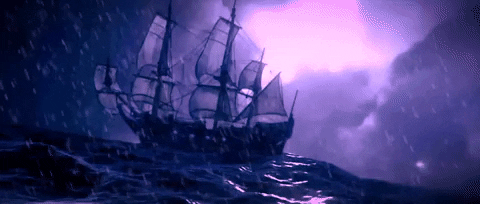 The #sycc tag is the scurvy scheme of Captain @welshstacker for #silvergoldstackers pirates to proudly showcase their shiny booty and plunder for all to see. Landlubbers arrrh… welcomed to participate and be a Pirate at heart so open yer treasure chests an' show us what booty yea got!
References
My own pictures shot with a Samsung SM-A530W
P. Image under Pixabay
W. Wiki Commons
💀 Page Dividers by thekittygirl 🎃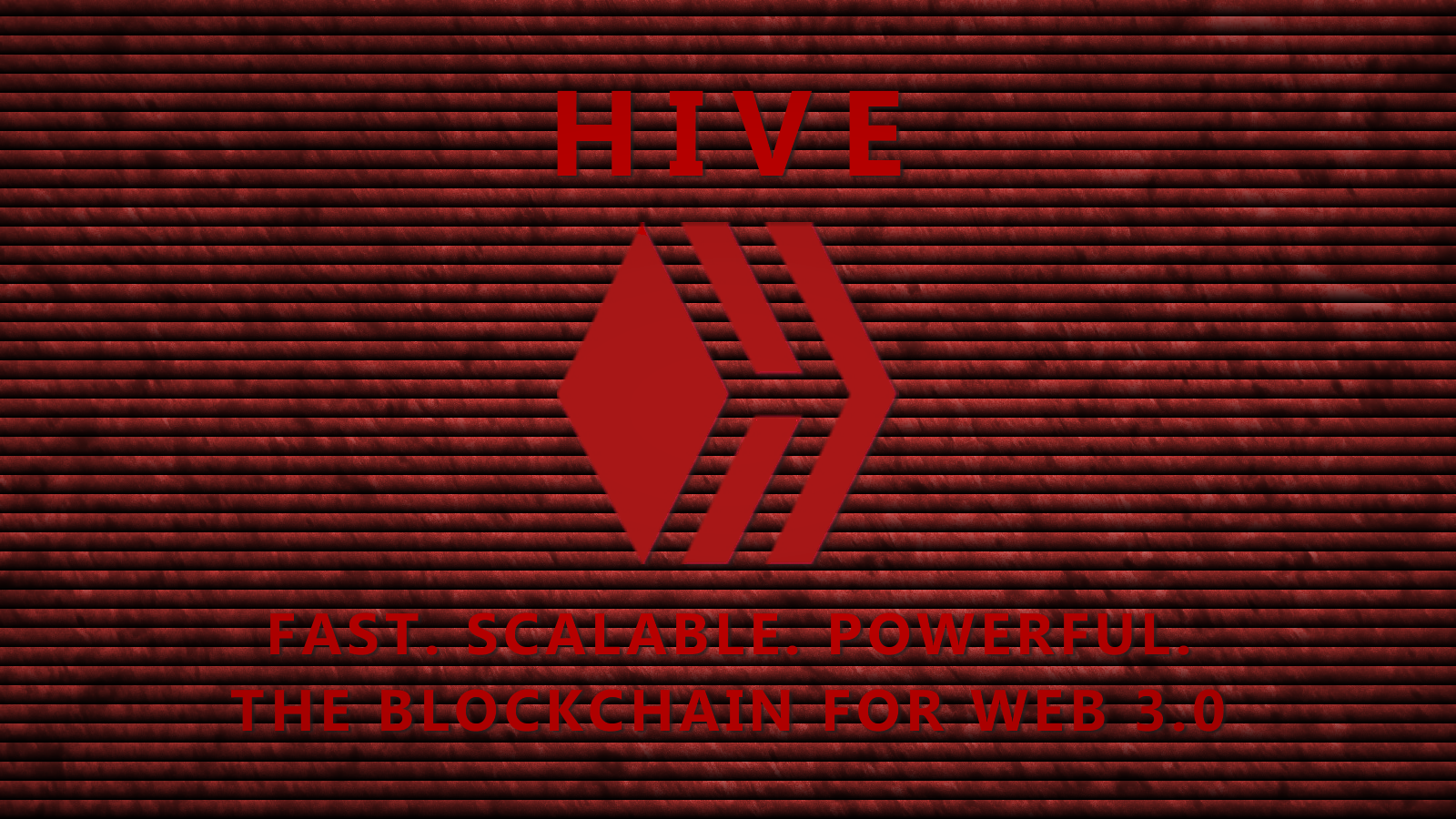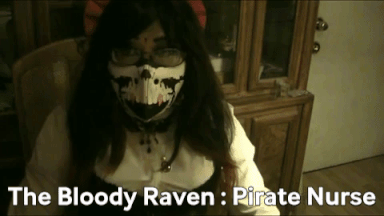 "Ahh ains nae bluudy Financial Advisor!"
---
---