The Dogecoin Effect Part 2: Mail Call from HK Colonial coins and Nyssacat373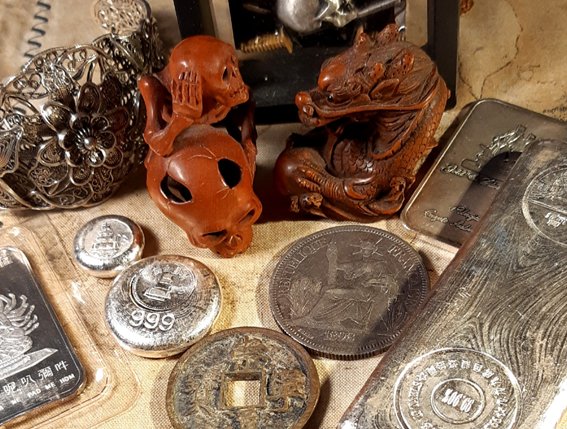 "By Buddha's boxing shorts!" Burt shook his head in disbelief. 🐲
Jin Jin turns his hollow eye sockets to his scaly friend, "What's wrong Burt?" 💀
🐲 "I'll explain later, look we got a reader Jin JIn."
"Blackbirds tend to like shiny things." ~ The Bloody Raven
Still flush with Dogecoin wealth I continue my Shopping spree.
Ben is his name. Proprietor of HK Colonial coins on Instagram out of Hong Kong. And perusing his IG Page you will find what appears as an eclectic assortment of coinage but nevertheless MY kind of coinage. Coinage often steeped in economic history as well as the obscure, exotic and the intriguing.
If you have been long familiar with my shtick as a Silver Stacking pirate the following acquisition is just beyond the fringe of my usual fare. When I saw this next item freshly posted within the hour, 29 available, I immediately asked DM'ed Ben to put one on HOLD for me.
1990 1 Troy oz. Johnson Matthey Silver Bar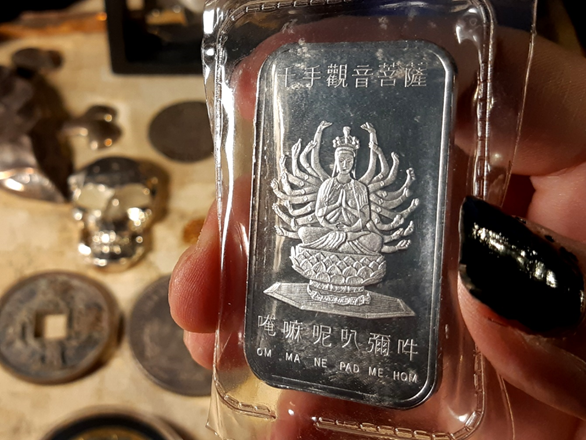 Reverse; Avalokiteśvara
Bottom Text "Jewel in the Lotus"
Minted in 1990
Estimated Mintage less than 250 bars
Avalokiteśvara is bodhisattva who embodies the compassion of all Buddhas as the familiar mantra is meditated upon. This familiar deity is the common denominator in many of the cultures throughout Asia existing in many forms including either male or female. The bar features one of the more popular manifestations Sahasrabhuja Sahasranetra, the Thousand Eyed, Thousand-Armed form, 'Sees all, Helps all.'
As a parent, a career nurse, land lady, home economist, Hive blogger, chauffer, and few other unnecessary working titles I could use a hand or a thousand of them to keep my life in order.
I was vaguely aware of it's relative scarcity regardless of what HK Colonial coins had set the price. After all, this is FUN Stacking! So, let's just get it.
Snapshot from allengelhard.com

An after-the-fact check with allengelhard.com validated my hunch regarding this rarity.
This bar was part of set, in celebration of Oriental Good Luck, but my luck has run out. His reply was apologetic stating that the bars were all SOLD OUT!
All 29 bars were gone just like that. Meanwhile, Nyssacat373 was sitting pretty with a confirmed pair of them on order. HK Colonial coin was himself surprised and mildly berated himself for not doing enough research before posting them for sale at a much lower price than it should be. Suggesting It would have been an awesome deal, but it didn't make me feel any better. The lesson learned; Speed and timing is of the essence.
While my remaining order was in the mail, some kind of prank had been cooked up when Nyssacat373 was showing off his newly acquired Johnson Matthey bar, singular. I didn't clue in right of way.
1 Troy oz. Johnson Matthey Silver Bar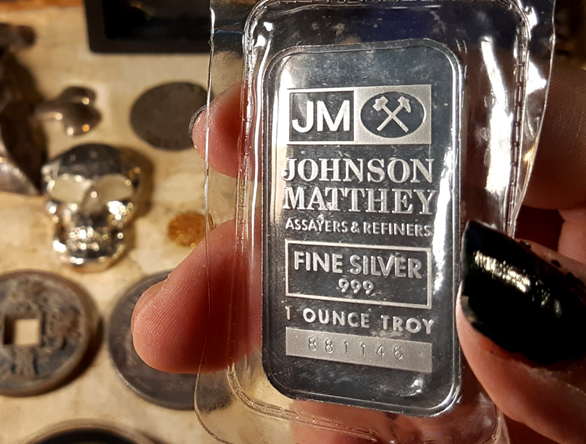 Obverse; JM Crossed Hammers Logo
Text; JOHNSON MATTHEY, ASSAYERS & REFINERS
Text; FINE SILVER, 999, 1 OUNCE TROY
Serial number 881146
Before my package arrived, Ben dropped another clue while being concerned and apologetic of the long shipping time. When I opened my package, I was not only relieved to finally have my shipment but surprised to see my goddess of the Working Mom Johnson Matthey bar, as I dubbed it.
This shouldn't count in my Dogecoin Effect acquisitions but chalk it up to the clever Captain Nyssacat373 to find a dramatic way to gift me this rare vintage bar, so thank you again. 💋 💋 💋 💋 💋 A five out of five for dramatics and style!
1898 French Trade Dollar
Next acquisition is another 'Trade Dollar' as I seem to have developed a taste for the Economic history of the region. I could have waited for a coin with a few Chop marks, but I just couldn't pass up this beauty at the time.
1898 French Indochina 1 Piastre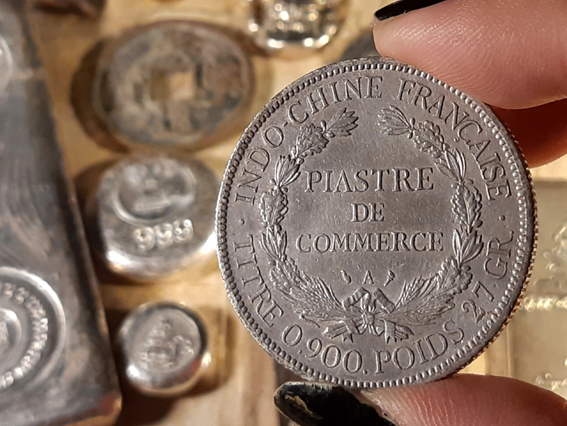 Reverse; Wreath and Denomination
Legend; · INDO-CHINE FRANCAISE · PIASTRE DE COMMERCE A TITRE 0,900. POIDS 27 GR.
Silver Fineness 0.900, Weight 27g
Diameter 39mm, Thickness 2.7mm
As you can see by the date and specifications of this French coin were like that of the British, United States, Japanese Trade dollar following the same 0.900 purity and 27g weight modeled by the original Mexican Colonial 8 Reales to facilitate trade in and out of China.
1898 French Indochina 1 Piastre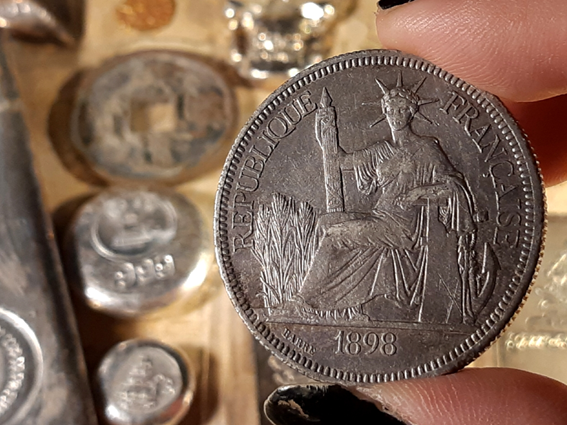 Marianne Liberty Seated
Legend; REPUBLIQUE FRANÇAISE,1898, BARRE
Edge; Reeded
Mintage of 4,304,000
Reference KM# 5a.1
Sunken Treasure from the Northern Song Dynasty
This was a bit of an impulse buy under my Category of 'Shipwreck' Treasure yet an interesting piece available from HK Colonial coin at the time. A larger bronze coin with an attractive calligraphy very different from the Chinese 1 cash bronze coins I had acquired almost two years ago in a yard sale.
1102 – 1106 Northern Song Dynasty 10 Cash Copper Chong Ning Tong Bao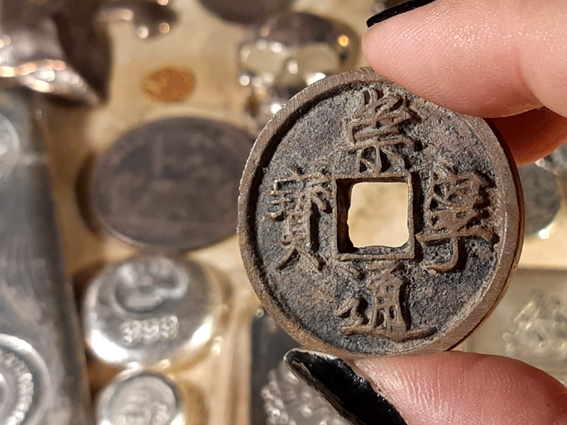 Obverse; Chong Ning Tong Bao
Bronze, 10.11g
Diameter 35mm, Thickness 3.9mm
Reverse is plain with no design, Edge is plain
Reference Hartill# 16.399, FD# 1040, Schjoth# 621
This larger denomination specimen was found in the muddy shipwreck of the Yangtze River in 2000. This coin features the admired calligraphy style of Emperor Huizong having the distinct "Iron strokes" and "Silver hooks."
🐲 "I have a confession to make Jin Jin."
"Go on Burt." 💀
🐲 "About 918 years ago, the Royal and Buddhist priests called upon the heavens to bless and protect this shipment of coin to the Depository in Chongqing. Emperor Huizong himself burned the royal incense and offered a sacrifice of Dragon fruit to summon me."
"That would make you a young Dragon that many years ago."
"Yes Jin Jin, and I was new to this sort of thing."
A size comparison of 1 Cash and the 10 Cash Bronze coin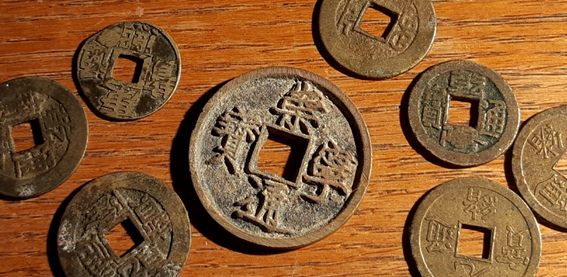 "What happened?" 💀
🐲 "The Junk hit some rocks and sunk... It was a long trip... I got bored... I got distracted by a school of beautiful Koi!... I WASN'T PAYING ATTENTION!... I got demoted to Chi Observer since." Moaned the Inro dragon with a sigh.
"Well Burt, at least doing the job with me."
"And satisfying work my friend, but the Head Dragon had some smooth explaining to do to the Song Emperor and the Monkey king."
1929 Bank of Indochina 20 Franc
Thank you again @punkysdad for allowing me to borrow this old banknote
New Caledonia, Reference P#37
Spicing things up, what kind of Exotic silver do you have in your Stack?
And thank you for coming aboard unto me pirate blog today!

The #piratesunday tag is the scurvy scheme of Captain @stokjockey for #silvergoldstackers pirates to proudly showcase their shiny booty and plunder for all to see. Landlubbers arrrh…welcomed to participate and be a Pirate at heart so open yer treasure chests an' show us what booty yea got!
The Dogecoin Effect Posts
1L. Leofinance; Mail Call from Monsterjamgold
1P. Peakd; Mail Call from Monsterjamgold
2L. Leofinance; Mail Call from hkcolonialcoins and Nyssacat373 Part 1
2P. Peakd; Mail call from hkcolonialcoins and Nyssacat373 Part 1
3. Mail Call from hkcolonialcoins and Nyssacat373 Part 2
4. The Dogecoin effect; The Beast has landed!
Sources
Wiki: Avalokiteśvara
HK Colonial Coins on Instagram
HK Colonial Coins on Ebay But don't go here.
Why? Because on IG, he may give you a discount if you offer Crypto as payment.
French Indo China trade Dollar 1 Piastre
Japanese Trade Dollar Meiji 1 Yen
British Trade Dollar
US Trade Dollar
Mexican Colonial 8 Reales
10 Cash Chon Ning Tong Bao
1929 Bank of Indochina 20 Franc
References
1. My own pictures shot with a Samsung SM-A530W
P. Image under Pixabay
R. Clip art from 123RF
W. Wiki Commons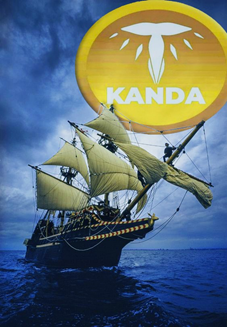 Educating Africans on the benefits of the Block chain
Join our Discord, https://discord.gg/cmbSM5B
"Et lux in tenebris to serve laboro, sum sicarius" "I work in the shadows to serve the Light, I am an Assassin"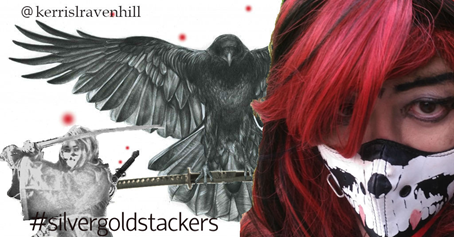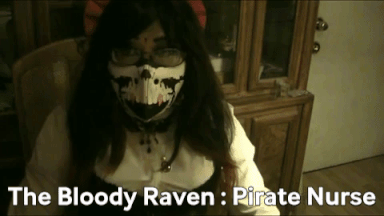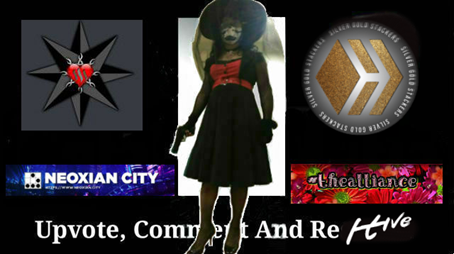 Posted Using LeoFinance Beta
---
---