Copa América femenina: Brasil Vs. Venezuela, un partido por la punta del grupo B. || Copa América Women: Brazil vs. Venezuela, a match for the top of Group B.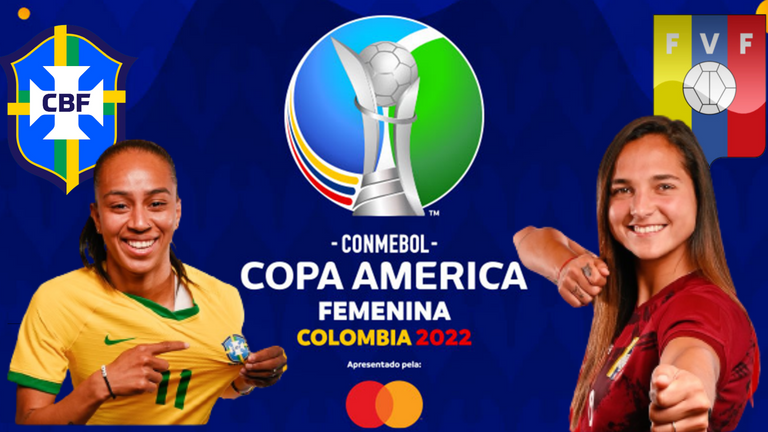 La Copa América femenina abrió el telón a su cuarta jornada en la fase de grupo, en el sector B una Brasil que había demostrado ser muy superior a sus rivales hasta ahora enfrentaba a una Venezuela que venía hasta esta jornada con puntaje perfecto y sin recibir goles, impulsadas por su goleadora Deyna Castellano querían dar la campanada y sorprender a una Canarinha que ha ganado 7 de 8 Copas Américas desde su creación.
The Women's Copa America opened the curtain to its fourth day in the group stage, in sector B a Brazil that had proven to be far superior to its rivals so far faced a Venezuela that came until this day with a perfect score and without conceding goals, driven by its striker Deyna Castellano wanted to surprise a Canarinha that has won 7 of 8 Copa Americas since its inception.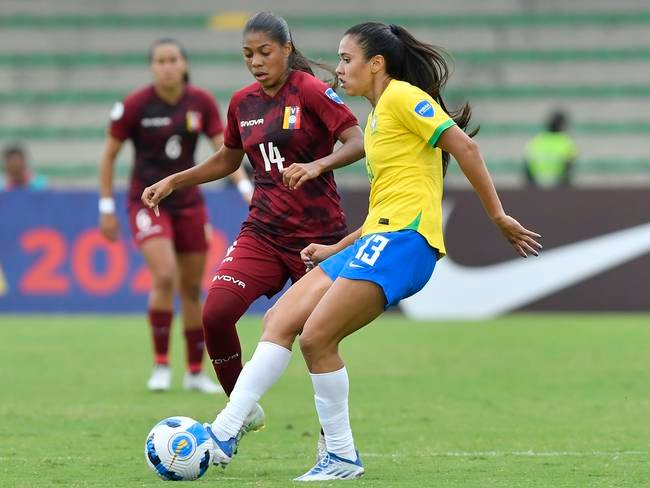 MUCHO TRABAJO PARA LAS DEFENSORAS.
Como era de esperarse, Brasil desde el primer minuto de juego fue muy ofensiva, mientras que Venezuela se replegó atrás en bloque, luego de 15 minutos las Brasileñas colocaban sus líneas muy adelantadas, llegaban al área rival hasta con cinco jugadoras para esperar un posible pase, así pues, al minuto 21' lograron romper la defensa Venezolana con un centro desde la banda izquierda que fue conectado por Beatriz Zaneratto para colocar el balón en el fondo de la red, 1-0 a favor de Brasil que había llegado en varias oportunidades y merecidamente se colocaba arriba en el marcador.
Bien llegada la mitad del primer tiempo la selección Venezolana tomó un poco más de protagonismo y se animaron a disputar un más la posesión del balón, al minuto 31' un tiro libre ejecutado por Deyna que pasó lejos de la portería Brasileña fue el primer disparo para el combinado Vinotinto, mismo conjunto que al 42' nuevamente de un tiro libre cobrado por Castellanos no fue despejado de la mejor forma de la defensa rival y dejó el balón libre, pero que las atacantes Venezolanas no pudieron capitalizar el empate, así terminaba el primer tiempo con Brasil ganando por la mínima, pero con una Venezuela que despertó en los últimos 20 minutos.
As expected, Brazil was very offensive from the first minute of play, while Venezuela retreated back in block, after 15 minutes the Brazilians placed their lines very advanced, reaching the rival area with up to five players to wait for a possible pass, so, at minute 21' they managed to break the Venezuelan defense with a cross from the left flank that was connected by Beatriz Zaneratto to place the ball in the back of the net, 1-0 in favor of Brazil that had arrived in several opportunities and deservedly was placed on top on the scoreboard.
Well into the middle of the first half, the Venezuelan team took a little more of the lead and were encouraged to dispute more possession of the ball, at minute 31' a free kick taken by Deyna that went far from the Brazilian goal was the first shot for the Vinotinto team, At minute 42, a free kick taken by Castellanos was not cleared in the best way by the rival defense and left the ball free, but the Venezuelan attackers could not capitalize the tie, thus ending the first half with Brazil winning by the minimum, but with a Venezuela that woke up in the last 20 minutes.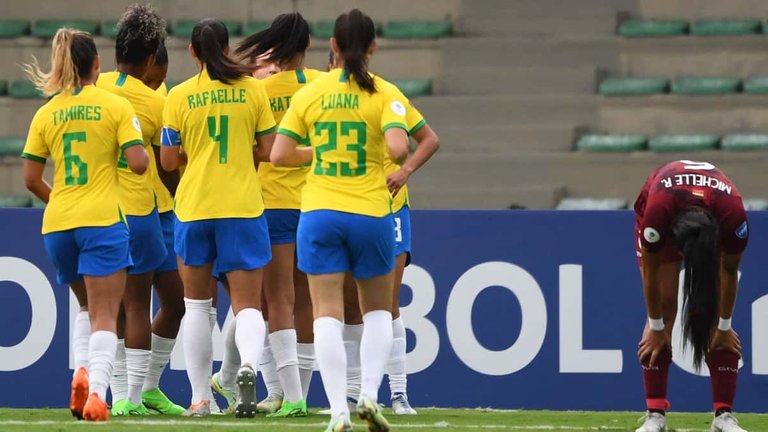 UNA BRASIL DESATADA.
La segunda mitad no pudo comenzar de la peor forma para Venezuela al 51' una contra Brasileña que dejó cuatro atacantes contra solo dos defensoras fue canjeado por un gol gracias a Ary Borges que colocó el balón en la esquina inferior del palo izquierdo dejando sin posibilidades a Nayluisa Cáceres, a partir de este momento la vinotinto se desconfiguró en el terreno de juego, las Brasileñas en los minutos siguiente tuvieron varias oportunidades de mucho peligro donde la portera Venezolana fue clave para mantener el resultado, pero al 58' un centro que inició dentro del área fue golpeado por Debinha quien estaba sola en el segundo palo y nada más tuvo que colocar la cabeza para anotar el tercer gol para su conjunto, con esto el partido ya se podía decir que era una victoria cómoda para las dirigidas por la Sueca Pia Sundhage.
La Canarinha no aflojó, al minuto 65' completaba la goleada con una jugada individual muy destacada por parte de Debinha quien se adentró en del área eludiendo hasta dos defensoras rivales, con esto el 4-0 en el electrónico ya se había consumado, Venezuela optó por cuidar a sus jugadoras para el próximo partido así que utilizó el banquillo rápidamente en el segundo tiempo, la Vinotinto intentó anotar un gol, pero la puntería estaba desajustada, al final Brasil se llevaba una cómoda victoria que significaba la clasificación a la semifinal como primera de grupo a falta de una jornada, mientras que Venezuela jugará ante Argentina un encuentro de vida o muerte en búsqueda de la selección que acompañe a Brasil como segundo lugar del grupo, recordando que en esta Copa América se dan cupos al mundial, juegos olímpicos y panamericanos habrá mucho en juego en la última jornada.
The second half could not start in the worst way for Venezuela at 51' a Brazilian counter attack that left four attackers against only two defenders was exchanged for a goal thanks to Ary Borges who placed the ball in the lower corner of the left post leaving Nayluisa Cáceres with no chance, from this moment on the Venezuelan team was disconfigured on the field, In the following minutes the Brazilians had several dangerous opportunities where the Venezuelan goalkeeper was key to keep the score, but at 58' a cross that started inside the area was hit by Debinha who was alone at the far post and she only had to place her head to score the third goal for her team, with this the match could already be said that it was a comfortable victory for the team led by the Swedish Pia Sundhage.
The Canarinha did not let up, at minute 65' they completed the scoring with a very outstanding individual play by Debinha who entered the area eluding two rival defenders, with this the 4-0 on the scoreboard had already been consummated, Venezuela opted to take care of their players for the next game so they used the bench quickly in the second half, the Vinotinto tried to score a goal, but the aim was off, In the end, Brazil took a comfortable victory that meant the qualification to the semifinal as first in the group with one game left, while Venezuela will play against Argentina a life or death match in search of the team that will accompany Brazil as second place in the group, remembering that in this Copa America there are quotas to the World Cup, Olympic Games and Pan American Games, there will be a lot at stake in the last game.

Imagen de portada hecha en Canva.
Fuente. Fuente. Fuente. Fuente.
Cover image made in Canva.
Source. Source. Source. Source.



---
---