Eurocopa Femenina Inglaterra 2022: Noruega Vs. Austria, dos selecciones para solo un boleto a cuartos de final. || Women's EURO England 2022: Norway vs. Austria, two teams for only one ticket to the quarterfinals.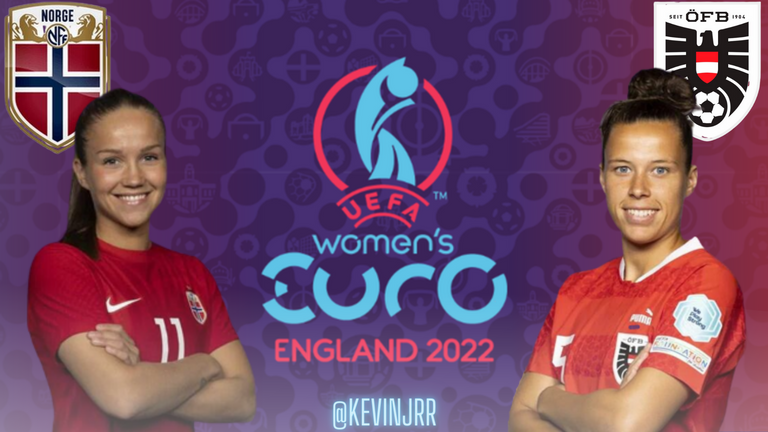 La definición del segundo clasificado a la siguiente ronda en el grupo A estaba más que interesante, con un duelo directo de vida o muerte entre una Noruega que alguna vez fuera campeona del mundo y oro en juegos olímpicos ante una Austria que buscaba llegar por segunda vez consecutiva hasta los cuartos de la Eurocopa, una de las dos le tenía que decir adiós al torneo en fase de grupo, ¿quién fue?
The definition of the second qualifier to the next round in Group A was more than interesting, with a direct duel of life and death between a Norway that was once world champion and Olympic gold medalist against an Austria seeking to reach the quarterfinals of the European Championship for the second consecutive time, one of the two had to say goodbye to the tournament in the group stage, who was it?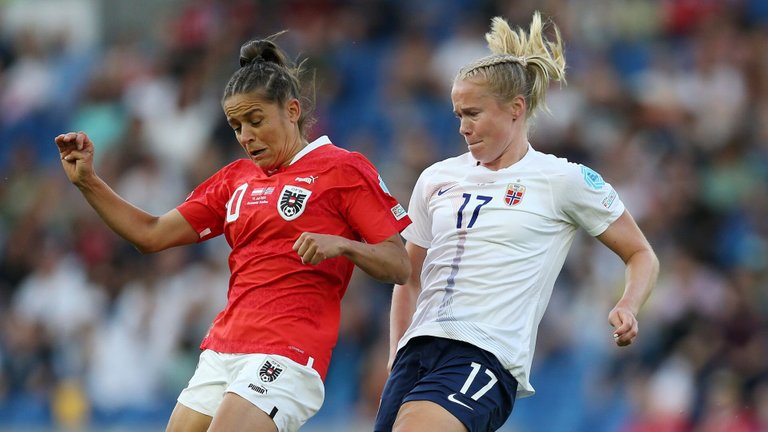 NO EXISTÍA UN MAÑANA.
Para dar contexto de lo que se jugaba, Noruega era la selección necesitada, solo los tres puntos le daban la clasificación a la siguiente ronda, mientras que Austria con el empate le bastaba para estar presente en los cuartos de final, los primeros 10 minutos del partido fueron de mucho estudio, ninguna de los combinados nacionales hizo presencia activa en el campo rival durante este tramo del partido, con el correr de los minutos las Austríacas se les veía muy cómodas en su juego, a pesar de que no le pasaban por encima a su rival, su estrategia fue estar bien paradas en todo momento en defensa y que el sector del campo donde más tiempo pasará el balón fuera el centro del mismo.
Al minuto 37' un centro desde una posición un poco más adelantada al centro del campo por parte de la lateral Aschauer fue conectada por la delantera centro Nicole Billa para mandar al balón a la parte baja del palo izquierdo siendo imposible para la portera Noruega llegar, con esto se rompía la paridad en el marcador, 1-0 ganaba Austria sobre una Noruega que no encontraba asociaciones y que rara vez se le vio en un buen ritmo de juego en toda la primera parte, a pesar de ser ellas las que necesitan la victoria, tal vez esta misma presión de necesitar los tres puntos les estaba pasando factura con relación a los nervios de sus jugadoras dentro del campo.
To give context to what was at stake, Norway was the team in need, only the three points were enough to qualify for the next round, while Austria, with a draw, was enough to reach the quarterfinals, the first 10 minutes of the match were very studious, Neither of the national teams had an active presence in the opponent's field during this stretch of the match, as the minutes went by the Austrians looked very comfortable in their game, even though they did not go over their rival, their strategy was to be well stopped at all times in defense and that the sector of the field where the ball would spend more time was the center of the field.
In the 37th minute, a cross from a slightly more advanced position in the center of the field by Aschauer was connected by center forward Nicole Billa to send the ball to the bottom left corner, making it impossible for the Norwegian goalkeeper to reach it, thus breaking the parity on the scoreboard, Austria won 1-0 over a Norway that could not find associations and that was rarely seen in a good rhythm of play throughout the first half, despite being the ones who need the victory, perhaps this same pressure of needing the three points was taking its toll on the nerves of their players on the field.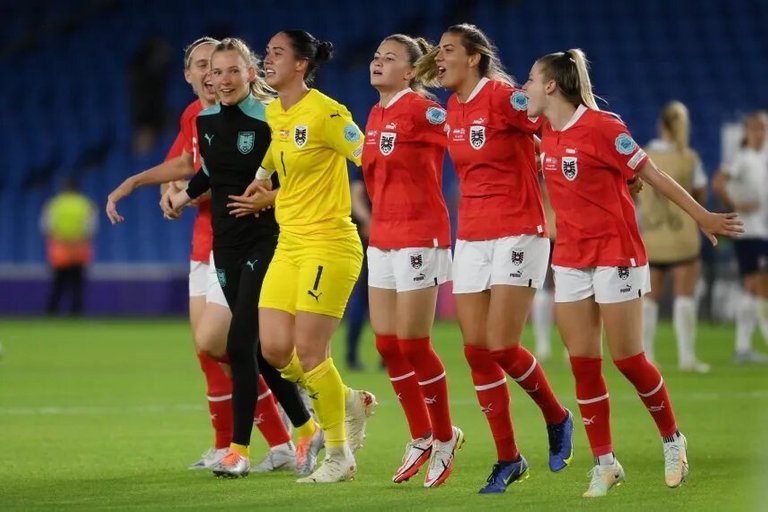 UNA NORUEGA EN K.O.
Ya en la segunda parte del partido Austria solo tenía que seguir con el plan que venían ejecutando hasta ahora, mantener el balón lejos de su portería y si pueden finiquitar el encuentro con otro gol, por otro lado, Noruega necesitaba una estrategia mucho más ofensiva de lo que había mostrado antes del descanso, esto para soñar con poder penetrar una defensa que hasta ese momento no tenía complicaciones, llegado el minuto 60 todo seguía de la misma forma, Noruega estaba desdibujada en el terreno, muchas imprecisiones sobre todo en los pases de las defensoras hacia los medios, muchos laterales fueron regalados a Austria por pases errados de este tipo, a falta de 15 minutos para el final el entrenador Austriaco ya estaba con la idea de refrescar algunas zonas del campo para que sus jugadoras no bajarán la intensidad, a este punto Austria dominada con claridad.
Sin embargo, al 82' Noruega se jugó todo, ingreso a una delantera en sustitución de una defensa, esto para obtener más presencia en el ataque, y les resultó al 89' un disparo potente de Iidhusøy se estrelló en el palo casi empatando el marcador, siendo esta la primera ocasión clara para ellas en todo el juego, ya en el añadido, al 92' la portera Austríaca Zinsberger sacó una clara opción de peligro, con esto el partido finalizaba, con un marcador final de 1-0 a favor de Austria que las clasificaba a la siguiente ronda, dejando eliminada a una Noruega llena de figuras a escala de clubes, pero que nunca se sintió cómoda durante el partido, solo una leve reacción en los últimos minutos, pero que no fue suficiente para despedirse de la competición continental en fase de grupos, con esto una Inglaterra invicta clasifica acompañada de Austria quien lo hace como segunda a cuartos de final en representación del grupo A.
Already in the second half of the match Austria only had to continue with the plan they had been executing so far, keep the ball away from their goal and if they can finish the game with another goal, on the other hand, Norway needed a much more offensive strategy than they had shown before the break, this to dream of being able to penetrate a defense that until that moment had no complications, At the 60th minute everything continued in the same way, Norway was blurred on the field, many inaccuracies especially in the passes from the defenders to the midfield, many laterals were given to Austria by erroneous passes of this type, with 15 minutes to go the Austrian coach was already with the idea of refreshing some areas of the field so that his players would not lower the intensity, at this point Austria dominated clearly.
However, at 82' Norway went all out, they introduced a striker to replace a defender, this to get more presence in the attack, and it worked out at 89' a powerful shot by Iidhusøy crashed into the post almost tying the score, this being the first clear chance for them in the whole game, and in the added time, at 92' the Austrian goalkeeper Zinsberger took out a clear danger option, with this the game ended, With a final score of 1-0 in favor of Austria that qualified them to the next round, leaving eliminated a Norway full of stars at club level, but that never felt comfortable during the match, only a slight reaction in the last minutes, but that was not enough to say goodbye to the continental competition in the group stage, with this an undefeated England qualifies accompanied by Austria who does it as second in the quarterfinals representing group A.

Imagen de portada hecha en Canva.
Fuente. Fuente. Fuente. Fuente. Fuente.
Cover image made in Canva.
Source. Source. Source. Source. Source.



---
---