A No-Loss Lottery Providing Investment Returns? Welcome to Moonpot!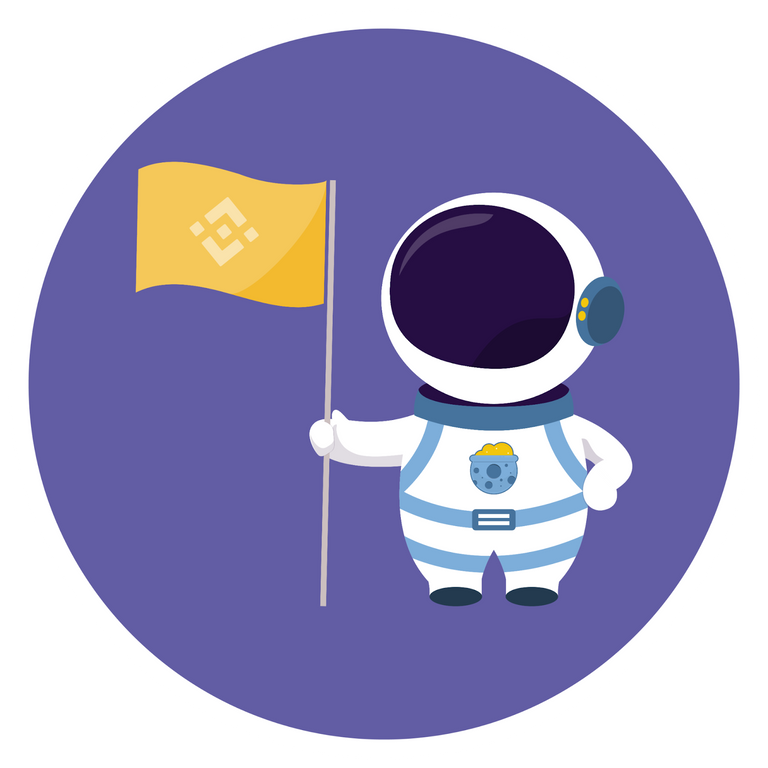 Photo Source
INTRODUCTION
So, you might be thinking this guy's gone totally nuts. Well folks, I haven't (at least not yet!). The title to this article may seem unbelievable but trust me, keep reading, it's 100% genuine,
First things first, let's get all the usual disclaimers out of the way. This article is presented for educational purposes only and in no way constitutes investment advice. Should you decide to invest, you do so at your own risk. And this article should not be a substitute for your own due diligence prior to the making of any investment.
Now that that is out of the way, this morning I was scouring the internet looking for something new and different to write about today. An article on Moonpot caught my attention which I read and then decided to check out the site. Well ... I decided I liked what I saw, invested a small amount to give it a try, and now I'll share some details with you.
MOONPOT - IN GENERAL
Moonpot is a win-win prize game on Binance Smart Chain that rewards everyone who takes part. Deposit crypto in one of our savings pots and you are automatically entered into a weekly prize draw. Moonpot prizes are worth tens of thousands of dollars (paid in crypto). Your deposit acts as your entry ticket but is never at risk. Even if you don't win the Moonpot prize, your deposit will always get bigger thanks to the interest paid on your assets. Think of Moonpot as a crypto savings account that also enters you into a weekly big-money prize game.
[Moonpot. Ziggy's Guide to Moonpot - General. (Accessed November 24, 2021)].
When I was reviewing the documentation concerning the Moonshot protocol, I was greatly impressed with their presentation on trustworthiness of the platform:
Moonpot's code is open-source and built by the Certik-audited team at Beefy Finance — the most recognized name when it comes to trust in the DeFi world. Moonpot is essentially a brand extension from core members of the Beefy team working alongside carefully selected partners. The backing of this proven project — which already safely manages over 400m USD of assets — means you can be sure that the code, savings pots, and prize mechanism are entirely secure and trustworthy.
[Id.].
So what makes Moonpot unique?
... Moonpot is different from other DeFi projects because of how its smart contracts allow users to always get a return on their investment while also being part of a crypto prize draw — with no reduction in their original stake for being involved. This creates a win-win guaranteed by code where everyone earns interest, but also has a chance of winning big each week thanks to Moonpot's prizes. No other project on Binance Smart Chain is doing this.
[Id.].
MOONPOT - HOW DOES IT WORK?
Moonpot went live on July 20, 2021, so it is a relative newcomer to the DeFi scene. The platform is comprised of various 'pots', where users deposit crypto to earn interest. In essence, Moonpot is a cryptocurrency savings platform with a kicker as each depositor is automatically entered into a prize draw held at regular intervals. Best part, at no point in time is the depositors stake at risk of loss.
The prize winning ticket[s] awarding the big cryptocurrency prizes is selected randomly and fairly by smart contract. The following photo shows an example of two of the pots presently offered by Moonpot: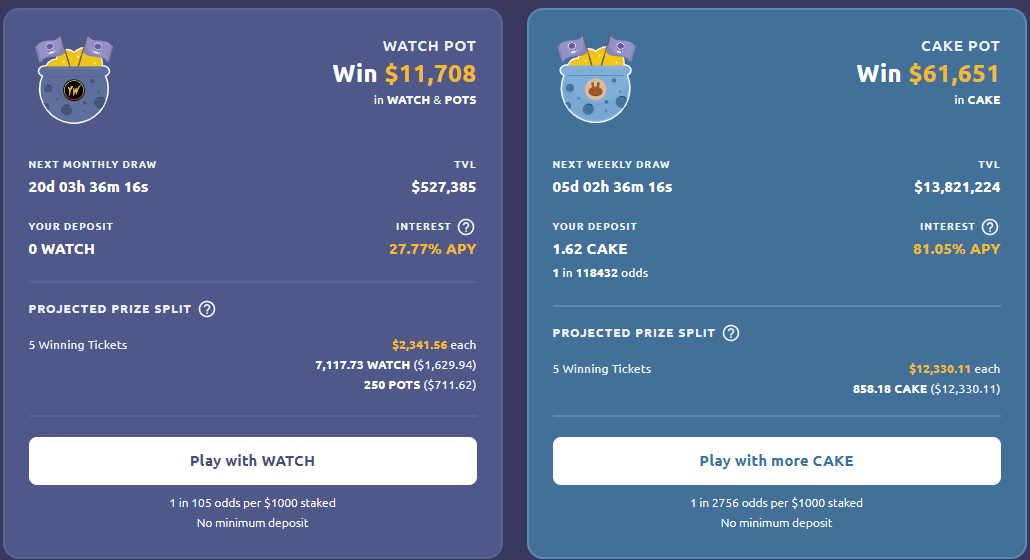 Photo Source
All in all, at the time of the writing of this article, Moonpot offers 16 savings 'pots': Pots & BUSD; Alpaca; Watch; Cake; BNB; Cake Side Pot; 4Belt USD; Baby; Pacoco; Banana; Pots-BUSD LP; XBLZD; Pots-BNB LP; BiFi; Cake-BNB LP: and BiFi-BNB LP. It is important that you check the terms of each 'pot' as they vary. Depending on the pot, draws for prizes are held daily, weekly, bi-weekly, or monthly, and some pots have one winner, five winners or ten winners.
Once you deposit assets into a Moonpot you are immediately eligible for the next prize draw to be held for that pot. You are then automatically entered into each and every prize draw connected with that particular Moonpot — as long as your assets remain in the pot. There is no 'ticket' to buy each week. Your deposit acts as your entry ticket.
[Id.].
HOW IS THE MOONPOT PRIZE POOL GENERATED WITH NO LOSS TO THE DEPOSITOR?
No, it isn't magic, but a well thought out plan and excellent use of smart contracts that permits this outcome.
All the assets deposited into a pot are grouped together via smart contracts and used to earn returns from the decentralized financial markets. For example, a DeFi money market where interest is paid to those lending out assets. And so that's where the prize money comes from — interest earned by Moonpot through the platform's savings strategies. Our smart contracts leverage the different DeFi products out there to earn returns for you as an individual, and rewards for the platform to give out as prizes. Your stake helps create the prize fund but is never taken from you. You play for no loss!
[Id.].
HOW SECURE IS THE MOONPOT PROTOCOL?
It is the mission of Moonpot to grow depositor's assets, not to lose them. Putting security at the forefront, all deposits are added to Certik audited 'pots' which were created by the proven teams at Beefy Finance in the first place.
The only risks we can think of are: (1) if there is a bug or exploit in Moonpot's smart contracts that can be taken advantage of, or (2) if one of the DeFi products we're using to earn interest for the platform has a problem or fundamental failure. We've worked hard to reduce these risks by (1a) having our code extensively audited by Certik — a third-party auditing service that specializes in smart contracts, and delivers the most advanced security audits in the crypto industry, (1b) creating a bug bounty with Immunefi and (2) being very cautious about which partners and products we work with to earn interest. Currently that's limited to just PancakeSwap — literally the number-one-rated project on Certik's safety leaderboard.
[Id.].
MOONPOT - TOKENOMICS
Per CoinMarketCap, at the time of the writing of this article (November 24, 2021 at 09:15 EDT) there is a self reported circulating supply of 4,842,739.12 POTS. With the current price of $2.83 the market capitalization of Moonpot (POTS) is $13,688,531. There is a total supply of 10,000,000 coins authorized yielding a fully diluted market capitalization of $28,279,719. Presently, Moonpot (POTS) is ranked No. 3565 by CoinMarketCap.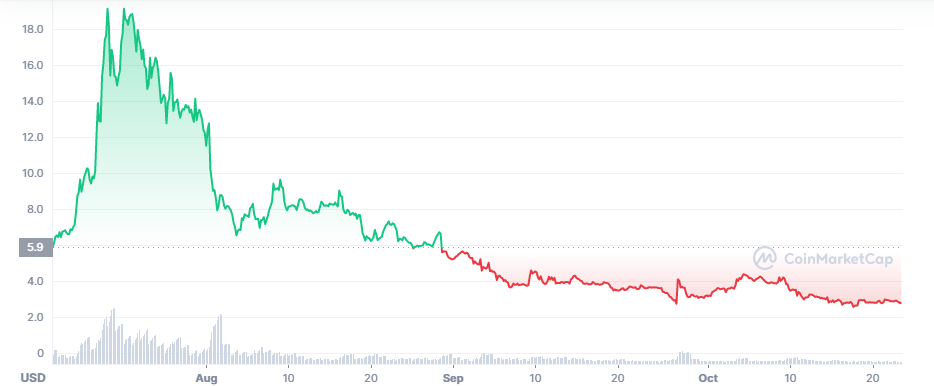 Photo Source
It should be noted that the POTS token first became available for purchase on August 3, 2021. It was priced at $1.00/token
MOONPOT POTS TOKEN - REVENUE SHARING/GOVERNANCE
Moonpot has its own native token, POTS, which acts as both a revenue sharing mechanism and a governance mechanism. As a revenue sharing mechanism: "By holding $POTS and staking it in our governance pot you will receive a proportional amount of the platform's revenue. These rewards are also in $POTS that come from open-market purchases, creating buying pressure on the token. You will also be part of the Ziggy's Pot's monthly prize draw." [Id.].
As a governance mechanism: " ... $POTS is a fair and equitable way of distributing voting power in the platform. The more $POTS you have, the more voting power you have. The reason behind this is simple. Token holders are concerned with the health and success of Moonpot due to the reward mechanism mentioned above. Users with larger amounts have more of a stake in the platform and its longevity." [Id.].
PROTECTION AGAINST 'HIT AND RUN' PLAYERS
The Moonpot protocol has in place a ten day 'Fairplay Timelock' to ensure users don't hit and run without contributing to the platform. "The Fairplay Timelock exists to prevent someone depositing just before a prize draw, and then immediately withdrawing if they don't win, without having contributed to the group growth." [Id.].
CONCLUSION
If you like a crypto lottery that pays a return and you don't lose your stake, Moonpots may be just the right win-win destination for you. I put my money where my mouth is on this one and have a small amount deposited in the Cake 'pot'.
But please, don't just blindly take my word for it. Every individual investor possesses a different present financial circumstance, tolerance for risk, and investment strategy. These must be weighed in light of the factors and information above provided in finalizing any investment decision. Accordingly you as the potential investor must make the final investment decision that is appropriate for your individual circumstances and in your best interests. This article should not be your substitute for your own due diligence.
And finally, please, never invest more than you comfortably afford to lose. Good luck with whatever you decide.
Posted Using LeoFinance Beta
---
---