Take that Sen. Warren! Sen. Tuberville Introduces the Financial Freedom Act - News Brief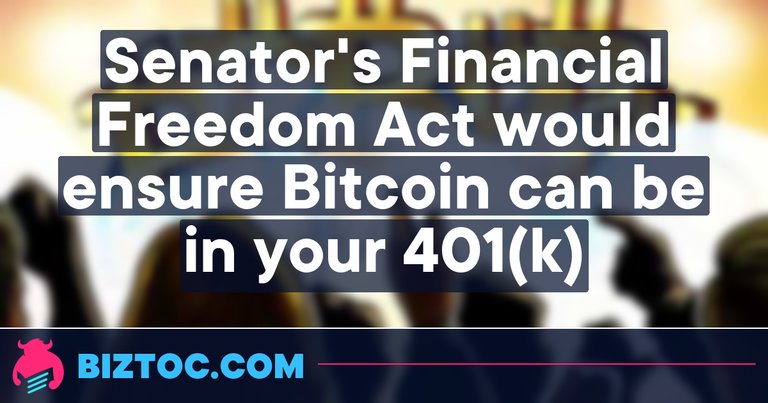 Photo Source
It is common knowledge that Senator Elizabeth Warren is no fan of cryptocurrencies, in fact, calling the entire cryptocurrency industry the 'new shadow bank' [See e.g. Partz, H. Sen. Elizabeth Warren calls crypto the 'new shadow bank'. (Accessed May 6, 2022). When Fidelity Investments on April 26, 2022 stated it would begin allowing 401(k) accounts to include Bitcoin, Warren (and Sen. Tim Smith) penned a letter to the Fidelity CEO suggesting a potential conflict of interest in that Fidelity had been involved in crypto products since 2017. "The letter also mentioned "significant risks of fraud, theft and loss" associated with crypto assets" [Partz, H. Sen. Warren asks Fidelity to address the risks to put Bitcoin in 401(k)s. (Accessed May 6, 2022)].
Warren's letter must be taken in conjunction with the prior warnings from the United States Department of Labor. "The United States Department of Labor (DOL) has told 401(k) investors to "exercise extreme care" when dealing with cryptocurrencies and other digital assets citing fraud, theft and financial loss as "significant risks" [Mitchelhill, T. US Labor Dept warns of crypto risks in retirement plans. (Accessed May 6, 2022)].
So...in response to Warren (and Smith), as well as the Department of Labor, "Republican Senator Tommy Tuberville from Alabama has unveiled a new bill he calls the Financial Freedom Act to allow Americans to add cryptocurrency to their 401(k) retirement savings plan unencumbered by regulatory guidance" [Newar, B. Senator's Financial Freedom Act would ensure Bitcoin can be in your 401(k). (Accessed May 6, 2022). According to Tuberville:
The federal government has no business interfering with the ability of American workers to invest their 401(k) plan savings as they see fit.
[Tuberville, T. Op-ed: Cryptocurrency should be allowed in individual retirement plans. That's why I'm introducing the Financial Freedom Act. (Accessed May 6, 2022)].
Tuberville maintains that the shift in DoL policy prohibiting employees to self direct their income investments runs contrary to longstanding practice.
The agency's new guidance ends this tradition of economic empowerment in favor of Big-Brother government control. Additionally, the Labor Department's overreaching guidance seeks to place a massive new regulatory burden on 401(k) plan fiduciaries by requiring them to assess the suitability of investments offered through a brokerage window and to restrict investment options.
[Tuberville, supra].
Continuing, Tuberville maintains:
Whether or not you believe in the long-term economic prospects of cryptocurrency, the choice of what you invest your retirement savings in should be yours — not that of the government.
[Id].
And in conclusion, Tuberville stated:
America was built on the idea that we each chart our own destiny. The government-knows-best approach being pushed by the current administration runs counter to the values that made our country the most prosperous nation in history.
[Id].
Final Thoughts
While Tuberville has made his point very clearly in the CNBC Op-Ed, no other Senator has come forward as of yet to publicly support his bill. As there is a Democratic majority in the Senate, the Tuberville bill faces a tough uphill battle. Nonetheless, the bill goes a long way in support of mainstream crypto adoption and speaks well in opposition to the current administration's tendency for overreaching.
Posted Using LeoFinance Beta
---
---