In a World of Uncertainty, HBD is Proving to Be The #1 Stablecoin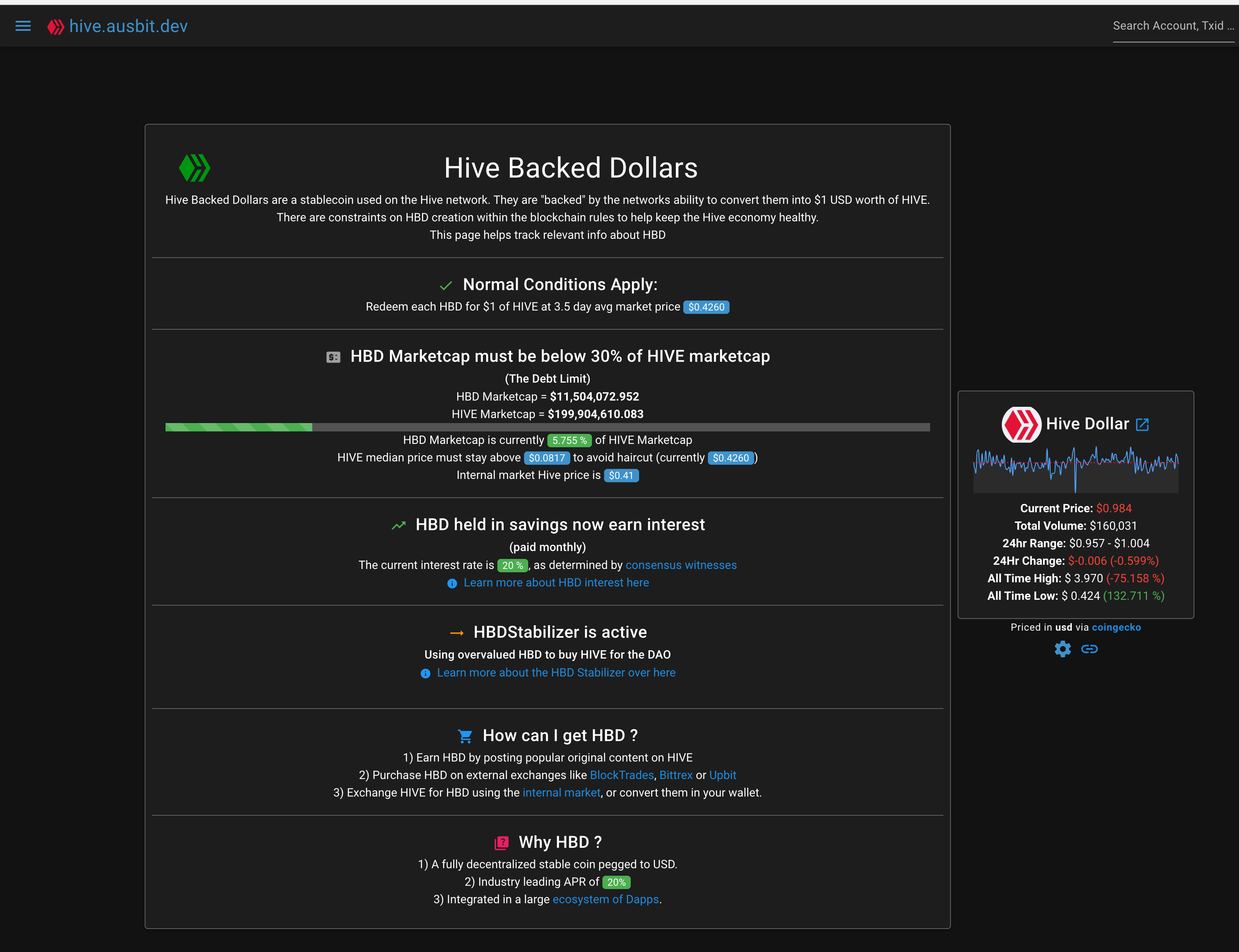 We're living in a world of bank runs, crypto companies collapsing and overall uncertainty about... well, everything. The world is in a state of constantly questioning things. I think this is healthy in a lot of ways, but it also can be detrimental.
COVID kicked off a state of massive distrust with the establishment. As people in crypto, we've spent a significant amount of time already on this spectrum but now it seems that the masses are coming around to a new way of thinking.
Maybe everything isn't as okay as we are told it is. Maybe we are told things to just keep us quiet and moving forward and consuming the next iPhone or that package from Amazon or pay that student loan bill. Keep quiet and march on.
Stablecoins
Stablecoins in crypto have always been a fascinating concept to me. I've been in crypto since before Ethereum gained adoption - so that means I've been around when things were just BTC.
If you were in crypto, it meant that you held Bitcoin. There wasn't a whole lot else to do in this industry other than to keep calm and stack sats.
Then Ethereum started promising us the virtual computing model. We started to get excited about the premise of decentralized applications (dApps) and how they could change the world.
And slowly, a whole new world unfolded. Ethereum delivered a dApp revolution and also a revolution in altcoins and spin-off blockchains.
We also managed to get really amazing developments like Steem Hive and all of the incredible technology that comes along with it.
Stablecoins were a natural development. When crypto was just crypto (BTC, ETH, etc.) then we were forced to endure massive volatility all the time. The only "safehaven" was if you went back to fiat and saved yourself some of the volatility by taking some profits into USD.
Stablecoins originally offered that safehaven. We could move from BTC or ETH into USDT and have a little safety net.
Slowly, stablecoins gained more and more adoption. Suddenly, we could also lend out stablecoins and earn interest. It became a whole new way to remove yourself from the fiat system, hold crypto but also have some "cash" in the form of safe stablecoin in one of your wallets.
Then we saw UST collapse. Slowly, people started to question every other stablecoin. This is not new, people have been questioning USDT and the reality of their reserves since the beginning of USDT.
The Promise of a Hard Peg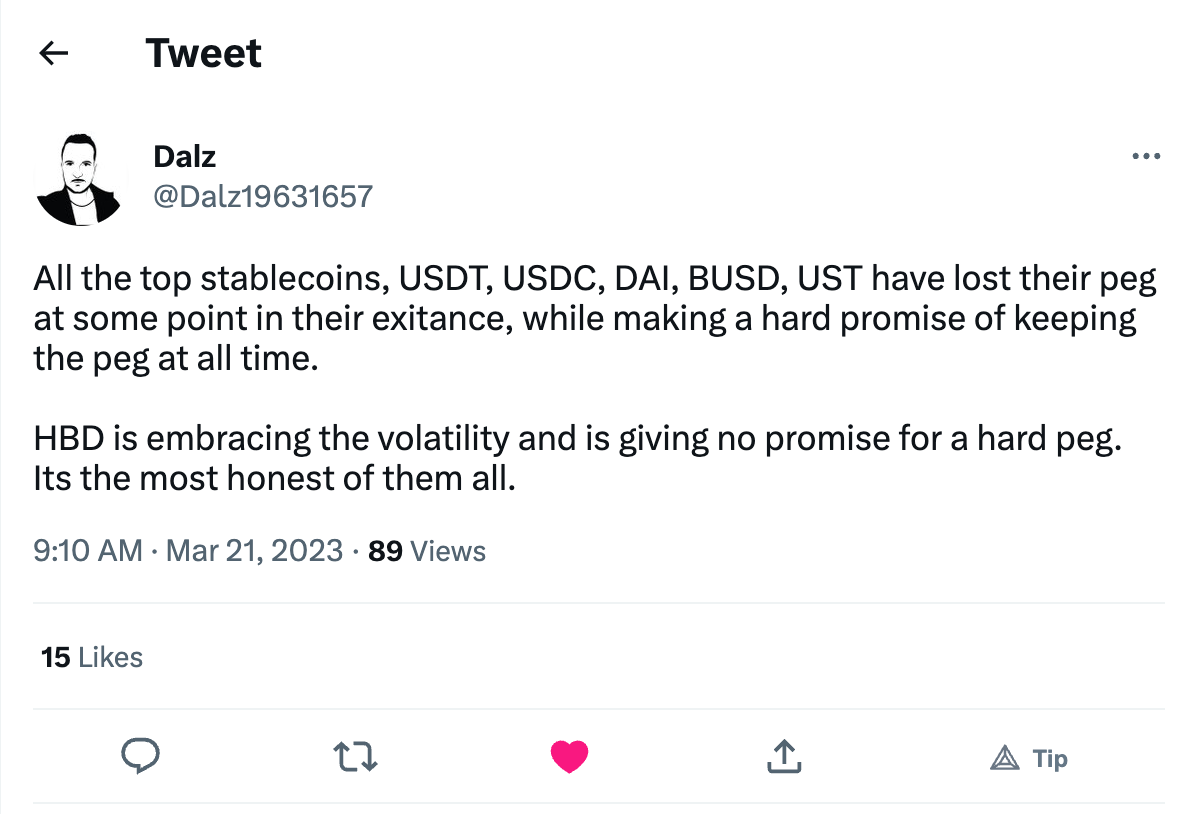 Well this title could be read in two very different contexts. Get your head out of the gutter and keep it focused on stablecoins.
Dalz put out this tweet and it resonated with me: Stablecoins like USDT, USDC, BUSD, UST, etc. offer hard pegs. They MUST be worth $1, always. If they aren't, then something is wrong.
HBD does not fool anyone. It offers a soft peg. Instead of promising to always be worth $1, it promises to always be worth roughly $1 worth of HIVE - UNLESS certain conditions are met. This is where the debt limit, haircut rule and other variables come into play.
HBD Can't Collapse
Yes, HBD could in theory become worth $0.60, but it can't death spiral like UST. We all understand that it is soft-pegged.
If HIVE were to crash below $0.0817, then we all know what happens. HBD loses its peg temporarily.
On the other hand, we all know that if HIVE crashes down that low, it will also recover. This blockchain has an insane amount of development relative to the size of its market cap. An insane amount of usage as well.
Combine that with the economics that drive this chain and the newly updated HBD model and I believe that HIVE is severely undervalued.
Now, this shouldn't be a factor for a stablecoin. It should always be worth as close to $1 as possible, right?
Well, that's the goal but the volatility in between isn't necessarily a bad thing.
Other stablecoins are inflexible. HBD is flexible. If USDC drops to $0.92 overnight, then people start losing their shit and wondering if the whole USDC economy is going to break and go to $0 like UST did.
If HBD drops to $0.92, we all say "well, it is a soft-peg" and many of us will look at the numbers behind the scenes: the debt limit, HBD market cap, HIVE market cap, etc.. It's all on-chain.
When shit gets windy, HBD sways in the wind while other stablecoins start to shatter at their base. They MUST hold their peg to keep confidence - kinda like how a bank run in TradFi works. HBD doesn't play the confidence game, it works how it works and we all know it.
Unique Opportunity for HBD Adoption
I think the 20% APR is a genius move by Hive as an ecosystem. We're giving people a reason to look our way. The reason is far too large to not give it a fair look.
HBD offers one of the most unique opportunities in crypto. 20% APR on a stablecoin with a soft peg, amazing economics and a community that has been around longer than 99% of other crypto projects and even the top stablecoins out there.

About LeoFinance
LeoFinance is a blockchain-based Web3 community that builds innovative applications on the Hive, BSC, ETH and Polygon blockchains. Our flagship application: LeoFinance.io allows users and creators to engage & share micro and long-form content on the blockchain while earning cryptocurrency rewards.
Our mission is to democratize financial knowledge and access with Web3.
Twitter: https://twitter.com/FinanceLeo
Discord: https://discord.gg/E4jePHe
Whitepaper: https://whitepaper.leofinance.io
Our Hive Applications
Join Web3: https://leofinance.io/
Microblog on Hive: https://leofinance.io/threads
LeoMobile (IOS): https://testflight.apple.com/join/cskYPK1a
LeoMobile (Android): https://play.google.com/store/apps/details?id=io.leofi.mobile
Delegate HIVE POWER: Earn 16% APR, Paid Daily. Currently @ 2.8M HP
Hivestats: https://hivestats.io
LeoDex: https://leodex.io
LeoFi: https://leofi.io
BSC HBD (bHBD): https://wleo.io/hbd-bsc/
BSC HIVE (bHIVE): https://wleo.io/hive-bsc/
Earn 50%+ APR on HIVE/HBD: https://cubdefi.com/farms
Web3 & DeFi
Web3 is about more than social media. It encompasses a personal revolution in financial awareness and data ownership. We've merged the two with our Social Apps and our DeFi Apps:
CubFinance (BSC): https://cubdefi.com
PolyCUB (Polygon): https://polycub.com
Multi-Token Bridge (Bridge HIVE, HBD, LEO): https://wleo.io
Posted Using LeoFinance Beta
---
---