LeoAlpha: Largest Thorchain #RAISETHECAPS Event in History! | Have You Accumulated Yet?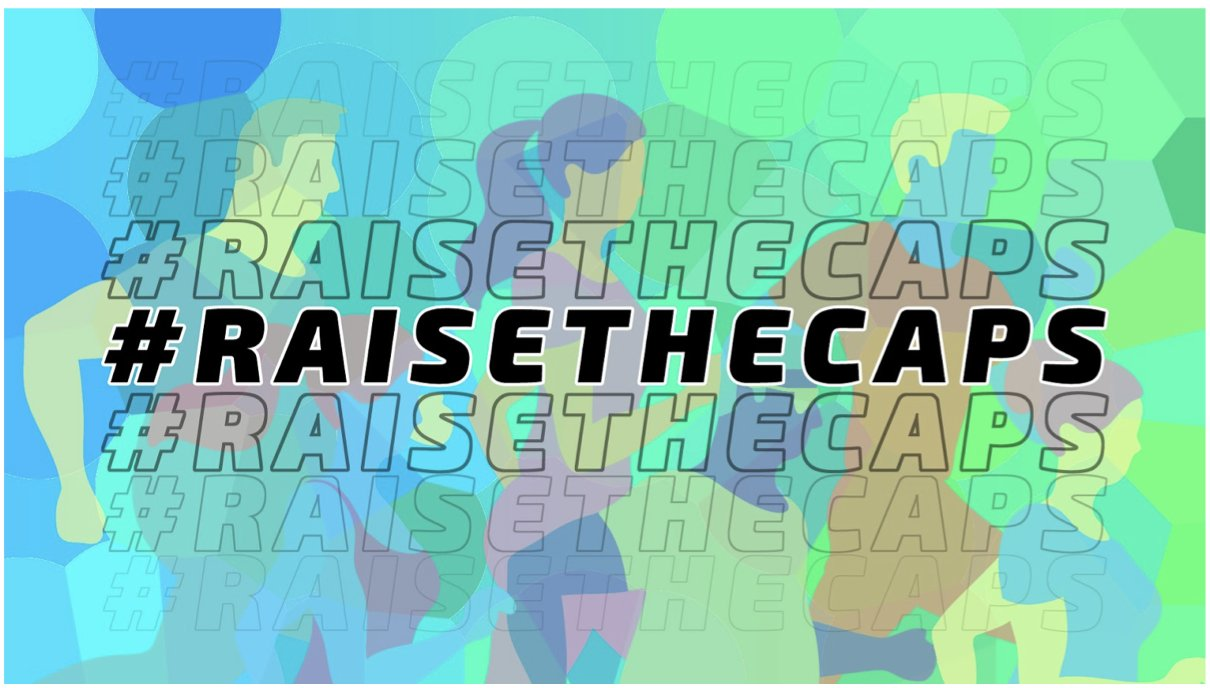 My recent coverage of RUNE has led some of us to accumulate around $7-$7.50 over the past 2 weeks. RUNE recently rose to $14 over the past few days and has cooled off with the rest of the market: now sitting at about $12.
I was anticipating a nice rise in RUNE when #REDEMPTIONOFRUNE took place. That event was centered around the restarting of ETH/ERC20 trading on the Thorchain network.
Now, we're past that event and everything is looking up for RUNE and the Thorchain protocol. I didn't have any doubts and accumulated while RUNE was dirt cheap post-hack and even over the past few weeks at about $7.
There are a few major events shaping up for RUNE and the Thorchain ecosystem in the first week of November. We just got news of a few events that I think could take RUNE to $15 and beyond:
$100m Cap Raise Event on November 3rd: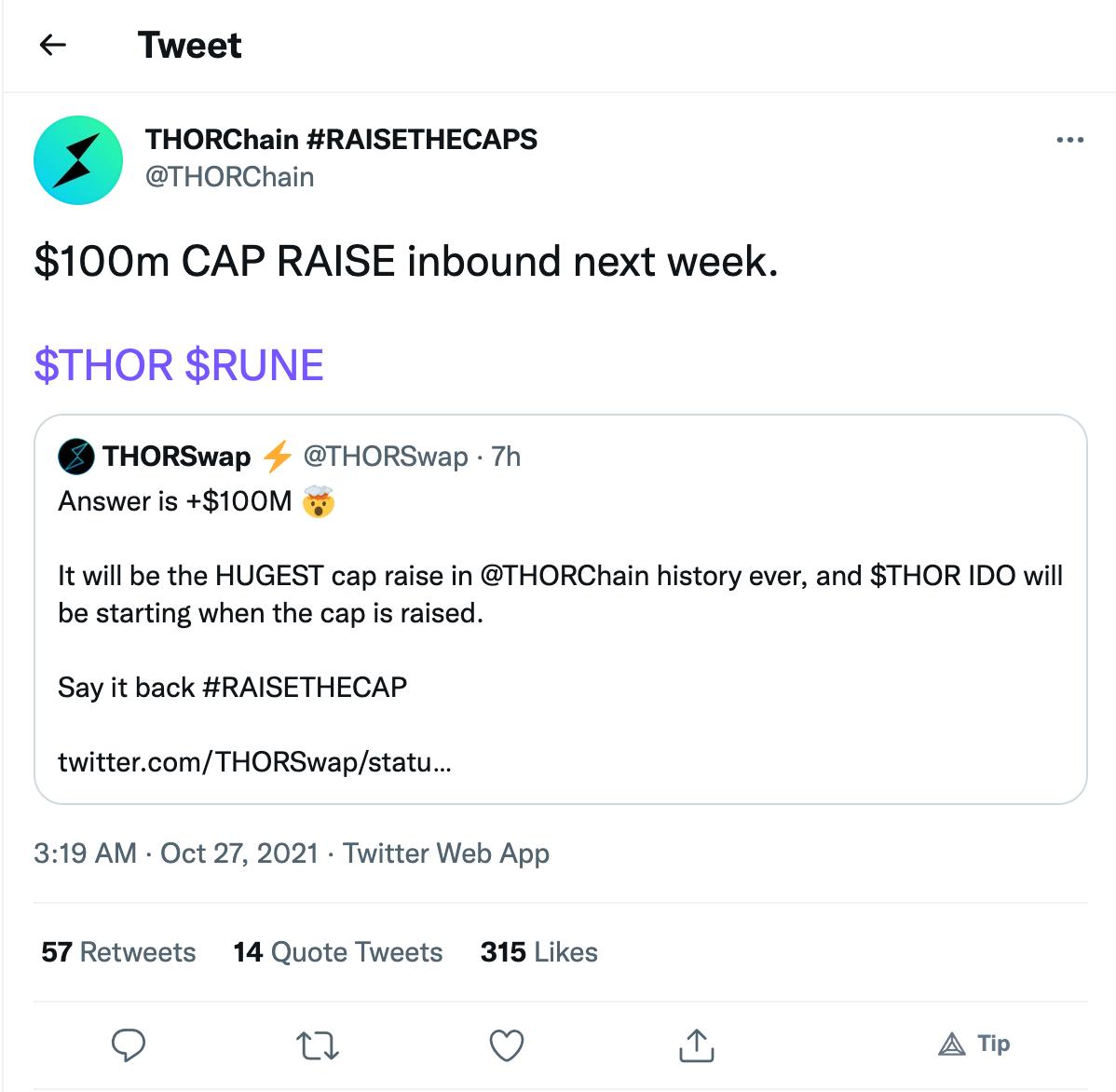 #RAISETHECAPS was installed by the Thorchain team/community as an important safety measure. Thorchain is still in public testnet (chaosnet) and as seen just a few months ago, it's important to ensure protocol security as liquidity is scaled up.
After the latest events, Thorchain has installed a ridiculous number of security measures including ThorSEC, multiple audits, major bug bounties and a few protocol-level actions that node operators can take to halt the chain, report issues, etc.
With all of these new security measures in place, Thorchain is now safer than ever. It's no wonder that the next RAISETHECAPS will be the largest one yet.
Why Does Raisethecaps Matter?
Raising the caps on Thorchain is extremely important. If you go back to one of my posts from 11 months ago (yes, RUNE was $0.75 back then), I talked about Deterministic Value and how RUNE's future price would eventually be determined by the TVL it captures from native cryptocurrencies (BTC, LTC, ETH, etc.) - https://leofinance.io/@khaleelkazi/rune-deterministic-value-and-how-we-can-use-it-to-predict-price-action-in-the-future
As more liquidity gets deposited in Thorchain, more RUNE is needed to back the liquidity. As that total liquidity rises, node operators also need to bond more liquidity to keep up with the node churns and stay relevant.
RUNE is designed to scale in price as TVL scales. They go hand-in-hand. With caps in place, there is an artificial ceiling on the TVL that Thorchain can handle (i.e. if you try to add liquidity right now, you won't be able to).
During raisethecaps, we can expect a bullish event on RUNE. More people rush to deposit their liquidity in the pools and start earning the 20%+ APYs available on native cryptocurrencies - something that isn't available anywhere else.
This also leads to an even more bullish case for the end of this year: Mainnet is anticipated by Christmas. Mainnet will eradicate #RAISETHECAPS and we'll be in an era where you can deposit/withdraw liquidity on Thorchain whenever you want like any other DeFi platform. I expect the TVL capture to be off the charts when that happens.
$THOR Token IDO on November 3rd: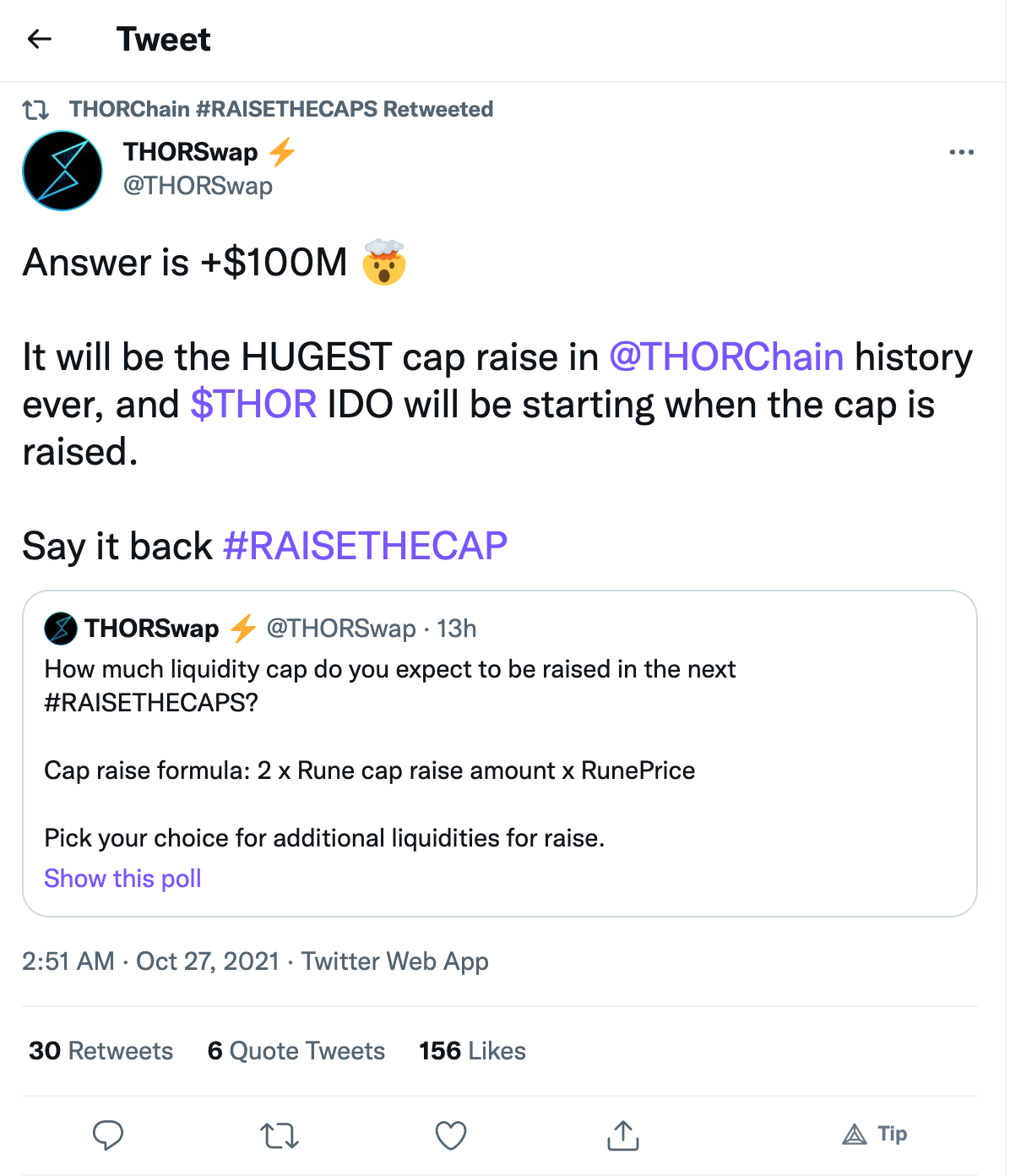 Coinciding with caps getting raised is the THOR IDO via Thorstarter. Thorswap is the #1 DEX on Thorchain (read @revisesociology's post: "Thorswap: One Aggregator to Aggregate them All").
They've created the THOR token which is a value capture token for their DEX and it has some incredible tokenomics governing it. I may have to write a separate post doing a deep dive on their docs/whitepaper, but this is the most anticipated IDO on Thorchain atm.
In Other News: Protocol Owned Liquidity Coming to Thorchain
2 weeks ago, I wrote a post about Protocol Owned Liquidity (PoL) as it relates to Thorchain. It's an interesting concept that is being dubbed "DeFi 2.0" as platforms like OHM attract massive levels of liquidity via bonding and other PoL-related mechanisms.
When I wrote my post, it was just speculation that Thorchain could potentially add something along the lines of PoL. It would make sense for them to do so, since they already have such a massive treasury.
Well, 2 weeks later and here we are with an official announcement from Thorchain about an interesting design for PoL that will be implemented in the near future. They managed to also tie it into Synths to create hardened value for synthetic assets and collateralized LP loans:
I'll be accumulating more RUNE on the crypto dip today. Expecting $15+ to be an easy target during #RAISETHECAPS on November 3rd.
---
My Recent #LeoAlpha Posts About Thorchain:
Posted Using LeoFinance Beta
---
---