My Horribly Diversified but Incredibly Effective Crypto Portfolio Strategy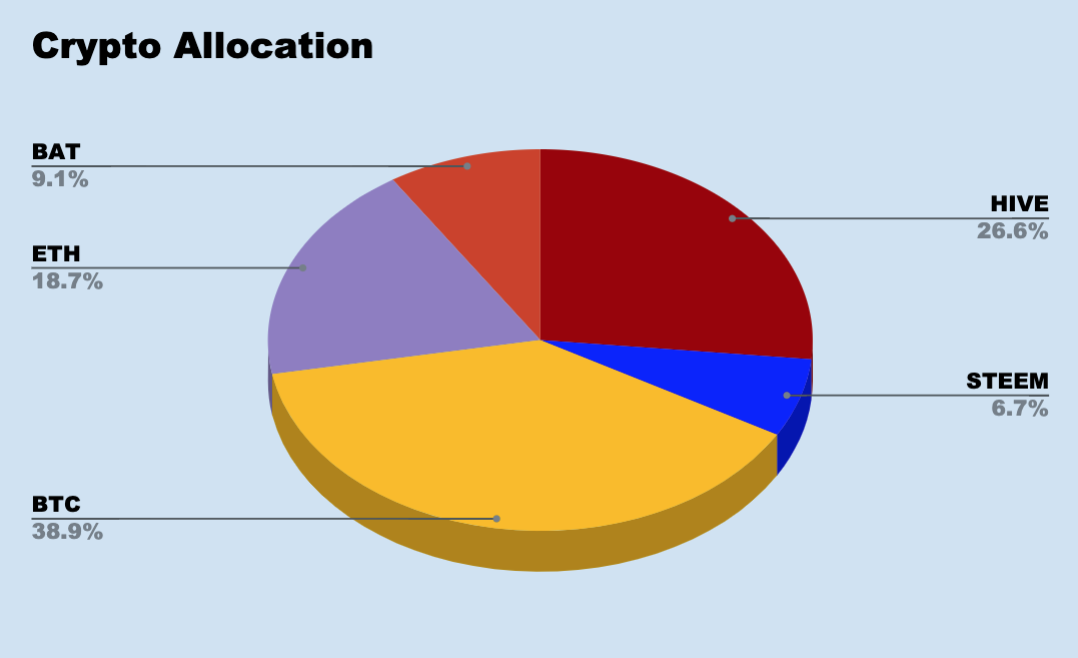 Last week on the LEO roundtable podcast, @rolllandthomas peppered me with questions about the way I invest/trade. His question about articulating what happens in my head when I decide to buy/sell, etc. has been bugging me all week, so I spent some time and wrote this post about my general allocation strategy for crypto.
I'll probably follow this up with a few posts that dive further into some adjacent ideas and also share some of my stock portfolio strategy as well.
Everything happening in crypto is still so nascent. Whether you're looking at BTC, ETH, BAT or HIVE, we're still in the very early stages of price discovery, value propositions and core feature sets.
When I first got into crypto circa 4 years ago, I initially bought Bitcoin - as most do. Shortly thereafter, I heard about this thing called Ethereum and was instantly intrigued by the proposition of a "global supercomputer" and this crazy thing called Smart Contracts.
Since then, the markets for BTC and ETH have evolved a great deal and with it, my knowledge of the value that these "cryptocurrencies" bring to the world. I've also spent the last ~3.5 years on Hive, which has shaped my approach and understanding of crypto and the tech that underpins it.
In my mind, BTC is a long-term store of value. To me, it's a forgone conclusion that Bitcoin will go up in price over a long time frame. The questions then are -- how long is that time frame and will something like ETH outpace the growth of BTC in terms of appreciation.
I use this as the reasoning for my portfolio allocation - a majority of my crypto is in BTC but I still allocate a sizable chunk to ETH and also HIVE. BAT is a smaller allocation but still significant.
During the ICO/alt craze in 2017, I amassed a wide portfolio of altcoins. I don't have the spreadsheet right in front of me at the moment, but back then I had a portfolio with over 20 altcoins in it.
Luckily, I was smart (or just lucky) enough to sell most of my alts during the big bubble shortly after BTC hit $20k. Over the months that followed, I consolidated a vast majority of my money from alts into BTC, ETH STEEM (now HIVE), and BAT.
Just 4 cryptos that I firmly believe in. I have a few tiny wallets wallets with some other tokens like GNT in there but I really don't consider that a part of this portfolio (in total, those other positions would be less than 1% of this portfolio).
How I Approach Profits & Risk Management
The fun thing about a portfolio that is only made up of 4 assets is that I can easily track/move things around. When 1 of these currencies is performing far better than the others, I can easily shift the holdings and even take some profits out of the portfolio entirely.
Usually when I take profits, however, I'm just pushing them from HIVE/BAT/ETH into BTC. BTC has become more like a money to me than I ever would have expected.
I think that famous saying goes something like this:
I don't keep much liquid cash on hand, but when I do, I keep it in BTC.
Earning APY
APY stands for Annual Percentage Yield and I look for it on both of my portfolios (stocks & crypto) - it is a fundamental part of how I decide where to invest and when.
For this crypto portfolio, I have a few ways of earning yield:
BTC lending protocols: deposit BTC and let others borrow it and pay interest (averaging me about 6% APY)
ETH lending protocols: DeFi based - things like MakerDAO (I collateralize my ETH, get DAI and use it for investing/generating a return. Often buying something like HIVE where I can actually earn a yield on that DAI investment as well. The yield is hard to frame up as it depends on my performance as an investor. Let's call it a rough 20-40% APY on average)
BAT lending protocols (same exact thing I do with ETH, but I just use BAT for collateral on certain platforms)
HIVE (POWER) - I use some for curation, some for building the LeoFinance community & project (we could measure the yield on my HIVE POWER as a rough average APR of curation, LeoFinance activities, etc.. around 15% APY)
What I'm Doing On a Day-to-Day
What I'm doing right now in terms of allocation is slowly using some BTC to buy HIVE when I believe it's cheap in terms of the HIVE/BTC pairing (recent fills for me were around 2300 sats).
I've also been selling off some of my stocks for obvious reasons and have been using some FIAT to actually buy into ETH. I think we're in the beginning stages of a long-term bull run for ETH as BTC aims at its previous ATH and the long-awaited ETH 2.0 roadmap is completed.
Another thing that I've been watching is the amount of money getting locked up in DeFi. There's a lot of interesting data out there on ETH related to DeFi participation, demand for 32 ETH (because of the expected PoS functionality that requires exactly 32 ETH), etc.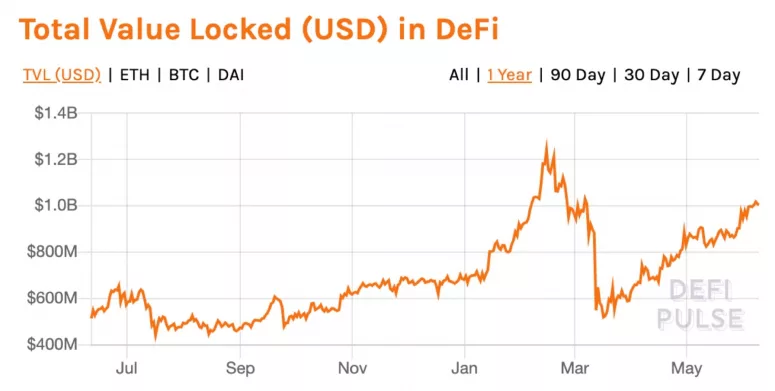 Source: DeFi Pulse
Overall, I'm extremely bullish on BTC, ETH, HIVE and BAT, which is why I put my money where my mouth is and take positions in these 4 above all else.
You might have also noticed the 6.7% allocation to STEEM. That's the remaining amount that I have in my Steem accounts and like many, I'm still only part of the way through the process of dumping it off for HIVE each week.
---
Leo Witness
p.s. We just launched the LeoFinance community witness node today. We'll put out the official announcement tomorrow, but if you like what we do for the Hive ecosystem consider giving @leofinance a witness vote 🦁🦁
---
Posted Using LeoFinance
---
---