No, USDC is Not Going to 0
Ever since the collapse of LUNA and UST, it seems like everyone - in the crypto industry, especially - is living right on the edge of their seat. In this worldwide game of musical chairs, nobody is trying to be caught with nowhere to sit.
At the first sign of trouble or potential insolvency, people liquidate everything and then post panic memes on Twitter. "Steady lads" has become one of the #1 memes in the cryptoverse.
ICYMI, Silicon Valley Bank went under this past week (this is my post from yesterday about what happened, if you're curious). They are - or were - the 16th largest bank in the U.S. and primarily serviced Venture Capitalists, Startups and as we recently found out, Crypto companies like Circle.
USDC Reserves
So SVB went under and then news broke pretty soon after that Circle held some "undisclosed amount of up to $9b" that backs the USDC:USD Peg in an account at SVB.
It took a few hours for Circle to respond and in the meantime, people started dumping USDC and heading for the hills, worried that USDC would be insolvent because of this crisis: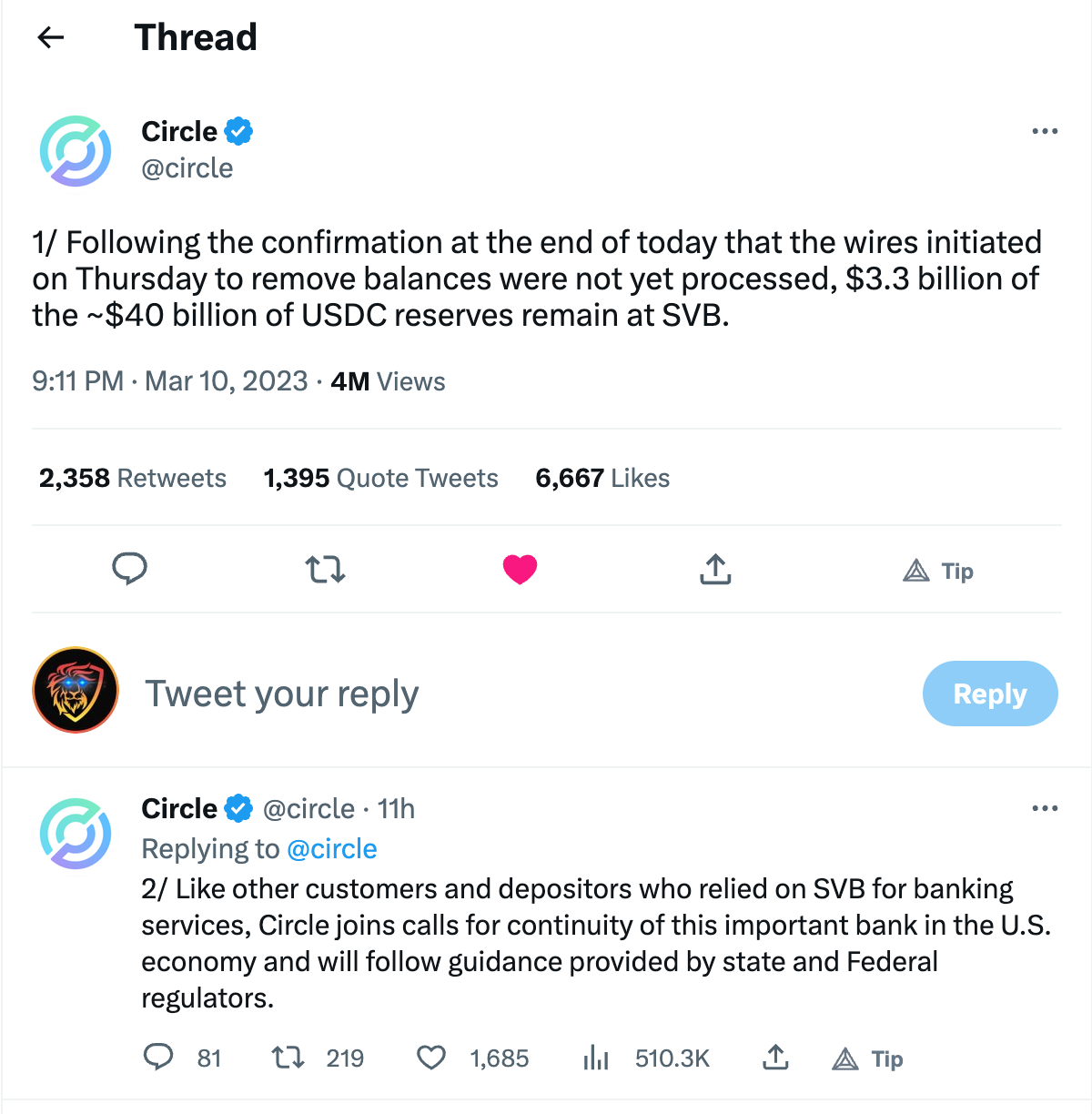 So we found out that $3.3 Billion of the total $40B in $$ that backs the USDC peg are held at SVB and currently cannot be withdrawn. Yeah, that ain't great - roughly 8% of USDC reserves cannot be accessed at the moment.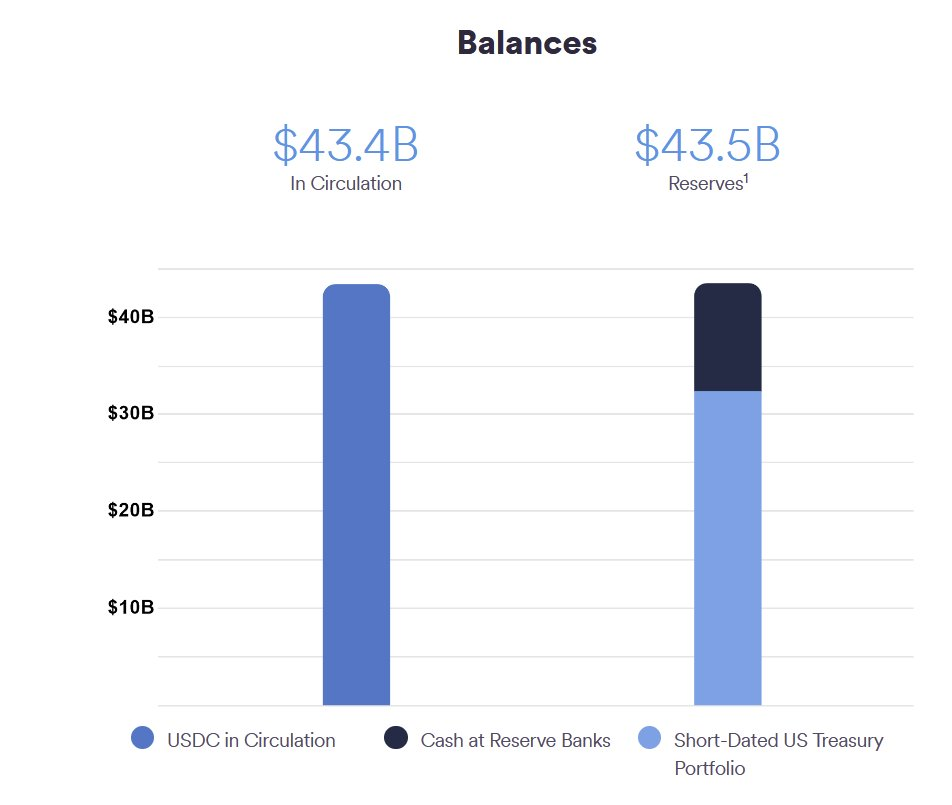 FDIC Recovery Process
SVB was the 16th largest bank in the U.S. and most people are wrong about how the federal government operates in an environment like this. Remember 2008? Sure, the environment isn't the same but the actions the government is pressured to take are very similar: the government bails banks out and finds ways to protect depositors.
Afterall, if the government doesn't step in to protect the banks, then what would happen to this country? Shit would hit the fan real quick. In my opinion, SVB is going to get acquired by a much larger bank and subsidies are going to be paid out to cover the debts. I won't be surprised if - come Monday morning - we hear that SVB is acquired by something like JP Morgan Chase and a Government Subsidy ensues.
This would mean that all customers at SVB would immediately get bank accounts at Chase. Trust me, Chase has the funds to cover all these deposits.
In the FDIC recovery process - using prior cases as a lens - we can give a "better case scenario" rather than just a worse case scenario.
So worse case scenario, 8% of reserves went poof. That puts USDC at $0.92 in actual pegged value.
More likely case scenario, Circle will recover the majority of the $3.3B and actually only lose $198M. Now, Circle holds more than 75% of their assets in short-dated US treasuries with a maturity date of 3 years or less. This means that the $198M would be recovered by just a few months worth of interest payments.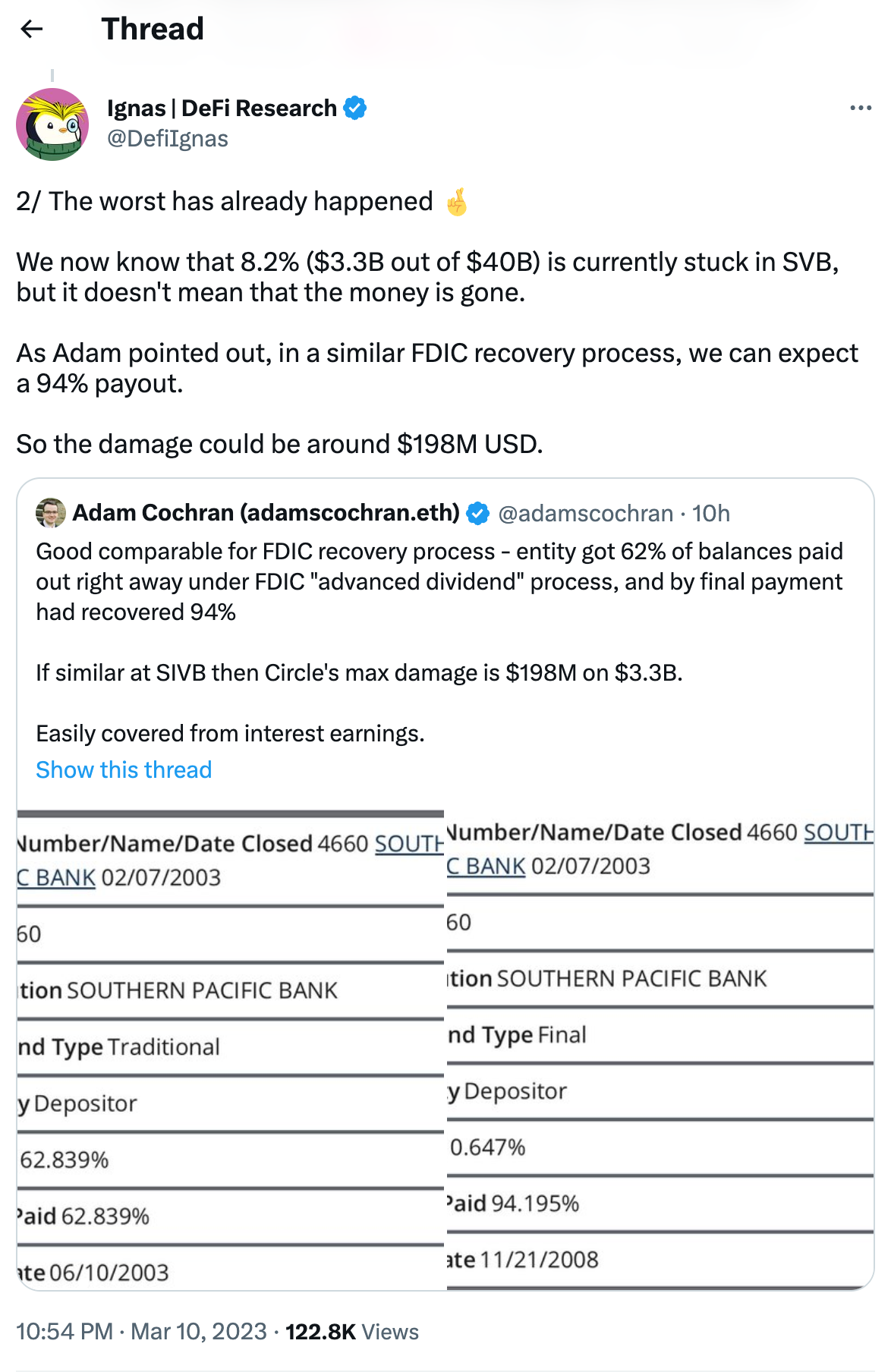 Why is USDC Down 8%?
A stablecoin should not be less than $1.. Well, most of the time. USDC crashed 8% because of sheer panic. That's how bank runs work. That's actually how SVB went under.
SVB would have most likely been fine too but when a bank run happens and most of the capital is tied up in long-term yield treasuries, shit can hit the fan real quick.
I don't think USDC is going anywhere but I do think the market is overreacting. As I outlined above, we know exactly what exposure USDC (Circle) had to SVB - $3.3 Billion.
We also know that it's relatively likely that they'll recover a material % of that $3.3B. Even if they don't, that's an 8% gap in the treasury reserves. People are acting like it's an 80% gap and USDC is going to 0 tomorrow.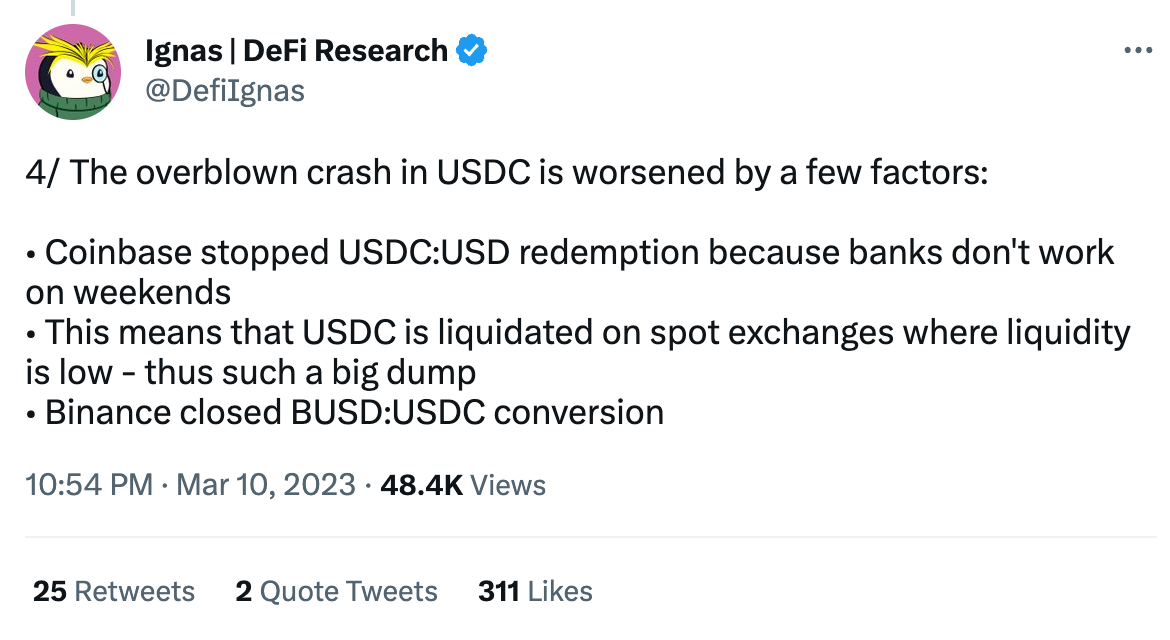 Coinbase stopped USDC:USD redemption because its the weekend (normal operating procedures each weekend).
USDC has relatively low liquidity on exchanges and that's currently where everyone is going to dump their USDC because there's no ability to redeem.
Binance closed BUSD:USDC conversions and has been phasing out USDC to attempt to gain market dominance for BUSD for a while now.
The Market Overreacts
The market almost always overreacts. We're seeing this happen right now. Remember that Circle has a lot more options than you think to cover this.
Issue debt for the missing $3.3B and then make up for it over time with interest returns on the other $30+ Billion
SVB gets bailed out and Circle loses nothing
....
My opinion - NFA, make your own decisions - is that USDC is not going anywhere. I tend to doubt the big crowd plays and yes, bank runs can put even good businesses out of business... HOWEVER, we know the exposure here. We know that it's 8% of the reserves.
That means that the worst has already happened. USDC dumped to $0.92 which would be fair market value even if the whole $3.3b is lost forever. In a few months time, USDC will start to recover that $3.3b through their interest payments on short-dated treasuries anyways.
We also know that its the weekend and redemption arbitrage can only take place Mon-Fri. I think that come Monday morning, USDC will bounce right back to the peg and it will be business as usual.
I also think that on Monday, we'll get some clarity about SVB and what happens next. You know my prediction, let's see what plays out.

About LeoFinance
LeoFinance is a blockchain-based Web3 community that builds innovative applications on the Hive, BSC, ETH and Polygon blockchains. Our flagship application: LeoFinance.io allows users and creators to engage & share micro and long-form content on the blockchain while earning cryptocurrency rewards.
Our mission is to democratize financial knowledge and access with Web3.
Twitter: https://twitter.com/FinanceLeo
Discord: https://discord.gg/E4jePHe
Whitepaper: https://whitepaper.leofinance.io
Our Hive Applications
Join Web3: https://leofinance.io/
Microblog on Hive: https://leofinance.io/threads
LeoMobile (IOS): https://testflight.apple.com/join/cskYPK1a
LeoMobile (Android): https://play.google.com/store/apps/details?id=io.leofi.mobile
Delegate HIVE POWER: Earn 16% APR, Paid Daily. Currently @ 2.8M HP
Hivestats: https://hivestats.io
LeoDex: https://leodex.io
LeoFi: https://leofi.io
BSC HBD (bHBD): https://wleo.io/hbd-bsc/
BSC HIVE (bHIVE): https://wleo.io/hive-bsc/
Earn 50%+ APR on HIVE/HBD: https://cubdefi.com/farms
Web3 & DeFi
Web3 is about more than social media. It encompasses a personal revolution in financial awareness and data ownership. We've merged the two with our Social Apps and our DeFi Apps:
CubFinance (BSC): https://cubdefi.com
PolyCUB (Polygon): https://polycub.com
Multi-Token Bridge (Bridge HIVE, HBD, LEO): https://wleo.io
Posted Using LeoFinance Alpha
---
---