The Value of Engagement on the Hive Blockchain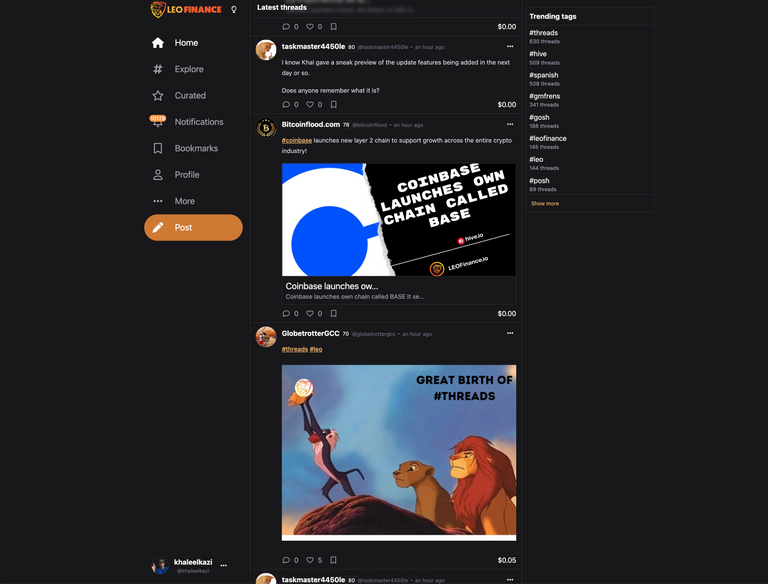 Hive is an interesting place. We've all come here from such different backgrounds. Many of us live thousands of miles away from each other. Many might even live in the same town.
Hive is a melting pot of people who have an affinity for Web3, Blockchain and the promising future of technology.
This ecosystem has been through more - I think - than any other blockchain ecosystem out there. Maybe BTC or ETH are in close competition.
We've seen people come in and attack us. We won.
We've seen the blockchain break down after forks. We won.
We've seen dozens of apps come and go. We won.
This ecosystem continues to thrive no matter what people throw at it. This is just one reason among many that LeoFinance has built a home here on Hive.
The the launch of the https://alpha.leofinance.io UI into Open Alpha (Project Blank), we're starting to see the vision of LeoFinance get fulfilled.
As we've made all of this progress, I think many of us start to look forward to what is coming and what is here right now. The level of engagement that we're seeing with Threads (the first truly scalable Web3 microblogging application) is utterly amazing.
I can't even tell you how blown away we are as a team and community by the response that the Open Alpha is getting. We're getting such great feedback as we continue to roll out new features for Open Alpha testing as well as fix bugs and make improvements to scale our backend.
We're fighting many battles on many fronts but we're winning. Why? Because we're Hive.
The Value of Engagement on the Hive Blockchain
Some people wonder about how to upvote Threads. How do you curate in a completely new environment.
In the past, Hive taught us to curate on a few different grounds
Based on other people's curation habits
Based on content length
Based on perceived content "quality"
Based on not "over rewarding" content
But Threads throws this all out of the window. You've got short microblogs. No autovoting bots.
We've done away with the mess that is "quality".
You see, quality is subjective. What is high quality to someone who takes an hour to capture a perfect picture of the sunset using lens techniques and the right aperture is completely different to someone who enjoys writing two-thousand word blog posts and diving deeply into some nuanced topic.
Engagement is valuable. Engagement creates relationships. Compound all of this and you see a community forming.
Measuring Quality
Measuring quality of content is something that people will never agree on. Like I said, two very different people will have two very different opinions on the value of content.
A 3 minute video clip might take 2 hours to make while a 500 word blog post might take 10 minutes to write. Which one is more valuable? Is one more valuable because it took longer? is one more valuable because the format is better for driving in search traffic?
Our ability to measure quality is called curation on Hive. Curation comes in many forms and with second-layers, it now comes in a wide-variety of earning potential and reward-pool makeup.
In my opinion, all roads lead back to engagement.
If an author is getting engagement. If he/she is creating something valuable that other people are engaging with... That's how I value content.
A 2 word Thread could get more rewards than a 1,000 word blog post. Is that wrong?
What if that 2 word Thread was written by Rhianna. What if she brought 10,000 fans who all signed up with Hive accounts and commented beneath the Thread?
How much is that 2 word Thread worth now?
There are a lot of fascinating discussions going on surrounding https://alpha.leofinance.io and the future that we're building. I find one of the most fascinating discussions being around rewards, earning potential and content quality.
In my opinion, all roads will lead back to engagement. Right now, engagement on Threads is immense. I love to see it.

About LeoFinance
LeoFinance is a blockchain-based Web3 community that builds innovative applications on the Hive, BSC, ETH and Polygon blockchains. Our flagship application: LeoFinance.io allows users and creators to engage & share micro and long-form content on the blockchain while earning cryptocurrency rewards.
Our mission is to democratize financial knowledge and access with Web3.
Twitter: https://twitter.com/FinanceLeo
Discord: https://discord.gg/E4jePHe
Whitepaper: https://whitepaper.leofinance.io
Our Hive Applications
Join Web3: https://leofinance.io/
Microblog on Hive: https://leofinance.io/threads
LeoMobile (IOS): https://testflight.apple.com/join/cskYPK1a
LeoMobile (Android): https://play.google.com/store/apps/details?id=io.leofi.mobile
Delegate HIVE POWER: Earn 16% APR, Paid Daily. Currently @ 2.8M HP
Hivestats: https://hivestats.io
LeoDex: https://leodex.io
LeoFi: https://leofi.io
BSC HBD (bHBD): https://wleo.io/hbd-bsc/
BSC HIVE (bHIVE): https://wleo.io/hive-bsc/
Earn 50%+ APR on HIVE/HBD: https://cubdefi.com/farms
Web3 & DeFi
Web3 is about more than social media. It encompasses a personal revolution in financial awareness and data ownership. We've merged the two with our Social Apps and our DeFi Apps:
CubFinance (BSC): https://cubdefi.com
PolyCUB (Polygon): https://polycub.com
Multi-Token Bridge (Bridge HIVE, HBD, LEO): https://wleo.io
Posted Using LeoFinance Beta
---
---