They Will Try to Kill Bitcoin | Conspiracies Become Reality as Regulators Deny Signature Bank Acquirer From Accessing Crypto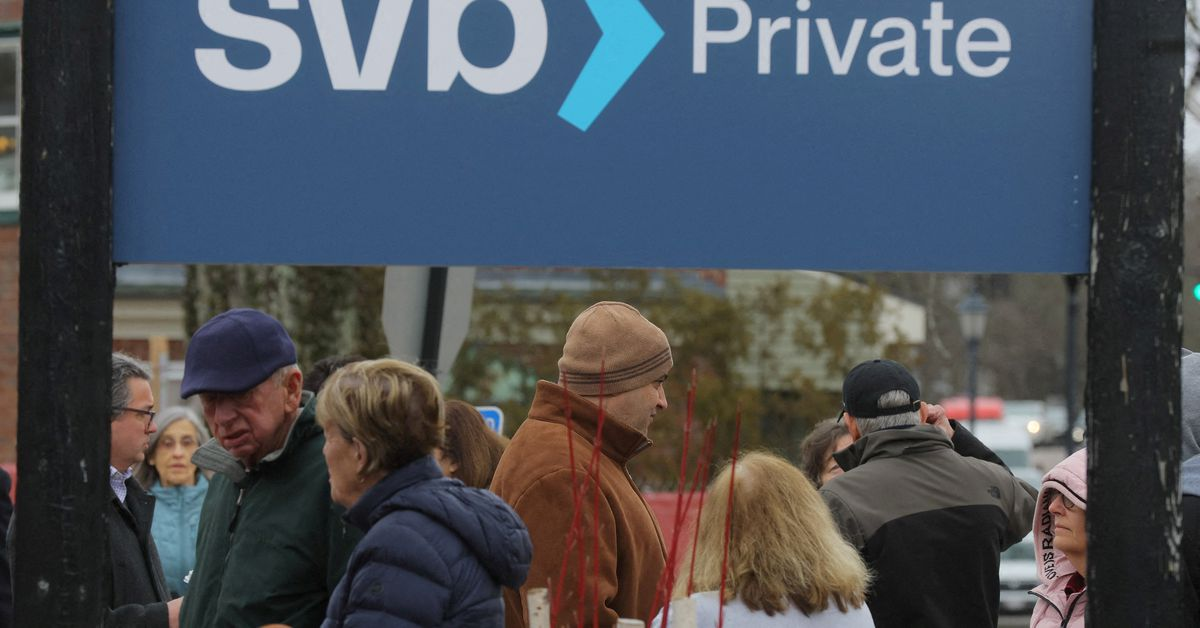 Over the past week, we saw the 16th largest bank in the United States go under. Silicon Valley Bank's collapse represents the largest bank to collapse since the 2008 global financial crisis.
It's impossible for the FED to hide behind their lies of transitory inflation, soft landing and other jargon that they tried to shove down the throats of the American people and people abroad. The U.S. Economy is closely tied to the global economy - being that the USD is the global reserve currency.
If the U.S. doesn't get their shit in order, we're gonna have another global financial crisis on our hands. In fact, many of us believe that this crisis has already begun.
I personally know several people who can't find work, can barely afford groceries and have had to sell off personal items to pay the rising amount of consumer debt interest that is eating them alive because the cost of goods and services has skyrocketed.
I can only imagine how hard it is in other parts of the world.
The FED spiraled us into this situation by printing an unprecedented amount of money. Then they whipsawed policy and went completely in the other direction. This whipsaw from quantitative easing to quantitative tightening surprised even the largest banks in the U.S.
A lot of data has recently come out showing tens of billions of dollars in lost value by all of the top banks. Not small banks. TOP BANKS. These are people that we expect "to be in the know", yet they just got rekt by the FED's policy changes.
Now, many are holding the bag on "worthless" long-dated assets. The losses are mounting and this is what put SVB and Signature Bank out of business. The downstream effects of one major bank going under is being felt. This is why the FED had to step in to stop the bleeding.
Conspiracy Theories: The U.S. Gov is Trying to Kill Crypto (Again)
We wouldn't be in a bear market without news that a major government is aiming to murder Bitcoin and ensure that their people can't trade or interact with it. That's just a given at this point.
Typically, it's China making the headlines.
Today, it's America.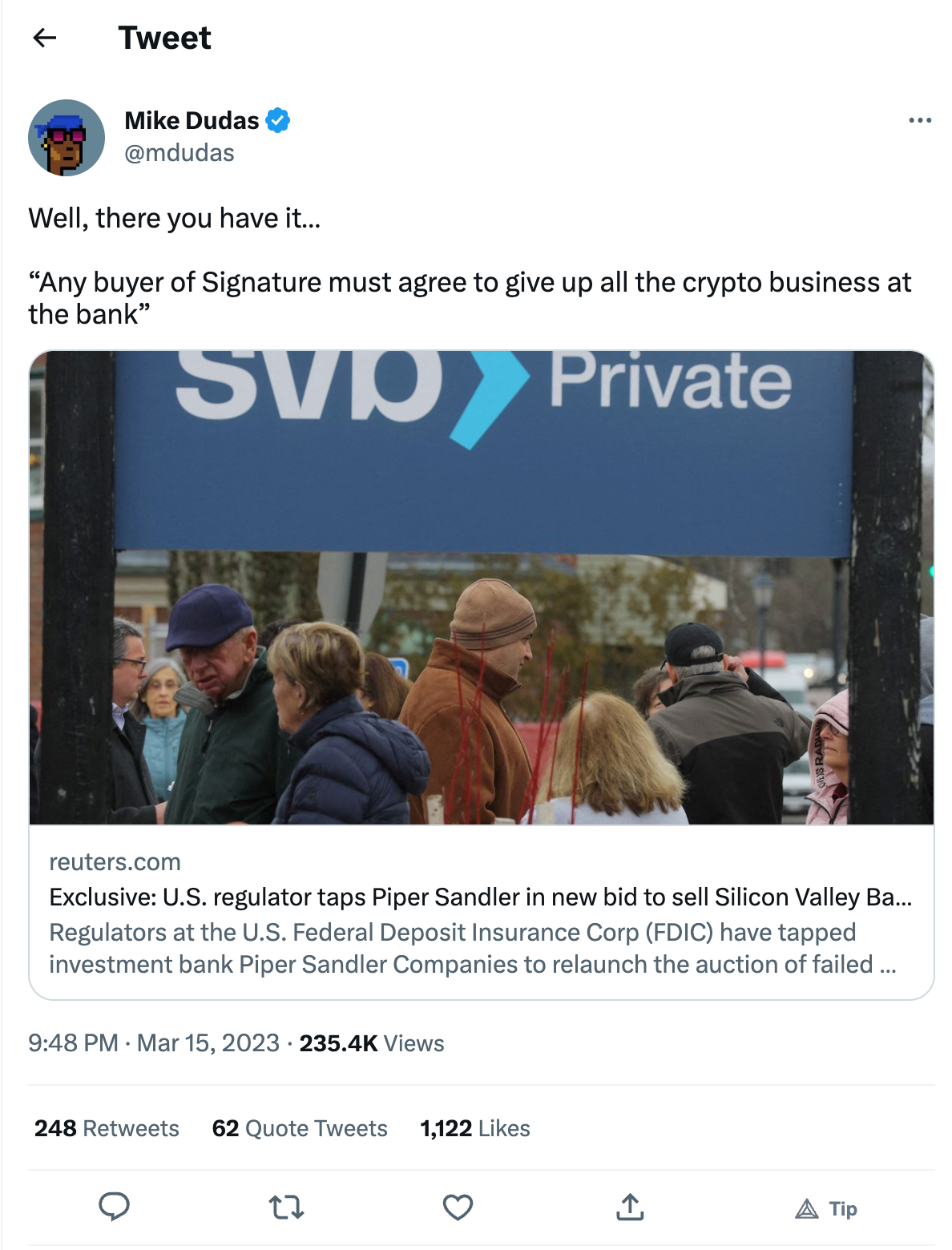 News broke today through this Reuters coverage that "any buyer of Signature must agree to give up all the crypto business at the bank". I'm sure they'll come up with some interesting reasons why.
They'll probably say that it's too risky. That crypto is too volatile of an asset.
Meanwhile, many of the largest names in the technology sector of the public TradFi markets are down over 95%... Putting even the worst of the shitcoins to shame in terms of % loss in market cap.
It's wild to see this flippening of sentiment. Many people were excited about the U.S. becoming more crypto friendly... Especially with someone like Gary Gensler going into office who was "supposed to be crypto friendly" since he lectured a few courses on it.
Turns out, we're in the eye of the storm of a massive crypto crackdown. China is more explicit in their banning of crypto, the U.S. government is more sneaky. They'll just keep knocking off one onramp after another. Hoping to make it harder and harder for people to buy, sell and use crypto.
Big Governments Are Showing Their Hands
By no means am I anti-government. I think governments are a key piece of a functioning society. That being said, I think any body of power will always seek more power. This can get dangerous, real fast.
Ray Dalio talks about the rise and fall of large societies, governments and currencies. This is all just a repeat of history. We're seeing a massive overreach in power and eventually, people will have enough of it.
I think it's no secret that governments around the world hate crypto. TradFi people - the JP Morgan's of the world - also hate crypto. Turns out that these big TradFi orgs and governments are more closely linked than you might expect (might not be a big surprise).
They are scared shitless of what crypto means for their businesses and their power dynamics. Crypto sidesteps their reach in a lot of different ways. Even a full-scale ban of crypto from every government in the world wouldn't be enough to completely stop activity within crypto.
Sure, it'd slow it down. Make it less desirable. Maybe even take the majority of users out of the crypto ecosystem.
But people would remain. It is as inevitable as AI. The technology and use cases of crypto are endless. Nobody could stop the internet from taking over the world, just as they won't be able to stop crypto and bitcoin from taking over the world. This stuff is seriously life-changing. And I don't mean for average people who have access to banks... I'm talking about the billions of people around the world who are unbanked, need to move money around, are scared of their local government... etc.

About LeoFinance
LeoFinance is a blockchain-based Web3 community that builds innovative applications on the Hive, BSC, ETH and Polygon blockchains. Our flagship application: LeoFinance.io allows users and creators to engage & share micro and long-form content on the blockchain while earning cryptocurrency rewards.
Our mission is to democratize financial knowledge and access with Web3.
Twitter: https://twitter.com/FinanceLeo
Discord: https://discord.gg/E4jePHe
Whitepaper: https://whitepaper.leofinance.io
Our Hive Applications
Join Web3: https://leofinance.io/
Microblog on Hive: https://leofinance.io/threads
LeoMobile (IOS): https://testflight.apple.com/join/cskYPK1a
LeoMobile (Android): https://play.google.com/store/apps/details?id=io.leofi.mobile
Delegate HIVE POWER: Earn 16% APR, Paid Daily. Currently @ 2.8M HP
Hivestats: https://hivestats.io
LeoDex: https://leodex.io
LeoFi: https://leofi.io
BSC HBD (bHBD): https://wleo.io/hbd-bsc/
BSC HIVE (bHIVE): https://wleo.io/hive-bsc/
Earn 50%+ APR on HIVE/HBD: https://cubdefi.com/farms
Web3 & DeFi
Web3 is about more than social media. It encompasses a personal revolution in financial awareness and data ownership. We've merged the two with our Social Apps and our DeFi Apps:
CubFinance (BSC): https://cubdefi.com
PolyCUB (Polygon): https://polycub.com
Multi-Token Bridge (Bridge HIVE, HBD, LEO): https://wleo.io
Posted Using LeoFinance Alpha
---
---