What's the Value of Threading?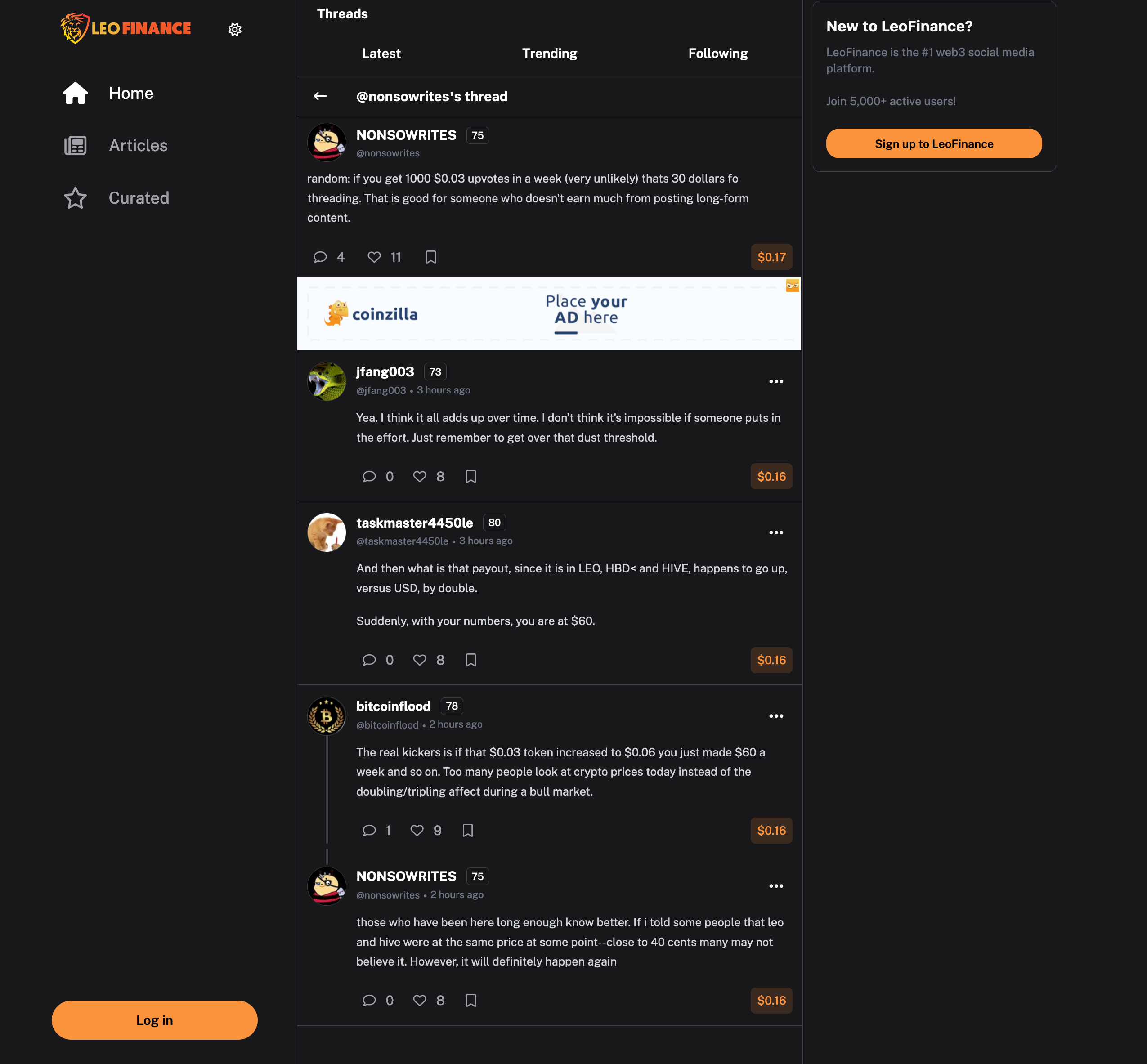 Project Blank is something that we talked about for the past 2 years. We built an incredible architecture that is scalable and ready for the future.
We're consistently adding new features to the UI. Since we launched the brand new UI on May 1st, 2023, we've been adding updates on a near daily basis.
Most of these updates are backend improvements and also bug fixes. Some updates have come for actual feature adds but until we built a highly robust and bug-free environment, the majority of our dev power will be focusing on improving the UI/UX.
What's the Value of Threading?
I saw this thread (top screenshot) from @nonsowrites and it got me thinking about the value of Threading.
Right now, there is only one platform in the world where you can scalably microblog and earn tokens - and that is https://leofinance.io.
It's amazing when you visit the homepage and see all the power users microblogging and micro-earning anywhere from $0.02 to $0.20 on their microblogs.
The price of LEO is sitting at $0.05 right now. At the launch of the UI on May 1st, we were at $0.035.
We've kicked in a number of tokenomic changes. The Ad Revenue smart contract is set to go live in the VeryNear sooniverse. It's going to blow everyones' minds when they see how much ad revenue is generated by LeoFinance's decentralized smart contract - which then takes the ad revenue from BTC and buys LEO on the open market. Then it creates LEO POWER APY for anyone holding LEO POWER staked.
When that goes live, I imagine something interesting will happen in the LEO price. Only time will tell but the fact that our current market cap is only $700k and we've got 1,500 Monthly Active Users, a near daily update to the UI and stable revenue sources like ad revenue and @leo.voter revenue buying over $10k LEO each month off the market... things can get pretty wild.
The more we all use the https://leofinance.io UI, the more ad revenue gets generated. For once in the first time ever - being active on social media and growing the platform actually earns you a cut in the growth of the platform. The key is that you NEED to be Active and you NEED to have LEO POWER. You need to actively grow the place to see any sort of... growth.
Back to the point of Nonso's thread: if you get 1,000 $0.03 upvotes every week, that is $30 a week from threading.
Depending on where you are in the world, this is quite a lot of money. There are tens of millions of daily active users on Twitter and they aren't earning a penny for any of their engagements.
Threads should be a place where you enjoy engaging and a side benefit is that you also earn LEO Tokens when people "Like" (upvote) your Threads.
The economy being built here is super interesting. Power users are distributing votes to people who are highly engaged and active.
People who are highly engaged and active are seeing (and potentially clicking) ads which then drives revenue to the smart contract which then pushes the price of LEO higher which then means that people who are highly engaged and active are earning even more $$$ 🔂
So What's the True Value?
So what's the point? If $30 or $60 or $90 isn't exciting to you, then what is the value of microblogging?
Someone else recently posted a thread and talked about how their blog posts are now getting unprecedented activity in terms of both upvotes and comment engagmeent.
They went from earning $50 a month on long-form to earning $30+ per month on short-form IN ADDITION to their long-form rewards going from $50 a month to over $300 per month.
How wild is that?
Threads is here to help you build a brand for yourself on LeoFinance and Hive. Considering that we have a coalition of 20M HIVE POWER upvoting authors every week in addition to the 3.5M HIVE POWER on @leo.voter, I think it's safe to say that being ACTIVE on LeoFinance is the #1 way to earn rewards on Hive.
Now get out there and get threading: https://leofinance.io/threads. I'll see you (and upvote you) there 🦁

About LeoFinance
LeoFinance is a blockchain-based Web3 community that builds innovative applications on the Hive, BSC, ETH and Polygon blockchains. Our flagship application: LeoFinance.io allows users and creators to engage & share micro and long-form content on the blockchain while earning cryptocurrency rewards.
Our mission is to democratize financial knowledge and access with Web3.
Twitter: https://twitter.com/FinanceLeo
Discord: https://discord.gg/E4jePHe
Whitepaper: https://whitepaper.leofinance.io
Our Hive Applications
Join Web3: https://leofinance.io/
Microblog on Hive: https://leofinance.io/threads
Delegate HIVE POWER: Earn 16% APR, Paid Daily. Currently @ 2.8M HP
Hivestats: https://hivestats.io
LeoDex: https://leodex.io
LeoFi: https://leofi.io
BSC HBD (bHBD): https://wleo.io/hbd-bsc/
BSC HIVE (bHIVE): https://wleo.io/hive-bsc/
Earn 50%+ APR on HIVE/HBD: https://cubdefi.com/farms
Web3 & DeFi
Web3 is about more than social media. It encompasses a personal revolution in financial awareness and data ownership. We've merged the two with our Social Apps and our DeFi Apps:
CubFinance (BSC): https://cubdefi.com
PolyCUB (Polygon): https://polycub.com
Multi-Token Bridge (Bridge HIVE, HBD, LEO): https://wleo.io
Posted Using LeoFinance Alpha
---
---