(DE/EN) 10. Chaos Legion Airdrop - 100 additional Packs opened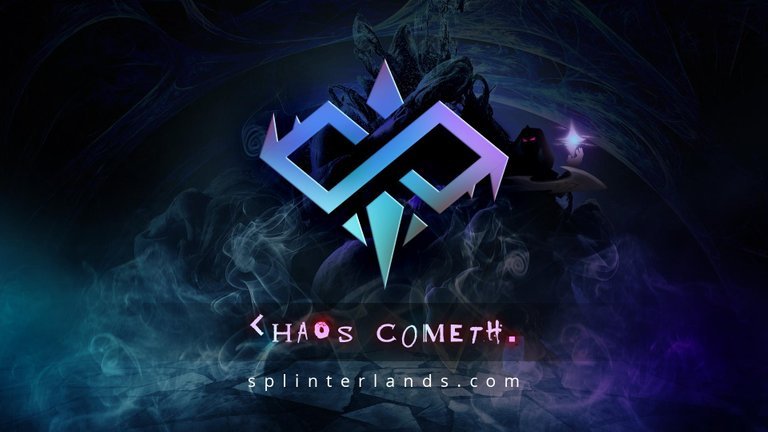 Intro
Auch wenn es am Ende doch länger als erwartet gedauert hat. Endlich sind die 10 Millionen CL Packs verkauft und Conqueror Jacek als Summoner spielbar.
Heute möchte ich gerne mal einen Blick auf den Neuzugang im Lager der Summoner werfen.
Darüber hinaus teile ich mit Euch mein "Glück" beim Airdrop, sowie das Öffnen von 100 Packs.
Intro
Even if it took longer than expected in the end. Finally the 10 million CL Packs are sold and Conqueror Jacek is playable as a Summoner.
Today I would like to take a look at the newcomer in the Summoner camp.
In addition, I share with you my "luck" with the airdrop, as well as the opening of 100 packs.

Wer ist Jacek?
Conqueror Jacek ist der legendäre Summoner des Feuer Splinters in der Chaos Legion Edition. Er wurde nun mit dem Verkauf von 10 Millionen Packs freigeschaltet.
Spieler die Chaos Legion Packs im Spiel gekauft haben, hatten eine Chance von etwa 0,17 % pro Pack einen Jacek zu ziehen. Pro 575 Packs gibt es einen garantierten Jacek.
Zum Zeitpunkt dieses Artikels kostet ein BCX Jacek 26,5 $.
Who is Jacek?
Conqueror Jacek is the legendary summoner of the Fire Splinter in Chaos Legion Edition. He has now been unlocked with the sale of 10 million packs.
Players who purchased Chaos Legion packs in-game had about a 0.17% chance of pulling a Jacek per pack. There is one guaranteed Jacek per 575 packs.
While writting this article one bcx of Jacek costs 26,50 $.
---

---
Was sind seine Stärken?
Die größte Stärke von JaceK ist sicherlich die Erhöhung der Geschwindigkeit aller eigener Monster um +2.
Mi der richtigen Monsterauswahl ist man somit nicht nur zuerst am Zug, sondern die eigenen Monster werden auch deutlich schlechter getroffen.
Piercing als Fähigkeit ist gerade bei Monstern mit hohem Schaden wie z.B. Grum Flameblade oder dem Fogotten One eine wertvolle Fähigkeit. Wer kennt es nicht, wenn die 5 Punkte Schaden an einem Punkt Panzerung hängen bleiben.
Seine dritte Fähigkeit Scattershot ist Fluch und Segen zugleich.
In einem Blast Ruleset oder mit Blast Monstern ist die Fähigkeit sehr stark.
Auch wenn der Gegner Taunt einsetzt, hilft Scattershot dies zu umgehen, und mit etwas Glück die Schwächeren Glieder des Gegners zu treffen.
Auf der anderen Seite verteilt es aber auch den Schaden über mehrere Monster was gerade gegen Gegner mit vielen Lebenspunkte nicht gewünscht ist.
What are its strengths?
The biggest strength of JaceK is certainly the increase of the speed of all own monsters by +2.
With the right monster selection, you are thus not only first to move, but your own monsters are also significantly worse hit.
Piercing as an ability is a valuable ability especially for monsters with high damage like Grum Flameblade or the Fogotten One. Who doesn't know it when the 5 points of damage get stuck on one point of armor.
His third ability Scattershot is both a curse and a blessing.
In a blast ruleset or with blast monsters, the ability is very strong.
Even if the opponent uses Taunt, Scattershot helps to bypass this, and with a little luck hit the weaker limbs of the opponent.
On the other hand, it also spreads the damage over several monsters, which is not desirable, especially against opponents with a lot of health points.

Mit welchen Karten lässt er sich gut kombinieren.
Wie bereits erwähnt, lässt sich Scattershot besondern gut mit Blast kombinieren. Chaos Dragon ist hierfür ab Level 2 ein gutes Beispiel.
Jacek bring also Blast Monster wie das Fire Elemental, den Fire Demon oder den Grenadier groß raus.
Aber auch schnelle Karten wie z.B. Tenyii Striker profitieren stark.
Meiner Ansicht nach sind die Hauptprofiteure von Jacek's Fähigkeiten aber eher in älteren Editionen bis Untamed / Dice zu finden. Mit nur Chaos Legion KArten, gibt es zu wenig gute Kombinationen.
Ich hoffe, dass es bei Riftwatchers noch die ein oder andere gute KArte für ihn gibt, sonst wird er in meinem CL only Portfolio wohl vorerst selten zum Einsatz kommen.
What cards does it combine well with.
As already mentioned, Scattershot combines especially well with Blast. Chaos Dragon is a good example of this from LEvel 2.
So Jacek brings Blast monsters like the Fire Elemental, the Fire Demon or the Grenadier big time.
But also fast cards like Tenyii Striker benefit a lot.
In my opinion, however, the main beneficiaries of Jacek's abilities are more likely to be found in older editions up to Untamed / Dice. With only Chaos Legion KArten, there are too few good combinations.
I hope that Riftwatchers will still have one or two good characters for him, otherwise he will probably be rarely used in my CL only portfolio for the time being.

Meine Airdropergebnisse
Ich habe mit zwei Accounts CL Packs gekauft.
Kheldar1982 besitzt 720 und Kheldar1982a 685 Packs.
Dies sollte mir 2 mal 1 bcx sichern.
Bei Rathe hatte ich das Glück insgesamt 5 Karten zu erhalten.
Bei Jacek lief es nicht ganz so gut, wenn auch besser als erwartet.
My airdrop results
I bought CL Packs with two accounts.
Kheldar1982 has 720 packs and Kheldar1982a has 685 packs.
This should secure me 1 bcx 2 times.
With Rathe I was lucky to get a total of 5 cards.
With Jacek it didn't go quite as well, although better than expected.
---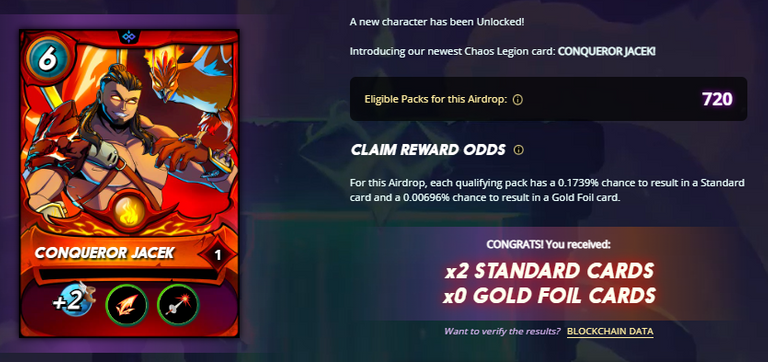 ---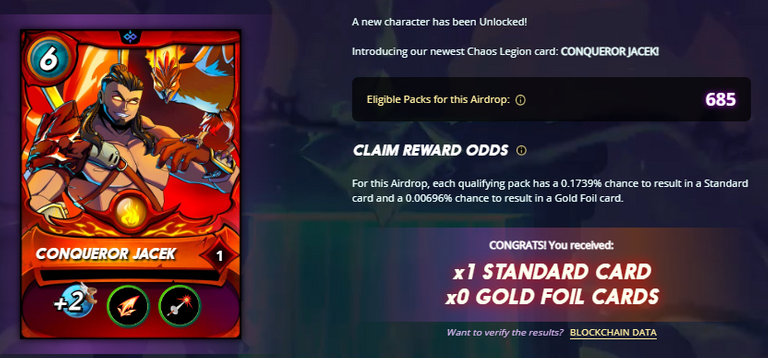 ---
Damit habe ich genügend Karten, um Jacek auf Level 2 zu bringen.
In meinem Hauptaccount habe ich Tarsa auf Level 6 und auch die meisten Feuer Monster auf Gold Max.
Im Zweitaccount habe ich Tarsa als GF auf Level 4, also einem vergleichbaren LEvel zum Level 2 Jacek.
Es wäre also wahrscheinlich klug Jacek im Zweitaccount zu spielen, da er hier öfter zum Einsatz kommen dürfte.
Ich werde aber mal schauen inwiefern mein Archmage ihn auch im Hauptaccount einsetzt. Sieht er zu wenig Einsatzzeit schiebe ich ihn auf den Zweitaccount.
This gives me enough cards to get Jacek to level 2.
In my main account I have Tarsa at level 6 and also most of the fire monsters at Gold Max.
In the secondary account I have Tarsa as GF at level 4, which is a comparable LEvel to the level 2 Jacek.
So it would probably be wise to play Jacek in the secondary account, since he should be used more often here.
But I will see to what extent my Archmage uses him in the main account. If he doesn't see enough usage time, I'll move him to the secondary account.

100 CL Packs geöffnet
Zur Feier des Tages habe ich 100 CL Packs geöffnet.
Leider hatte ich nicht sonderlich viel Glück. Insgesamt nur 6 legendäre Karten, davon zumindest ein Großmeister Rathe. Gesamtwert der Karten ca. 180 $.
Mein Einkaufspreis lag deutlich höher.
Mit den Karten aus den Packs konnte ich aber zumindest einige meiner Monster nun auf die maximale Stufe für die Goldliga bringen.
Hier noch die Bilder der geöffneten Packs (2 * 50):
100 CL Packs opened
To celebrate the day I have opened 100 CL Packs.
Unfortunately, I was not very lucky. Only 6 legendary cards in total, at least one of which was Grandmaster Rathe. Total value of the cards about $180.
My purchase price was significantly higher.
But with the cards from the packs I was able to bring at least some of my monsters to the maximum level for the Gold League now.
Here are the pictures of the opened packs (2 * 50):
---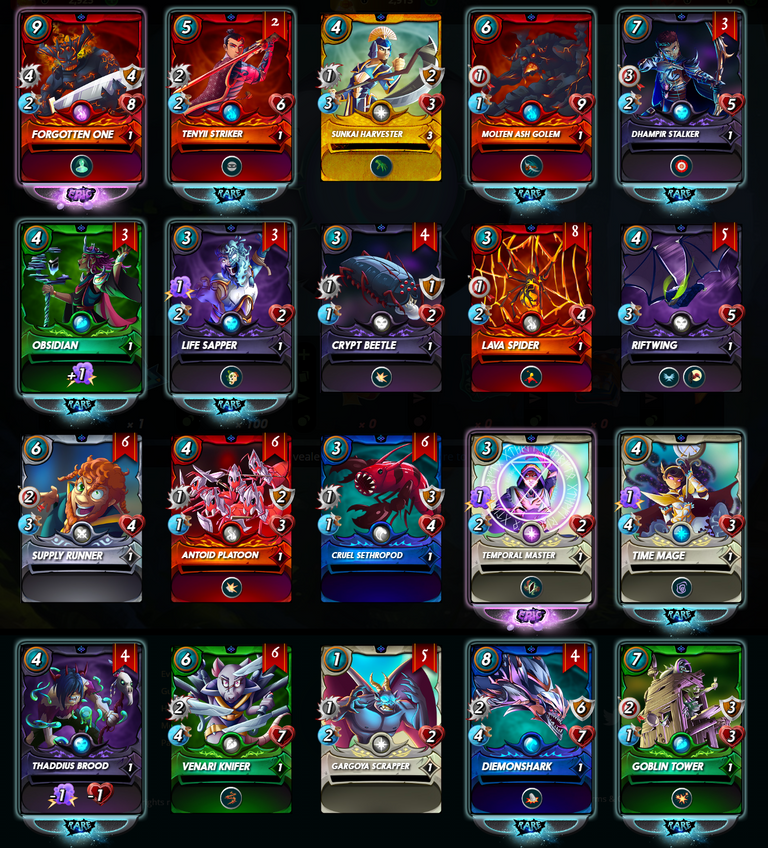 ---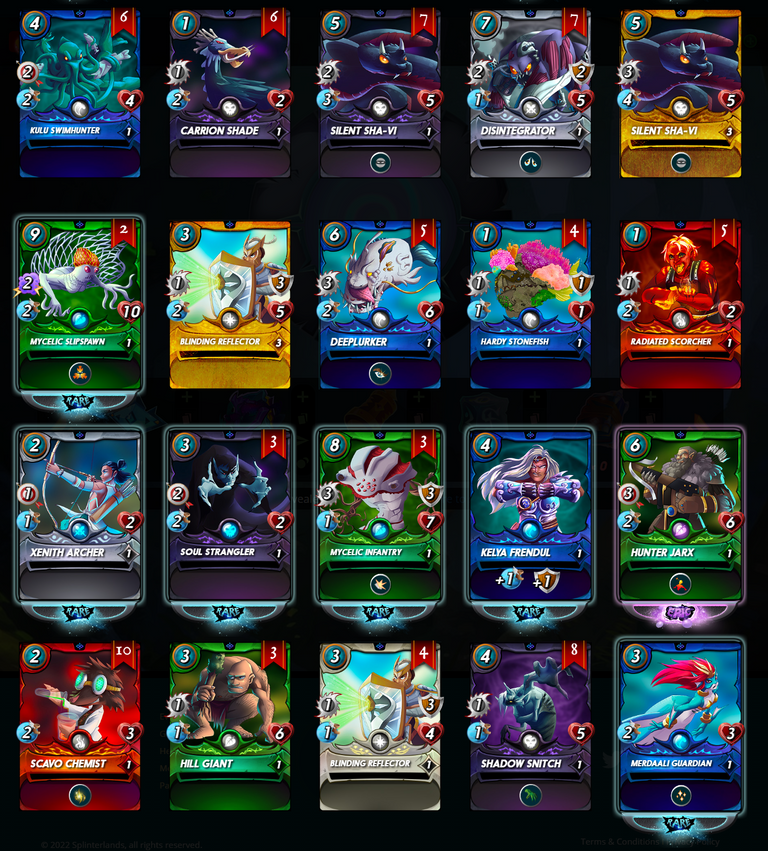 ---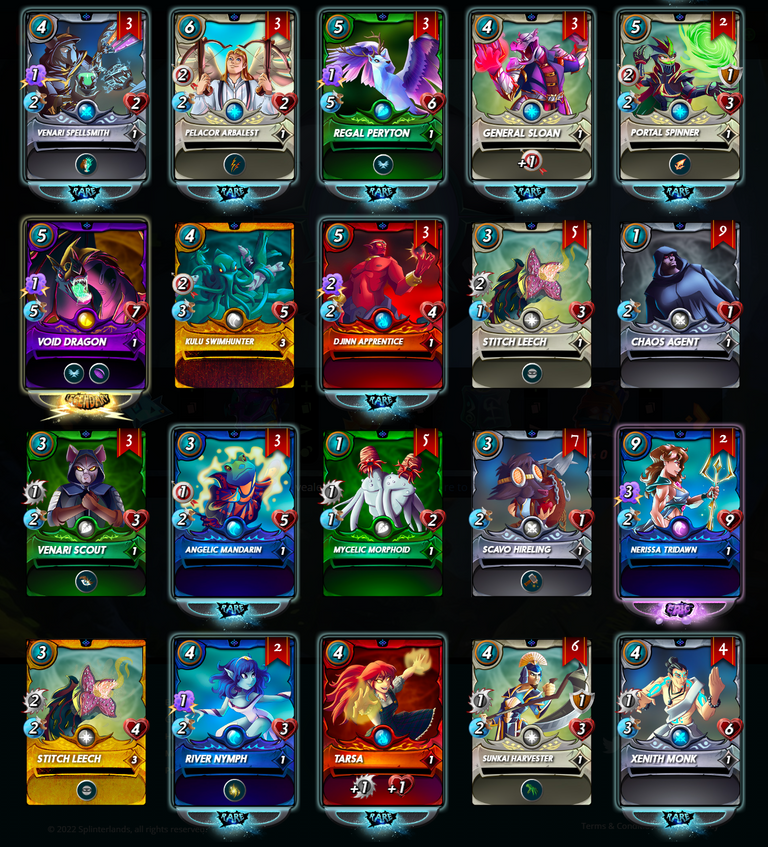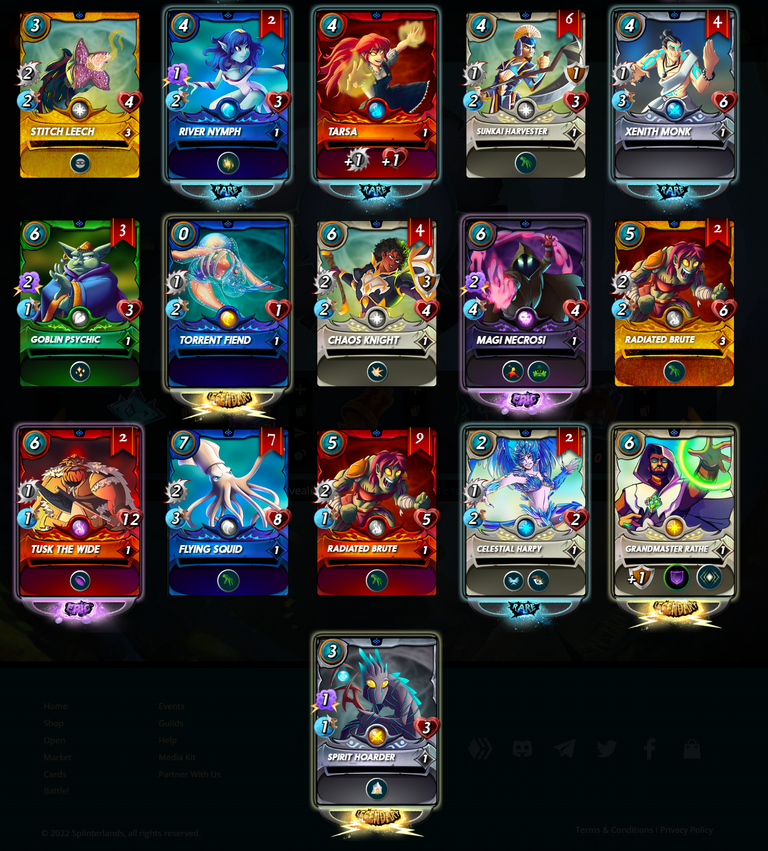 ---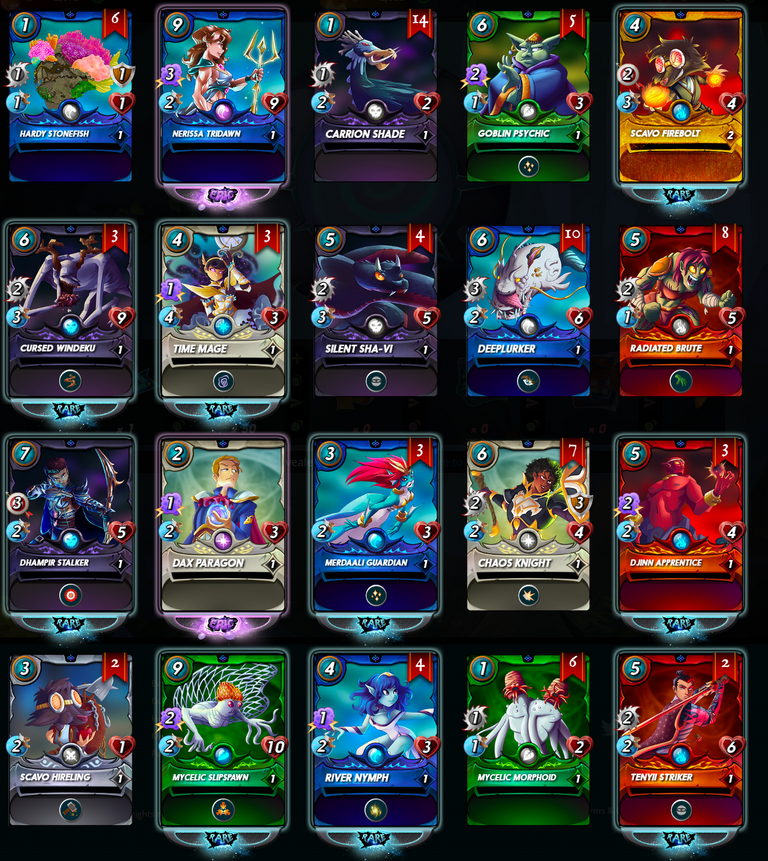 ---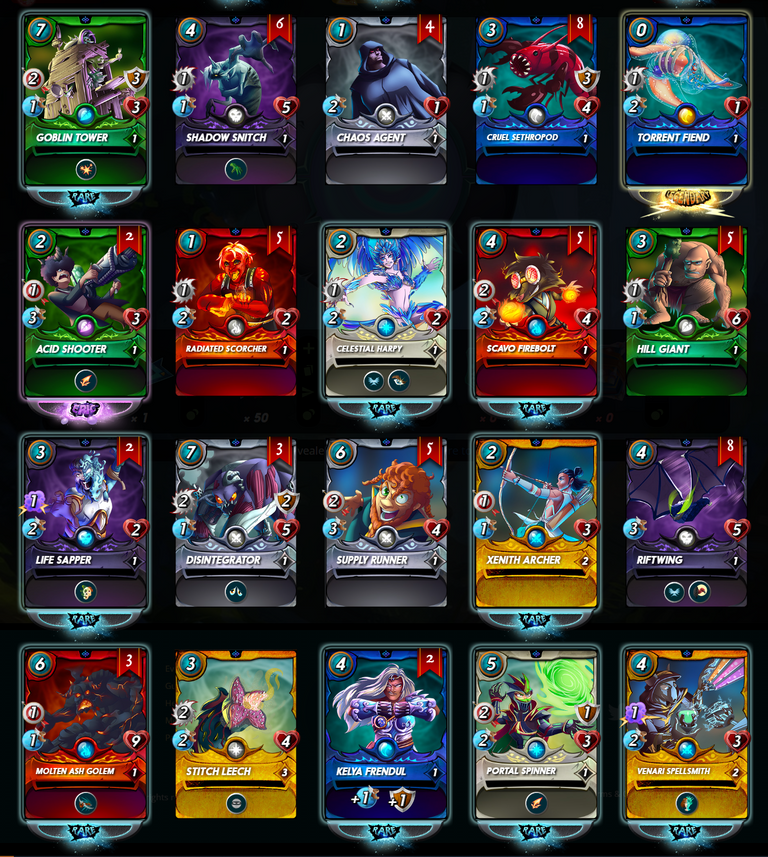 ---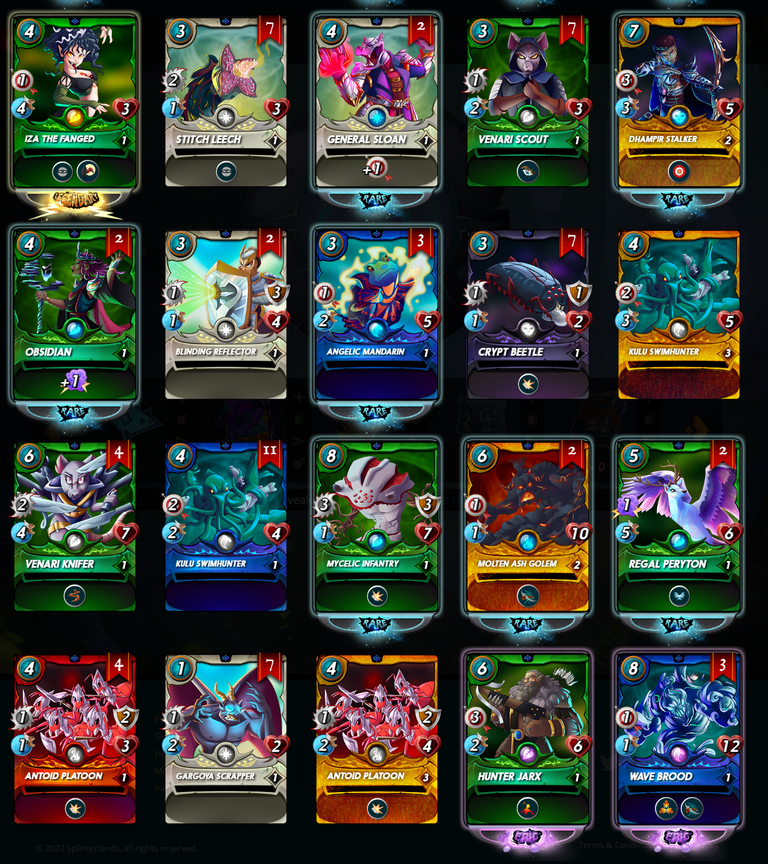 ---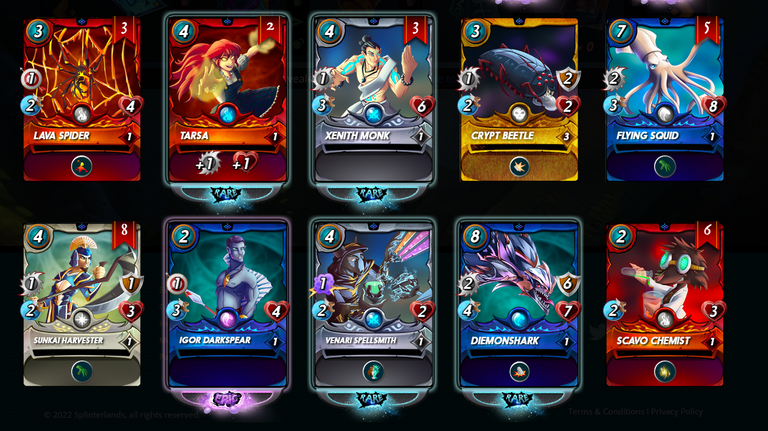 ---

---
Wie ihr seht war nichts wirklich schönes dabei.
Es kann nicht immer klappen.
Ich besitze jetzt noch 40 CL Packs. Ich glaube nicht, dass ich nochmal CL Packs im Spiel kaufen werden.
Auf der Hive-Engine sind sie weiterhin deutlich günstiger und die noch ausstehenden 4 Airdrops gleichen das meiner Ansicht nach nicht aus.
Wenn müsste ich noch einmal richtig Geld in die Hand nehmen und über 2.000 Packs kaufen, um die 20 % mitzunehmen. Dann dürfte es sich lohnen.
So viel Geld werde ich aber in Chaos Legion nicht stecken, zumal ich mit dem Kauf von spezifischen Einzelkarten mein Deck wohl derzeit am besten und günstigsten verstärken könnte.
Hier wird bis auf weiteres mein Fokus liegen.
As you can see, there was nothing really nice about it.
It can't always work out.
I still own 40 CL packs now. I don't think I'll be buying CL Packs in the game again.
They are still significantly cheaper on the hive engine and the 4 airdrops still outstanding don't make up for that in my opinion.
If I would have to shell out real money again and buy over 2,000 packs to take the 20% with me. Then it should be worth it.
I won't be putting that much money into Chaos Legion, though, especially since buying specific single cards is probably the best and cheapest way to strengthen my deck right now.
This will be my focus for the time being.

Outro
Mich würde interessieren, was Du von Conqueror Jacek hältst.
Wird du ihn einsetzen? Wenn ja wie?
Wie lief dein Airdrop?
Ich bin gespannt auf Deine Kommentare.
Als nächstes steht bei mir der Beginn des Riftwatchers General Sale auf dem Programm.
Ich habe meine Packs zwar, wie hier beschrieben bereits im Presale erworben, aber ab Dienstag können die Packs ja endlich geöffnet werden und der Airdrop der PRomokarte müsste stattfinden.
Ich bin "so exited" 😉
Viele Grüße
Euer Kheldar1982
Outro
I would be interested to know what you think of Conqueror Jacek.
Are you going to use him? If so how?
How did your airdrop go?
I'm curious to hear your comments.
Next up for me is the start of the Riftwatchers General Sale.
I have already purchased my packs in the Presale, as described here, but from Tuesday the packs can finally be opened and the airdrop of the PRomo card should take place.
I am "so exited" 😉 .
Many greetings
Your Kheldar1982
---

Du spielst noch kein Splinterlands?
Dann probiere es kostenlos aus mit diesem Link:


https://splinterlands.com?ref=kheldar1982
Wenn Du Spaß am Spiel haben solltest und dich entschließt, das Zauberbuch für 10 $ zu kaufen, bekomme ich von Splinterlands einen kleinen Betrag als Belohnung. Nimm Kontakt mit mir auf und ich werde Dich bei Deinen ersten Schritten in Splinterlands mit 500 DEC und ein paar delegierten Karten unterstützen.
You are not a Splinterlands player yet?
Than give it a try by signing up to this game for free using this link:

https://splinterlands.com?ref=kheldar1982
If you have fun playing the game, and decide to buy the spell book for 10 $ I will get a small cash back from Splinterlands. Get in touch with me and I will support you in your first steps in Splinterlands with 500 DEC and by delegating few cards.
---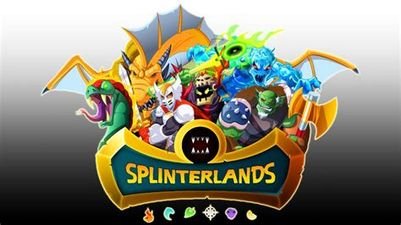 ---
---