(DEEN) Ich spende du suchst aus / I donate you choose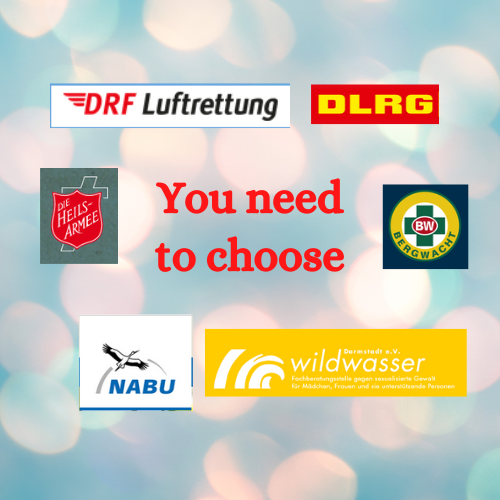 ---
Intro
Diesen Monat steht in der Firma viel besonders viel Arbeit an. Daher bin ich mit dem Spendenpost leider etwas spät und die Spende und somit wird die Abstimmung nicht mehr im Februar fertig werden.
Somit kommt die Februarspende also leider erst Anfang März. Das sollte aber kein Problem sein. Dann gibt es im März halt zwei Zahlungen.
Intro
This month there is a lot of work in the company. Therefore, I am late with the donation article and thus the vote will not be finished in February.
So the February donation comes unfortunately only at the beginning of March. But that should not be a problem. Then there are just two payments in March.
---
Die Organisationen
Die letzten 250 € gingen an die Arche Warder und die SOS Kinderdörfer. Diesen Monat kommen also zwei neue Organisationen dazu.
Außerdem sind die Bergwacht und DRF Luftrettung zum dritten und somit letzten Mal dabei. Sollten sie dieses Mal nicht genügend Stimmen für eine Spende erhalten, werden sie im März Artikel zusätzlich zu den beiden Gewinnern ausgetauscht.
The organizations
The last 250 € went to the Arche Warder and the SOS Kinderdörfer. This month two new organizations will be added.
In addition, the Bergwacht and DRF Luftrettung are participating for the third and last time. If they do not receive enough votes for a donation this time, they will be exchanged in March article in addition to the two winners.
---

---
Wildwasser Darmstadt e.V.
Der Wildwasser e.V. bietet Beratung für Frauen und Mädchen ab 12 Jahren, die Opfer von sexualisierter Gewalt wurden, bzw. unterstützende Menschen.
Neben der Beratung führt Wildwasser auch Veranstaltungen und Fortbildungen durch, um für das Thema zu sensibilisieren.
Mehr Informationen findet ihr hier.
Ich bin über eine Aktion von Viva Vitoria bei mir in der Firma auf Wildwasser aufmerksam geworden. Viva Vitoria ist eine Initiative aus Italien, bei der Menschen 1*1 Meter große Decken häkeln. Diese werden verkauft und der Erlös kommt Vereinen und Stiftungen wie Wildwasser oder Frauenhäusern zugute.
Das schöne dabei ist, dass nicht nur etwas für einen guten Zweck entsteht, sondern die Häkelarbeit oft in Gruppen von Menschen entstehen, die sich vorher weder kannten, noch aufgrund ihres Umfelds jemals miteinander interagieren würden. So entstehen ganz neue Netzwerke.
Wer am 04. & 05. März noch nichts vor hat und in der Nähe von Darmstadt wohnt, kann dort ja mal auf dem Luisenplatz vorbeischauen und sich ein solches Deckchen für zu Hause kaufen. Die Kolleginnen nähen auch gerne mehrere Quadrate zu einer großen Decke zusammen.
Wildwasser Darmstadt e.V.
Wildwasser e.V. offers counseling for women and girls aged 12 and older who have been victims of sexualized violence or people who would like to support.
In addition to counseling, Wildwasser also holds events and training sessions to raise awareness of the issue.
You can find more information here.
I became aware of Wildwasser through a campaign by Viva Vitoria at my company. Viva Vitoria is an initiative from Italy where people crochet 1*1 meter blankets. These are sold and the proceeds benefit associations and foundations such as Wildwasser or women's shelters.
The beauty of this is that not only is something created for a good cause, but the crochet work is often created in groups of people who did not know each other before, nor would they ever interact with each other because of their environment. This is how entirely new networks are created.
Who has on 04. & 05. March still nothing to do and lives in the proximity of Darmstadt, can there yes times on the Luisenplatz stop by and buy itself such a doily for at home. The colleagues also like to sew several squares together to a large blanket.
Translated with www.DeepL.com/Translator (free version)
---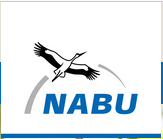 ---
NABU Naturschutzbund Deutschland e.V.
Der NABU kümmert sich mit seinen 875.000 Mitgliedern seit 1899 um die Belange der Natur in Deutschland.
Dabei sind rund 70.000 Ehrenamtliche in über 2.000 lokalen NABU-Gruppen aktiv.
Der NABU veranstaltet sowohl Seminare und Veranstaltungen, um Menschen für den Naturschutz zu sensibilisieren. Er betreibt aber auch eigene Schutzgebiete, in denen bedrohte Tierarten wieder ein Zuhause finden.
Mehr Informationen gibt es hier.
NABU Nature and Biodiversity Conservation Union Germany e.V.
With its 875,000 members, NABU has been looking after the interests of nature in Germany since 1899.
Around 70,000 volunteers are active in over 2,000 local NABU groups.
NABU organizes seminars and events to raise people's awareness of nature conservation. It also operates its own protected areas, where endangered species are finding a home again.
More information is available here.
---

---
DLRG
Die Deutsche Lebensrettungsgesellschaft (DLRG) kümmert sich in Deutschland um die Ausbildung von Rettungsschwimmern, und stellt somit sicher, dass es in unseren Schwimmbädern, Seen und an den Stränden sicher zugeht.
Auch kommt der DLRG regelmäßig bei Unfällen auf Wasserwegen oder auch Überflutungen zum Einsatz.
Wie jeder Verein kann der DLRG sowohl zur Finanzierung der (Jugend)Arbeit, als auch zur Anschaffung von Fahrzeugen und Geräten immer eine Spende gebrauchen.
Hier könnt ihr Euch informieren.
DLRG
The German Lifesaving Society (DLRG) takes care of the training of lifeguards in Germany, thus ensuring that things are safe in our swimming pools, lakes and on beaches.
The DLRG is also regularly called into action in the event of accidents on waterways or even flooding.
Like every association, the DLRG can always use a donation to finance the (youth) work as well as to purchase vehicles and equipment.
Here you can inform yourself.
---

---
Die Heilsarmee
Gerade jetzt im Winter haben es Obdachlose besonders schwer.
Ich verstehe zwar nicht, wieso man in einem Staat wie Deutschland obdachlos werden kann, aber es kommt dennoch vor, und die Menschen benötigen unsere Unterstützung.
Die Heilsarmee kümmert sich dabei nicht nur, um die kurzfristige Versorgung von Betroffenen, sondern hilft auch, das eigene Leben wieder in den Griff zu bekommen und in Zusammenarbeit mit regionalen Stellen bei der Wohnungssuche.
Was die Heilsarmee genau tut, könnt ihr hier nachlesen.
The Salvation Army
Especially now in winter, homeless people have it particularly hard.
I don't understand how it is possible to become homeless in a country like Germany, but it still happens, and people need our support.
The Salvation Army not only provides short-term care for those affected, but also helps them to get their own lives back on track and, in cooperation with regional agencies, helps them to find a place to live.
What exactly the Salvation Army does, you can read here.
---

---
Förderverein DRF Luftrettung
Ebenfalls von @mario89 unterstützt wird der Förderverein DRF Luftrettung.
Die Luftrettung kommt zum Einsatz, wenn normale Krankenwagen entweder den Zielort nicht rechtzeitig, oder gar nicht erreichen können.
Für eine optimale Versorgung der Patienten braucht die Luftrettung die neueste Technik und bestens ausgebildetes Personal. Die Kosten, die die Krankenkassen hier übernehmen, denken diese Kosten leider nicht komplett ab und so ist die Luftrettung auf einen eigenen Förderverein und Spender angewiesen.
Wie ihr die DRF Luftrettung unterstützen könnt, erfahrt ihr hier.
Das ist die letzte Chance für die DRF Luftrettung.
DRF Luftrettung support association
The DRF Luftrettung support association is also supported by @mario89.
Air rescue is used when normal ambulances either cannot reach the destination in time, or cannot reach it at all.
For an optimal care of the patients the air rescue needs the newest technology and best trained personnel. Unfortunately, the costs, which are covered by the health insurance companies, do not completely cover these costs and so the air rescue is dependent on its own support association and donors.
How you can support the DRF Luftrettung, you can find out here.
This is the last chance for the DRF Luftrettung.
---

---
Bergwacht Schwarzwald
Wandern in der freien Natur in den Bergen ist schön und gesund. Zumindest dann, wenn alles nach Plan verläuft.
Wenn die Natur mal nicht so will, wie wir es geplant haben, oder ein Unfall passiert, ist es gut die Bergwacht zu haben, die einen aus dieser misslichen Lage wieder rausholt, findet @mario89.
Neben der Bergrettung befasst sich die Bergwacht aber auch mit den Themen Natur- und Katastrophenschutz und hat eine breite Jugendarbeit.
Auch zur Bergwacht findet ihr mehr Informationen unter folgendem Link.
Das ist die letzte Chance für die Bergwacht Schwarzwald
Mountain Rescue Black Forest
Hiking in the great outdoors in the mountains is beautiful and healthy. At least when everything goes according to plan.
When nature doesn't want to go as we planned, or an accident happens, it's good to have the mountain rescue service to get you out of this predicament again, finds @mario89.
In addition to mountain rescue, the mountain rescue service also deals with the topics of nature conservation and disaster control and has a broad youth work.
You can also find more information about the mountain rescue service at the following link.
This is the last chance for the Mountain Rescue Black Forest.
---
Jetzt seid ihr dran
Ihr entscheidet, welche der obigen Organisationen eine Spende erhalten sollen.
Die Organisation mit den meisten Stimmen erhält von mir eine Spende über 150 €.
Die Organisation mit den Zweitmeisten 100 €.
Haben mehrere Organisationen die gleiche Stimmanzahl entscheidet der %-Wert dieser Stimmen.
Ich hoffe, damit einen kleinen Beitrag in der jetzigen Situation leisten zu können, das diese Organisationen gut durch die schwierigen Zeiten kommen.
Nachdem im Januar bereits mehr Leute mitgemacht haben als im Februar, würde ich mich sehr darüber freuen, wenn wir die Anzahl derer die Abstimmen nochmals erhöhen könnten.
Habt eine gute Zeit und bleibt gesund.
Euer
Kheldar1982
Now it's your turn
You decide which of the above organizations should receive a donation.
The organization with the most votes will receive a donation of 150 € from me.
The organization with the second most votes will receive 100 €.
If several organizations have the same number of votes, the % value of these votes decides.
I hope to be able to make a small contribution in the current situation, that these organizations come well through the difficult times.
After in January already more people have participated than in February, I would be very happy if we could increase the number of those who vote again.
Have a good time and stay healthy.
Yours
Kheldar1982
---
---