(DEEN) Thanks from the Keller Ranch / Danke von der Keller Ranch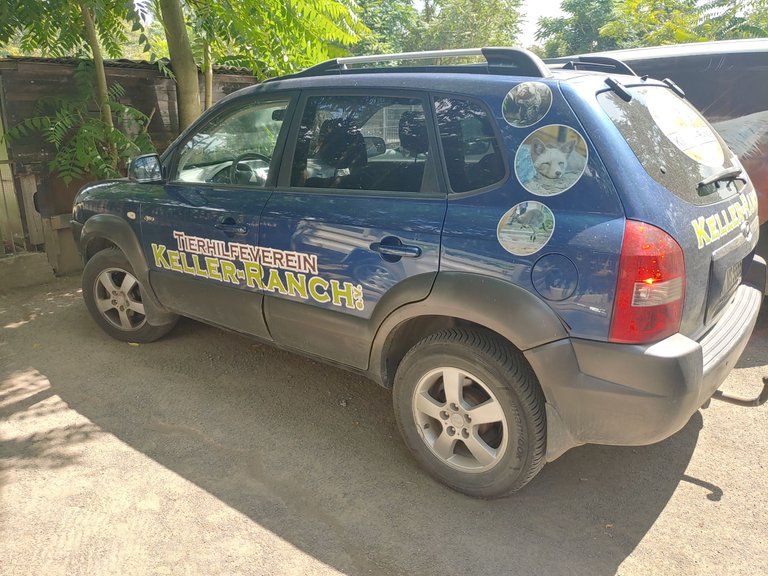 Intro
Vor 10 Tagen habe ich Euch die Keller Ranch vorgestellt und das Ganze mit einem kleinen Upvote bzw. Spendenaufruf verbunden.
Ihr findet den Artikel hier
Ich hatte versprochen, mindestens 100 € zzgl. dem Doppelten der Upvotes zu spenden.
Im verlinkten Post kamen dank 192 Upvoter insgesamt 21.28 Hive Rewards zusammen.
Leicht aufgerundet bedeutet das 150 € Spende für die Keller Ranch, die ich heute per Überweisung vorgenommen habe.
Intro
10 days ago I introduced the Keller Ranch to you and connected the whole thing with a little upvote or call for donations.
You can find the article here:
I had promised to donate at least 100 € plus double the upvotes.
In the linked post, thanks to 192 upvoters, a total of 21.28 Hive Rewards came together.
Slightly rounded up, that means 150 € donation for the Keller Ranch, which I made today via bank transfer.
---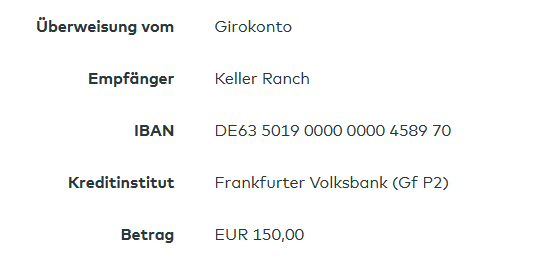 ---
Wie geht es weiter?
Der ein oder andere von Euch weiß, dass ich Aufsichtsrat bin. In Deutschland müssen Mitglieder einer DGB Gewerkschaft im Aufsichtsrat den Großteil ihrer Tantiemen an diverse Stiftungen, hauptsächlich die die Hans-Böckler Stiftung, abführen.
Ca. 20% kann ich jedoch behalten, wovon ich den größten Teil immer Spende.
Daher habe ich mir überlegt, jeden Monat hier auf Hive eine Organisation vorzustellen, die es aus meiner Sicht verdient hat, Spenden zu erhalten.
Vielleicht findet sich auf diesem Wege ja noch der ein oder andere, der sich mir anschließt. Gerade kleinere Organisationen sind auf solche Spenden dringend angewiesen.
Für den August habe ich auch bereits eine Organisation im Auge, die gerade derzeit dringend Hilfe benötigt.
Für die Zukunft bin ich aber auch dankbar für Hinweise von Eurer Seite. Wenn ihr also einen Verein habt, der eine kleine Spende vertragen kann, dann lasst es mich gerne hier über PeakD oder auf Discord Kheldar1982#8350 wissen .
What's next?
Some of you know that I am a member of the Supervisory Board. In Germany Employees of a DGB Trade Union on the Supervisory Board have to pay most of their royalties to various foundations, mainly the Hans Böckler Foundation.
However, I can keep about 20%, of which I always donate the largest part.
That's why I thought about presenting an organization here on Hive every month, which in my opinion deserves to receive donations.
Maybe one or the other will join me in this way. Especially smaller organizations are in urgent need of such donations.
For the month of August I already have an organization in mind that is in urgent need of help right now.
For the future I am also grateful for hints from your side. So if you have an organization that can use a small donation, then let me know here via PeakD or on Discord Kheldar1982#8350 .
---
Danke und Erinnerung
Ich möchte mich gerne bei allen 192 Votern des Artikels dafür bedanken, dass ihr mitgemacht habt. Ob großer oder kleiner Upvote, die Keller Ranch freut sich. Einen möchte ich aber doch herausheben, da sein Vote über 50 % des Gesamtvolumens ausgemacht hat. Speziellen Dank an @balte
Ich hoffe es ist für Euch ok, wenn ich Euch für die kommenden Posts tagge. Wer das nicht möchte schreibt bitte einen kurzen Kommentar hier rein, und ich nehme Euch raus.
Falls ich damit gegen die Ettikette auf Hive verstoße lasst es mich bitte wissen und ich ändere das.
Thank you and reminder
I would like to thank all 192 voters of the article for participating. Whether it was a big upvote or a small one, Keller Ranch is happy. I do want to single out one though, as his vote accounted for over 50% of the total. Special thanks to @balte
I hope it is ok for you, if I tag you for the upcoming posts. If you don't want to do that, please write a short comment here and I'll take you out.
If I am breaking etiquette on Hive please let me know and I will change it.
---
@abenteurer-dan @ace108 @aceyaan @akida @alphacore @an-sich-wachsen @anna-newkey @arcange @augustino @authentika @azar0307 @babschnae @badge-428571 @bafi @balte @bambukah @bastter @beebay @beebay.office @beeber @bilpcoin.pay @brucolac @burn950 @carlosro @carmate @caro-art @charlissy @cherryng @cleanplanet @condeas @cookaiss @cribbio @crimcrim @crimo @cryptonized @ctptips @dach-support @daje10 @damus-nostra @damus-nostra-2 @danielhuhservice @der-bierokrat @der-prophet @der.merlin @dirkzett @dosh @dragonmk47 @druckado @drwom @dudeontheweb @duke77 @dungeondog @ebike-adventure @eijibr @elfino28 @esteem.app @esteemapp @euc @fastio @fehlerbeheber @felix.herrmann @fireguardian @flamo @funnyman @gaottantacinque @gasaeightyfive @good-karma @guppy123 @hackspoiler @hiq @hiq.magazine @hiq.redaktion @hiq.shares @hiq.witness @hive-143869 @hive.friends @hkinuvaime @hungrybear @iproto @ischmieregal @itharagaian @iviaxpow3r @jagmeet12 @jamesbattler @jasonbu @johnboywalton @judyhopps @kaeptn-iglo @kryptodenno @kvinna @ladybe @laruche @listnerds @lordtimoty @lxsxl @m1sterjw @marianaemilia @mario89 @marivic10 @mary-be @mary-me @matt-kirby @mattsanthonyit @mblain @mchero @mein-senf-dazu @mejiasclaudia @melvin7 @memehive @mima2606 @mimi05 @minnie.reads @mister.reatard @monsterchiller @mr-satan @mrhoofman @mugglow @muscara @mvanhauten @narnary @nazomimatute1998 @nighthunter666 @octavian1 @okean123 @pardinus @patriamcaritatis @pboulet @pedrocanella @penguinpablo @photographercr @platuro @prinzvallium
@prometheus1881 @proofofbrainio @queensativa @quekery @r0nny @raorac @retard-gamer-de @reversehitler88 @rich.art.deluxe @richardcrill @rollingbones @rslsaku @sanjeev021 @sc000 @schlees @schlunior @schlooster @schnitte @shaidon @shainemata @sharelovenothate @shinpurple @siiiiichfried @simsahas @siphon @smooms @soushi888 @splinterskins @splinterzine @starthilfe @steemexperience @taldor @tingtong @tomhall @vasupi @vbnm21 @w74 @wallvater @walterjay @wilbur-walsh @wochenblick @wulff-media @xels @xuanphuc98 @yaraha @ykretz @ynwa.andree @zaddyboy @zeitplanziellos
---
---