Saint Patricks Day!
It's Paddies Day, St. Paddies Day, or Saint Patrick's Day. Whatever you call it, one thing is for sure; it's a day of celebration for the Irish, and anyone who fancies a nice cold pint. No matter where you are in the world, you can stop into your local boozer, to dance a jig and listen to a few tunes until the pub kicks you out and locks its doors, then you're left in the cold unless you can find a gaff to stagger back to - where you may finish off the day with a nightcap.
The holiday remembers Saint Patrick, who was taken from Wales by Irish raiders in the 700s A.D; he was in his teens and worked the fields as a shepherd, hence why he is most commonly pictured with one of those sheep sticks in hand.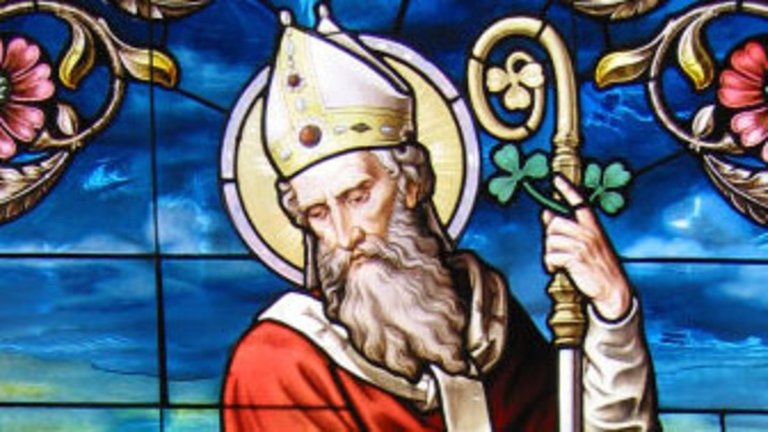 Source
Okay, so I looked up what the stick is called that he holds, and google told me it's a shamrock, which is technically true, but it's not the stick.
He earned his freedom years after being taken and went back home. No doubt reuniting with his family and putting the experience behind him. Years after that, he had a dream of the Pagan Irish calling to him and wishing to be converted to Christianity, and with that, Saint Patrick gathered a small band and headed back.
It is believed that he landed in Chill Mhantáin or Wicklow in English, and as he and his group came from the shore to the beach, they were attacked by locals, who most likely didn't like the look of these strangers or what they were wearing. It's believed that they threw stones at the men, one rock broke the teeth of one of the people in Saint Patrick's party. Which then gave the town its name, some historians believe that the church that was established here derives from the name "Gubbies Church" "Gummies Church" Or "Church of the Toothless One"
In fairness, Irish history has been scattered to the wind over the Centuries and the truth is, we have a lot of dead stops in it. Because, most Irish history is told in stories and songs, which were passed down from generation to generation, and over the years, were perhaps mistranslated, or changed for the sake of making it new.
The story of Saint Patrick is what I and anyone else in Ireland learned in school, and really, when researching it, there are some question marks left behind that may never be definitively answered. One story that stands out about him is how he described Christianity to the Irish people, while talking in a field he picked a shamrock, or clover out of the grass and used it to describe the holy trinity; the father, the son, and the holy spirit.
It is believed that Saint Patrick chased the snakes out of Ireland, whether that is code for something or someone else, we don't know. Taking it literally is strange, and taking it spiritually would kind of make sense. Thinking back to the story of Adam and Eve, the snake represented the devil, so perhaps it means he chased the devil out of Ireland. There are old stories about a group who lived underground that the first arrivals of Ireland were at war with, these people were called Fomorians or Fomori, who are described in Irish folklore as monstrous and hostile creatures. Maybe it was them that Saint Patrick chased out of Ireland.
If you like fantasy, check out some of the Irish Folklore, some amazing stories there, and plenty of gaps in the narrative to let your mind wander a bit.
Recorded history was only made note of by monks and all of these stories were stored up in the monasteries of Ireland, and many people over the years would study here in Ireland, giving it the name "The Land of Saints and Scholars." Monasteries were mostly undefended and became the number one target of Viking raids after the raid of Lindisfarne around 793 A.D.
Anyway, that's enough for now - but, I wouldn't mind doing more history posts here on Hive, for now, though, I'll leave it there.
What Are My Plans For The Day
Today, we've got a gig! We're playing a pre-parade set at one of the local pubs at 1:30 today, and after an hour and a half of playing, we'll be heading up to get our high-vis jackets, so we can do some stewarding for the parade.
For doing the Stewarding, we'll get paid in drinks tokens, which is great. So, once the parade is over, we'll be heading into the pub, however, we have a gig tomorrow as well, so I don't want to go too mad. In fairness though, most mad nights have started with that phrase.
We got offered a second hour and a half for 200 euros in the evening, in the same pub. I mentioned to him that we only have just over an hour and a half of music so it would mean doing the same songs twice, but he said that it would be better off sticking to the one early set if that was the case... sometimes transparency isn't key haha
Regardless of what your plans are, or how your day goes, have fun and enjoy yourself!
---
---