Wynter Jumper - Part 1 (SandS Collaboration Challenge)

In This Post, @samsmith1971 decided to hold a little challenge for the writers of the Scholar and Scribe community, by randomly pairing up two writers, to work on one story.
The writer of part 1 of this story is given the quoted sentence below, which serves as the intro to the story. After the first writer completes part 1, the torch is then passed to the second writer, who will work off an opening line to complete part 2, and hopefully, with that, each part should combine to make a solid story.
Word counts for each part should be around 400 - 750 and should stay balanced between the two writers. The end result should be a roughly 1,500-word short story, give or take.
I love collaborations like these and find them a lot of fun. I think it'll be a good experience.
The first prompt/opening line that must be used to start part 1 is:
---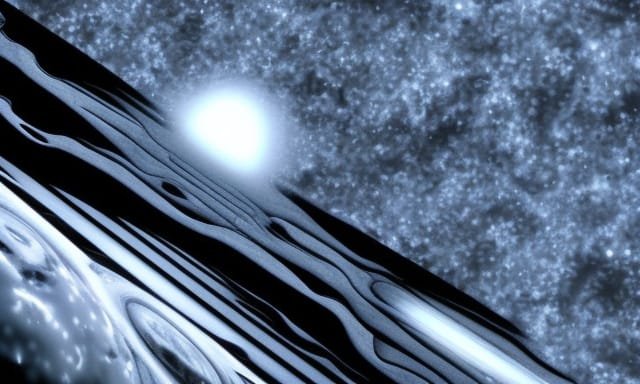 Source
---
"The place where the world stopped was not so strange, but the vertigo was overwhelming. The girl could not decide whether or not it would be wise to jump."
Chloe Wynter stared into the abyss. Blank wouldn't describe it, there wasn't a blink of white all-encompassing light, like she would have imagined.
Instead, it was black; a deep pit of nothing, which had a way of pulling her, caressing her, scaring her, and cradling her.
She felt like she was both standing and walking. Falling, and floating. Weightless, and heavy. Swimming, and sinking.
Chloe knew she had to turn from the void, but she couldn't pull herself away.
Jump. A voice that wasn't her own commanded her. Jump now. She heard it once more, this time it was even sterner, but it still wasn't able to pull her from her thoughts.
"Cloe! Jump, now! If you don't you'll get sucked in there. You'll fall between realities, and you'll be trapped between life and death!" She heard the familiar voice, but couldn't place it.
"Who... Who's there?" She asked out loud, and she heard her own voice spin in the distance, echoing back to her, but the sound was distorted and it twisted into something totally unfamiliar and monstrous.
"It'll come back to you soon, but you need to jump. You're standing too close to the end of it all, and it is scrambling your mind."
Chloe knew what she had to do, and knew how to do it, but for some reason, her legs didn't feel like they were her own.
"Jump!" The voice came back louder than before, completely absorbing her mind.
She jumped with all of her might, and everything was gone in a flash of mesmerizing light.
In an instant, which felt like an eternity, she found herself on a street; wherever it was, she couldn't say.
"Good, you did it. That was close." The voice came through her headset, relieved but still tense.
She was about to ask who it was, but her lower lip quivered; feeling like a fishing hook had pierced it and that she was about to be pulled into the air. Her throat started to close slightly, and she heaved. One gag was all she needed, and the contents of her stomach spilled onto the street.
"Get it all up. That's a normal response." The voice said while she continued to wretch. In a fit of rage, she wiped the dregs of puke from her lip and held her earpiece.
"Who is this? What's going on? Why are you talking to me?!" Some passers stared at her, but they all left her alone. Nevertheless, the outburst left her feeling a bit embarrassed, and she made her way to a nearby alleyway, where it was quieter.
"Okay, amnesia seems to be a side effect of the cybernetic enhancement. Your name is Cloe Wynter; you are a test subject for a new piece of tech; you are currently giving it a trial run. My name is Doctor Holden Forgrave, and I am lucky enough to be the one to help you navigate this new piece of equipment." Chloe shook her head at all of the information being tossed her way. None of it made much sense and nothing seemed quite right.
"I think I would remember at least some of that." She replied. It was all she could think of saying.
"Short-term memory loss, as I said. It should come back to you soon. Do you feel capable of doing another jump? The more you train, the easier it will be. What we're looking for is for you to control the ability, to be able to choose your destination. Think of the lab; picture it, smell it, see it, hear it, and then jump. You should return to us."
She took in a deep breath and closed her eyes, working to block out her surroundings.
Imagining the lab. The white room, stark lighting, sterile, and the smell of chemicals and noxious fumes. As soon as she had built a mental image, she jumped.
As she landed, Chloe could smell the noxious fumes, but the first thing that grabbed her attention was the repetitive music playing low in the background.
"We're getting there." An alien voice barked. "Get there faster. Noctus Noro wants this batch in transit by tonight." Standing still in the centre of the room she watched a couple of aliens argue and grumble; both looked mostly human, apart from extruding spikes from their shoulders, and the purple tinge to their skin.
"Hey! Who's that?! How'd you get in here?!" One of them shouted, dropping a tub of liquid while they reached for their pistol. The crash and clatter made the second alien jump to attention. Instinctively Chloe reached for her own, finding herself in a stand-off.
"Stop you fools, you can't let off blasters in here!" The other shouted, raising his hands.
"What's going on?" "I'm in some chemmer facility." She replied to doctor Holden. "Well, it's kind of working; at least you got to a lab." To that Chloe shook her head. "Not a time for joking around."
"Who are you talking to?!" The alien with his hands raised asked. "Who do you think? The authorities! They're going to raid us!"
"Get back to us Chloe!" Holden shouted. "We can't lose that piece of kit!"
"Everyone shut up! Let me think. I'm not with the authorities you idiots! And you, doctor! You need to be a bit more descriptive. There must be a million lab-like places in the universe!"
---
Okay, that was a bit of fun, and I think I set @oblivioncubed up for the next part of this story. Chloe has a clear goal, but there is still plenty of room to have some fun with it... I hope.
Be sure to check out This Post, if you want to read the ending to this weird little story.
---
---