[Esp/Eng] Updates and improvement in KOD.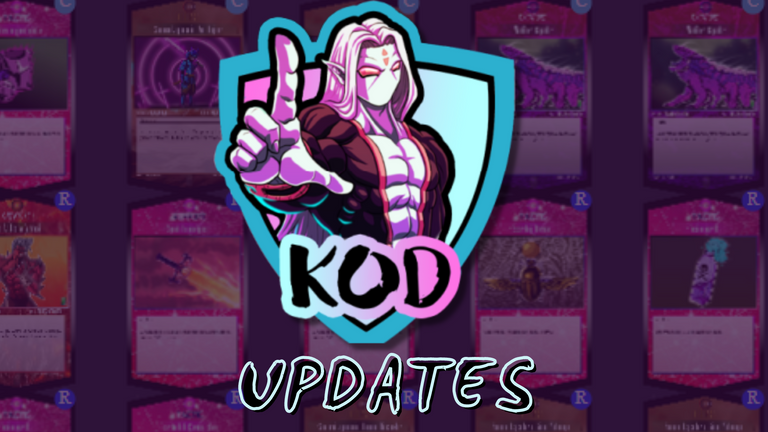 ¡Saludos, Duelistas! Traemos noticias para todos los que han apostado por el proyecto, y también para quienes quieran sumarse pueden hacerlo adquiriendo sus $KOD aquí esto durante la preventa que se encuentra activa.
Greetings, Duelists! We bring news for all those who have bet on the project, and also for those who want to join can do so by acquiring their $KOD here this during the presale that is active.

Updates
-AURA EL CREADOR DE ESTRELLAS. La caída de cartas ha aumentado del 0,1% al 0,3%.
-Se han corregido errores en las siguientes cartas "Recarga de Criptomaniakos" y "Decreto de la Corona Congelada"
-Se mejoró el sistema de latencia del juego, con esto se logra que las personas que no tienen un buen internet no envíen múltiples peticiones al servidor.
-Menos consumo de datos y mejora en la RED, antes enviaba aproximadamente 300 peticiones por minuto, se redujo de 50 a 100 como máximo, recordando que es un juego pvp en tiempo real. este número no se puede bajar más, afectaría con breves retrasos en las jugadas.
-Preparando el sistema Play to Earn para el día 19, casi todo está listo.
-AURA THE STAR CREATOR. Card drop increased from 0.1% to 0.3%
-Fixed bugs in the following cards "Cryptomaniakos Refill" and "Frozen Crown Decree"
-The latency system of the game was improved, with this it is achieved that people who do not have a good internet do not send multiple requests to the server.
-Less data consumption and improvement in the NETWORK, previously it sent approximately 300 requests per minute, it was reduced from 50 to 100 maximum, remembering that it is a real-time pvp game. this number can not be lowered more, would affect with brief delays in the plays.
-Preparing the Play to Earn system for the 19th, almost everything is ready.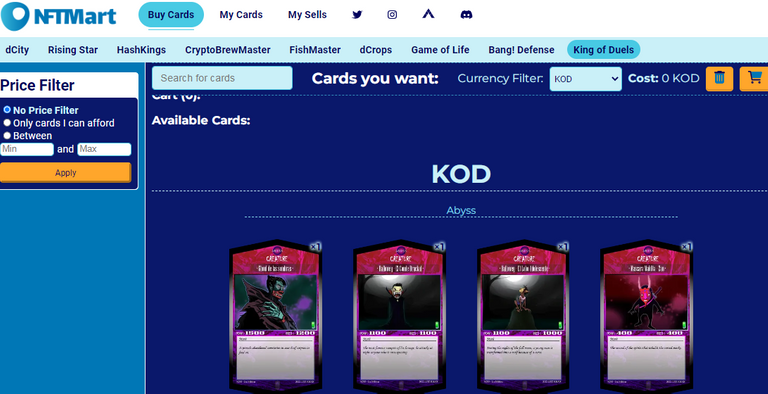 Por otro lado, nos complace anunciarles que ya nos encontramos disponibles en NftMart así te presentamos otra opción para la venta y compra nft de KOD.
On the other hand, we are pleased to announce that we are now available in NftMart so we present you another option for the sale and purchase of KOD nft.

Lo prometido es deuda y ya traemos en idioma Inglés un tutorial del juego #kingofduels y pronto será publicado uno en español para actualizar el publicado anterior en nuestro canal de Youtube..
As promised, we bring a tutorial of the game #kingofduels in English language and soon will be published one in Spanish to update the previous one published on our Youtube... channel.

El 10-09-2022 haremos una prueba a las 22:00 UTC. Todas las tarjetas estarán disponibles para que disfrutes de la experiencia del juego mucho antes de la salida.
On 10-09-2022 we will do a test at 22:00 UTC. All cards will be available for you to enjoy the game experience long before departure.

Procedemos a realizar el anuncio del ganador del sorteo que teníamos pendientes en una de nuestras publicaciones
We proceed to announce the winner of the raffle that we had pending in one of our publications
---
Participants
@allonyx.ngs, @psyshock, @vaynard86, @derfabs, @ztinger, @mateodm03, @s3rg4, @joseal2020, @lobaobh, @amaillo, @flquin, @henruc, @falcout, @tinyputerboy, @hive-news, @edusan, @mario02, @arkasz, @whoswho, @yeckingo1, @dantejcs, @masterzarlyn28, @blitzzzz.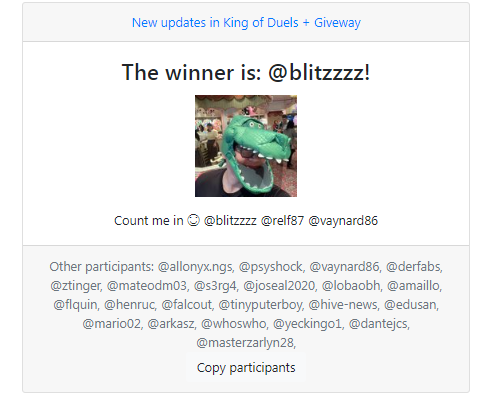 Congratulations to the winner!
You can stop by the Kingofduels Discord to receive your prize.

official website|
Discord|
---
---