Teaching Paapaa how to use a smart phone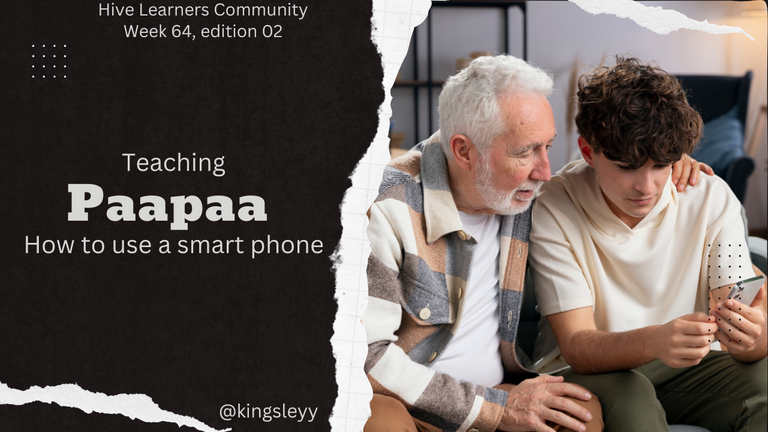 Image | Designed on canva*
---
This edition got me reminiscing about the experience I had some years ago.
Someone from 1960? Yeah, I was privileged to be the phone instructor of an elderly man from the 1960s before he went to meet his forefathers two years ago.
Paapaa, as we usually call him, was an elderly man in his 50s (yes, I am very sure because he was up to 70 years old before he died). He had his youthful life in the city(Lagos State), and as he was getting older, his children made him come home to spend the remaining years of his life.
Being a man that was groomed in the city, he made sure he differentiated himself from his agemate in the village. He so much loves technology, even though he gets tired learning how to operate it.
Instead of the usual Nokia phones that everyone was using, he pressured his children to get him a top-notch phone, and they bought him a Samsung phone (not a smartphone, it's a button phone). To learn it, I got employed as his teacher.
Mehn! Teaching him how to send SMS and recharge airtime frustrated me. I tried very well to teach him, but no way, it didn't just enter. The only thing he mastered was how to make calls. Anytime he wants to send SMS or recharge airtime sent by his children, I will be the one to do that.
One day, he said he wants to learn how to browse. Jeeez! Someone who couldn't assimilate the tutorial on how to send SMS wants to learn how to browse.🤧
Who was giving him all those pushes? It's his TV. He likes TV, and each time he comes across tech adverts, he tries to hop in.
He used that phone until smartphones became rampant, and he pressured his children to get him one, which they did with an Aitel phone. The phone didn't look strange to him because he had seen a lot on TV but had no knowledge on how to navigate it.
The only thing he knew how to do was drag his fingers on the surface of the phone, as he'd seen on TV.
So, the workload increased for me.
I settled down to teach him the simple steps; like how to end a call by touching the red sign and how to answer a call by swiping the arrow.
The phone had no fingerprint features, so I tutored him how to unlock the phone with a simple drawing pattern.
He's an oldie but likes frenzy; he insisted he wants to learn to snap Photos... I showed him with no stress.
---
All these were easy for me because he has seen a lot of TV.
But it became tough for me when he talked about browsing.
What is browsing to an old man who has a shaky hand and can't type? Or isn't browsing more of typing (entering the name of the site, except it's Facebooking via app)?
He was disturbing my life, and I had to keep my distance, but he always enchanted me by putting on the generator, which we use for charging of phones. But I still didn't put him through the browsing.😎
---
---
Although, if I'm opportuned to teach an elderly person how to browse now, I'd bookmark the site and show him how to tap whenever he wants to browse, to save them the stress of typing.
Thanks for reading.
---
---