A Spontaneous Hike at Mount Batulao, Nasugbu, Batangas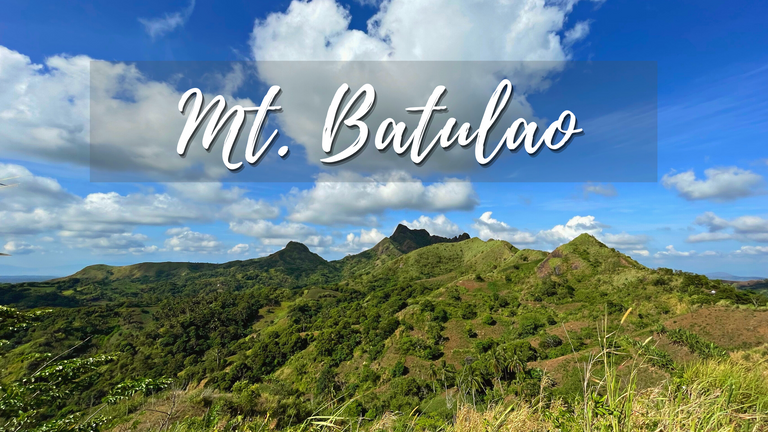 Hello, Hivers!
It's been a very long while since my last post here. I wanted to focus on acquiring my license, so I can move forward and proceed with my career growth. I've been stuck for several years, and finally, it's a success. It was a long journey but definitely worth it.
One of the instructors of the review center is a trekker. Before the class started, he always shared some motivational quotes, then he would relate them to climbing a mountain. For example, his climb on Mount Apo in Davao.
I am not a fan of climbing mountains. I am more of a thalassophile. Maybe because hiking exhaust my weak lungs easily - an asthmatic person here. I was still in Iligan City to exercise my right to vote when Anthony, my boyfriend, told me that we will climb one of the mountains of Batangas. I was completely shocked and hesitant, as well, because I haven't had a workout for a long time because of work and review - even gained 7 kilos. But he already paid for it, so I had no choice.
The night before the climb, Antoni and I went to the mall to buy something to wear. When I arrived at my apartment, I immediately packed the necessary things: extra clothes, biscuits, and my hand-held nebulizer and inhaler. Yes. I brought them along just in case my asthma triggers.
---
MOUNT BATULAO
---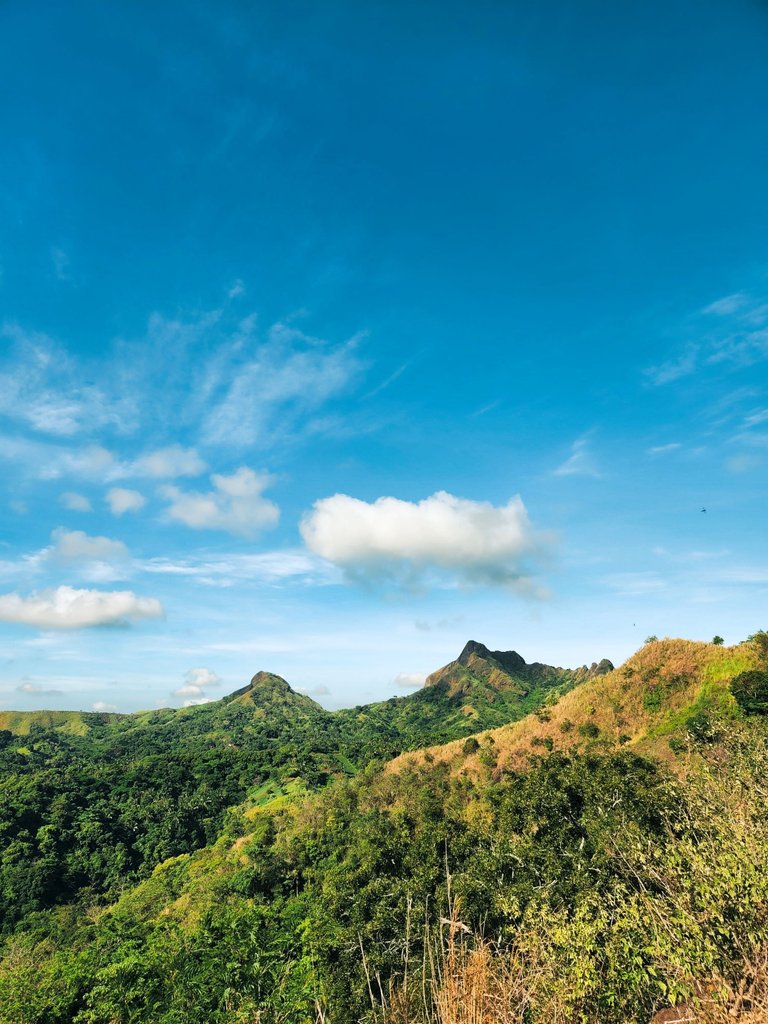 This climb was spontaneous and felt like an ambush, so I did my research beforehand just to prepare myself, mentally. The highlight of my readings is it is one of the most popular mountains for beginners. Some had even rated its level of difficulty 4 or 5 out of 10.
Mount Batulao, with an 811 MASL, is an inactive stratovolcano situated in Nasugbu, Batangas. Its name comes from two words: bato (rock) and ilaw (light). In Filipino phrase, it is bato sa ilaw or ilaw sa dalawang bato (illuminated rocks), referring to the mountain's two peaks light up with the rays of the sun. But to some, the second word is dilaw (yellow), referring to the color of the mountain during sunrise. Source
It consists of twelve peaks which can be reached with any of the two trails of Mt. Batulao. The two trails on Mt. Batulao are the Old Trail (East trail, the longer and challenging one) and the New Trail (West trail). And we chose the latter.
---
REGISTRATION SITE
---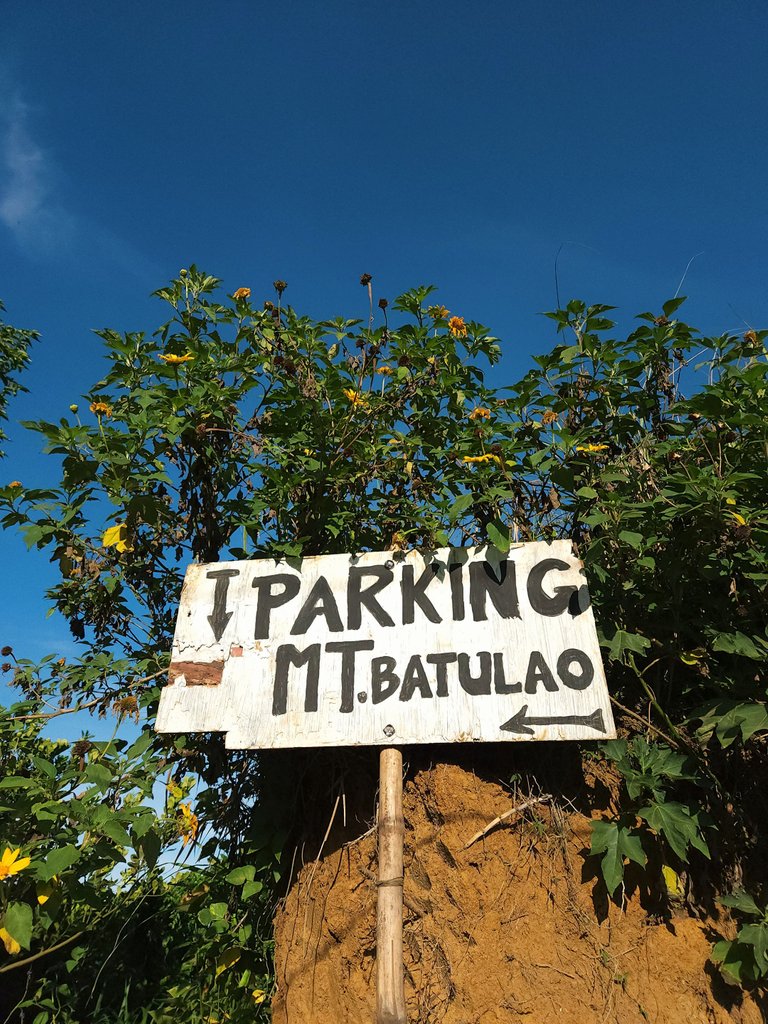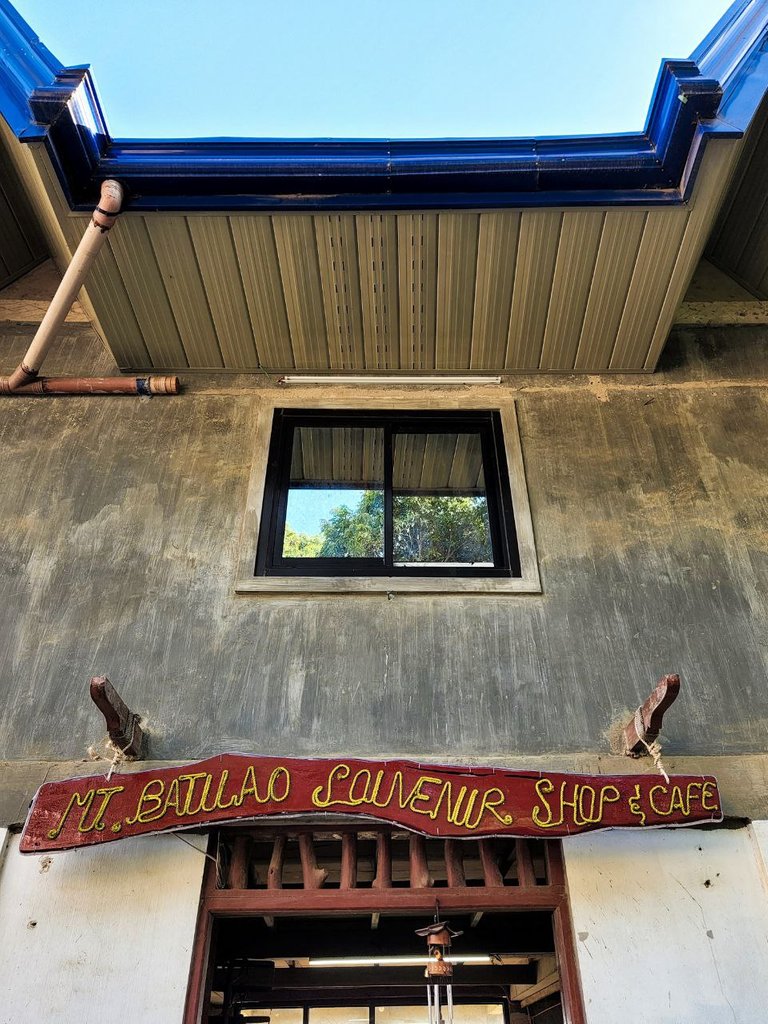 ---
Since we were from General Trias and Dasmariñas, Cavite, they decided to avail travel and tour agency for easy access to transportation. We were ten in the group, and really a hassle to ride on a bus to Batangas. The pick-up point was in McDonald's, Pala-pala, Dasmariñas City at 5:30 AM. Travel time is more than half an hour.
When we arrived at the parking area of the mountain, the driver introduced us to our guide. One guide is good for seven people. Since we were ten, we had two tour guides.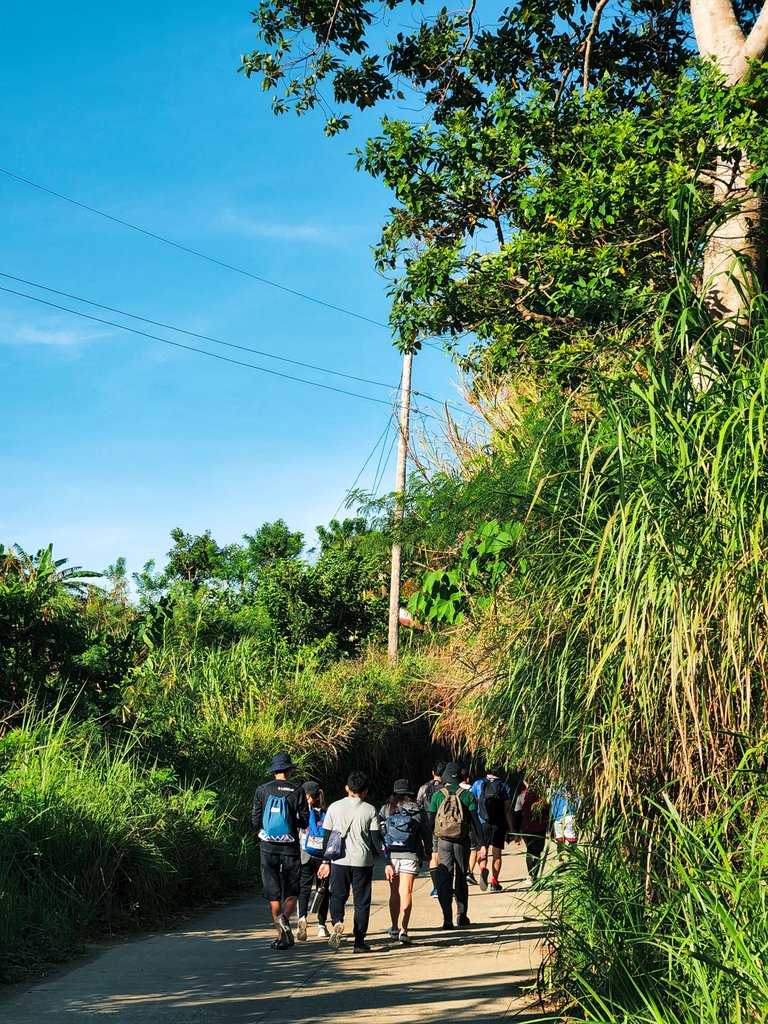 From the parking area, we had a little warm-up by walking for around 20 minutes to the registration site. The sun had risen already, and we started walking at past 7:00 AM. We passed by some locals selling bamboo sticks for 10 PHP. I bought one because my legs and lungs are pretty weak. I need extra support.
---
THE CLIMB
---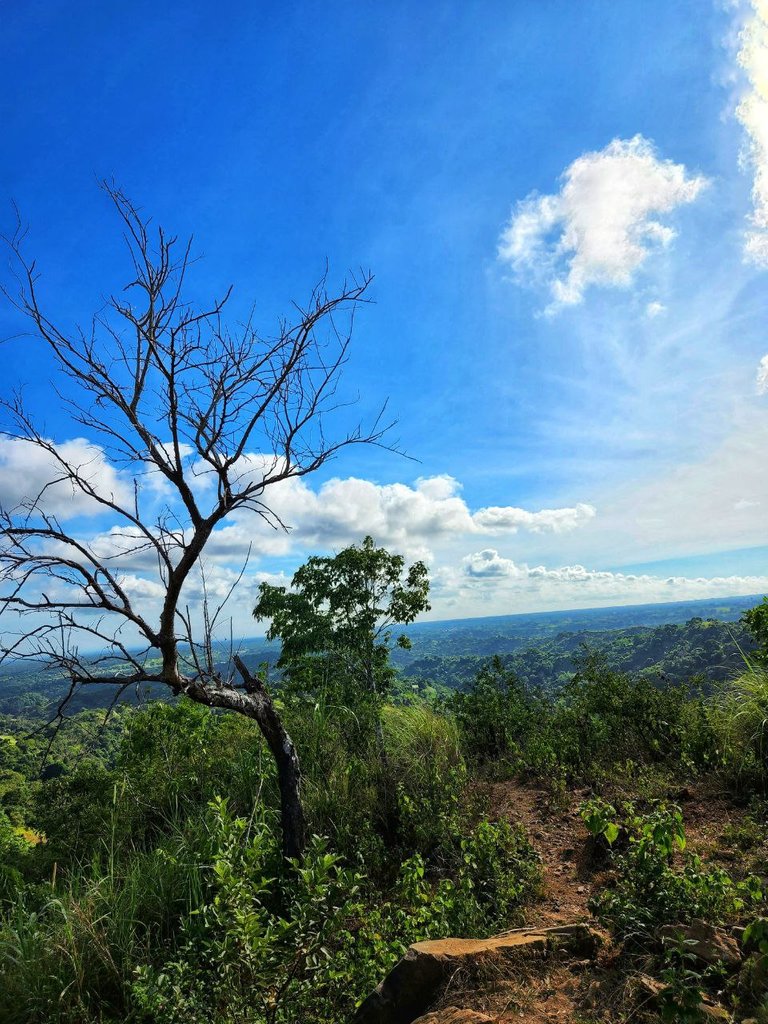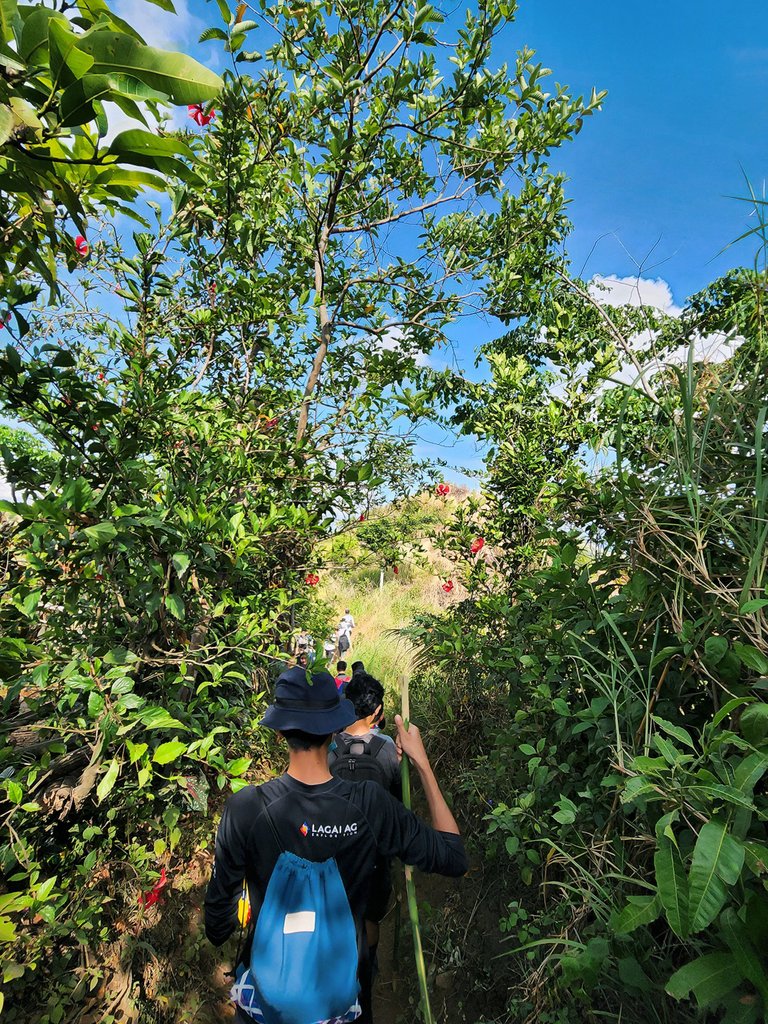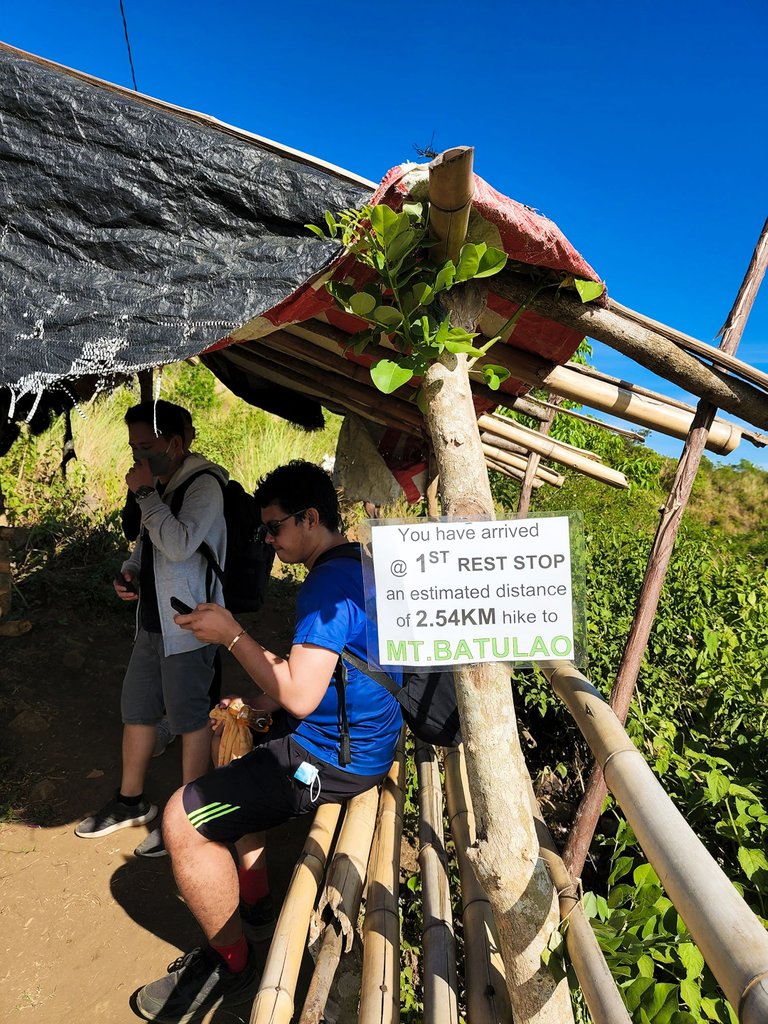 It took us 20 minutes to arrive at the first stop. I was starting to catch my breath since my facemask was still on due to the dusty road from the registration area until a few meters going toward the first stop. I kept on sneezing every time I took off the mask. With that, I decided to be in the last group and stayed at the first stop for a few minutes. A few-minute walk from the first stop is a house with a store. Everyone decided to rest again. Antoni bought two eggs each for our two guides to fill their stomach, and I also ate my breakfast - a burger.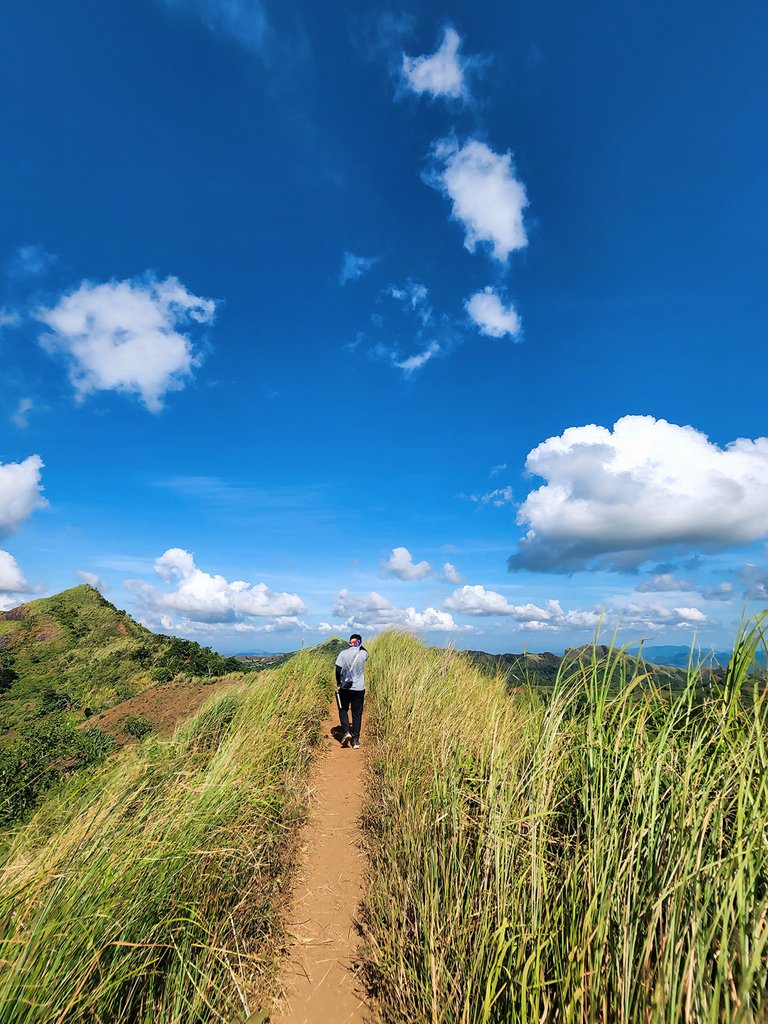 After munching our breakfast, we walked for another 15 minutes to reach the second stop. While walking, we couldn't stop ourselves to be mesmerized by the 360-degree view of lush greens. The paths were straightforward, so I still had time to recuperate my breath.
At the second stop, another house with a store is selling a lugaw (rice porridge), halo-halo, and banana. We didn't stay there long since the third stop was just a few meters away. It took us 15 minutes to reach it, and that time interval includes the photoshoots. And from the third stop, just a five-minute walk, we arrived at Peak 1 of Mt. Batulao.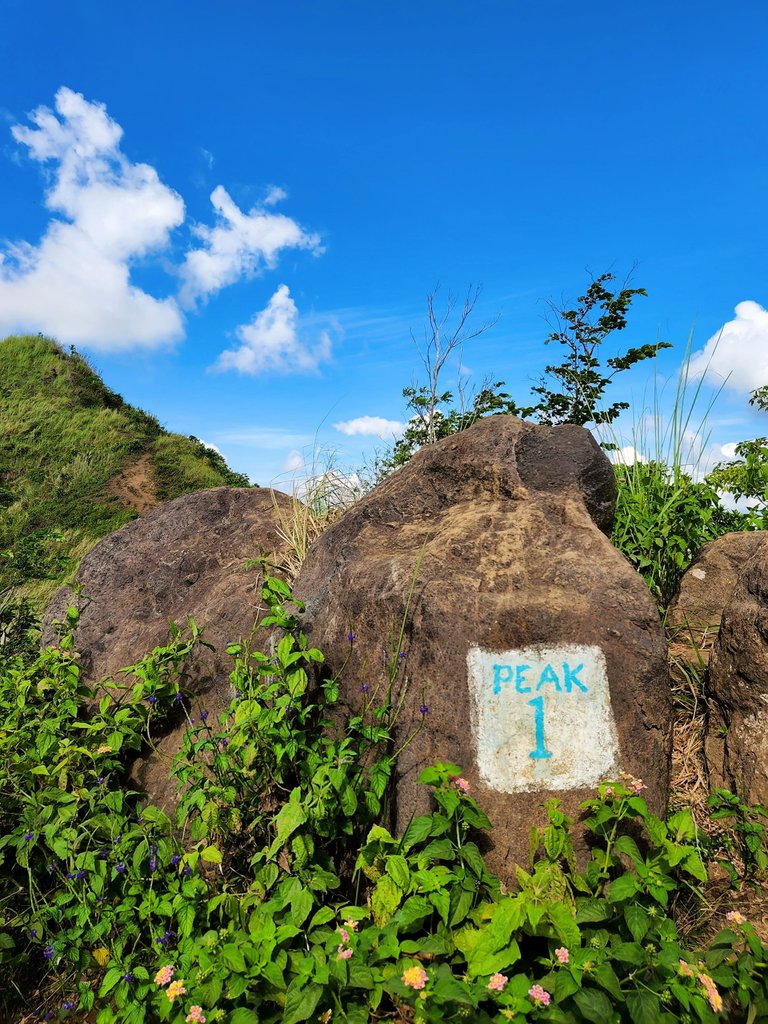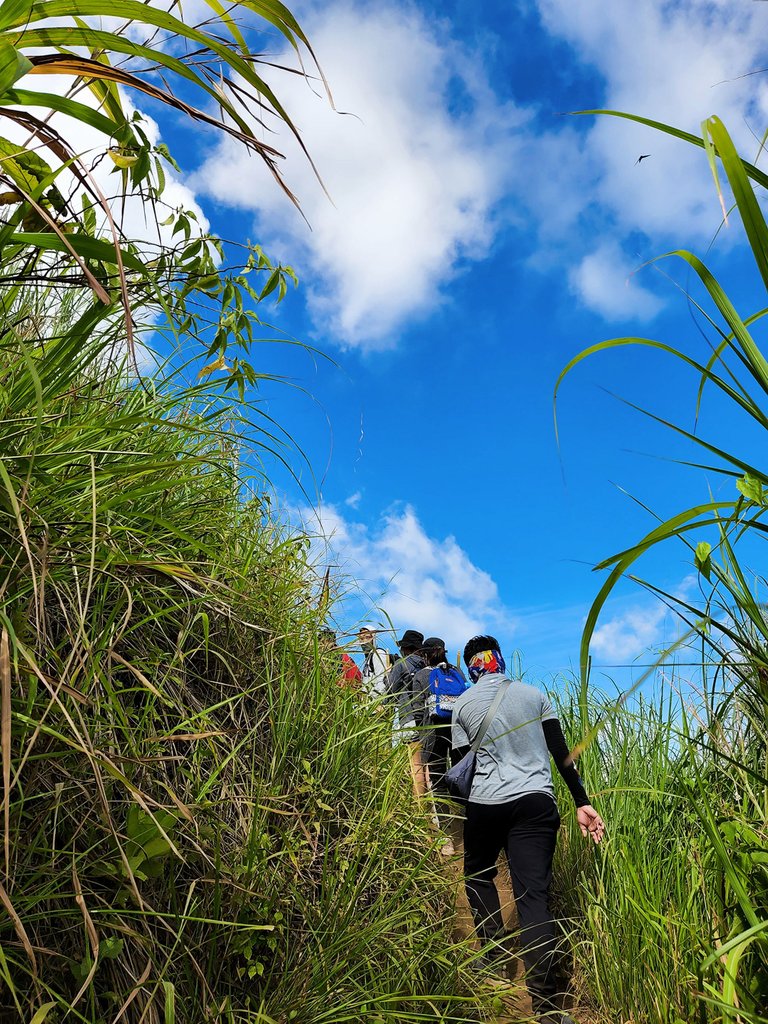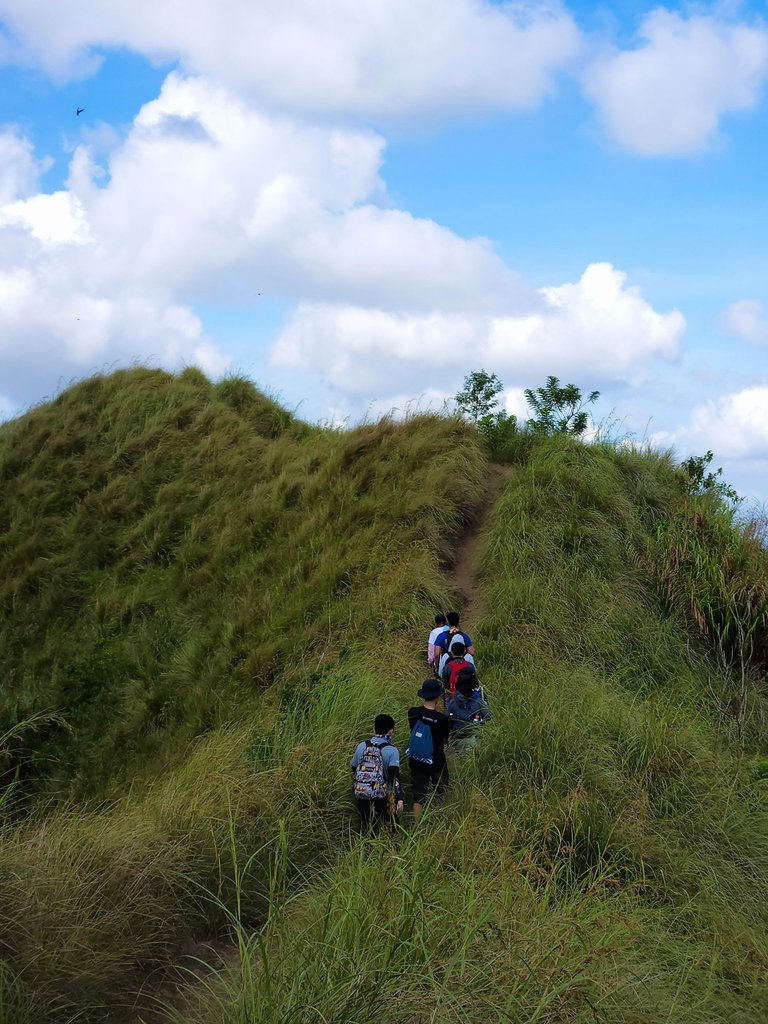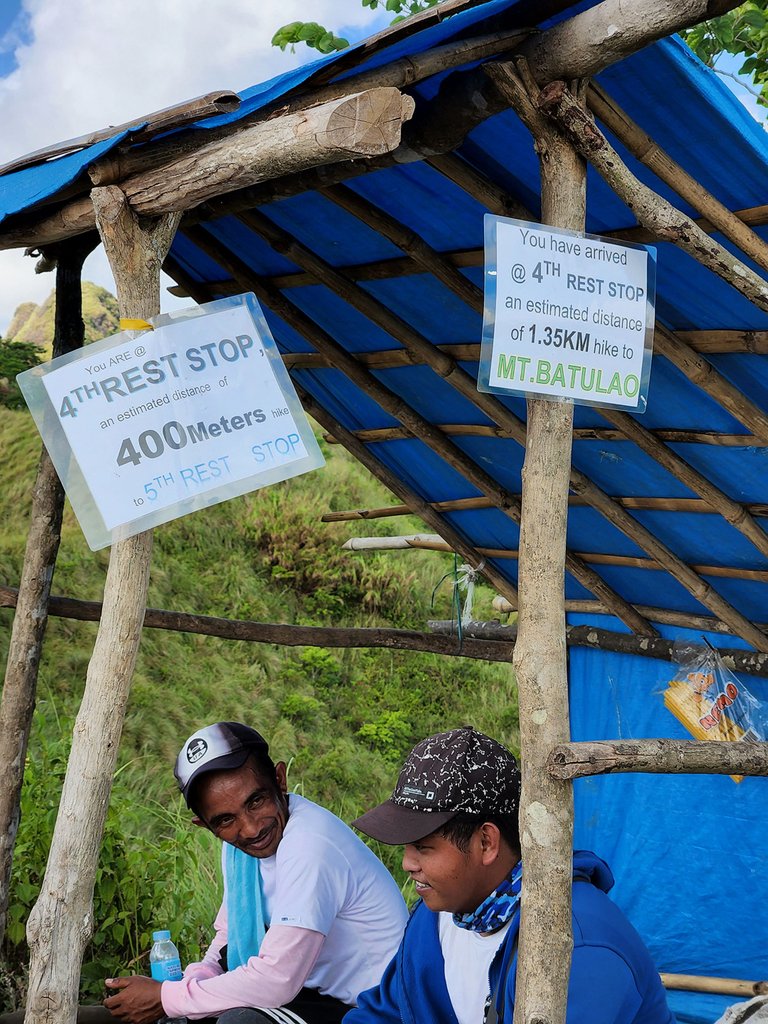 The path was covered by outgrown grass, and the sun was starting to get through my skin. I was drenched with sweat already. Thankfully, the cool fresh breeze brushing through my face saved me from questioning my life choices. We passed by the fourth and fifth stop and even reached Peak 6 with a red-sweaty face.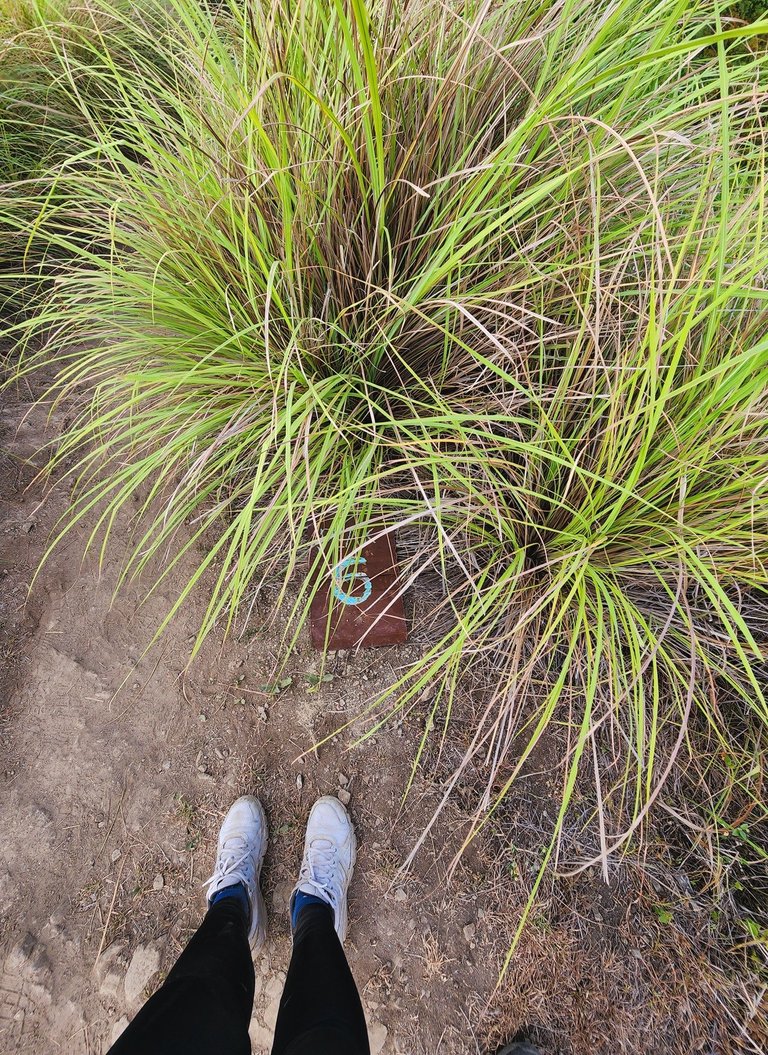 We had refreshment at the sixth stop, a Buko juice worth 25 PHP. We all sat on the mini hut and rested for about ten minutes to catch our breath. The path after the sixth stop is now a bit challenging - dry but slippery and narrow but more inclined. There are three ropes available to the steeper path. I stopped taking pictures when we were on the peak with a narrow path. We would joke around that we might be back at the foot of the mountain if we trip over. One of us has a fear of heights – we told him to sit and breathe for a while since his knees were shaking already.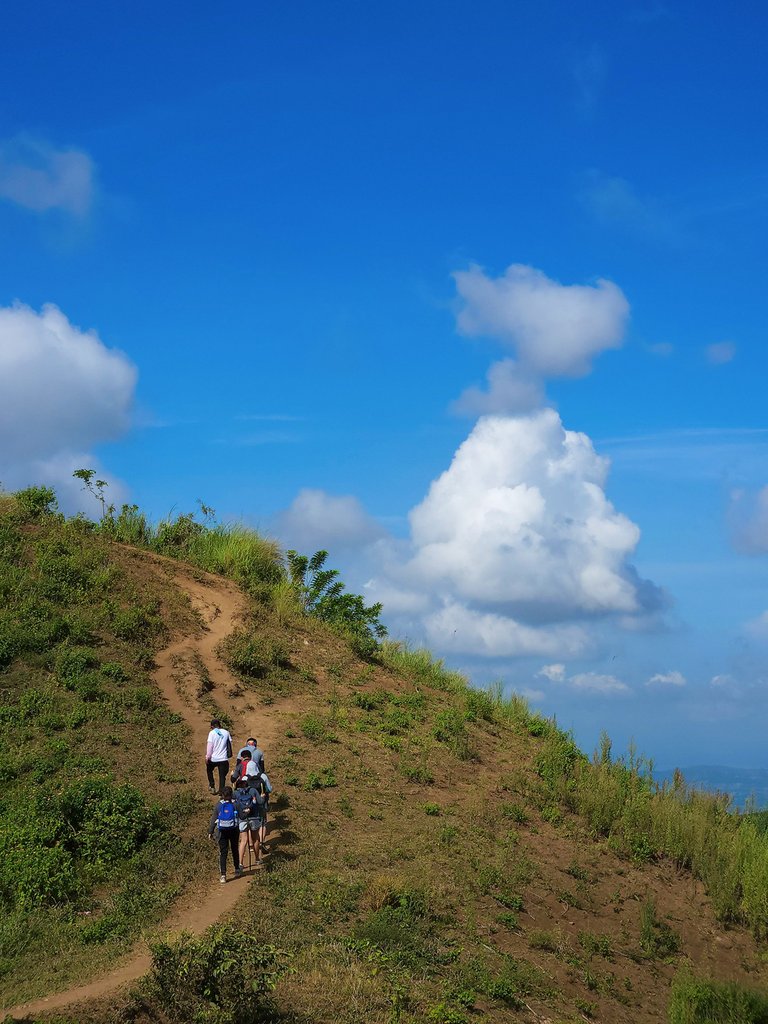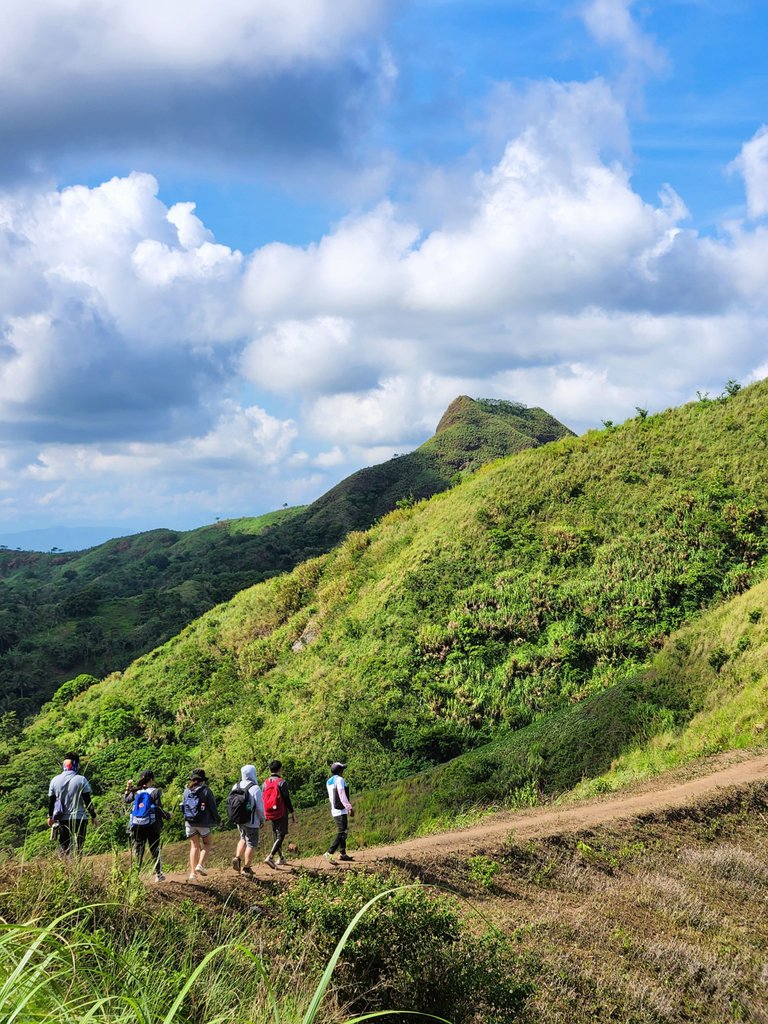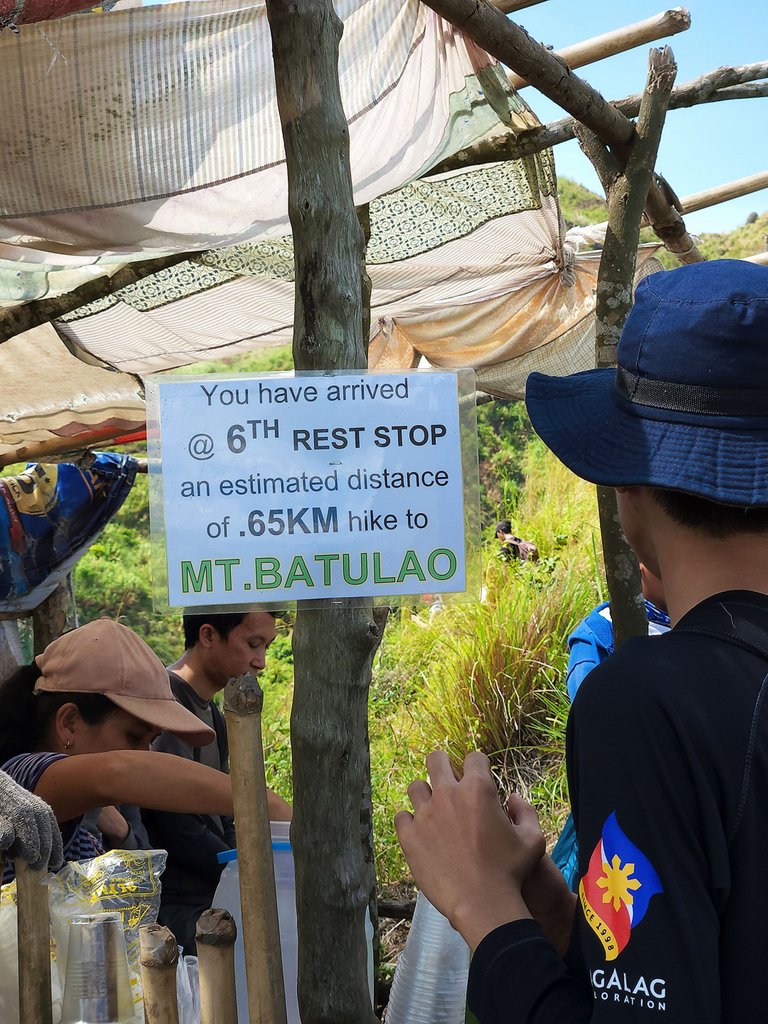 It took us 10 minutes or more to get back on our feet. The first group was already done taking pictures at the top of the rock of the 7th rest stop. I, on the other hand, wanted to have a photo on the other rock, not at the top, but on its side. It was a bit challenging to act like a spiderman. There were not enough emerging rocks that I can step on to reach the middle part smoothly. The two guides tried to help me to avoid an accident, but it felt like I was safer if I rely on the rocks and my strength. Luckily, I was able to have a picture safe and sound – though it's not that decent, I must say. Guess my boyfriend feared for my life that he just snapped, like a lightning, and said, "Done! Now, get back here!".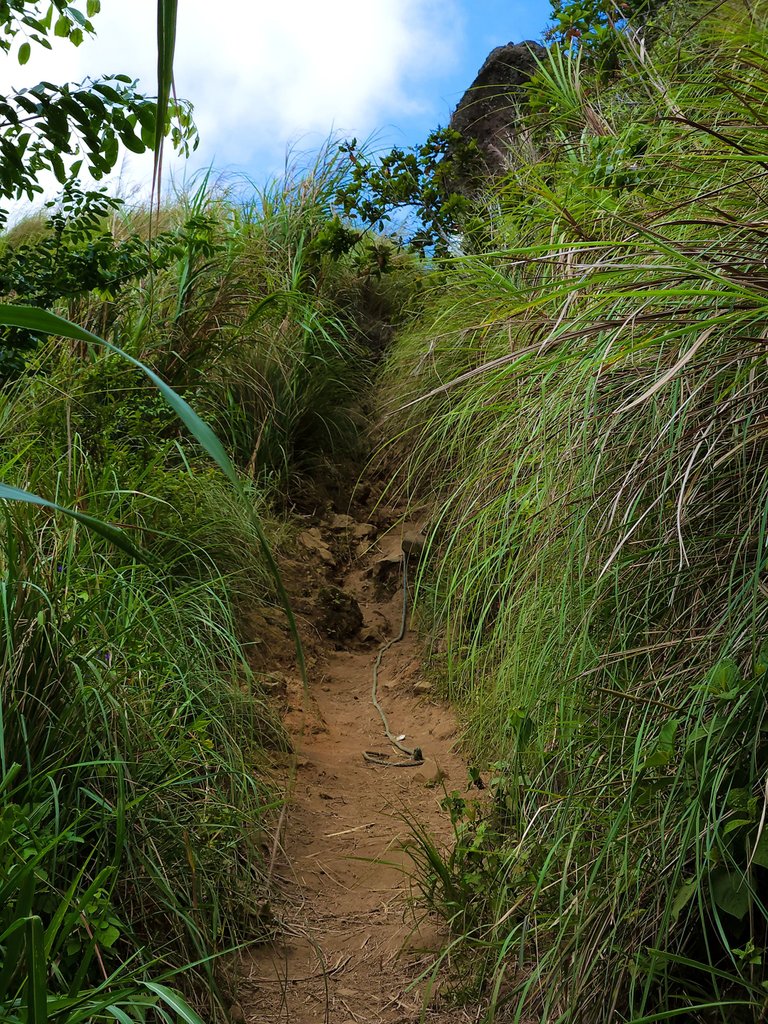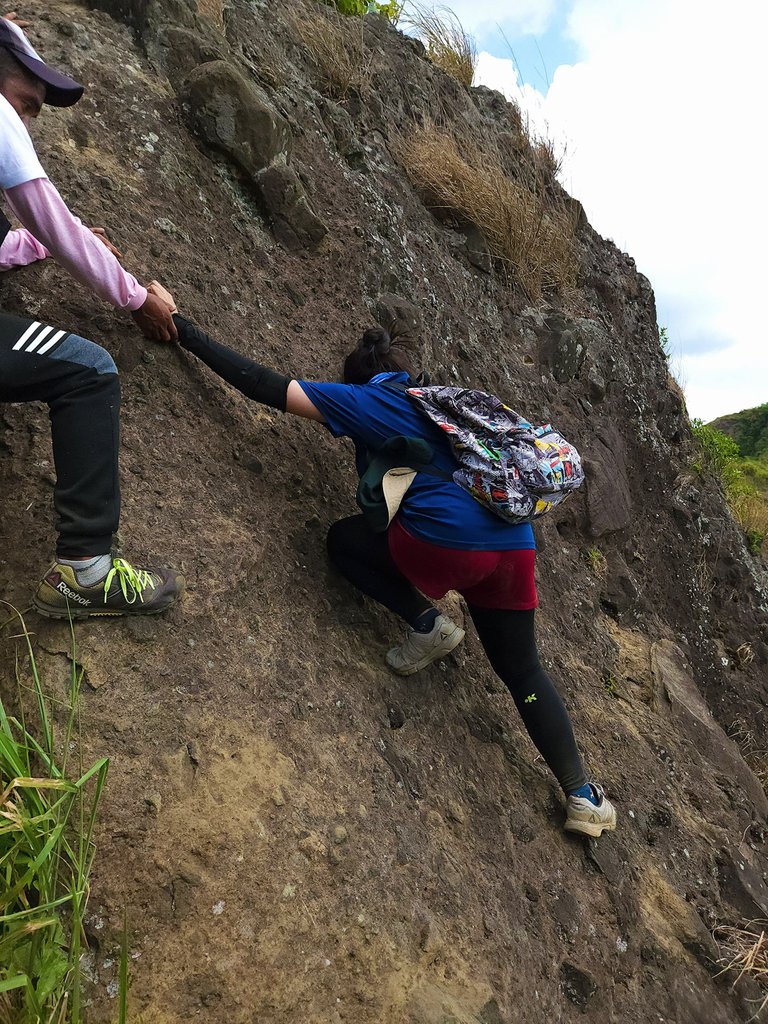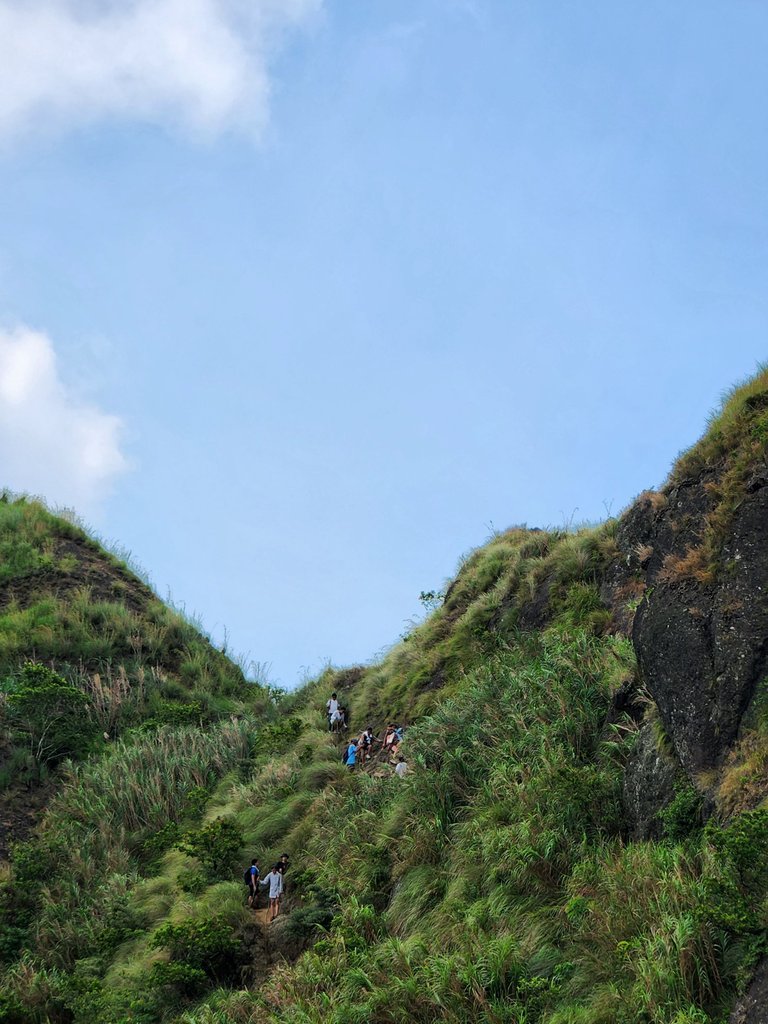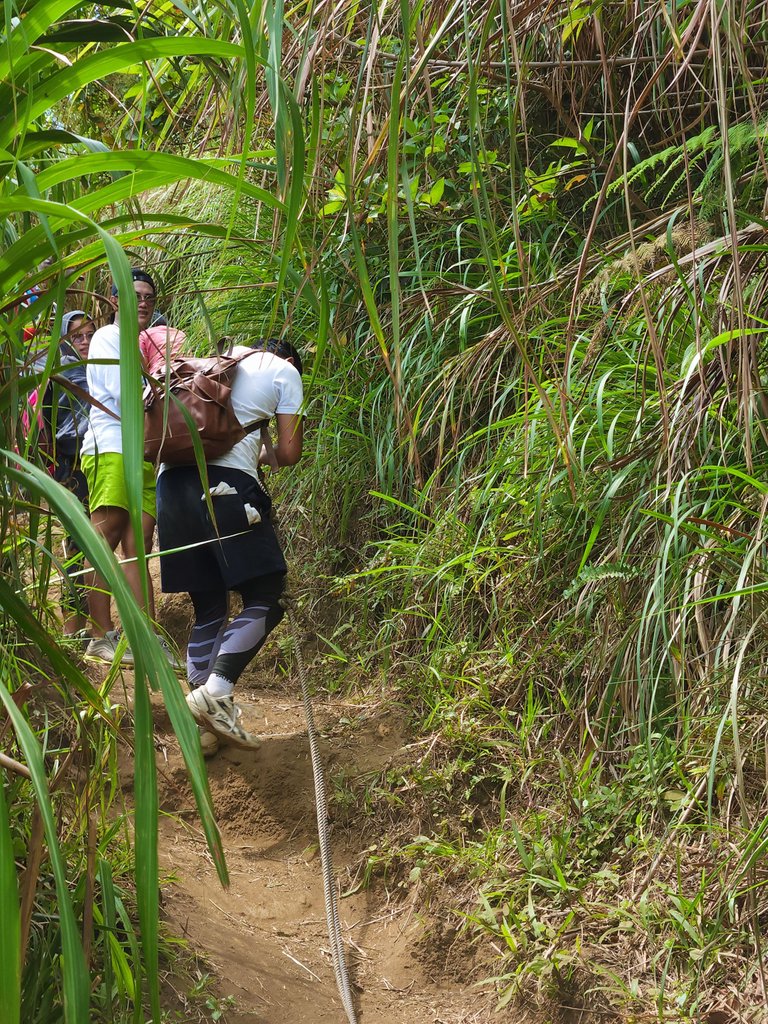 ---
After the compulsory photoshoot at every stop, we encountered two more climbing with rope support before reaching the summit. But for me, the rope is more convenient for going down, and the rock is helpful for going up. By the time we reached the summit at 10:36 AM, the sun had been scorching hot already. But the sense of fulfillment beat the heat of the sun. I was so proud of myself that even if I was gasping for air, I still conquered Mt. Batulao without taking my inhaler.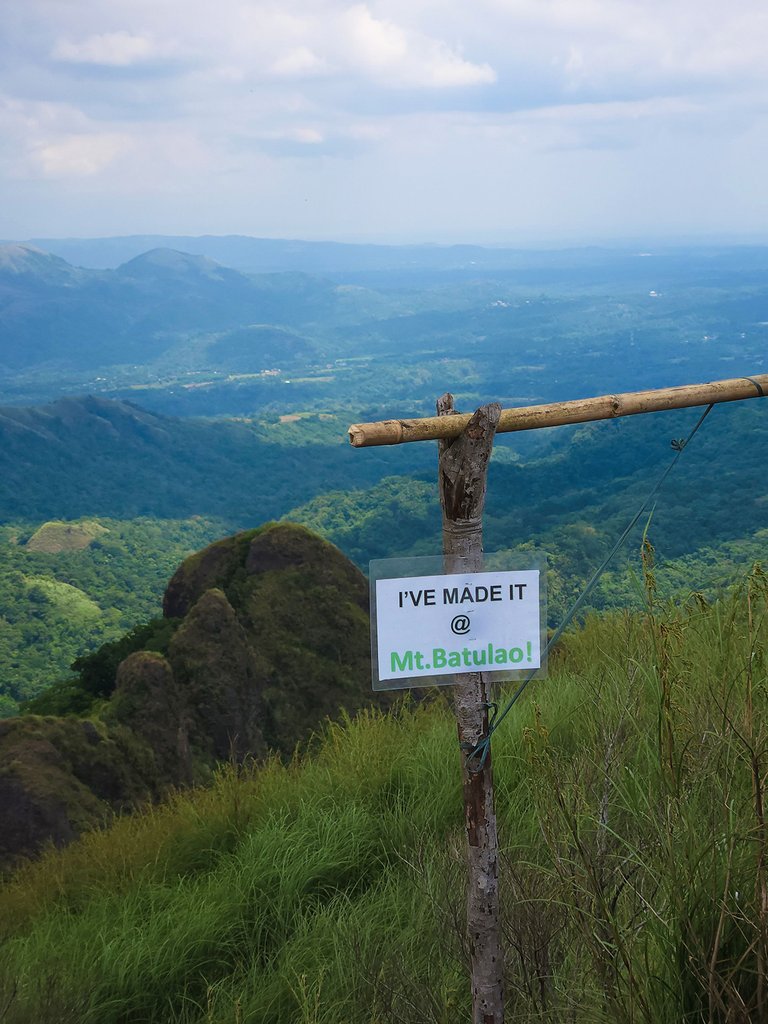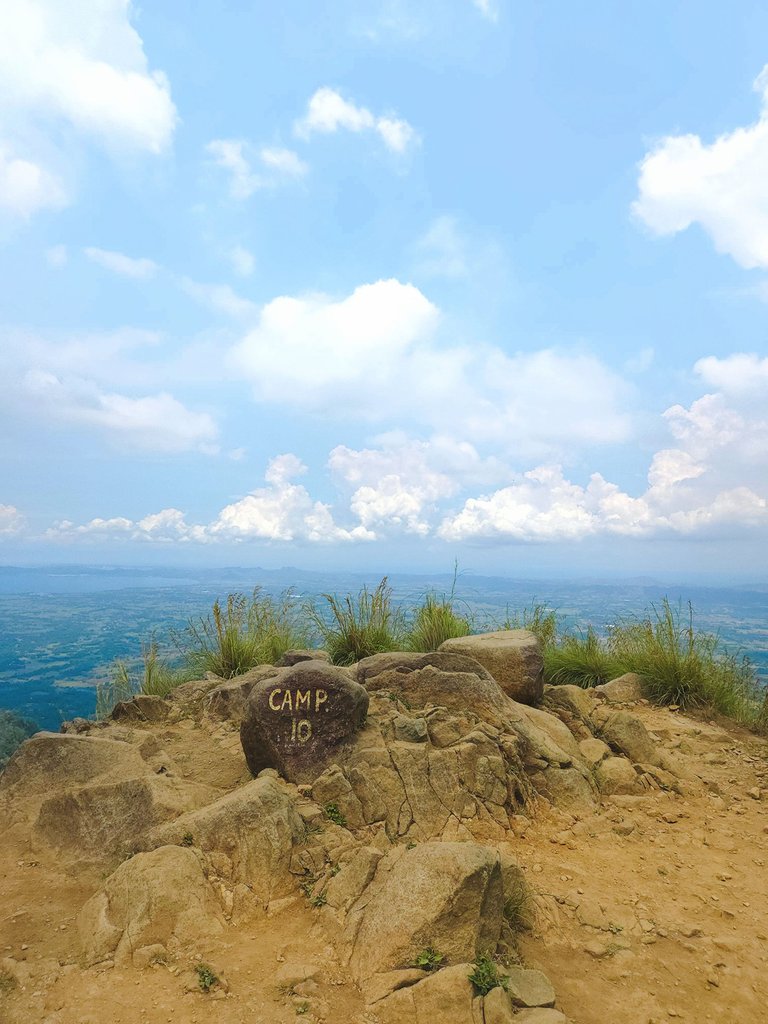 After 3 hours and 36 minutes of climbing and picture-taking, the reward was truly remarkable - a 360-degree picturesque view of Taal lake and other mountains like Mt. Pico de Loro and Mt. Maculot. I no longer question my life choices with the reward I got. The peak was a little bit crowded, and luckily, we managed to look for a space to sit under the hut. Also, there were vendors selling Halo-halo, fresh Buko juice, and some soft drinks and mineral water.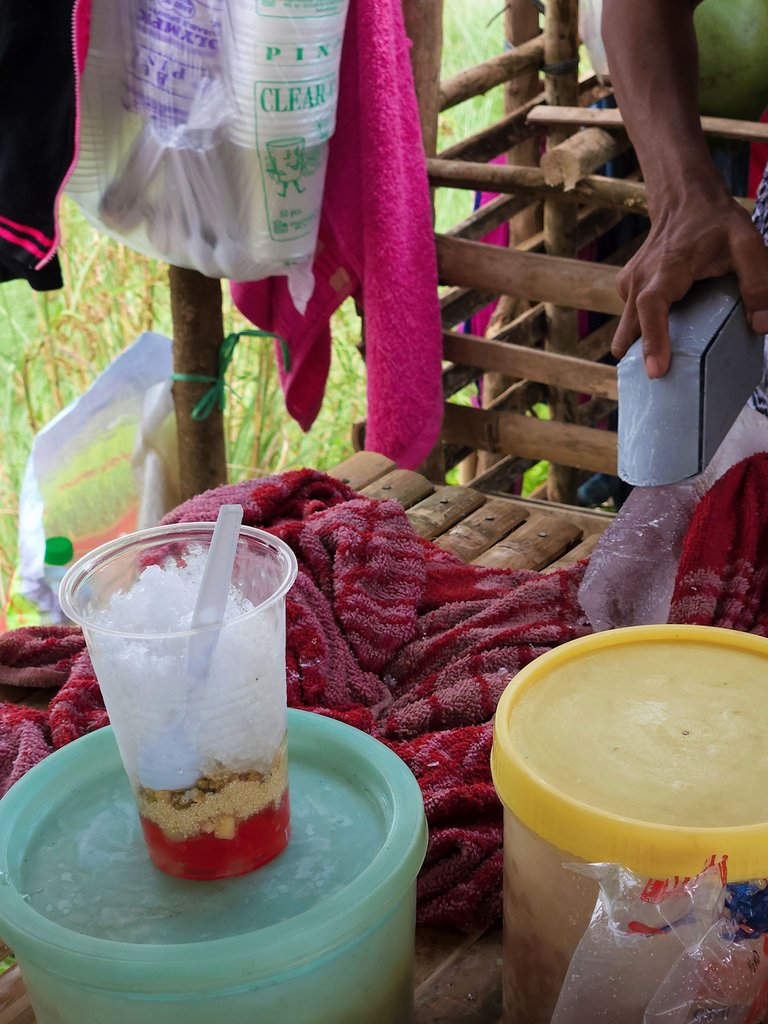 Part of the itinerary is lunch at Tagaytay, so we only munched snacks and drank some refreshments enough to replenish our energy. The sun was almost at its peak, but it was windy, which lessened the toasty feeling. We stayed at the summit for an hour – took our time to relax, breathe, and be in awe of the panoramic view. By the time the two groups descended, we then started taking pictures. Our guide took the group photo, and I took the individual shot.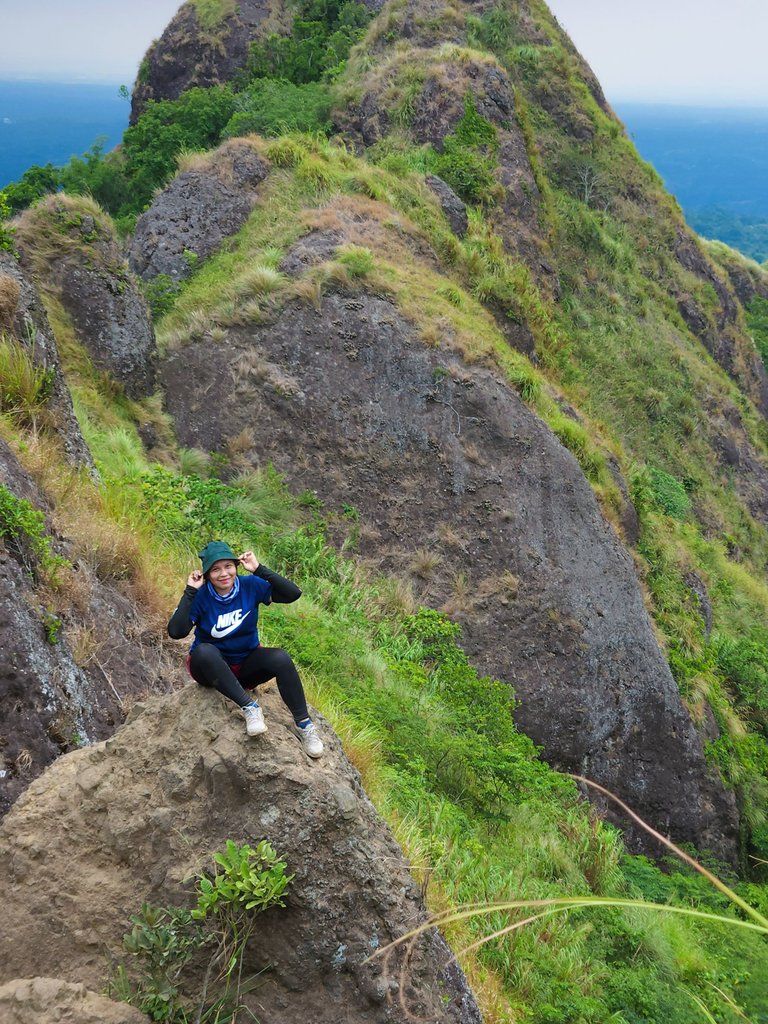 ---
GOING DOWN
---
Since I left my bamboo stick on the 90-degree pathway, the tall grasses were very helpful in going down. My toes were aching already, and my hands were full of cuts. As mentioned, there were ropes placed on the steeper path. It felt like we were doing a rappelling activity for our Physical Education subject. It was, for me, the most fun part.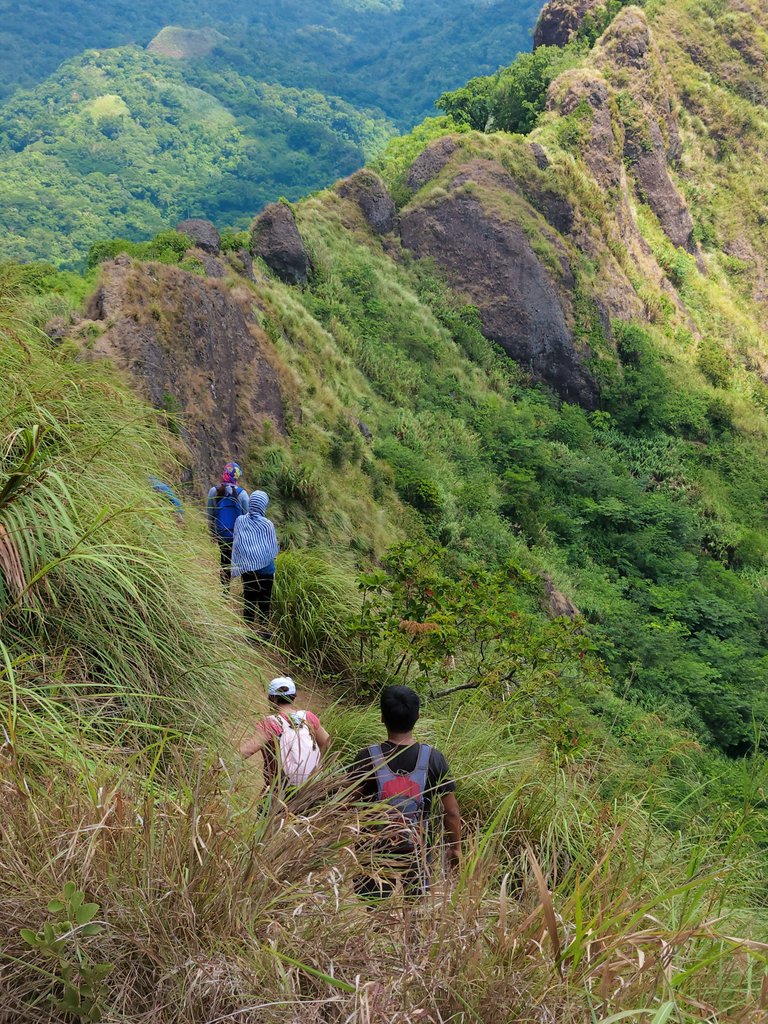 I took back my bamboo stick from where I left it and then, later on, threw it down since my hands must be holding the rope. It was challenging for me to grip both while exerting force on my hand until I reach the flattened surface. We walked straight until we reached the sixth stop and rested for five minutes.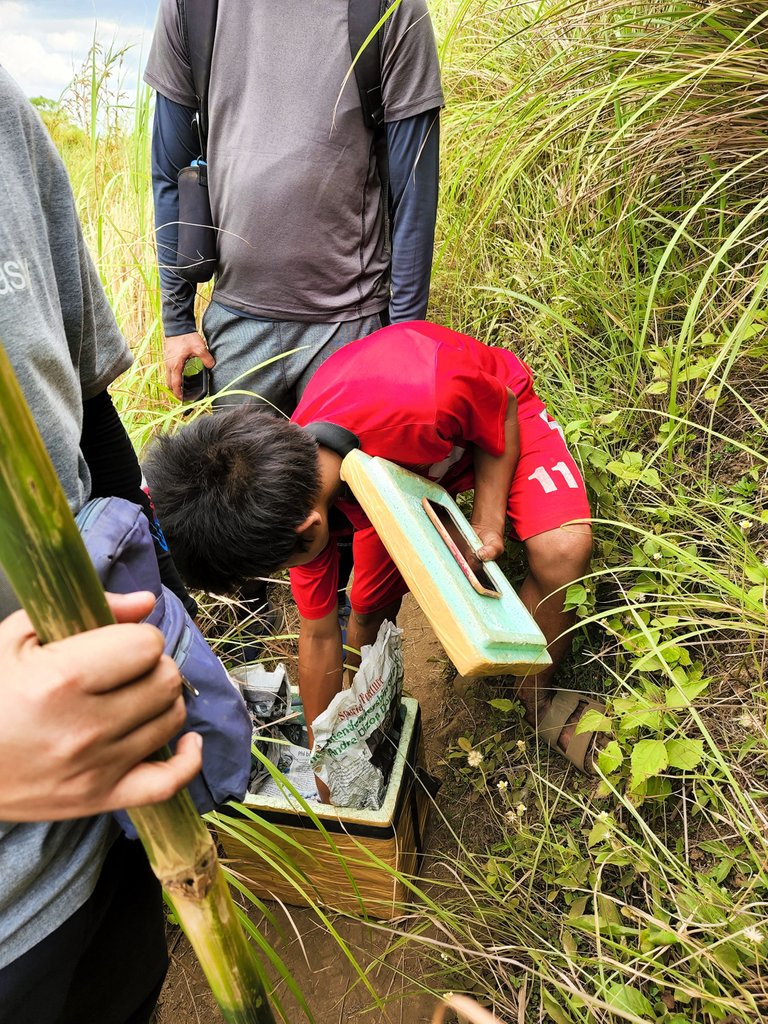 On our way down to the fifth stop, a kid approached us and was selling a Buko iced candy for 35 PHP. The trail was straightforward and on the grassland part already, so eating an iced candy while walking under the blazing sun was not a bad idea.
Even with the smooth hike going down, we were still several meters behind the first group. By the time we reached the second stop, the first group had already ordered Halo-halo and lugaw (rice porridge) with a hard-boiled egg. Antoni and I decided not to eat since we still have our late lunch in Tagaytay.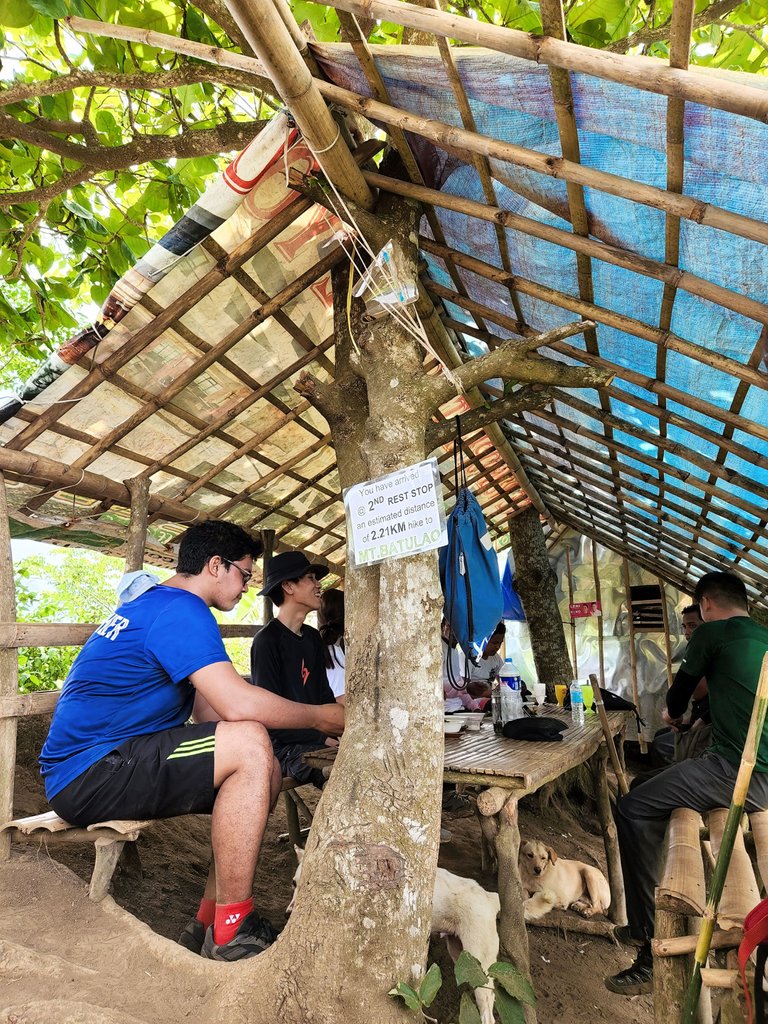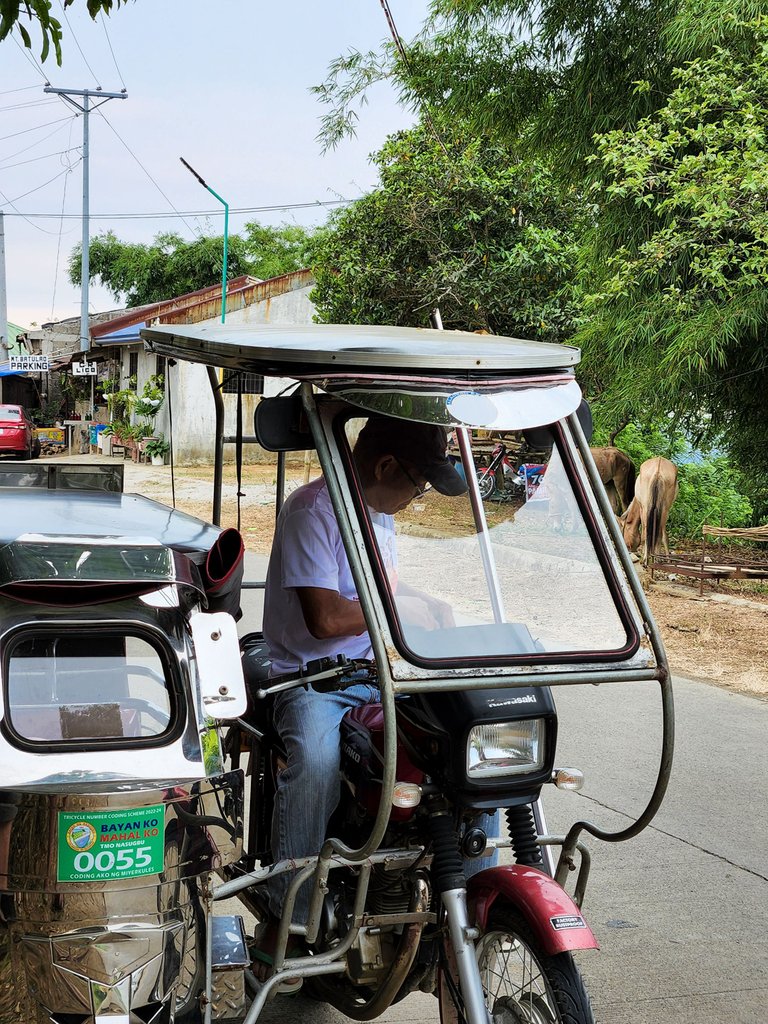 After 3 hours, we finally reached the registration area. There were stores with bathrooms and comfort rooms, and the payment was per gallon, which was worth 25 PHP.
Since we had changed clothes and some had already taken a bath, we all agreed to ride a rela (tricycle) from the registration site to where the rented van parked. Although the tour guide is one of the package inclusion, we gave a tip to our two guides.
---
LATE LUNCH IN TAGAYTAY
---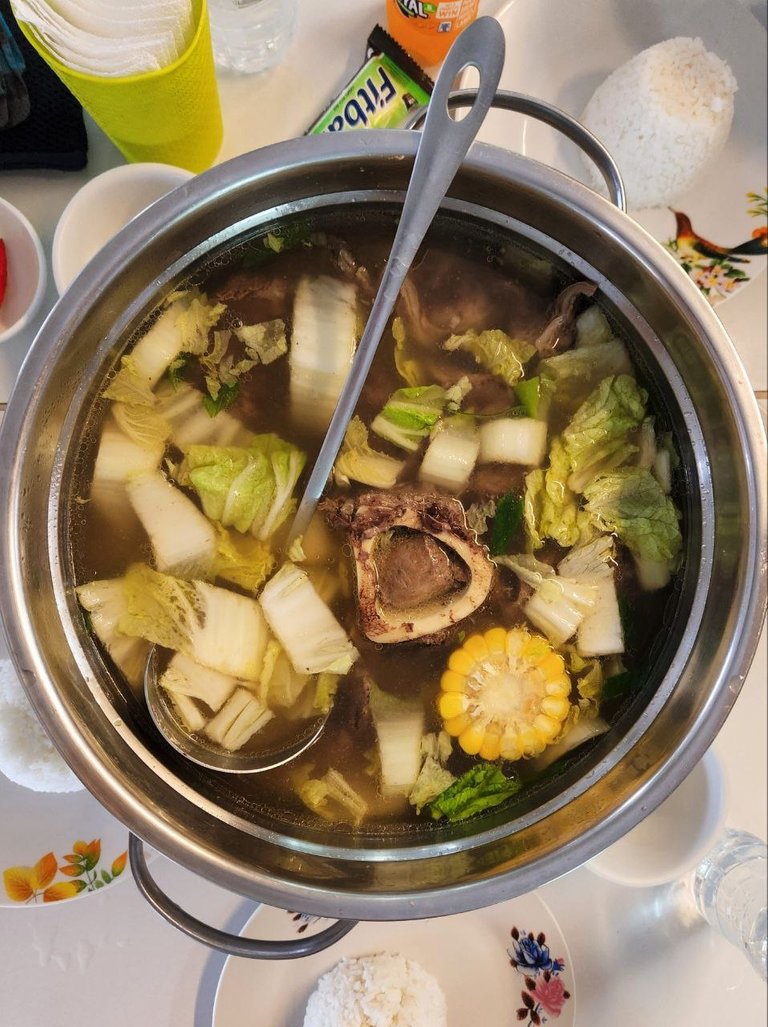 From Nasugbu, Batangas, we traveled half an hour to reach Tagaytay, which is known for its Bulalo. All of us haven't tried the Bulalo in the public market - the food there was cheap but delicious. It was already almost 4:30 PM when we had our very late lunch. At our table, we only order Bulalo for 2-3 people. It was an exhausting yet fulfilling day and wrapped it with a grateful heart and a happy stomach.
---
SUMMING UP
---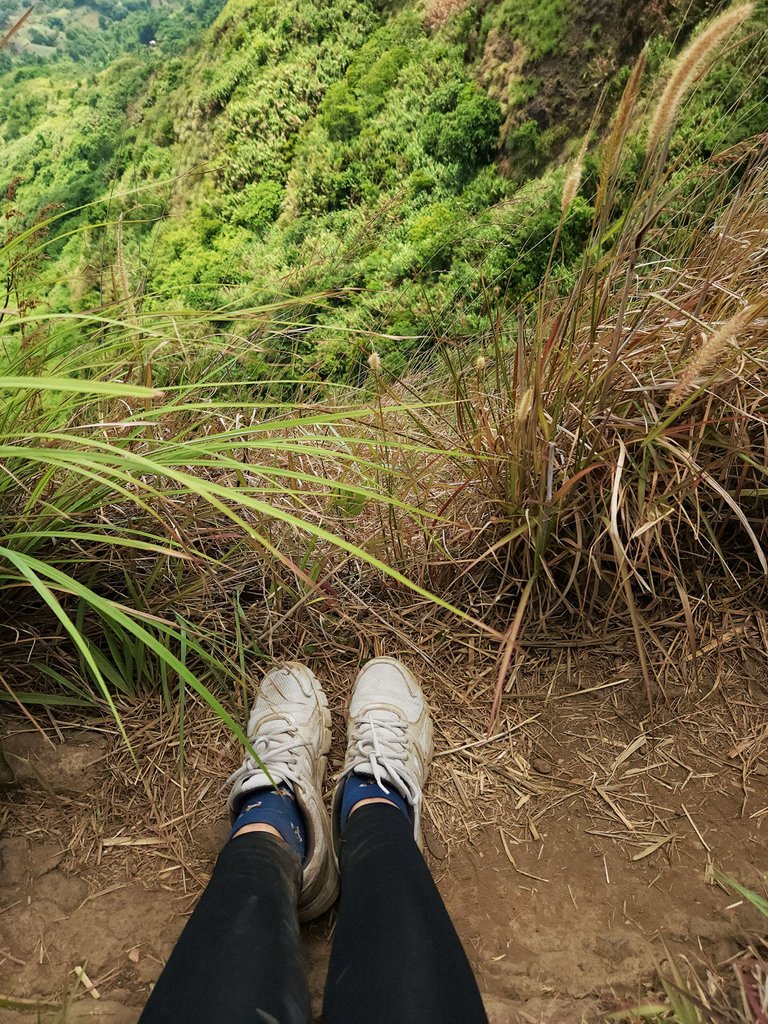 As an asthmatic who is not into hiking, Mt. Batulao is definitely beginner-friendly with a level of difficulty of 4 out of 9. The reward at the peak and during the climb, as well, was spectacular. It would've been nice to feel the coldness of the night and witness the captivating beauty of the sunrise. As the guide told me, December is the best month to go on hiking in Mt. Batulao and have overnight camping there.
---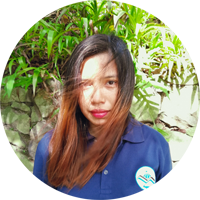 K N E E L Y R A C
• Instagram • Twitter • Goodreads •
---
---