First Time Joining the Friday Night Event in HivePH and Hive Pizza

Most of my friends from other platforms are already here on Hive. Since last year, I haven't been active in blogging except for this Twitter-like platform. I was busy with my board exam and writing blogs after work and study exhaust my already exhausted brain.
Last week, I bumped into @cthings article on Read, where she mentioned winning a game in HivePH discord. I commented on her article and told her I've always wanted to join but was too shy to butt in because everyone seems like friends already. My introverted side got the best of me. It sounds like I'm a chatty person because of my blogs, but I am definitely not. I am more of a listener.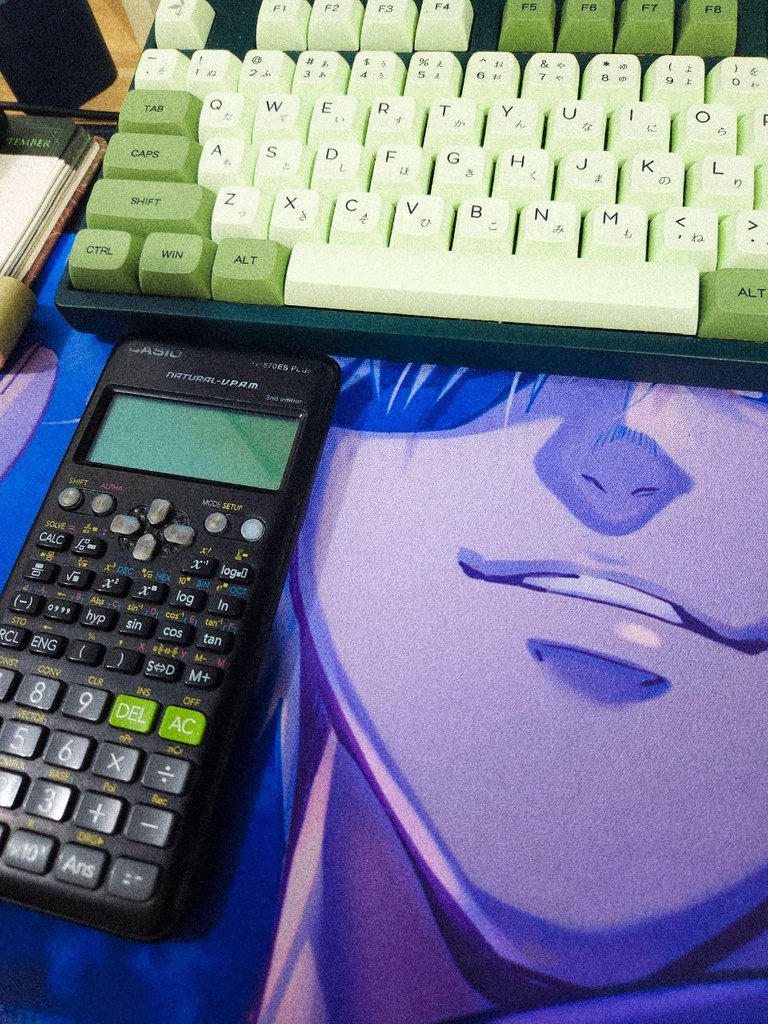 That's Gojo, my Matcha-themed keyboard, and my planner. Prepared my calc thinking there will be a computation. Haha
But anyway, I had my recent power up and payout on my previous travel blog. I opened HivePH discord and was looking for an announcement on what account should I send my delegation to. You know, my life could've been easier if I just ask on discord, but I did not. When I finally found what I'm looking for, I delegated some of my Hive Power to HivePhilippines.
I went to discord to check if there was a record. But to my surprise, it was broadcasted on the General channel, and I automatically typed something about it. After sending it, I was ready to close the discord when C's message popped out. It was more like C was the bridge so I will start chatting with everyone.
That night also was the time I knew there will be an event on Friday, September 9 at 8:00 in the evening. It was mentioned that Jiji was one of the hosts, and @jijisaurart was one of my online friends, too, on the other social media platform.
---
H I V E P H
---
Fast forward to Friday, I had too many deliverables on that day. That was the last day of my previous supervisor, and I am now taking over his role. But during the one-month transitioning period, I was already doing his job so I will get used to it. I kept on contacting him if I have questions, clarifications, and above all, errors and issues.
On that day, I had errors and resolved 7 out of 13. Quite stressed and frustrated. I didn't want to seek his help or the IT colleague assigned to help me with IT-related issues. So I decided to have a break and order food for dinner. While waiting for my food to arrive, I decided to join the event.
The first round was a Trivia game. I answered some of the questions, except for movies and such. Since it's general knowledge, other participants know the answer as well. It's a fight between typing fast and a fast internet connection.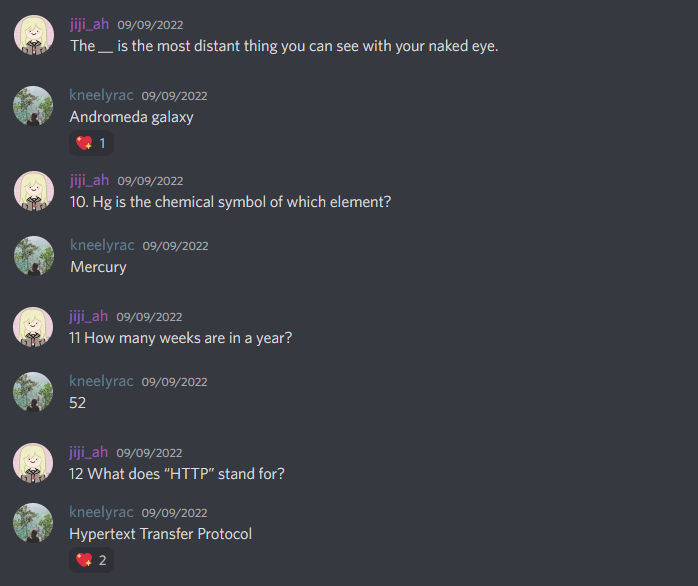 Questions I answered first during the Trivia round
On the second round, my food arrived, and I was eating while trying to answer the questions. I decided to chill because I'm slow when it comes to guessing the picture. I answered some, but I was not the first one to guess it. So I scored zero for the second round! Haha.
The funny thing was, before Friday, Jiji mentioned that there will be Math and Chemistry in the questions. I haven't joined any of the games yet, so I interpreted it as Math and Chemistry are the categories for the event. With that, I prepared my calculator and even prepared a pen and paper just in case I forgot some of the calculator techniques and I need to manually solve it. My mind misinterprets the hint tho. Also, because of the question related to elements, my mind is starting to sing the elements of the periodic table again.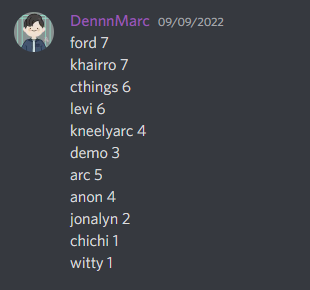 Scored four points only for the whole game! Not bad, I guess?
But anyway, after the one-hour commercial break, I focused to work again and tried to resolve the issue. Guess what, I managed to fix it without asking for help. That's two days in a row; I'm proud of myself.
It was past midnight when I decided to check on discord again. I was invited to join the voice chat and got scammed by @cindee08. Everyone was required to sing, and I tell you, the last thing I would do is to sing. I know I'm a sensational bathroom singer, but I prefer dancing (even if it's budots) than singing in public or even at discord.
So they told me I can answer a question and choose from 1 - 250(?). I chose 16, and the question was something like this: Something that I like to do that I can't show/do in front of my partner?
---
H I V E P I Z Z A
---
The call lasted for hours until another game was about to begin from Hive Pizza discord. Arc sent me the discord link, and I was able to join the event before it began. The first round was a Trivia game. Two questions I cannot forget were as follows:
1. True or False: 101001101 is the Binary code for 334.

My hand and mind are dependent on my calculator because of the board exam. My boyfriend, who is also an ECE, judged me when I told him about this. He's really good with Digital Electronics, mental calculation, and patterns - no wonder he's a judger.
2. True or False: Pointers were not used in the original C programming language. They were added later on in C++.

Okay... I am not a programmer, but these were taught during college. Even Antoni taught me early this year. Again, he has this judger-looking face while I told him this.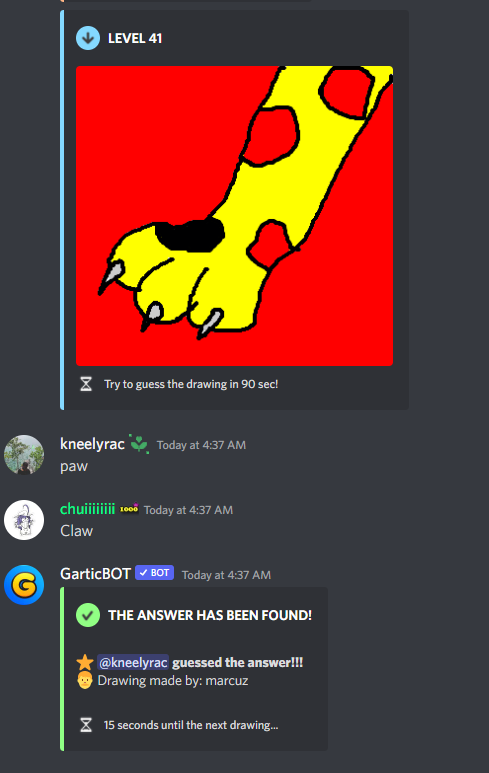 My first point! Yey!
The second round was Garticbot. I was not planning to join the game, but for some reason, I decided to stay. It was already past 4:00 when everyone decided not to finish the game. I kept on yawning nonstop, but I got so frustrated that I didn't want to sleep without scoring even just 1 point.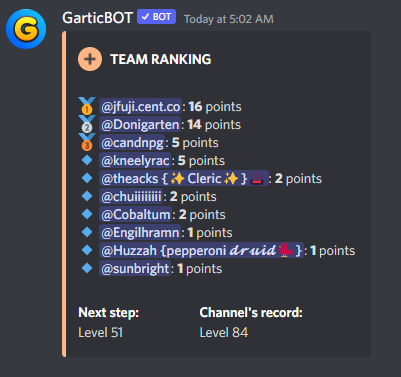 I scored five in the last round!
That user was pretty fast; he thinks fast and types fast. I type fast, but hhe was exceptionally fast. What frustrates me the most was I always, always kept on getting second place when I knew the answer right away. Then my mind was pretty active at past 4:00 AM, and that's when I started getting points. The last round of the Garticbot ended at 5:00 AM PH time. The third placer and I had the same score. It was good enough for me.
---
Did I enjoy my Friday night? Absolutely yes! It was nice meeting and talking to the people from the crypto-verse. I'm an introvert, so it took me a lot of courage to chat with them, especially since I haven't met them yet. I also enjoyed the games and learned something while having fun.
My Friday night will be a fun game night!
---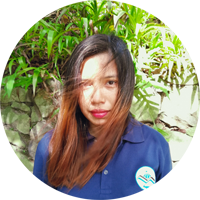 K N E E L Y R A C
• Instagram • Twitter • Goodreads •

---
---