"Favourite Five" #18 featuring Vans Greece, Giovanni Vianna, Adam Davies, Lars De Weerd and Marcus Shaw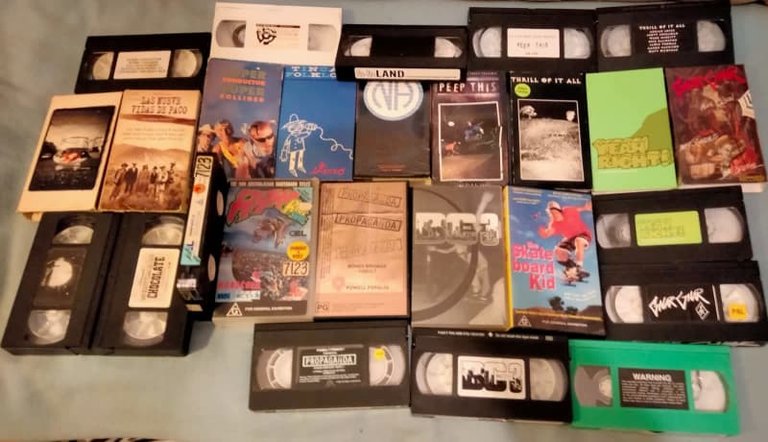 I'm such a nerd when it comes to skateboarding, a REAL NERD! I dedicate lots of hours weekly digging new skaters, watching skate videos and reading about skateboarding!
I know lots of homies don't have that much free time to do this but all of us skateboarders love watching dope videos so I'm starting "Favourite Five", a weekly blog highlighting my personal favourite five skate parts/videos that came out the past week!
Check them out
Vans Europe Presents: Once More | Skate | VANS
This was one of the videos I was anxiously waiting to premiere cause I personally know most of those skaters featured and know how good they are!!! Guess what?!? I wasn't dissapointed!
Directed by the most legendary Greek skateboarding filmaker 'Kostas Mandilas', this video really captures the ecense of skateboarding! "ONCE MORE" we get up after a fall, "ONCE MORE" we meet up with our homies to have fun skateboarding, "ONCE MORE" or "ONE MORE TRY" when we try a trick...you get the point!
About the video, I'm more than stoked about the new generation of Greek skaters! Young rippers like 'Tsagalidis' (first part), 'Kaberis' and 'Arabouli' are going HARD and legends like 'Notis Agelis' and my personal favourite Greek skater 'Thanos Panou' are still killing it after so many years!!!
Refreshing filming/editing, great skateboarding, epic spots and a great crew! Respect guys, loved it!
Giovanni Vianna "RITORNA" Part
Giovanni is one of my favourite skaters in this new generations for 2 reasons. First one is the way he skates going full speed and stomps every single one of his tricks and the second reason is his unique bag of tricks! Bro just did like 4 Fakie NBDs on spots people skate for decades!
His new part "RITORNA" is full of hammers in beautiful spots around the globe and really showcases how good Giovanni is. Believe it or not my favourite trick in his part was that Cab at 1:42, SO GOOD!
Of course I can't keep a bling eye on those Fakie 180 Nosegrinds and Bs Smiths down handrails and hubbas, these are tricks you don't see that often!
If you're looking for a video to hype you up to go try some new fakie tricks then you just found it! Enjoy
Adam Davies "4/4" Part
It's been some time since I last 'travelled' while watching a video part and Adam Davies "4/4" did just that, it was an EPIC watch!
Beautiful manual combos in raw street spots, music fitting perfectly with Adam's style and the most important aspect of a video part, personallity!
Adam is an artist on his board, just look at the way he approached spots and built his lines, this dude gets it!
Let's not talk about the ender, still can't believe he really did this trick down a handrail...
Don't miss this one boys and girls, MUST WATCH of the week
Lars De Weerd – First Blood Part II
First impression is really important they say and god damn that Fs Blunt Kickflip out Lars De Weerd did in the first 10 secs of his new "First Blood II" video part made me wanna watch the rest like a mad man!
Seems like this dude is from Netherlands and I've been there 3 times, spots are ROUGH AF and doing all those big lines in shitty flatground or all those grinds down 15 stair rails is just INSANE! Lars is so good!
European skateboarding scene is doing some huge leaps forward the past decade, love watching all those parts from fellow European skaters/filmmakers!
Marcus Shaw for éS
éS is by far my favourite skate shoe brand and Marcus 'BOLTS' Shaw is really high in my tech skateboarders list so this part was a blessing from the skate gods!
As always Marcus absolutely destroys every ledge and gap in his path, always landing bolts and his layback chill style makes everything look so damn good!
I think Marcus is one of the best fits for éS team, couldn't get any better than that! New pair of éS shoes coming my way soon, sold thanks to this dude haha!
Don't miss this one fam
---
That's it for this week everyone! Hope you enjoyed watching those parts/videos! Let me know which one was your favourite as well as link any dope skate videos you digged this week at the comments section bellow, always on the look out for new video parts/videos!
Much love and...
SKATEHIVE4LIFE

Create your Hive account, log in to https://skatehive.app/, post skateboarding and earn crypto : https://hiveonboard.com?ref=knowhow92
Join Gnars, a community dedicated in supporting the artistry of extreme sports athletes : https://discord.gg/gnars
Find me Here
🏡 Hive: https://www.skatehive.app/@knowhow92
📲Torum : https://www.torum.com/u/knowhow92
🐦 Twitter : https://twitter.com/theocharis_ch
📷 Instagram : https://www.instagram.com/haris_housos/
☀️ Odysee : https://odysee.com/@knowhow92:d
📹 Youtube : Knowhow92 on Youtube
---
---