Hatred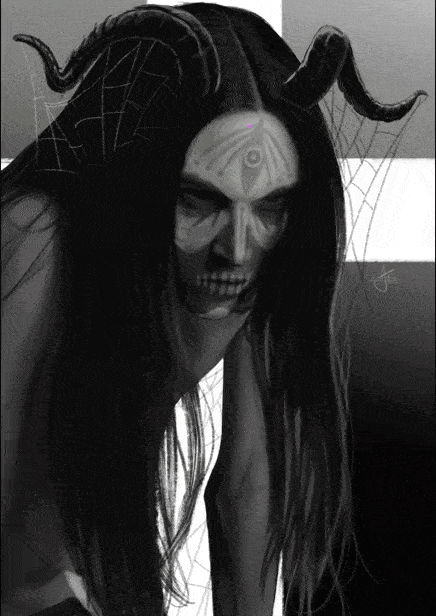 Hola!!! Les traigo una nueva ilustración en blanco y negro. Inspirado en el terror. Al igual que mi ilustración anterior.
Hello!!! I bring you a new illustration in black and white. Inspired by horror. Just like my previous illustration.
---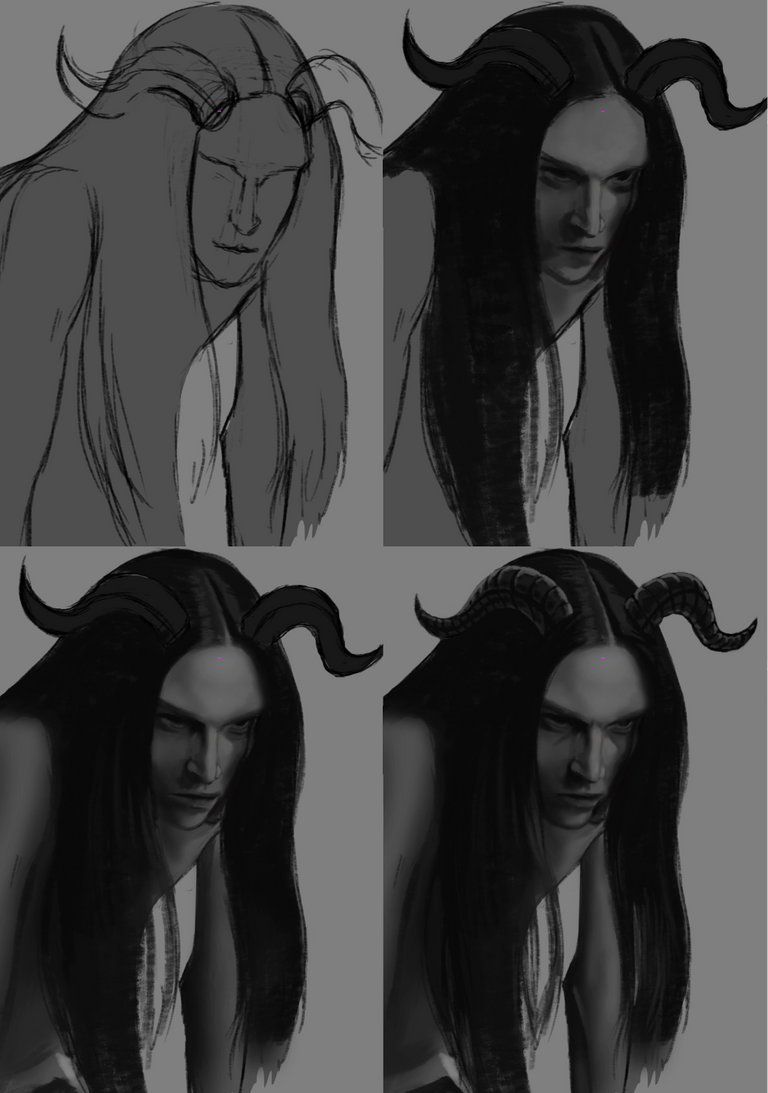 Use el mismo proceso, así que use un boceto base donde fui armando el personaje. Y quería expresar una emoción fuerte como es el odio con su mirada. Quería mantenerlo con ese look tradicional de la ilustración anterior, así que use mucha textura en el trazo y logrando un acabado realista. La pintura en la cara la realicé en una capa superior en el modo de capa luz suave, así conserva la textura inferior y le añade la textura propia.
I used the same process, so I used a base sketch where I was putting together the character. And I wanted to express a strong emotion like hate with his look. I wanted to keep that traditional look of the previous illustration, so I used a lot of texture in the stroke and achieving a realistic finish. The painting on the face was done in a top layer in the soft light layer mode, so it preserves the texture underneath and adds its own texture.
---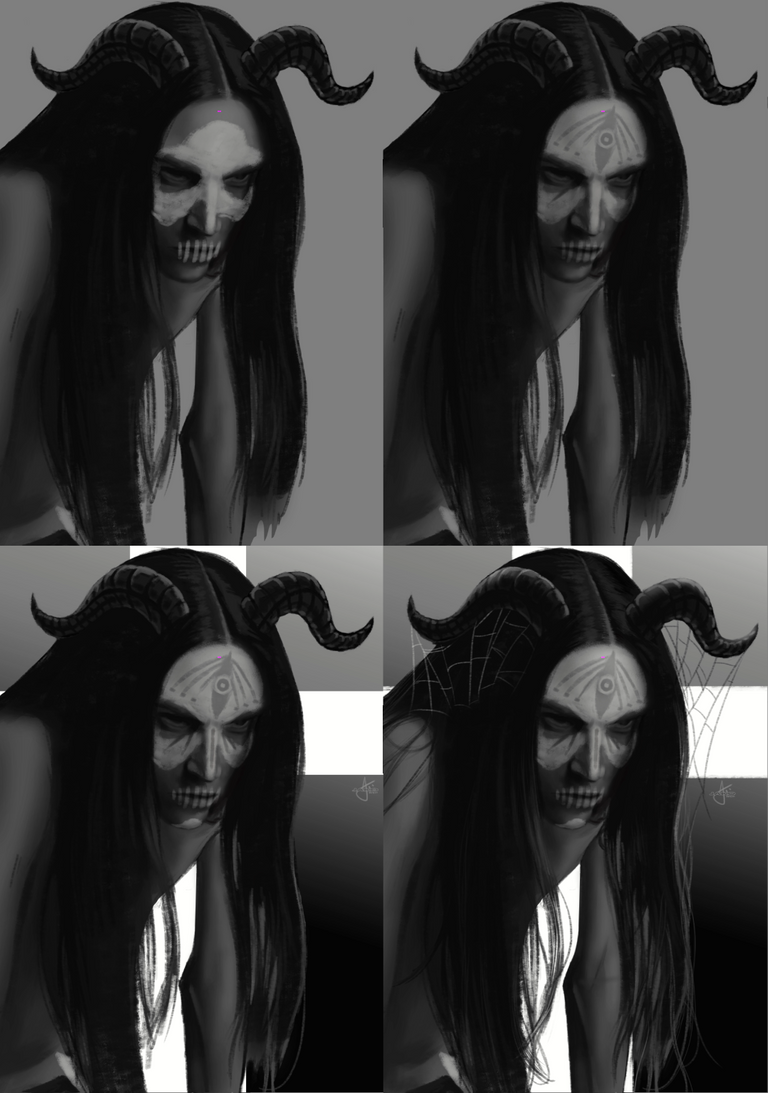 Luego de terminar no quede satisfecho con los cuernos como que rompían un poco con el ángulo del personaje, así que decidí rehacerlos, fue lo más difícil en esta ilustración por la perspectiva y la forma helicoidal lo complico un poco, luego de un rato me di cuenta de que viendo los cuernos como un solo cilindro podría sacar la forma imaginando dicho cilindro como su fuera un tornillo de Arquímedes y se me hizo más fácil saca los cuernos y así poder terminar la ilustración.
Realice también una pequeña animación en formato GIF con una parte del time-lapse, ya que me gusto mucho como cobraban vida los ojos.
After finishing I was not satisfied with the horns as they broke a little with the angle of the character, so I decided to remake them, it was the most difficult thing in this illustration because of the perspective and the helical shape complicated it a little, after a while I realized that seeing the horns as a single cylinder I could remove the shape imagining the cylinder as if it were an Archimedes screw and it became easier to remove the horns and thus be able to finish the illustration.
I also made a small animation in GIF format with a part of the time-lapse, since I really liked how the eyes came to life.
---
TIME-LAPSE DEL PROCESO | PROCESS TIME-LAPSE
---
ILUSTRACIÓN FINAL | FINAL ILLUSTRATION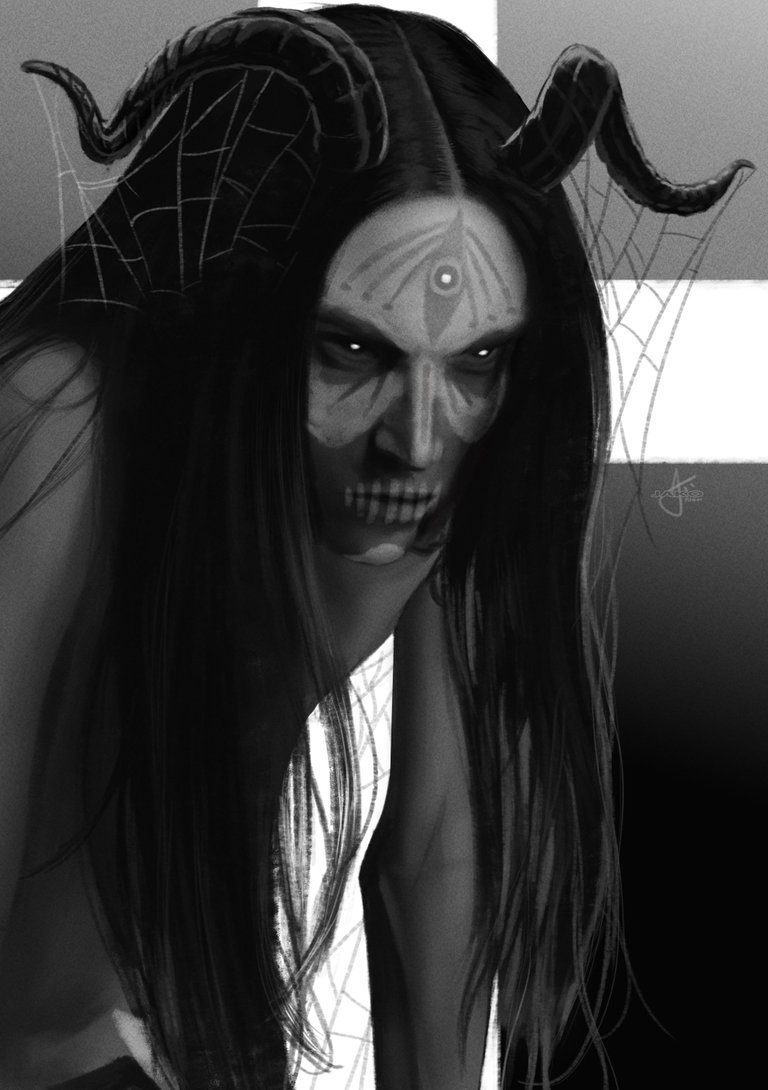 Gracias por ver hasta la próxima.
Thanks for watching until next time.
---
Instagram --- Sfw-Twitter --- Nsfw-Twitter
Herramientas usadas / Tools used
ClipStudioPaint & Photoshop & Shotcut
Wacom Bamboo tablet
Traducción/ Translate
Deepl
Todas las imágenes son de mi autoría - All images are my own
---
---