Sharing My Short Profits for Cardano (ADA)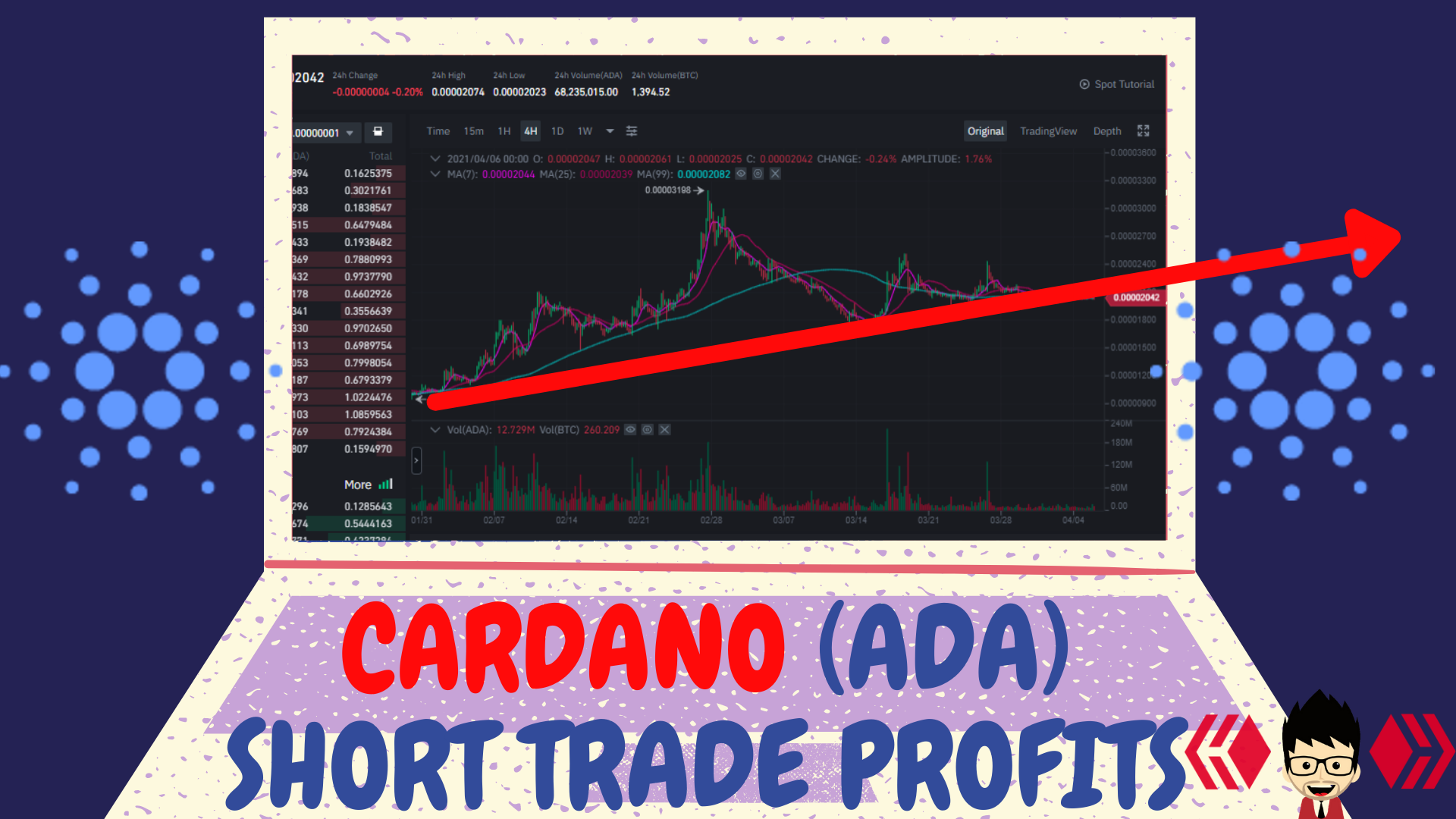 Hello friends!
For more than a month now, Cardano has maintained its position from 1800-2200 satoshis. That's a trend that I found ever since mid-March and I think the lack of hype and partnerships were the reasons why ADA has not gained traction.
Long-term, I think Cardano will do great in which I feel $ value of $1.20 is still an undervalued coin for me. I believe if Etherium will do great this year, Cardano will follow. The fact that the founder of ADA is a co-founder of Etherium before and that the technology it provides is a solid one. Things will be great for Cardano.
The problem with ADA is that the supply is very high. It has a maximum supply of $45 billion so I'm guessing this coin wouldn't get as much as $10, I am seeing a stabilized $3-$5 in the coming months of years. Compared to Etherium, which has around 100 million Ethers in circulation.
---
My Short Trades Experience

So I've been waiting for Cardano to be at the 1800-2000 mark. It's usually affected by the price of Btc and Eth and the developments, integrations, and partnerships it has.
In fact, the coin is currently valued at around 2070 Satoshis and coincidentally Bitcoin is down at $58,000. So my inner self tells me to buy at 2000 but my mind keeps bugging me to be patient and wait the 1900 mark. My intuitions tell me that since we're in the month of April, the price will generally go down as most of the time April is on a bearish month of the year.
---
What Do You Think?
Share with me your thoughts about Cardano and how you're seeing the price. Your comments will be so much appreciated that they will help my financial journey.
Also, what coin are you investing in? Are you into NFTs? Or you're still holding most of your assets in Bitcoin, Etherium, and BNB?
Thank you!


Posted Using LeoFinance Beta
---
---