Cheapest way to get CP! - Splinterlands Giveaway #44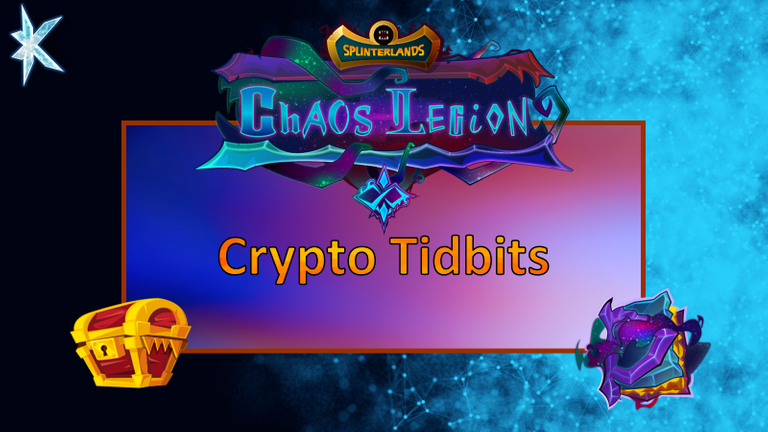 Hello fellow Hivians!
Today I want to briefly talk about the cheapest way to get CP in Splinterlands so that you can move up the ranks and cut down on those rental costs.
So what is the secret? Gladiator cards! These cards are technically free and simply require you to participate in guild brawls. Gladiator packs cost 2000 Merits which are won simply for participating based on how your guild ranked.
Today I opened the below pack and earned a free 80 CP. Unfortunately this is the minimum CP amount that comes in a Gladius pack and I guess you could say I have bad luck, but hey, free is free and I'm not one to complain. Besides, Chimney Wallstop and Witch of Warwick are both incredible cards.

In total in the month or so my guild has had access to gladiator cards I've pulled in 1690 CP worth of gladiator cards which already would make an account permanently eligible for Bronze 2 ie, the DEC earning threshold (1000 CP).
Anyways, although this isn't exactly a fast method to earning CP it is absolutely one of the most affordable methods.
All right so enough about that, on to the giveaway.

Giveaway Prize
Winner's Choice from the below cards.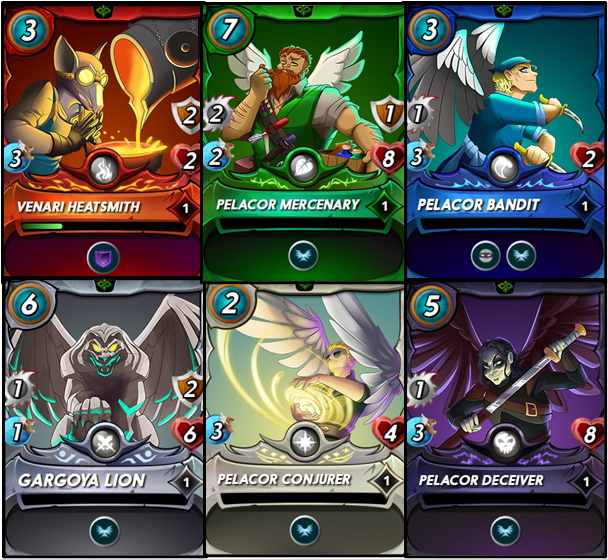 BONUS
If we can meet a designated number of upvotes I'll instead replace the winner's choice with one of the Chaos Legion Rare reward cards.
We will be shooting for 75 votes this week.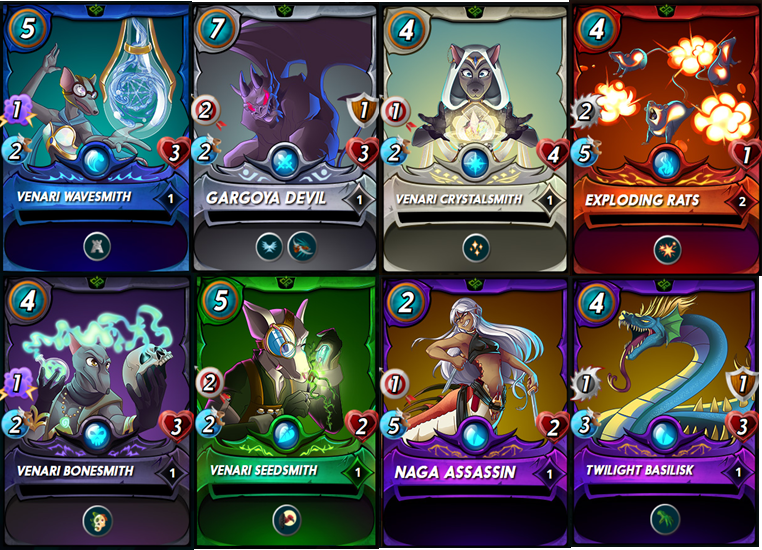 How to participate
Leave a comment including the Splinterlands name the reward should be sent to and your response to the below prompt.
Upvotes are not required but are appreciated
Reblogs not required but are appreciated
I will be using Hive Picker to select a winner which will be announced in my next giveaway post.
Previous Post's Winner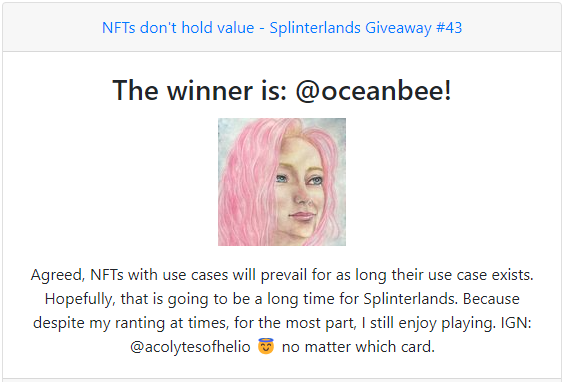 Please let me know via a tag in the comments if you would no longer like to be notified of future giveaways.
Congrats to the winner!

Disclaimers
Splinterlands images owned by Splinterlands. All other images and content owned by me unless otherwise noted.
Helpful Details
Hive Curators
For those of you that blog but don't like to curate content, consider delegating your tokens for daily payouts. The following Curation accounts will payout 95% of all curation rewards received back to you automatically allowing you to indirectly support great content while earning great APY off of your crypto.
May not include all curation accounts
Hive Basic Income (HBI)
HBI is effectively an automated curation tool which will upvote your HIVE posts forever. It is an amazing way to ensure you get some income from all of the time you spend teaching others via posting your strategies, analysis, and thoughts. You can read more about HBI in their FAQ.
Support
If you are new to the Crypto space and wish to support me, please utilize the below referral links. You can also support via upvotes, tips directly through Hive, including my name in a HBI purchase, or via a card/DEC donation. Finally, delegating tokens (HP, SPT, or ONEUP) to
@acolytesofhelio
will help me as well as all of my fellow guildmates.
Exchanges & DeFi
Coinbase - $10 signup bonus
Bittrex
Uphold - $20 bonus on first $250
Blockfi
NFT Games
Splinterlands - Contact me after using and I'll send some DEC your way.
Gods Unchained
Exode - 2 free alpha booster packs
Rising Star
---
---