Strategy over Legendary/Overpowered Cards - Splinterlands Brawls
Greetings everyone! It's another week and another SPLINTERLANDS BRAWL. In this particular brawl, we'll be showcasing how relying solely on legendary overpowered monsters/summoner won't guarantee a victory. To win the game, strategic planning and maximizing the potential of each monster and their unique abilities are crucial.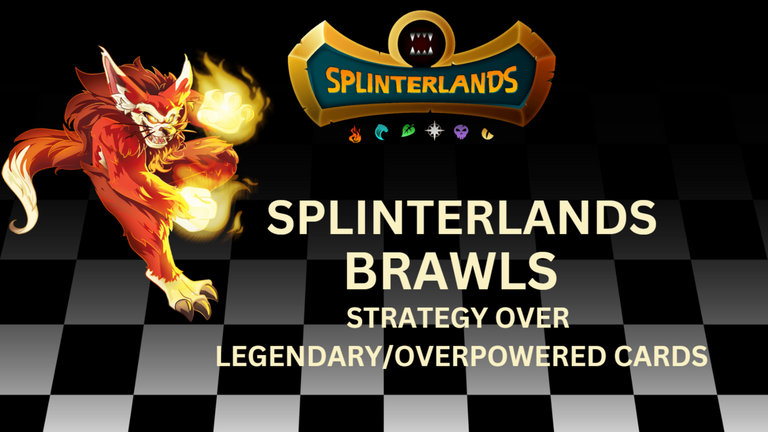 BATTLES
GAME 1
Both of us had the idea of going full melee with SNEAK monsters, but the difference in strategy was that I fully committed to SNEAK monsters by selecting four with the ability and placing tanks in both the first and last positions. This proved advantageous as my tanks were able to hold off the enemy's attacks, giving my SNEAKS the opportunity to take out their backline and ultimately secure the victory.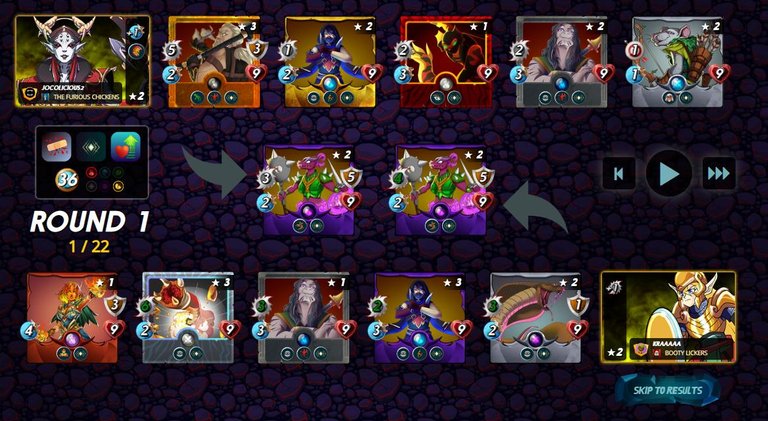 Battle Link Here
GAME 2
FLED


GAME 3
I took a calculated risk by assuming that the enemy would opt for a heavy melee lineup to take advantage of the MELEE MAYHEM ruleset. However, my gamble didn't pay off as the enemy went with a magic-heavy lineup, including a magic tank with the SHIELD ability. Unfortunately, my team, which was designed to excel against melee, was no match for the overwhelming magic damage dealt by the enemy.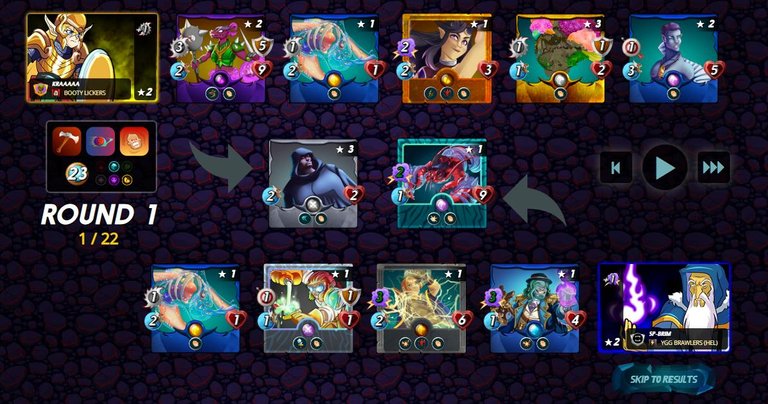 Battle Link Here
GAME 4
Although it may not appear so, the match was actually quite close. The enemy had an exceptional range damage lineup, bolstered by the inclusion of YODIN, which made their overall damage output deadly. However, my team managed to secure the victory because the enemy lacked sufficient tanks to hold off my damage dealers. Additionally, I was fortunate enough to benefit from the AIMLESS ruleset, which prevented the enemy from finishing off some of my monsters.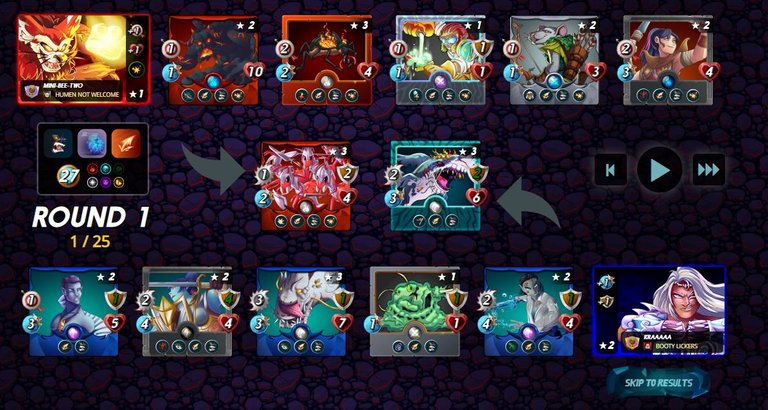 Battle Link Here
GAME 5
I had rented the majority of the cards for my lineup and was confident that I would emerge victorious in this match. The ruleset only allowed for range and magic damage, so I strategically chose the best summoner for countering both, MIMOSA NIGHTSHADE. Additionally, I had a sturdy tank in the form of DJINN MURIAT. With this setup, I was able to eliminate most of the enemy monsters before my tank eventually fell, securing my win in the game.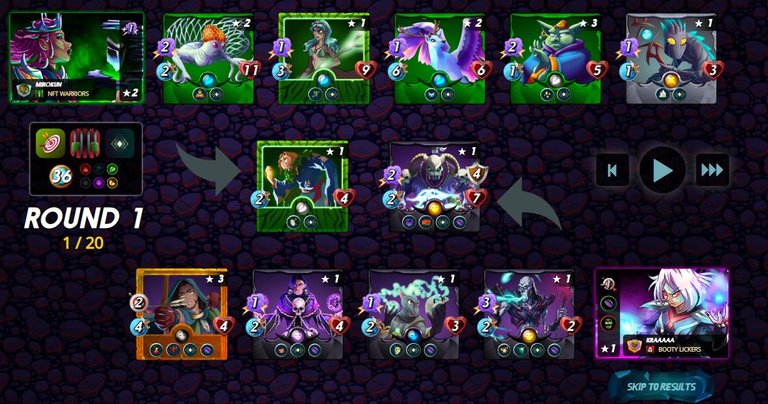 Battle Link Here
GAME 6
Strategizing for the BACK TO BASIC ruleset, my main objective was to utilize a team of all magic monsters and select LORNA OF SHINE as my summoner. This allowed me to increase my lineup's defensive capabilities, ultimately leading to my victory in the game.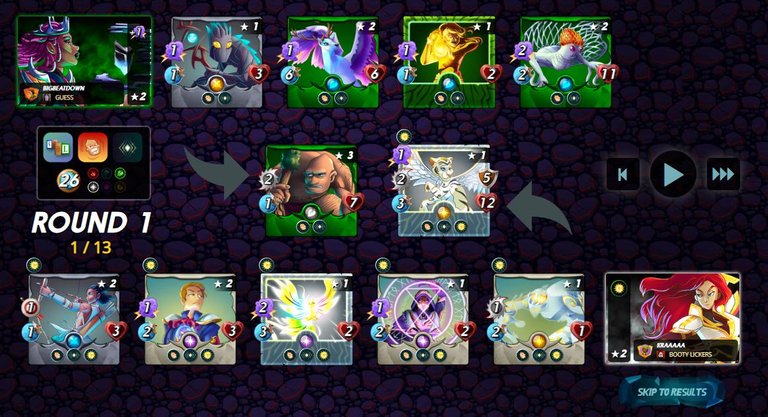 Battle Link Here
GAME 7
I entered game 7 with a strong sense of confidence, having assembled a team of high-damage monsters, complemented by the addition of DELWYN DRAGONSCALE to further boost my firepower. Unfortunately, my strategy was quickly countered by the enemy's selection of two monsters with the MAGIC REFLECT ability, as well as a SILENCE ability that reduced my monsters' magic damage output. These two abilities proved to be too much for my team to overcome, as their defensive capabilities proved too formidable for my monsters to overpower.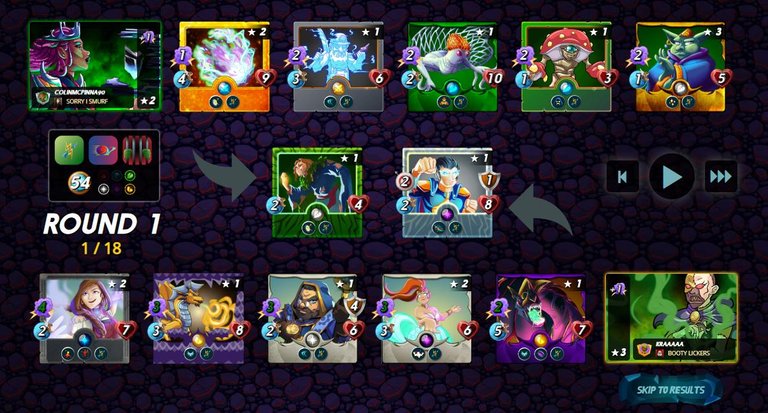 Battle Link Here
GAME 8
In this game, I found myself completely outmatched. Despite my reliance on an overpowered monster, namely KRAUS, the enemy had strategically assembled a lineup, with CAPTAIN KATIE serving as their main damage dealer and LILY SHIELDPAW selected as their summoner to counteract the effects of the earthquake ruleset. As a result, my team was outclassed and ultimately overpowered by the enemy's strategy.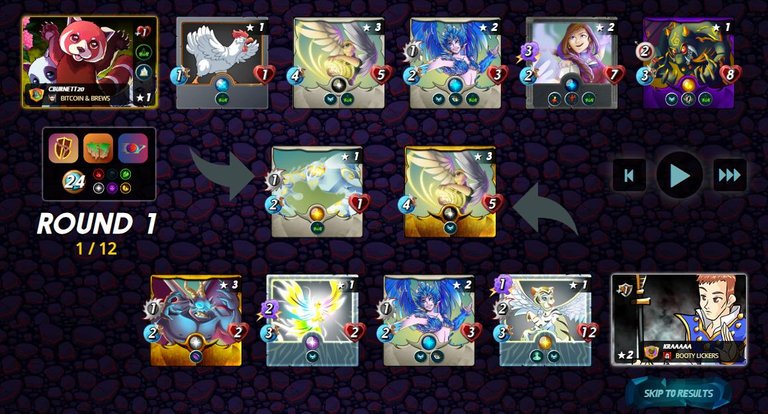 Battle Link Here
GAME 9
Despite employing a similar strategy to the last game, relying on an overpowered monster, in this case QUORA, I was met with a different outcome. This time, however, my strategy proved to be effective, as QUORA was able to absorb a significant amount of damage and singlehandedly annihilated the entire enemy lineup, resulting in my victory.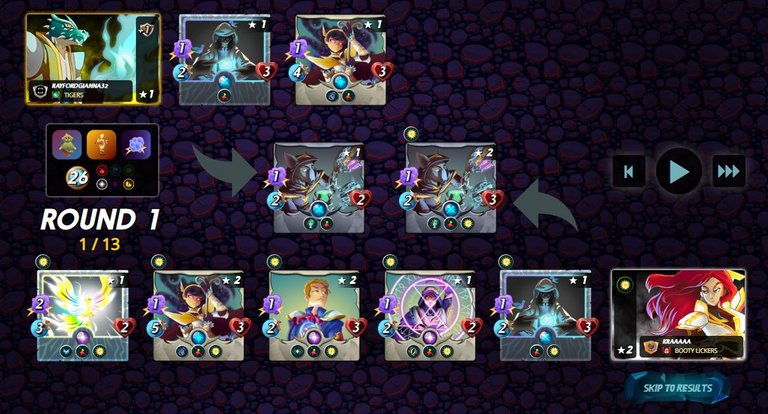 Battle Link Here

MY STATS


GUILDMATES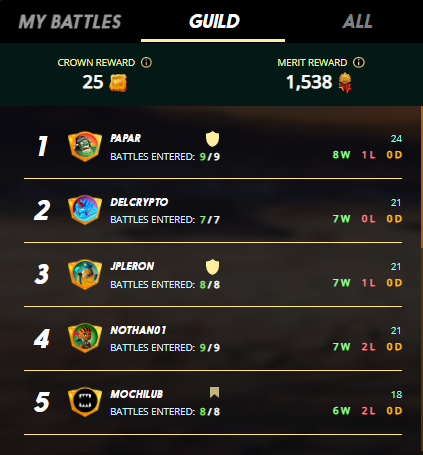 GUILD OVERALL RANKINGS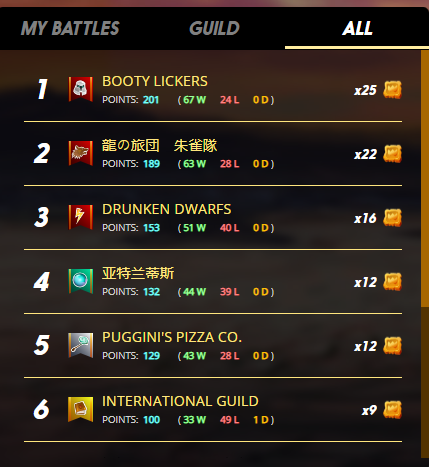 AFTERTHOUGHTS
In previous BRAWLS, we faced significant difficulty, struggling to achieve first place and generally placing between 2-4. However, in the current BRAWL, we find ourselves back on top, holding a 4-win advantage over the second-ranked guild. While the competition remains close, I'm optimistic about our guild's continued improvement, and I believe we will only get better from here.

All of the images are owned by splinterlands.
The cover photo was made in canva.
The GIF was made in Lunapic
If you are not playing splinterlands yet. You can use my referral here.
---
---