Fridays Special Giveaway SplinterForge #14 ENG/GER
Fridays Special Giveaway SplinterForge ENG/GER von kryptofire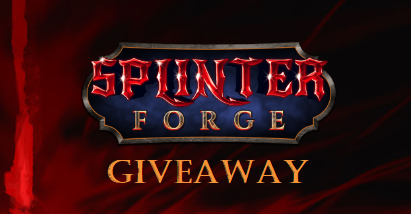 SplinterForge Giveaway
In the future, I'll be hosting a SplinterForge giveaway every Saturday where I'll be giving away a random card
Ich veranstalte in Zukunft jeden Samstag ein SplinterForge Giveaway in dem ich ein zufällige karten verlose
---
In this giveaway give away this card:
Im diesem Giveaway verlose diese Karte: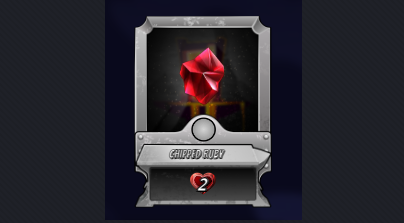 ---
Rules
Comment on this post to participate. If your #SplinterForge username is not the same as here, please include it in the comment.
Following is not a must helps you not to miss any giveaway.
Upvoting or reblogging are not a must but are highly appreciated and will help to increase the rewards of future giveaways.
The same applies to tips such as beer, pizza, windward, LOL, etc..
Your reputation level must be 25 or higher.
Only one comment per Rising Star account is eligible.
Bots will not participate in the raffle.
For the selection of the winner I will https://hivetools.up.railway.app/picker/ benefit.
The giveaway ends with the winner announcement in next SplinterForge Giveaway
Good luck!!!
Regeln
Kommentiere den Beitrag, um teil zu nehmen. Wenn Ihr #SplinterForge Benutzername nicht derselbe ist wie hier, geben Sie ihn in den Kommentar an.
Folgen ist kein muss hilft euch auch kein Giveaway zu verpassen.
Upvoten oder rebloggen sind kein muss werden aber sehr geschätzt und werden dazu beitragen, die Belohnungen zukünftiger Werbegeschenke zu erhöhen.
Für Tips wie Bier, Pizza, Luv, LOL, usw. gilt das selbe.
Das Reputationsniveau muss über 25 sein.
Nur ein Kommentar pro Rising Star-Konto.
Bots werden nicht teilnehmen.
Für die Auswahl des Gewinners werde ich https://hivetools.up.railway.app/picker/ nutzen.
Das Giveaway endet mit dem nächsten SplinterForge Giveaway
Viel Glück!!!
---
The Winner of the last Giveaway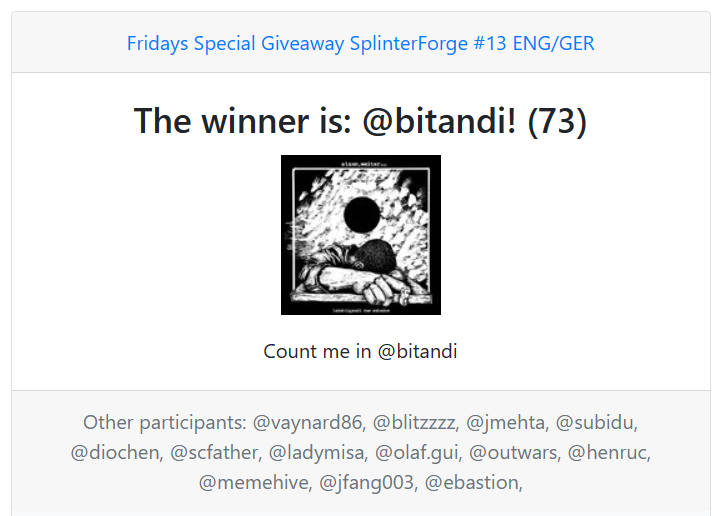 !!! CONGRATULATIONS !!!
Your Card will arrive in de next 24H.
---

What is SplinterForge?
"Splinterforge" means a gaming application accessible through the Website that utilizes Hive
Blockchain to enable users to own, transfer and trade unique digital cards to access or participate in the
game, which cards can then be viewed on the Website for the user to utilise or otherwise interact with.
"Splinterforge" ist eine Spieleanwendung, auf die über die Website zugegriffen werden kann und die Hive nutzt
Blockchain, um es Benutzern zu ermöglichen, einzigartige digitale Karten zu besitzen, zu übertragen und zu handeln, um auf die zuzugreifen oder daran teilzunehmen
Spiel, dessen Karten dann auf der Website angezeigt werden können, damit der Benutzer sie nutzen oder anderweitig mit ihnen interagieren kann.
---
Game Highlights:
You are the Hero that leads your team of summoners and monsters into battle!
Use your collection of Splinterlands cards to form an unstoppable team!
Fight Bosses with varying abilities! Collect powerful equipment, magical gems and runes to upgrade your heroes!
Get Forgium (FORGE) for fighting bosses and finishing on the leaderboard when the boss finally falls!
Höhepunkte des Spiels:
Du bist der Held, der dein Team von Beschwörern und Monstern in die Schlacht führt!
Nutze deine Sammlung von Splitterland-Karten, um ein unaufhaltsames Team zu bilden!
Bekämpfe Bosse mit unterschiedlichen Fähigkeiten! Sammle mächtige Ausrüstung, magische Edelsteine und Runen, um deine Helden zu verbessern!
Holen Sie sich Forgium (FORGE), um gegen Bosse zu kämpfen und auf der Bestenliste zu landen, wenn der Boss endlich fällt!
---
On my blog you can find Some giveaways:
Daily:
Weekly
Auf meinem Blog findet ihr einige Giveaways:
Täglich:
Wöchentlich
---
Giveaway-Voter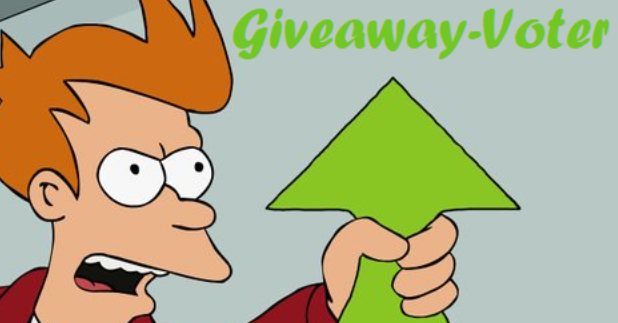 ---

I am alive and Thriving.
---
My Referrals Codes
---

mfg,
kryptof
---
This is not investment advice!
Dies ist keine Anlageberatung!
---
---