Hive Contest Compiler (HCC) #8 - Bringing Hive Contests at your fingertips


---
HIVE CONTESTS COMPILER #8 (21 - 26 SEPTEMBER 2022)
---
Hello Viewers!
Its another week on Hive Contest Compiler.
Before we move to this week's compilation I'd like to hear your thoughts on what you feel about this project:
Do you like it?
Is it beneficial to your journey on Hive?
Does it help you identify new communities and participate actively in the communities?
Does it help you identify new contests that you aren't aware of?
Does it remind you about contests so that you participate before the deadline elapse?
Were you able to participate in any contest from last week's compilation? If any, which?
I'd love to hear your thoughts in the comment section below.

---
STATEMENT OF PROBLEM, AIM AND PURPOSE OF HIVE CONTEST COMPILER (HCC) INITIATIVE
---
You know how painful it is when you realize that you were not able to participate in a contest on Hive because you either got the information late or because you forgot about the deadline?

Yea, it hurts so bad!

This got me thinking for a while. 🤔

---

Then I said to myself, instead of different individuals searching for contests in their desired niche separately, why not we start up a compilation series so that everyone can know the different contests going on in different communities and be updated as well?

This thought process led to the emergence of an initiative which I call HIVE CONTESTS COMPILER (HCC); aimed at bringing Hive Contests at your Fingertips.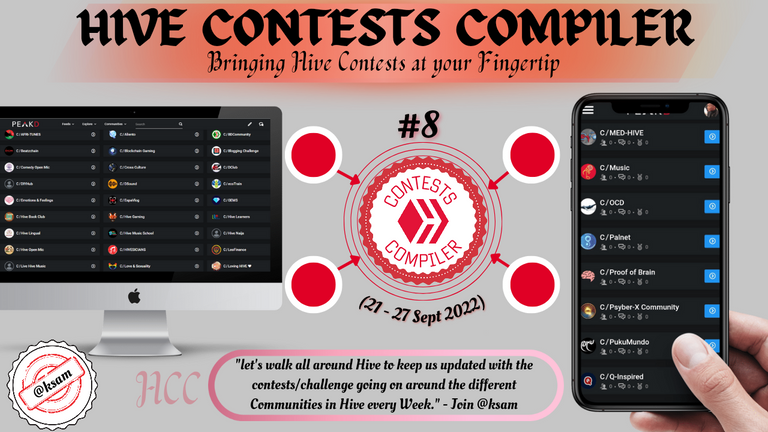 So join me let's walk all around Hive to keep us updated with the contests or challenge going on around the different Communities in Hive every Week.

---

Remember, Hive is a vast ecosystem with so many communities, so do well to inform us if there is a contest left out. You can also inform us if you want to begin a New Challenge so that we can easily update our data during the Week, and make announcement for information/publicity sake and to create awareness.

We hope with this weekly updates it will be easier for many of us to get involved with many communities and participate in Many contests.

---
CATEGORIZATION
---
● Newly Added Contests - 6
Blogging/Writing - 8
Art/Photography - 17
Nature/Lifestyle - 10
Health - 1
Finance - 8
Entertainment - 14
Music - 3
Games - 9
● TOTAL CONTESTS = 70

---
● NEWLY ADDED CONTESTS
---
| Niche | Contest Title/Theme | Hosting Community | About the Community | Do you want to participate? | Deadline | Frequency |
| --- | --- | --- | --- | --- | --- | --- |
| Games | OCD & HashKings Contest | OCD and HashKing Game | | Read More | Monday, 26 September 2022 | |
| Entertainment | Iniciativa: Cocinando a todo color con HiveFood Edicion #7 Negro | Hivefood | Comida - Recetas - Concursos - Food - Recipes - Contests | Read More | | |
| Lifestyle | "Back to school experience" Blogging Contest - 2nd Week | Hive PH | Supporting Filipinos Worldwide | Read More | | |
| Lifestyle | NeedleWorkMonday Community Contest - NEEDLEWORK YOUR KITCHEN! | Needle Work Monday | | Read More | Monday, October 10 | |
| Blogging | The Ink Well Prompt #84 - Plus Weekly Challenge and Prize Announcement | The Ink Well Community | | Read More | Sunday | |
| Lifestyle | Colors of Roses - Lifeskills-Tv Contest 7 | Food and Travel | | Read More | | |
| | | | | Read More | | |

---
☆ BLOGGING/WRITING
---
| Contest Title/Theme | Hosting Community | About the Community | Do you want to participate? | Deadline | Frequency |
| --- | --- | --- | --- | --- | --- |
| Weekly Featured Contents - Week 28 - Edition 02 - "ZODIAC SIGNS" | Hive Learners | Learn Hive thoroughly Be a good Hivian | Read more | | 3 topics in a Week |
| Spill the Beans (SBT) Contest #12 ("Get Creative") | Cinnamon Cup Coffee | A Virtual Coffee Shop . A Warm Community | Read more | | Weekly |
| 5 Minute Freewrite | Freewriters | A Supportive Writing Community | Read more | | Daily |
| A Picture is Worth A Thousand Words | Freewriters | A Supportive Writing Community | Read more | 23 September | |
| Ecency Discord Posting topic 37: your HIVE FEST home VIEWING | Beerber in Ecency | | Read More | | Weekly |
| S & S Monthly Short Fiction - Invitational | Scholar and Scribe | Flexible and open creative writing community with a unique dual-token reward system for engaged readers and writers. | Read More | 9/25/22, 23:59 UTC-5 | Monthly |
| 🤩 Win 20 HSBI & more! Sitka World Writing Contest 🔮 | Scholar and Scribe | Flexible and open creative writing community with a unique dual-token reward system for engaged readers and writers. | Read More | Friday Sep 30, at 11:59PM GMT | |
| The Ink Well Prompt #84 - Plus Weekly Challenge and Prize Announcement | The Ink Well Community | | Read More | Sunday | |
| | | | Read More | | |
| | | | Read More | | |

---
☆ ART/PHOTOGRAPHY
---
| Contest Title/Theme | Hosting Community | About the Community | Do you want to participate? | Deadline | Frequency |
| --- | --- | --- | --- | --- | --- |
| Monomad | Black And White | Photography | Read more | | Daily |
| WorldPhotography Contest (BIRDS OF THE WORLD) #31 | Worldphotography | Photography of the world | Read more | Wednesday | Weekly |
| SEAPHOTOGRAPHY CONTEST • WEEK 205 | SEAPHOTOGRAPHY | A sharing space for all sea lovers. Divers, sailors, writers... Welcome! | Read More | | Weekly |
| Reflection Hunters Contest - Round 83 | Shadow Hunters | Show Me A Shadow! Show Me A Reflection! | Read more | Sunday | Weekly |
| Show Me A Photo Contest Round #86 - SHOW ME A PICTURE OF A BIRD - SILHOUETTES | Feathered Friends | All things about birds | Read more | Sunday | Weekly |
| Let's Make a Collage - A Contest for All Creatives on Hive - Round 140 | Let's Make a Collage | Let's Make a Collage - A Contest for All Creatives on Hive! | Read more | September 19, end of day (midnight UTC) | Weekly |
| Splinterlands Art Contest Week 207 | Splinterlands | The Next Generation of Collectible Card Games | Read more | Saturday, at 5:00 PM CST | Weekly |
| Around The World Challenge | bucipuci | | Read more | | |
| Appreciate Beauty of Nature with phortun: round 135 | Phortun | | Read More | Thursdays | Weekly |
| Welcome To The 'Love The Clouds' Contest! #152 | Love The Clouds | A community sharing the love for clouds! Come and join the #lovetheclouds contest to win Hive or HBD :) | Read More | | Weekly |
| Shadow Hunters/SMASh Contest - Round 237 | Shadow Hunters | Show Me A Shadow! Show Me A Reflection! | Read More | Thursday | Weekly |
| 🌎📸 Around The World Contest | Photofeed | We are Photofeed! Mo-Sun: Top 8 Photo Curation / Sunday: Theme Contest | Read More | | daily/weekly |
| Weekly StreetArt #028 | StreetArt | Street Art All Around the World | Read More | Sunday | Weekly |
| Photochain Challenge: 136 Edition | davidesimoncini | | Read More | Sunday | Weekly |
| CCC's Street Art Contest #110 | StreetArt | Street Art All Around the World | Read More | Sunday | Weekly |
| Concurso Paisajes Venezolanos - Venezuelan Landscapes Contest | Venezuela | Cuenta oficial de la comunidad "Venezuela" Official account of the "Venezuela" community | Read More | | |
| POBphotocontest New Round: COLOURFUL | Proofofbrain | A general topic community built around PoB technology and the POB token | Read More | Sunday 8:00 PM CEST | |
| | | | Read More | | |
| | | | Read More | | |

---
☆ NATURE/LIFESTYLE
---
| Contest Title/Theme | Hosting Community | About the Community | Do you want to participate? | Deadline | Frequency |
| --- | --- | --- | --- | --- | --- |
| Ladies of Hive Community Contest #100 | Ladies of Hive | A community that focuses on women- their interests, joys, passions, and share stories of their journey in life. | Read more | Saturday 11:59 PM (23:59) UTC | Weekly |
| Travel Contest #107 ("Expression") | travelcontest | | Read more | Friday | Weekly |
| Alive Chat | We Are Alive Tribe | Hive Community For The We Are Alive Tribe - https://wearealiveand.social/ | Read more | | Daily |
| Show Us Your California Contest #118 | The SoCal Hive | The SoCal Hive is building and supporting the Hive Blockchain community in Southern California. | Read more | | On a 3 Weeks Break |
| Amazing Nature Contest: FREE TOPIC | Amazing Nature | Dedicated to all Nature-Lovers out and their posts, no matter if Zoology, Botany, Landscapes or Philosophy ^^ | Read more | | |
| Hive-Naija Weekend Engagement #38 - "Paradigm Shift" | sam.hangout in Hive Naija | From Nigeria to the World | Read More | Sunday | Weekend |
| Hive & Wellness Challenge / Reto Hive y Bienestar | Loving Hive | | Read More | 09/10/2022 to 09/24/2022 | |
| "Back to school experience" Blogging Contest - 2nd Week | Hive PH | Supporting Filipinos Worldwide | Read More | | |
| NeedleWorkMonday Community Contest - NEEDLEWORK YOUR KITCHEN! | Needle Work Monday | | Read More | Monday, October 10 | |
| Colors of Roses - Lifeskills-Tv Contest 7 | Food and Travel | | Read More | | |
| | | | | | |
| | | | | | |

---
☆ HEALTH
---
| Contest Title/Theme | Hosting Community | About the Community | Do you want to participate? | Deadline | Frequency |
| --- | --- | --- | --- | --- | --- |
| MED-HIVE MONTHLY PROMPT (SEPTEMBER - Health and Lifestyle) | MED-HIVE | Med-Hive is a community for EVERYONE. Health Promotion and Awareness. | Read More | SEPTEMBER, 2022 | Monthly |
| | | | | | |
| | | | | | |

---
☆ FINANCE
---
Contest Title/Theme
Hosting Community
About the Community
Do you want to participate?
Deadline
Frequency
India Leo Weekly Contest - What Is Metaverse & Why Does It Matter?
Indiaunited in Leofinance Community
Read More
25-09-2022 11:59 PM IST - SUN
Weekly
phortun´s Saturday upvote giveaway #175: submit your nominations
phortun in Leofinance
Read More
Every Saturdays
phortun´s Monday tipping contest #93
phortun in Leofinance
Read More
Mondays
LEO&HODL Contest W4 - LeoGlossary!
LeoFinance & HODL Community
Read More
till September 24
Weekly
This is Awesome Daily Prize Drawing
thisisawesome
Read More
Daily
Larry Is Alive - Daily Prize Drawing
Luke Is Alive
#LukeIsAlive Contest, Daily and Weekly Prizes of CTP Tokens.
Read more
Daily
Crypto daily Contest
maarnio in Leofinance
Read More
Daily
Guess the PolyCUB price and WIN
spinvest-leo
A sub-account for the SPinvest program focusing on the LEO tribe.
Read More
until Saturday 23:59 CET
Weekly
Read More

---
☆ ENTERTAINMENT
---
| Contest Title/Theme | Hosting Community | About the Community | Do you want to participate? | Deadline | Frequency |
| --- | --- | --- | --- | --- | --- |
| Cine TV Contest #30 - Movie That Made You Fall Asleep! | CineTV | A tribe and community to blog and chat about cinema and tv and get rewarded in $CINE token . | Read more | 20th September, 2022 11:59 PM, UTC time. | Weekly |
| Splinterlands Social Media Challenge! | Splinterlands | The Next Generation of Collectible Card Games | Read more | Sunday at 12 pm CDT | Weekly |
| Hive Learners Community "Creative Sunday" 011 | Hive Learners | Learn Hive thoroughly Be a good Hivian | Read more | | Every Sunday |
| CashForTricks Contest | SkateHive | Skateboarding on Hive | Read more | | |
| Blow me down, me hearties! | dreemsteem | | Read More | | |
| 👨‍💻 ASEAN Hive Community Challenge #25 - 👩‍🍳 Bizarre Foods 🦪 With Ecency Prizes | ASEAN HIVE COMMUNITY | Supporting the ASEAN Hive Community | Read More | | Weekly |
| #BeerSaturday chalenge - week 273 | BEER | | Read More | Saturday | Weekly |
| HSC 22/23: 7.Spieltag Recap deutsche Bundesliga Kicktipp ⚽️ 🇩🇪 ⚽️ | German Soccer Cup | | Read More | | |
| Beersaturday Quiz, Dutch special! 5 Hive to be Won 😎 | article61 | | Read More | Saturday | Weekly |
| Economics 7 Week Challenge Series – Challenge 7: Pick-a-Door | Economics | | Read More | 6PM coordinated universal time (UTC) 11/09/2022 | Weekly |
| Initiative: Inspired by Animal Print / week #11 GlowUpArt ⭐ | Glowup Art | Artistic Make-Up , Characterization and Cosplay. | Read More | Monday | Weekly |
| Win 10 $HIVE Tokens >> The Weekly Challenge >> From D.Buzz (ROUND 116) | dbuzz | Discover the Buzz on D.Buzz | Read More | Monday | Weekly |
| Meme challenge #295 | Memechallenge | Weekly memechallenge by fibra59 | Read More | Sunday at 12:00 (UTC +1) | Weekly |
| Iniciativa: Cocinando a todo color con HiveFood Edicion #7 Negro | Hivefood | Comida - Recetas - Concursos - Food - Recipes - Contests | Read More | | |
| | | | | | |
| | | | | | |

---
☆ MUSIC
---
| Contest Title/Theme | Hosting Community | About the Community | Do you want to participate? | Deadline | Frequency |
| --- | --- | --- | --- | --- | --- |
| La Voz Cantate #33 | PukuMundo | PukuPost about Metal, rock and the rock culture. Music contests about metal and rock) | Read more | Monday - Friday | Weekly |
| ThreeTuneTuesday #68 | ablaze | | Read more | | Every Tuesday |
| Afritunes Engagement Contest #28 | AFRI-TUNES | A community opened for all musicians to share African music from any country in the world. | Read more | Thursday | Weekly |
| | | | | | |
| | | | | | |

---
☆ GAMES
---

You can request that we tag you so that you dont miss the weekly update

---

Inform us about the latest Contest on Hive, let's feature it on our Weekly Compilation

Endeavour to read the rules of the Contest before participating

Your comments, reblog and support will go a long way for the growth of this Initiative, and it will also enhance active participation in Communities/Contest on Hive

Post payout set to 100% Hive Power rewards

Created Thursday 22/09, 02:00 GMT +1
---
---