TWITTER IS NOT A PLACE FOR WEAK COMRADES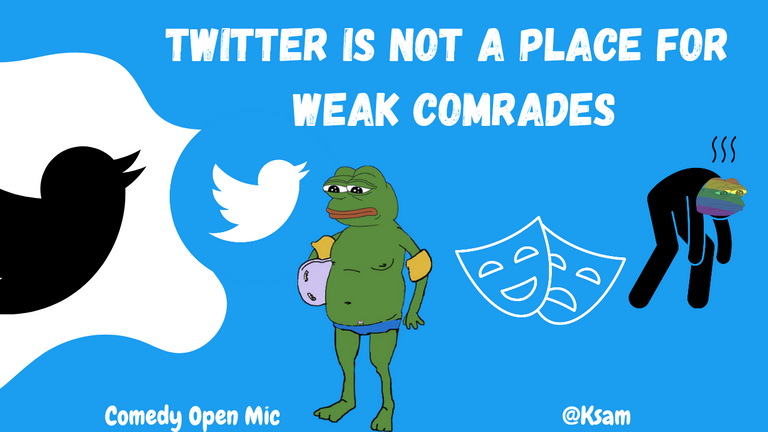 Are you hot tempered?
Do you take things too personal?
Do you react aggressively at the slightest provocation?
Do you jump into discussions and conclusions without knowing the full details?
Will you go on Twitter when your favourite club loses terribly?
Will you cry when you are being dragged on twitter?
Will you cry when you trend for negative reasons on Twitter?
If your answer is in the affirmative, then I am sorry to tell you that TWITTER IS NOT FOR YOU.
---

---
WHAT IS TWITTER?
---
First of all, you should all be aware that there is no consensus on the definition of Twitter. So many scholars, professors and tweeps down the ages have been making constant effort to define the ambiguous concept, "Twitter".
However, for the purpose of our critical analysis, we shall adopt this definition by a Tweep which clearly describes what Twitter is, according to my understanding.
https://twitter.com/Dehkunle/status/1343983261001854976?t=cGxuaGNYvjV_k6zfDnuhww&s=19
It's a Social network, media platform, news site, an instant messenger, a porn site and even an international court of law where all your marital issues and general criminal acts can be solved and justice served, a really good app I must say.
---
This is a really extensive definition I must say. However, you should also bear in mind that Twitter is the fastest way to become famous, especially for the negative purpose.
Also!!!
In the world of Twitter, there is nothing like MERCY!
THERE IS NO MERCY!
EVERYTHING AND EVERYWHERE IS VAWULENCE (violence)
https://twitter.com/BenirJR/status/1523563153753182208?t=EZDEFQTOYe5ZuNkHZvp-mQ&s=19
Advice from a Tweep: Vawulence will not kill you, it will teach you manners.
---
Whenever a new gist, information or scandal drops online, the children of violence vawulence on Twitter are always ready to spread the Word of Violence Vawulence.
They are ready to attack those involved, those who support them and everyone.
Try not to cross their path, else you will be a victim.
https://twitter.com/orzco_/status/1521265559563812871?t=9fiZ03j5_SExZZUOuRtR2g&s=19
A Tweep preaching the word of Vawulence: Violence 1:45
"O ye brethren it's about to begin, we shall feast and quench our thirst for vawulence is our desire."
Sometimes you don't need to cross their path, stray bullet will always locate you.
For instance,
https://twitter.com/life_of_mubzzy/status/1523306646331887616?t=8Ls6BLj2JSKnpoCcTJzUEQ&s=19
Naija News: ASUU has ended warning action as considerations on indefinite strike commences.

Tweep: Na Desmond Elliot I blame (meaning: I blame Desmond Elliot).
DESMOND ELLIOT DID NOT DO ANYTHING TO DESERVE THIS 😭😂
---
BUT, FEAR NOT!
COMRADE KSAM IS HERE
---
To all weak comrades!
I have heard your cries!
Your beloved comrade, ksam, is here to give you small strength 💪.
I will help you all by giving you some tips about twitter.
If you follow these tips meticulously, you are sure to trend on Twitter. 😂
But, know that I am here to give you strength so that when you are dragged, you will be fully prepared 😂
Give Us the Strength to Trend 💪
---
1️⃣
TWITTER IS A PLACE TO GET ADVICE OR MOTIVATIONAL QUOTE
---
Oh yes, twitter is the best place to seek advice, motivational quotes, counselling on your marital issues or to get comments from relationship experts.
All you need to do is to express yourself fully, and let it all out.
Thats right!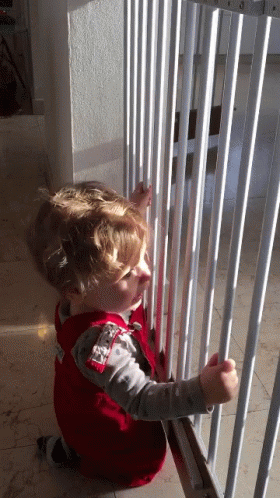 .gif from tenor.gif
---
Let them all out!
That's all!
Do well to post receipts, proofs, pictures and other evidence to back up your claims.
The Judges and experts on Twitter will be sure to give you the best advice.
.gif from tenor.gif
---
---
2️⃣
EVERYONE ON TWITTER IS QUALIFIED AND A PROFESSIONAL/EXPERT IN THE FIELD, ENDEAVOUR TO TAKE ADVICE FROM THEM!
---
Oh! So true!
Everyone on Twitter is qualified to handle your public, private and personal issues.
So go on and share your issues and take their quality advice.
Listen to the High School dropout who is a Twitter influencer as she gives you professional advice on the best cream to use which cures Breast Cancer. Don't bother about going to the hospital, twitter solves everything. Do well to share your progress on twitter, 👍
Believe all investment schemes that are posted on Twitter, especially the ones that give 10,000% interest in 1 month. They are good schemes. Do well to share your proof of payment and progress report on Twitter. 👍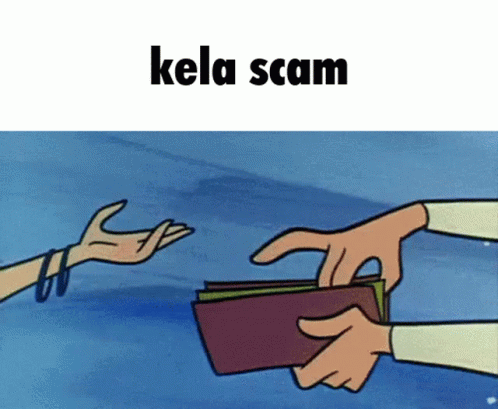 .gif from tenor.gif
---
3️⃣
ALWAYS COMMENT ON EVERYONE'S TWEET - SINCE YOU ARE KING/QUEEN OF ENGAGEMENT ON TWITTER
---
Yes, yes and yes!
Be the engagement King or Queen on Twitter.
Do well to comment on every tweets and retweets. Don't bother reading the whole story, just drop a comment.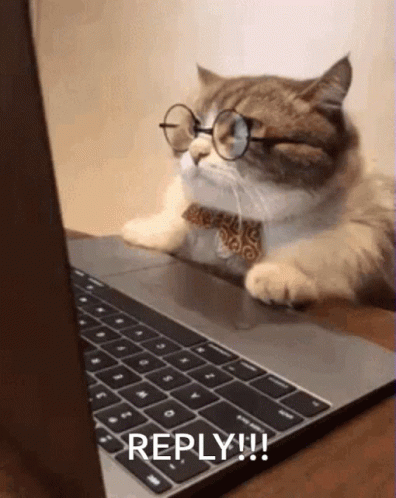 .gif from tenor.gif
---
Do this as your regular routine and you'll surely find the popularity that you are looking for.

---

So, my dear Comrade!

Go on!

Know that I am with thee to grant thee strength!
---
---