Jannik Sinner ¿Nuevo Rey del tennis europeo? [Esp - Eng]
El tercer capítulo de la nueva batalla de jóvenes prodigios del tenis, tuvo lugar en la trigésimo segunda edición del abierto de Croacia, mejor conocida como Plava Laguna Croacia Open de Umag, torneo disputado en el Goran Ivanisevic Stadium y perteneciente al ATP World Tour categoría 250. Un escenario que vio el año pasado al español Carlos Alcaraz, levantar su primer título como profesional y que este domingo protagonizó otro partido decisivo, frente al italiano Jannik Sinner; quienes se han convertido en el nuevo duelo de talentos del deporte blanco.
The third chapter of the new battle of young tennis prodigies took place in the thirty-second edition of the Croatian Open, better known as Plava Laguna Croatia Open of Umag, tournament played at the Goran Ivanisevic Stadium and belonging to the ATP World Tour category 250. A scenario that last year saw the Spanish Carlos Alcaraz, lifting his first title as a professional and this Sunday starred in another decisive match against Italian Jannik Sinner, who have become the new duel of talents of the white sport.
---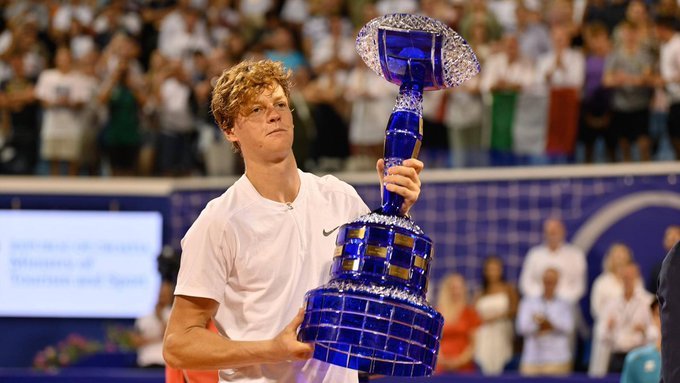 Fuente
El italiano de 20 años levanta su primer título sobre tierra batida, frente a su nuevo archirrival.
---
En la semana previa al inicio de la gira norteamericana (previa al US Open), la nueva sensación del tenis español vio desfilar del otro lado de la red, a tenistas de la calidad de Norbert Gombos, Facundo Bagnis y Giulio Zeppieri (quien pudo robarle un set); mientras que Jannik vio las raquetas de los españoles Munar y Carballes, así como a su compatriota Franco Agamenone. No obstante en la previa de la gran final, los preclasificados 1 (Carlos ) y 2 (Jannik) me generaron una expectativa de ensueño, ya que no los veía jugar entre ellos, desde hace casi un mes en Wimbledon con resultado favorable para Sinner ¿Recuerdan?
In the week prior to the start of the North American tour (prior to the US Open), the new sensation of Spanish tennis saw players of the quality of Norbert Gombos, Facundo Bagnis and Giulio Zeppieri (who was able to steal a set from him) parade on the other side of the net; while Jannik saw the rackets of Spaniards Munar and Carballes, as well as his compatriot Franco Agamenone. However, in the run-up to the final, the pre-qualifiers 1 (Carlos) and 2 (Jannik) generated a dreamlike expectation in me, as I had not seen them play each other since almost a month ago at Wimbledon, with a favorable result for Sinner, remember?
---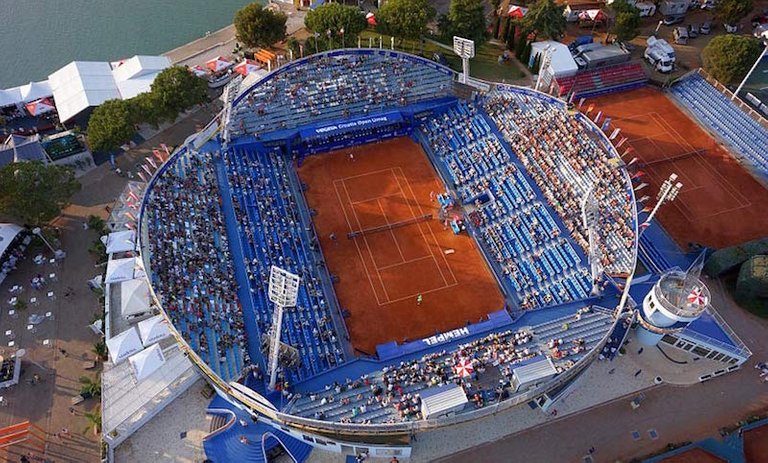 Fuente
El Estadio que lleva el nombre del entrenador de Novak Djokovic, se vistió de gala para recibir a los nuevos reyes del tenis actual.
---
Quiero aclarar que por problemas con el suministro de energía eléctrica, no pude realizar esta publicación en el momento indicado, como siempre lo he hecho (fueron 26 horas continuas, luego 4 horas más); así que ya todos conocen el resultado; sin embargo me enfocaré más en las impresiones que me dejó este gran partido, porque a pesar de que hubo dominio de parte y parte, al final, el tenis ha premiado a un jugador que ha tenido altibajos en su temporada actual (cambio de entrenador incluido); pero que ha sabido mantener el crecimiento de su nivel de juego.
I want to clarify that due to problems with the power supply, I could not make this publication at the right time, as I have always done (it was 26 continuous hours, then 4 hours more); so everyone already knows the result; however I will focus more on the impressions that left me this great match, because although there was dominance on both sides, in the end, tennis has rewarded a player who has had ups and downs in his current season (change of coach included); but has managed to maintain the growth of his level of play.
---
El partido inició con Sinner al servicio, siendo su primer saque su arma mortal, en una pista en la que se notaba lo rápido que corría la pelota; el drive de Carlos estaba saliendo con mucha potencia y su juego cortado desde el fondo de la línea funcionaba a la perfección. Sin embargo, el italiano ha exhibido una ligera modificación en su técnica de muñequeo, que le ha permitido imprimir mayor cantidad de efecto en spin a la bola y una mejor colocación desde su posición de recepción. El primer set ha sido un verdadero espectáculo al más alto nivel.
The match started with Sinner on serve, with his first serve being his deadly weapon, on a court where it was noticeable how fast the ball was running; Carlos' drive was coming out with a lot of power and his slice game from the back of the line was working to perfection. However, the Italian has exhibited a slight modification in his wrist technique, which has allowed him to print a greater amount of spin on the ball and a better placement from his receiving position. The first set was a true spectacle at the highest level.

Fuente
El incesante ataque de Alcaraz, le permitió presionar en cada momento, sobre todo en el 8vo game, cuando iba 0-40 y luego pudo llevar la cuenta hasta el conteo máximo; aunque también mostró su debilidad al recibir de revés y esto sería clave en los momentos definitivos del encuentro. Pero también Carlos tuvo tiros brillantes, como ese drop shot desde el fondo de la pista, que ya se está convirtiendo en su marca registrada. Con ello pautó la definición en el tie break, donde con un mini quiebre y su estilo enérgico, pudo cerrarlo en 7-6 (5) luego de más de una hora de juego.
Alcaraz's relentless attack, allowed him to press at every moment, especially in the 8th game, when he was 0-40 and then was able to take the count to the maximum count; although he also showed his weakness when receiving backhand and this would be key in the final moments of the match. But Carlos also had brilliant shots, such as that drop shot from the back of the court, which is already becoming his trademark. With this he set the definition in the tie break, where with a mini break and his energetic style, he was able to close it in 7-6 (5) after more than an hour of play.
---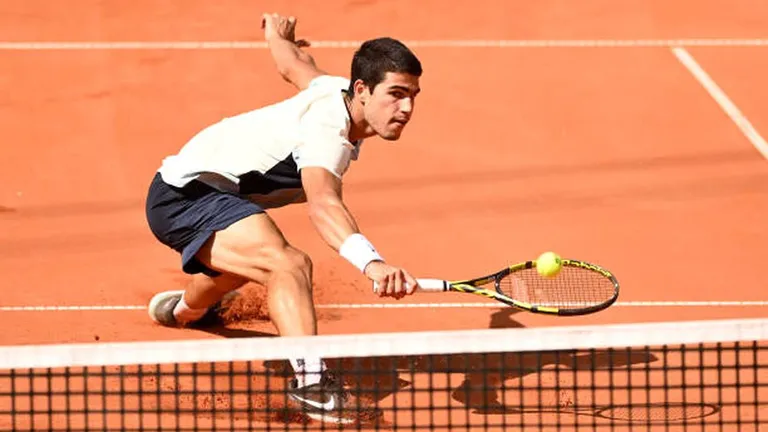 Fuente
---
Jannik se limitó a hacer un gesto de molestia, pero no perdió en absoluto la compostura de su orden de juego; y mientras Carlitos cerraba con otro drop shot y volvía al ataque del segundo game, Sinner se llenó de resiliencia para levantar de manera increíble un 0-40 que parecía imposible. Incluso Alcaraz tuvo un cuarto punto de break, pero que no pudo concretar por recibir un poco de su propia medicina, al cerrar Jannik con un drop shot a la italiana ja,ja,ja. A partir de ese momento el partido tuvo un cambio drástico en su rumbo, porque se vendría el resurgir imparable de Sinner.
Jannik just made a gesture of annoyance, but did not lose any composure in his order of play; and while Carlitos closed with another drop shot and returned to the attack of the second game, Sinner was full of resilience to lift in an incredible way a 0-40 that seemed impossible. Even Alcaraz had a fourth break point, but he couldn't make it because he received a bit of his own medicine, when Jannik closed with a drop shot to the Italian ha,ha,ha. From that moment on the match had a drastic change in its course, because the unstoppable resurgence of Sinner would come.
---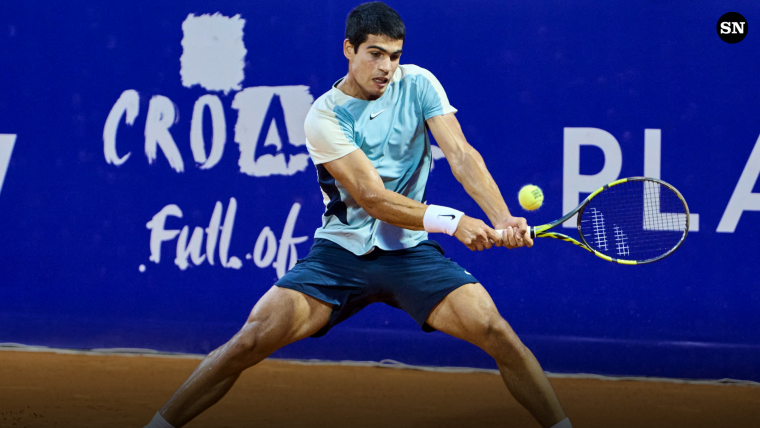 Fuente
El golpe en backhand de Alcaraz ha disminuido de tal manera, que se convirtió en su punto débil en sus últimas dos finales.
---
El nacido en San Cándido parece haber descifrado cómo manejar la potencia del juego rival, quebrando en el tercero, quinto y séptimo games con relativa facilidad; la fórmula parecía simple, jugarle hacia el backhand a Carlitos y esperar su servicio abierto cruzado. Entonces en menos de 30 minutos Jannik iguala a set por lado, pero con la ventaja de haber golpeado moralmente a su contrincante, algo que también fue clave para bajarle las revoluciones al español. Carlos estaba cometiendo los mismos errores que hizo ante Musetti hace exactamente una semana.
The native of San Candido seems to have figured out how to handle the power of the opponent's game, breaking in the third, fifth and seventh games with relative ease; the formula seemed simple, play to Carlitos' backhand and wait for his open crosscourt serve. Then in less than 30 minutes Jannik equalized to a set apiece, but with the advantage of having beaten his opponent morally, something that was also key to lower the revolutions of the Spaniard. Carlos was making the same mistakes he made against Musetti exactly a week ago.
---
En la tercera manga, vuelven a la igualdad del 1-1, pero en Sinner ya era muy notable su confianza al ejecutar los tiros y al correr por la pista; mientras que en Carlos era al contrario, menos movilidad y variedad de golpes; incluso su drop shot no estaba surtiendo el efecto de antes. Verle sacar al cuerpo y quedar adelantado, para luego intentar una derecha por detrás de su espalda (fue cogido mal parado con un tipo profundo, algo inconcebible), fue desalentador para mí y un síntoma de que no tenía la concentración necesaria, ni los argumentos para salir de ese lapsus de confusión que precibí.
In the third set, they returned to the equality of 1-1, but in Sinner was already very noticeable his confidence in executing the shots and running around the court; while in Carlos it was the opposite, less mobility and variety of strokes; even his drop shot was not having the effect of before. Seeing him serve to the body and get ahead, and then try a forehand behind his back (he was caught wrong-footed with a deep guy, something inconceivable), was discouraging for me and a symptom that he did not have the necessary concentration, nor the arguments to get out of that lapse of confusion that I anticipated.
---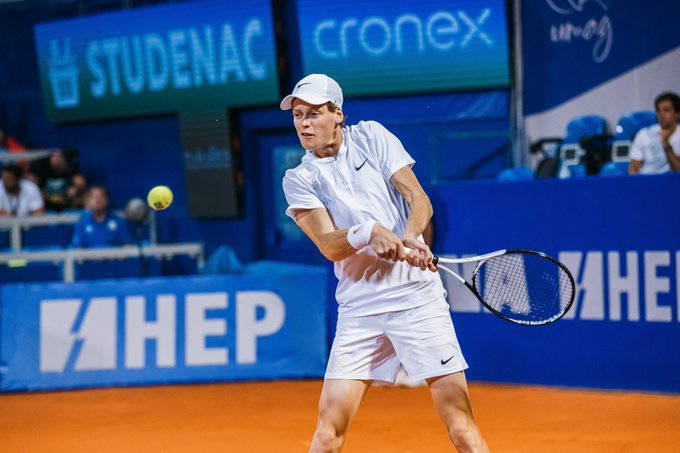 Fuente
En contraparte, Sinner ha mejorado su efectividad desde el revés, con mayor inclinación de la muñeca derecha desde el grip; cerrando el ángulo de tiro e imprimiendo mayor efecto.
---
Obviamente, era el maravilloso despliegue en pista de Jannik el mayor responsable del bajón de Carlos, dado que no le dejaba mayores espacios para ejecutar con comodidad; y esa es otra palabra a tener en cuenta "comodidad". Sinner jugó a placer, golpeando con soltura y fortaleza, desde cualquier rincón y posición; mientras que el español estuvo indeciso incluso al resto; porque no pudo quebrar ni siquiera una sola vez, el servicio rival. Con este segundo triunfo al hilo, parece que Jannik Sinner ha conseguido la fórmula para maniatar al prodigio español.
Obviously, it was Jannik's wonderful display on court the most responsible for Carlos' downturn, since it did not leave him more space to play comfortably; and that is another word to take into account "comfort". Sinner played at ease, hitting with ease and strength, from any corner and position; while the Spaniard was indecisive even in the rest; because he could not break even once, the opponent's service. With this second win in a row, it seems that Jannik Sinner has found the formula to tie down the Spanish prodigy.
---
Con el marcador en 7-6 (5), 6-1 y 6-1 en 2 horas y 24 minutos, el italiano obtiene su primer título sobre arcilla y se reafirma como número 10 del ranking, mientras que Carlos sigue en ascenso y alcanza el puesto número 4 del escalafón mundial. No obstante, Alcaraz tendrá pesadillas con los italianos, ya que ha perdido sus dos últimas finales ante Musetti y Sinner, en semanas consecutivas. Y si Alcaraz puede mejorar esos pequeños detalles en su juego, en el caso de Jannik, le veo mayor rango para seguir mejorando su tenis; hoy ha levantado un partido difícil, luego de perder el primer set; y hacerlo contra Carlos Alcaraz, no resulta sencillo para cualquier atleta.
¡Hasta la próxima!
With the score at 7-6 (5), 6-1, 6-1 in 2 hours and 24 minutes, the Italian wins his first title on clay and reaffirms his position as number 10 in the ranking, while Carlos continues his ascent and reaches the number 4 position in the world ranking. Alcaraz will have nightmares against the Italians, however, having lost his last two finals to Musetti and Sinner in consecutive weeks. And if Alcaraz can improve those little details in his game, in Jannik's case, I see him as having a greater range to keep improving his tennis; today he has lifted a difficult match, after losing the first set; and doing it against Carlos Alcaraz, is not easy for any athlete.
See you next time!

La opinión en esta publicación es de carácter personal por parte del autor.
Translated with www.DeepL.com/Translator.
The opinion in this publication is of a personal nature on the part of the author.
Translated with www.DeepL.com/Translator.
.

---
---