Taylor y Maxime // A tono para el Grande. [Esp - Eng]

Taylor Fritz y su semana perfecta.




Ha culminado la decimo catorce edición del torneo ATP 250 de Eastbourne; en la que tuvimos una emocionante final entre tenistas norteamericanos, luego de que el californiano Taylor Fritz y el estadounidense nacido en París Maxime Cressy, pudieran superar sus correspondientes compromisos de semifinales, ante Alex De Miñaur y Jack Draper de manera respectiva. En lo que representó el paso más importante para ellos, dada la complicada situación de enfrentar a los favoritos del público.

Taylor Fritz and his perfect week.




The fourteenth edition of the ATP 250 Eastbourne tournament has come to an end; in which we had an exciting final between North American tennis players, after the Californian Taylor Fritz and the American born in Paris Maxime Cressy, were able to overcome their corresponding semifinal commitments, against Alex De Miñaur and Jack Draper respectively. In what represented the most important step for them, given the complicated situation of facing the public's favorites.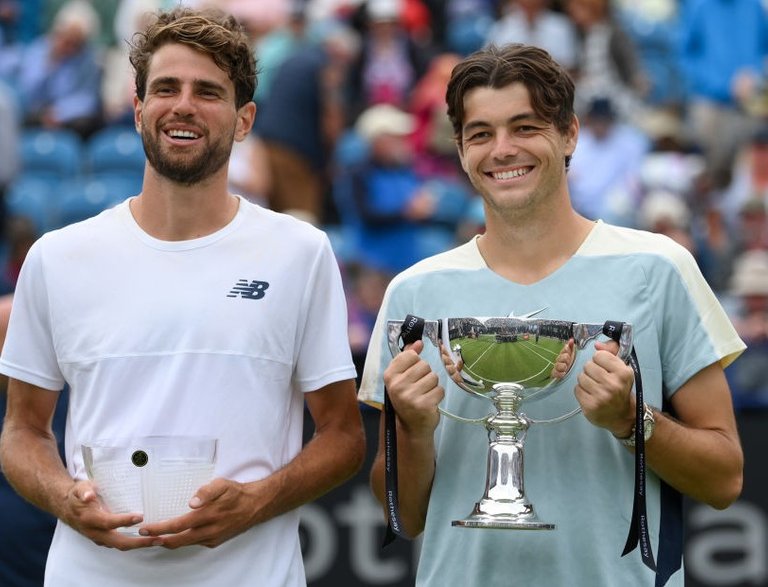 Fuente
En el caso de Maxime Cressy, también tuvo una semana deportiva más que sobresaliente, pudiendo superar a jugadores con mucho mejor ranking, como fue el caso de Reilly Opelka (Nº 18), Dan Evans (Nº 33) y Cameron Norrie Nº 12), tres de los máximos favoritos del evento. Ya en semifinales, sorteó otro gran obstáculo en la raqueta del tercer británico a quien enfrentó, como lo fue Jack Draper, en un cerrado encuentro a tres sets, dos decididos en el desempate y el último bien definido con un valioso break.
In the case of Maxime Cressy, he also had a more than outstanding sporting week, being able to overcome players with much better ranking, as was the case of Reilly Opelka (No. 18), Dan Evans (No. 33) and Cameron Norrie (No. 12), three of the top favorites of the event. In the semifinals, he overcame another great obstacle in the racquet of the third British player he faced, Jack Draper, in a close three-set match, two of them decided in the tiebreaker and the last one well defined with a valuable break.
---
Debo rescatar de Cressy su slice corto cruzado; y su volea con efecto cortado como sus armas principales, esto le incomodó mucho el juego al joven Draper que si bien luchó sin descanso, no pudo hacer los ajustes necesarios (por ejemplo, siguió sacando corto y le permitió a Maxime, recibir dentro de la pista y usar su slice; considero que ha debido utilizar el servicio al fondo o largo a la T y evitar las subidas a la red de su rival). En mi opinión estos detalles fueron determinantes en el resultado final.
I must rescue from Cressy his short cross-court slice; and his volley with a cut-off effect as his main weapons, this made the game very uncomfortable for the young Draper that although he fought without rest, he could not make the necessary adjustments (for example, he kept serving short and allowed Maxime to receive inside the court and use his slice; I consider that he should have used the service to the back or long to the T and avoid his opponent's net rises). In my opinion these details were decisive in the final result.
---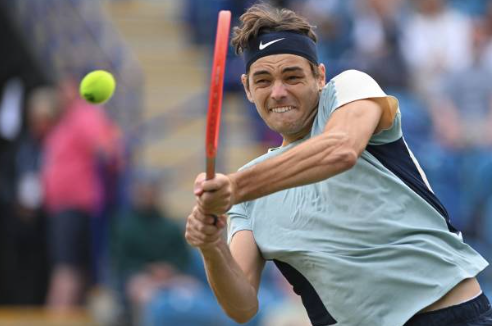 Fuente
Taylor recibiendo el servicio de Cressy, manejando la velocidad y dirección para quebrar el saque rival.
---
En cuanto a Taylor, se puede decir que pudo domar a la bestia de Australia, manejando a la perfección su fuerte servicio y su excelente recepción al resto, además de que su forehand estuvo funcionando como si viésemos un ventilador jajaja; ya que aceleró con efecto a placer y quebró dos veces seguidas a Alex para marcar 4-0 y luego cerrar 6-1 en solo 25 minutos. Ese primer set dominante fue un golpe moral para De Miñaur, que sufriría de lo lindo para forzar y ganar el tie break en el segundo set.
As for Taylor, it can be said that he was able to tame the beast of Australia, handling to perfection his strong serve and his excellent reception to the rest, plus his forehand was working as if we saw a fan hahaha; as he accelerated with effect at will and broke Alex twice in a row to score 4-0 and then close 6-1 in just 25 minutes. That dominant first set was a moral blow for De Miñaur, who would suffer a lot to force and win the tie break in the second set.
---
Ya en la tercera manga, un quiebre al 4to game y el feroz ataque de Taylor, dictaminó el partido más sufrido para Fritz, ante un rival que nunca bajó los brazos. Con este triunfo Fritz se llenó de confianza para la gran final y pudo imponer la ley de su saque contra Maxime. Ya en la Final el juego largo y con dominio de la dirección paralela de Taylor, evitando las voleas cortadas de Cressy; esa era la estrategia perfecta y Fritz la ejecutó a su antojo.
In the third set, a break in the 4th game and Taylor's ferocious attack, dictated the most difficult match for Fritz, against an opponent who never gave up. With this victory, Fritz gained confidence for the final and was able to impose the law of his serve against Maxime. Already in the Final the long game and with Taylor's parallel direction dominance, avoiding Cressy's cut volleys; that was the perfect strategy and Fritz executed it as he pleased.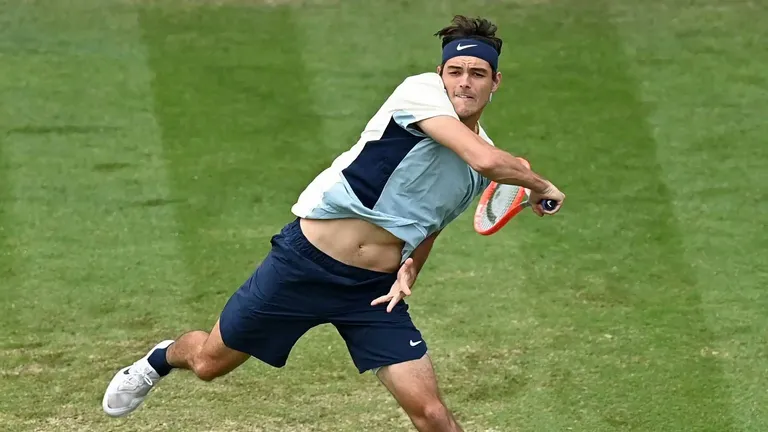 Fuente
Acá se observa el forehand con el cierre cierre completo del conjunto que forman hombro, codo y muñeca; imprimiendo efecto en spin "en descenso".
---
Iniciar el primer game con break es importante, pero cuando tu rival te ayuda con múltiples dobles faltas, resulta en un favor que debes agradecer jajaja. Cressy parecía nervioso ante un contrincante que sabía hacerle daño a su slice; y que estaba golpeando a una velocidad superior y eso dificulta la técnica de corte de pelota. Otro Quiebre al séptimo game y su perfección al saque, le permitieron a Taylor ejercer un claro dominio, reflejado en el 6-2 en solo 30 minutos de juego.
Starting the first game with a break is important, but when your opponent helps you with multiple double faults, it's a favor to be thankful for hahaha. Cressy seemed nervous against an opponent who knew how to hurt his slice; and who was hitting at a higher speed and that makes it difficult to cut the ball. Another break in the seventh game and her perfection on serve, allowed Taylor to exert a clear dominance, reflected in the 6-2 in just 30 minutes of play.
---
El plan de Maxime estaba claro, seguir atacando a la red pero con mayor movilidad y así lo hizo; este chamo de 25 años se ha convertido en un especialista de esta técnica tan clásica como complicada, que si no la domina bien, se convierte en un arma de doble filo. No obstante tomó los riesgos necesarios para forzar el desempate y cerrar el segundo set por 7-6 (4). Cressy era el segundo rival después de Alex, que forzaba a Fritz a una tercera manga que estuvo no apta para cardíacos, de principio a fin.
Maxime's plan was clear, keep attacking the net but with more mobility and he did it; this 25 year old has become a specialist in this classic and complicated technique, which if not mastered well, becomes a double-edged sword. Nevertheless, he took the necessary risks to force the tiebreaker and close the second set 7-6 (4). Cressy was the second opponent after Alex, who forced Fritz to a third set that was not for the faint-hearted, from start to finish.
---
Fuente
Maxime ejecutando un bloqueo con slice cruzado, lo ha convertido en un arme letal para sus rivales.
---
Cressy enalteció su técnica y se mantuvo firme, luchando con el cuchillo entre los dientes, ante un Fritz mucho más suelto y con mayor variedad de golpes en ataque; drive y revés en paralelo, que generaron un rally emocionante de hasta 30 golpes, adornando el tie break y también acompañado de globos mortales para descolocar las subidas a red de Maxime. Y fue precisamente con uno de estos, que Taylor volvió a pillar mal parado a su rival, haciéndole fallar en retroceso (piernas cansadas) y deteniendo el reloj en 2 horas y 17 minutos de una reñida batalla.
Cressy exalted his technique and stood firm, fighting with the knife between his teeth, against a much looser Fritz and with a greater variety of strokes in attack; drive and backhand in parallel, which generated an exciting rally of up to 30 strokes, adorning the tie break and also accompanied by deadly lobs to dislodge Maxime's rises to the net. And it was precisely with one of these that Taylor once again caught his opponent off guard, making him fail in backhand (tired legs) and stopping the clock in 2 hours and 17 minutes of a hard-fought battle.
---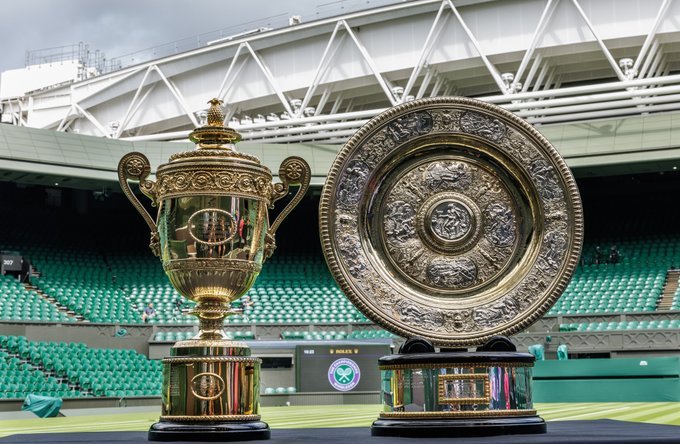 Fuente
Bandeja (Rosewater Dish) para las damas y trofeo de plata para los caballeros, los hermosos trofeos de Wilbledon.
---
Taylor Fritz celebra desde el engramado impecable del Devonshine Park Lawn Tennis Club, su segundo título de esta temporada y tercero de su prometedora carrera; reeditando su campeonato en este evento en 2019 y sin ceder nunca en su servicio, es decir, no recibió quiebres en su saque y o más importante, se reencontró con su mejor tenis. Taylor se coloca ahora, como un atleta a tener en cuenta en el Wimbledon que comienza mañana lunes y que tendrá como primer rival, al italiano Lorenzo Mussetti.
Ojo con este par de estadounidenses (Fritz y Cressy) en el césped británico.
Taylor Fritz celebrates from the impeccable grass of the Devonshine Park Lawn Tennis Club, his second title of this season and third of his promising career; reediting his championship in this event in 2019 and without ever losing his serve, that is, he did not receive breaks in his serve and more importantly, he rediscovered his best tennis. Taylor is now positioned as an athlete to be reckoned with at Wimbledon, which starts tomorrow, Monday, and whose first opponent will be the Italian Lorenzo Mussetti.
Watch out for this pair of Americans (Fritz and Cressy) in the British grass.

La opinión en esta publicación es de carácter personal por parte del autor.
Translated with www.DeepL.com/Translator.
The opinion in this publication is of a personal nature on the part of the author.
Translated with www.DeepL.com/Translator.
.

---
---