Warrior "La Última Pelea" // My Experience. [Eng - Esp]
I have always liked what is different, what makes something stand out from the crowd, and that premise is usually not so easy to find in the world of cinema. This requires a lot of work for everyone involved in a cinematographic work, when starting from the director himself, everyone strives to contribute their grain of sand, to contribute to give their personal touch to the role and role assigned. And it was this week that I unexpectedly stumbled upon this 2011 film called Warrior "The Last Fight".
Siempre me ha gustado lo diferente, lo que se hace resaltar algo del montón y esa premisa por lo general, no es tan fácil de encontrar en el mundo del cine. Esto requiere un gran trabajo para todos los involucrados en una obra cinematográfica, cuando a partir del propio director, todos se esmeran por aportar su gano de arena, para contribuir a darle su toque personal al papel y rol asignado. Y fue esta semana, en la que de manera inesperada, me topé con esta cinta del año 2011 llamada Warrior "La última pelea".
---
A work of american director Gavin O'Connor, who has a respectable cast of the Conlon brothers, Brendan (Joel Edgerton) and Tommy (Tom Hardy), whose apparently only point in common is that they are the sons of Paddy Conlon, regenerated from alcoholism, very well played by the historical actor (Nick Nolte). What I found incredible was that I started watching it without any commitment, nor with the idea of reviewing my experience with this film, which I must confess I had not yet seen; moreover, I did not even identify Tom Hardy, since he looked more corpulent than usual.
Un trabajo del director estadounidense Gavin O´connor, quien cuenta con un respetable elenco conformado por los hermanos Conlon, Brendan (Joel Edgerton) y Tommy (Tom Hardy), cuyo aparentemente único punto en común, es que son hijos del regenerado del alcoholismo Paddy Conlon, muy bien interpretado por el histórico actor (Nick Nolte). Lo que me pareció increíble fue que la comencé a ver sin ningún compromiso, ni con la idea de reseñar mi experiencia con esta cinta, que debo confesar aún no la había visto; es más, ni siquiera identificaba a Tom Hardy, ya que lucía más corpulento de lo habitual.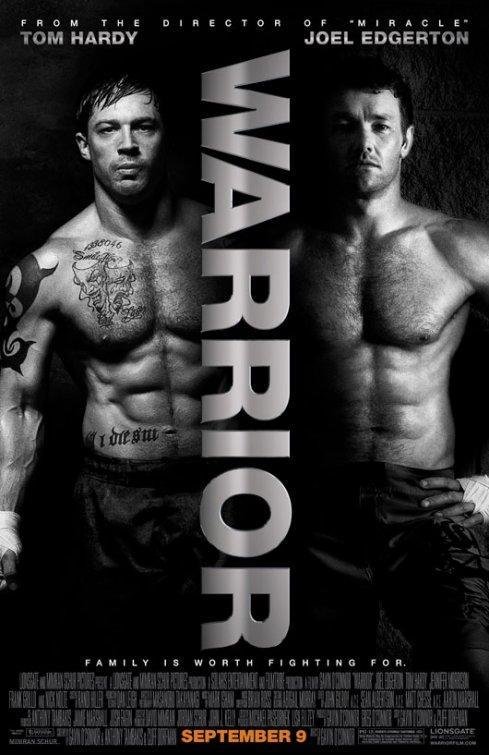 Source
However, with the passing of the plot I was totally hooked until the end ha,ha,ha,ha. I think the fact that it is a film that is not limited to fights, but the director's expertise to combine the action of the fights at the right time; but presenting us with characters of great naturalness, with a story that moves them towards that path of entering a competition, for the need to get the juicy bag of money and thus cover their monetary requirements; something that obviously can happen to anyone.
Sin embargo, con el transcurrir de la trama me quedé totalmente enganchado hasta el final ja,ja,ja. Pienso que el hecho de ser una película que no se limita a las peleas, sino que se nota la pericia del director, para combinar la acción de los combates en el momento indicado; pero presentándonos unos personajes de gran naturalidad, con una historia que los mueve hacia ese camino de entrar a una competencia, por la necesidad de obtener la jugosa bolsa de dinero y así cubrir sus requerimientos monetarios; algo que obviamente le puede pasar a cualquiera.
---
I also found it interesting, the context in which each character moves, as it is a dysfunctional family that has almost no communication, although they recognize each other as such. And even though these boys lead their lives separately, they have a paternal heritage as experience in mixed martial arts fights. So it was Paddy who had had a taste of it, something he somehow planted in his sons before dissolving as a social nucleus. That is to say, they cannot deny that their father was the one who showed them that path.
También me pareció interesante, el contexto en que se mueve cada personaje, ya que se trata de una familia disfuncional que casi no tienen comunicación, aunque se reconocen entre sí como tal. Y a pesar de que estos muchachos llevan sus vidas por separado, tienen una herencia paterna como experiencia en las luchas de artes marciales mixtas. Entonces era Paddy quien había tenido un paso por estas lides, algo que sembró de alguna manera en sus hijos antes de disolverse como núcleo social. Es decir, ellos no pueden negar que su padre fue quien les mostró ese camino.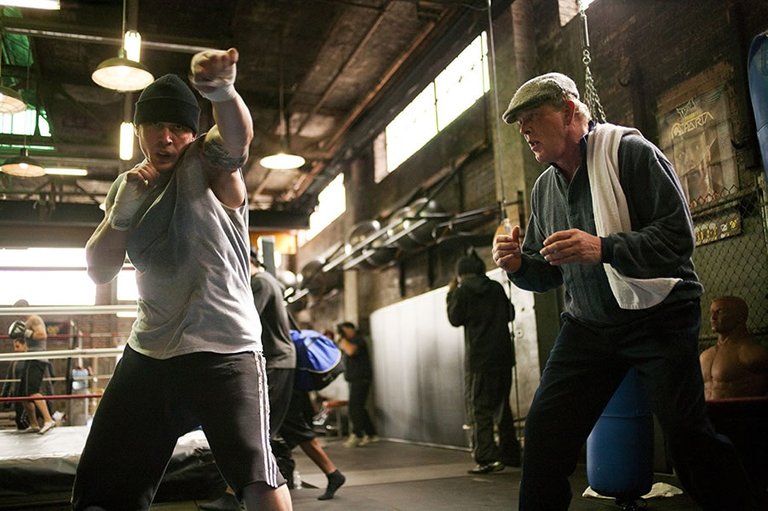 Source
I must emphasize the performance of Tom Hardy, who in my opinion made me identify with Tommy, with his way of fighting and acting quietly, without boasting of his tremendous physical power; also this actor never ceases to amaze me with his physical changes, demonstrating his professionalism and dedication to his work. The same happens with Brendan, who is going through a complicated economic situation and decides to risk even his life to win. Although in my opinion it was very noticeable the difference in weight with his rivals, when facing them in the octagon.
Debo recalcar la actuación de Tom Hardy, quien en mi opinión logró que me identificara con Tommy, con su manera de pelear y actuar a la calladita, sin jactarse de su tremenda potencia física; además este actor no deja de sorprenderme con sus cambios físicos, demostrando su profesionalismo y entrega con su trabajo. Igual sucede con Brendan, que pasa por una complicada situación económica y decide arriesgar hasta su vida por ganar. Aunque a mi parecer era muy notable la diferencia de peso con sus rivales, a la hora de enfrentarlos en el octágono.
---
However, although Tommy seems to be haunted by negative childhood memories, he looks to his father to help him improve his performance with training. What was strange, yet appealing to me, was to see the deep drama (well structured), lead to this pair of brothers battling it out in the finale, for the ultimate prize. And while the road was much rougher for Brendan, Tommy did the same but with relative ease. Again, I was pleasantly surprised by the appearance on the scene of real stars and former MMA fighters.
Sin embargo, aunque Tommy parece ser atormentado por los recuerdos negativos de su infancia, busca de su padre para que lo ayude a mejorar su desempeño con entrenamiento. Lo extraño y a su vez atrayente para mí, fue ver que el profundo drama (bien estructurado), lleva a este par de hermanos a combatir en la final, por el premio mayor. Y aunque el camino fue mucho más escabroso para Brendan, Tommy hizo lo propio pero con relativa facilidad. Nuevamente me vi gratamente sorprendido, por la aparición en escena, de verdaderas estrellas y ex luchadores de la MMA.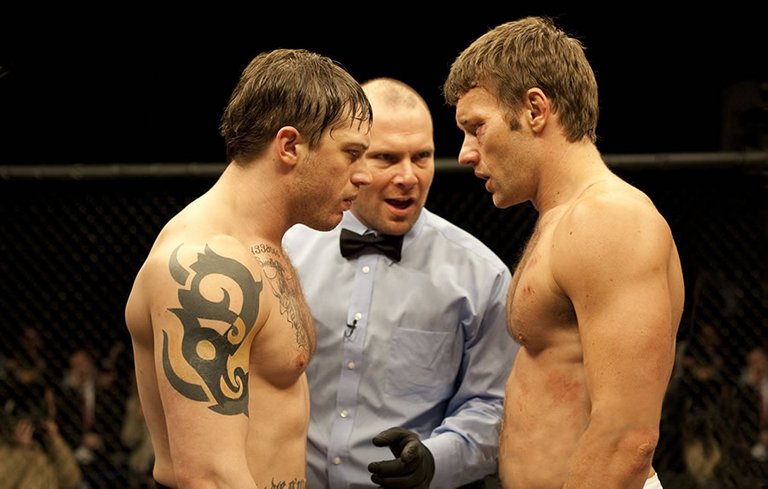 Source
Mixed martial arts legends such as Kurt Angle, Josh Rosenthal, Rashad Evans, Anthony Johnson, Erik Apple, among others, give the film that extra touch of reality. But in addition to the presence of these characters, it is remarkable the good execution of combat techniques by the actors Tom and Joel, since they make projections, hit with very convincing movements and above all, the submissions keys that Edgerton executes; so I have convinced me with their excellent work. Besides there are no good guys or bad guys, it's just a fight for a prize that they both need.
Leyendas de las artes marciales mixtas como Kurt Angle, Josh Rosenthal, Rashad Evans, Anthony Johnson, Erik Apple, entre otros, le da ese plus de realidad a la cinta. Pero además de la presencia de estos personajes, es notable la buena ejecución de técnicas de combate por parte de los actores Tom y Joel, dado que hacen proyecciones, golpean con movimientos muy convincentes y sobre todo, las llaves de sumisiones que ejecuta Edgerton; por lo que a mi me han convencido con su excelente trabajo. Además de que no hay buenos ni malos, es solo la lucha por un premio que ambos necesitan.

Source

In the middle of the plot, I thought about the motivations that Brendan and Tommy have to fight for the prize; and although they are totally different needs, they have a justified reason from the point of view that they both have a talent for fighting since childhood, but the most interesting thing is that they also have an internal struggle with their past and their relationship with their father. These guys are so dedicated to combat that they surpass their own levels, but in this case, Tommy had more moral support, due to his sudden and accidental fame among his military colleagues.
En medio de la trama, pensé en las motivaciones que tienen Brendan y Tommy para pelear por el premio; y aunque son necesidades totalmente distintas, tienen una razón justificada desde el punto de vista de que, ambos tienen talento para la lucha desde la infancia, pero lo más interesante, es que tienen también una lucha interna con su pasado y en la relación con su padre. Estos chicos se entregan de tal manera al combate, que sobrepasan sus propios niveles, pero en este caso, Tommy contaba con más apoyo moral, debido a su repentina y accidental fama entre sus colegas militares.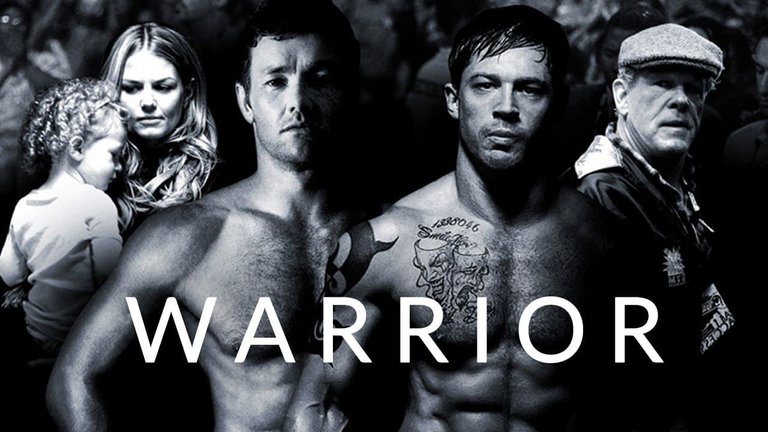 Source
Warrior is a film that left me with good feelings and the satisfaction of not having wasted my time watching it. The actor Nick Nolte received seven nominations for best supporting actor, one of them for an Oscar. The film is well crafted, without overacting or poorly executed poses, its central theme derives from everyday life situations and the fights in the cage, have great realism and execution. All these ingredients make a varied menu, which does not allow me to get bored or lose interest in the thread of the plot, I recommend it; and if you are a lover of MMA or UFC, you must see it.
Warrior es una película que me dejó al final, buenas sensaciones y la satisfacción de no haber perdido el tiempo al verla. El actor Nick Nolte recibió siete nominaciones como mejor actor de reparto, una de ellas al Oscar. La cinta está bien trabajada, sin sobreactuaciones o poses mal realizadas, su tema central deriva de situaciones de la vida cotidiana y los combates en la jaula, cuentan con gran realismo y ejecución. Todos estos ingredientes hacen un menú variado, que no me permite aburrirme o perder interés en el hilo de la trama, de mi parte la recomiendo; y si eres amante de la MMA o UFC, debes verla.

La opinión en esta publicación es de carácter personal por parte del autor.
Translated with www.DeepL.com/Translator.
The opinion in this publication is of a personal nature on the part of the author.
Translated with www.DeepL.com/Translator.

---
---