Army Men (Operation Green) - The War Of The Plastic Soldiers [ENG -ESP]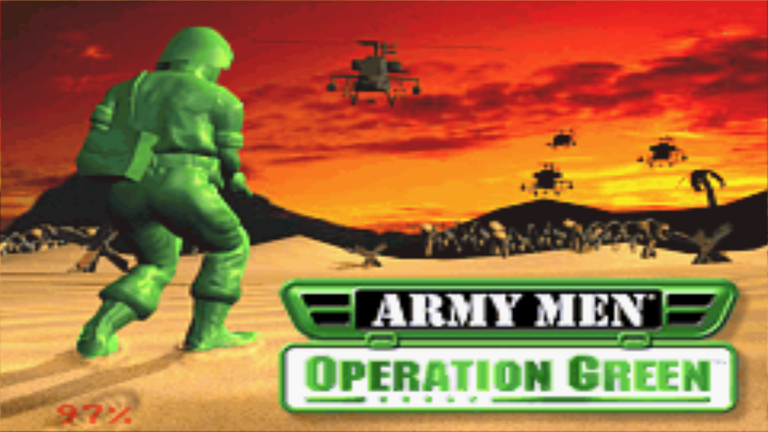 Perhaps one of the most popular and well-known toys of the last century were the famous little green plastic soldiers that came equipped with their military uniform, as well as their weapon and that we simply gathered in groups to simulate that we were leading soldiers in an imaginary war, becoming such an iconic and popular toy is normal that with the passage of time came to exist video games based on these toys and where we control these little soldiers in wars mostly based on the Second World War. Army Men is a series of video games about green plastic soldiers and Army Men (Operation Green) is an installment with more than two decades old because it was published in 2001 and was only available for the Nintendo GameBoy Advance handheld console.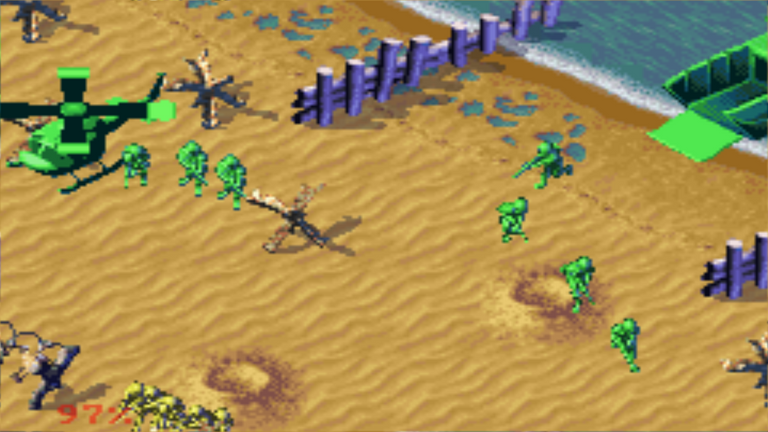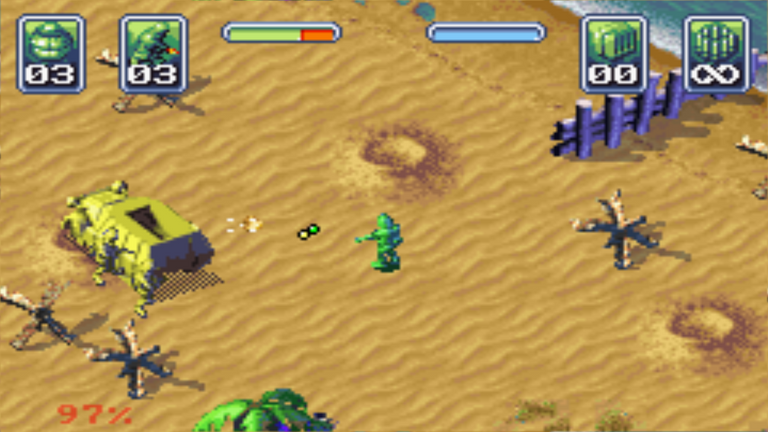 Army Men (Operation Green) has a story that can be considered inspired by the Second World War and everything starts with a landing on a beach which could be based on D-Day and the Normandy landing, but in this adventure will be the Day at the Beach. Although the game begins with the landing of several soldiers in the adventure we will only control a single green plastic soldier and we must advance through the enemy lines full of yellow plastic soldiers which will be the enemy faction which we must defeat. In all missions we have objectives that we must overcome step by step to complete the levels and the levels are more extensive than we might think.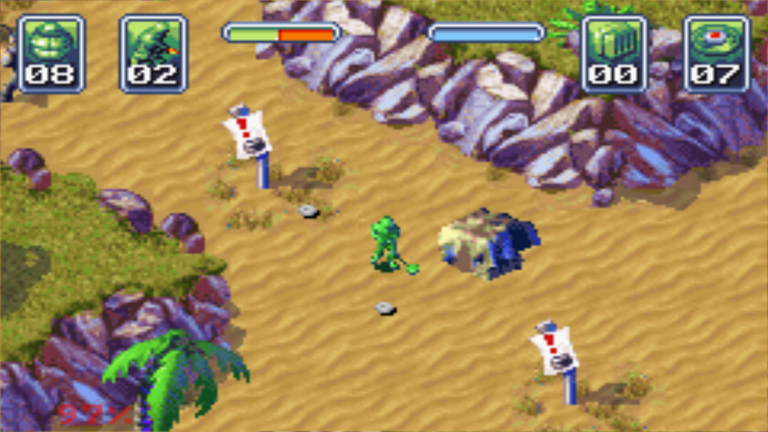 The weapons with which our soldier will have will be a rifle with unlimited ammunition, a rifle with a higher rate of fire, but which uses ammunition that we can pick up on the stage and we will also have grenades that we can throw against the enemies which, although they can be somewhat complicated to aim in a good way and be somewhat slow to launch are quite useful to have good damage and a fairly wide blast radius.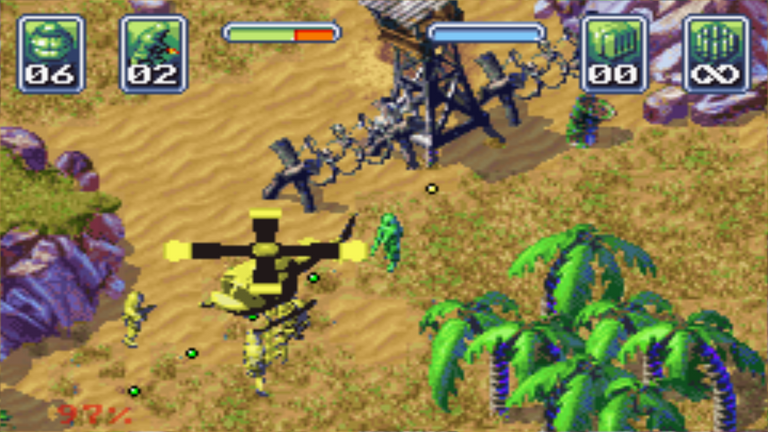 Unlike some war video games in this one the life of our soldier will not be that of a single impact, instead it will have a green health bar at the top center of the screen and every time we receive damage either by an enemy bullet impact or by explosion damage such as grenades or enemy mines, our character will lose a portion of health based on the damage received. Similarly we have a number of lives available that are displayed next to the number of grenades available, when our little toy soldier loses all health will also lose a life and if we still have extra lives we can revive to continue with the mission and its objectives.
A positive aspect is that when you lose a life the soldier reappears in the same place where you lost all your health and you can continue advancing through the map without having lost any of your progress in the level as if it can happen in those video games where when you die you restart the level from the beginning. In the same way we can find health kits to recover health by destroying resource boxes which can also give us ammunition and at certain points we will find red hearts that give us an extra life.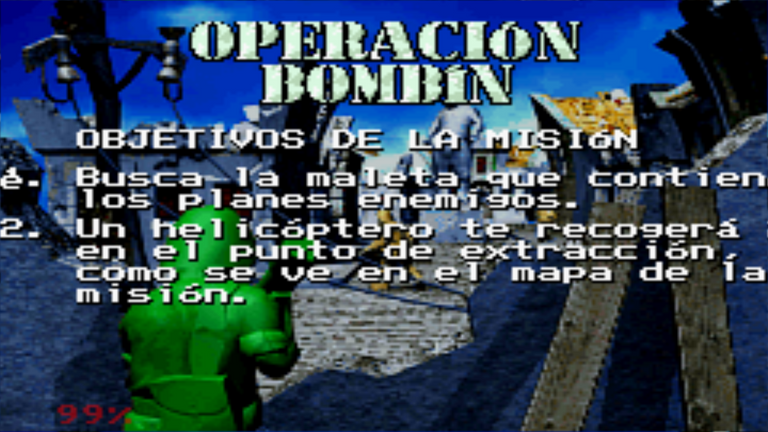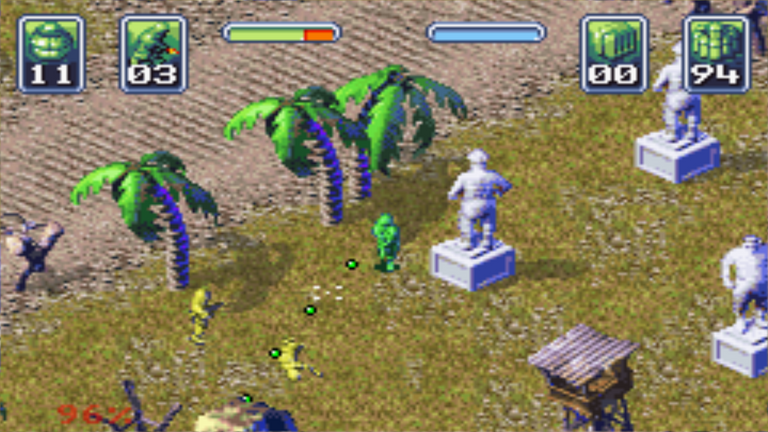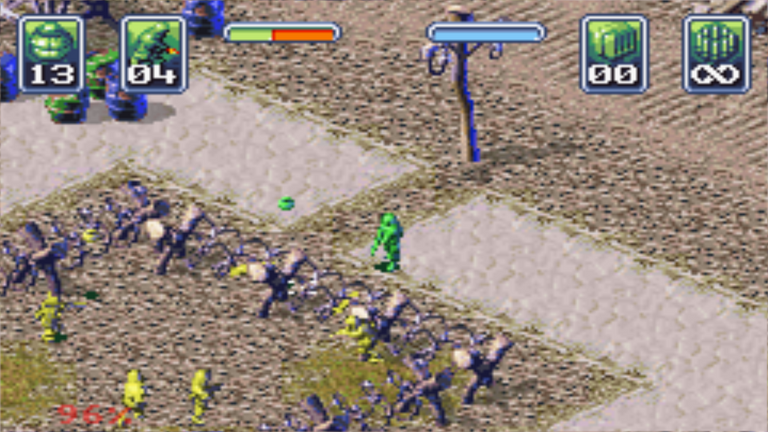 The camera style of Army Men (Operation Green) will be similar to an isometric view from above, the result is a fairly comfortable view and where you can quickly locate all the enemies quite easily and without major inconveniences. On the other hand, the most uncomfortable and annoying aspect of this video game will be its movement controls, the controls to shoot, change weapons and throw grenades can become easy and simple to master in a short time, but the movement of the soldier results in a slow control, clumsy and quite uncomfortable to handle at first.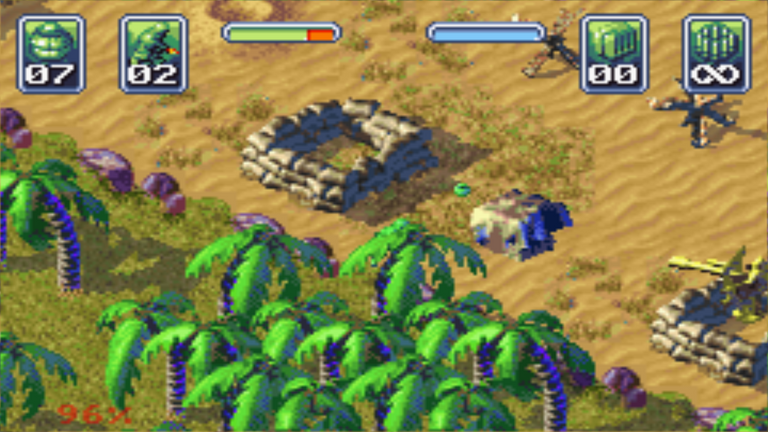 With the Joystick or the direction arrows depending on how you are playing it or if you play it in Emulator with controller, control both the movement of the character and the direction in which it points, this is because pressing the vertical direction the soldier advances in a straight line and when you move it in the left or right directions he will turn on its axis in the direction you press and then move in a straight line when you press the vertical control. To move around the stage can be somewhat complicated, but when trying to aim quickly at enemies, as well as trying to dodge their projectiles, it becomes very difficult to master at first. You can also move sideways a short distance each time you press the right and left triggers, with this method it can be easier to fight and dodge a single enemy, but when there are several it is usually complicated.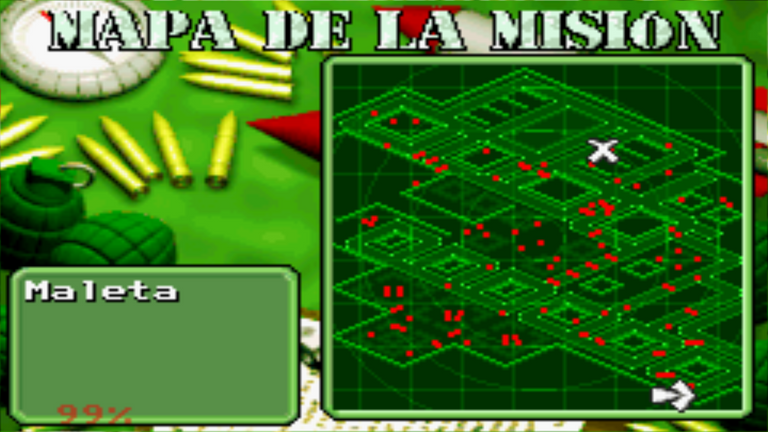 Army Men (Operation Green) despite being a video game for the GBA is quite extensive in its levels and from the menu we can open the map with which we will see the size of the entire scenario that we must overcome, and we will also see a series of red dots which will point us to all the enemies that are on the map so that we can even know how many enemies we will find and where on the map are, As in this title we do not have the option to save our progress if we will have the passwords that are generated to complete each level and with them we can restart the last level we reached without having to replay the entire title from the beginning. Despite having the somewhat limited graphics of the GameBoy Advance the result of both the soldiers and the scenarios and vehicles with designs of plastic toys ends up being quite pleasing to the eye and gives a more fun aspect to this title.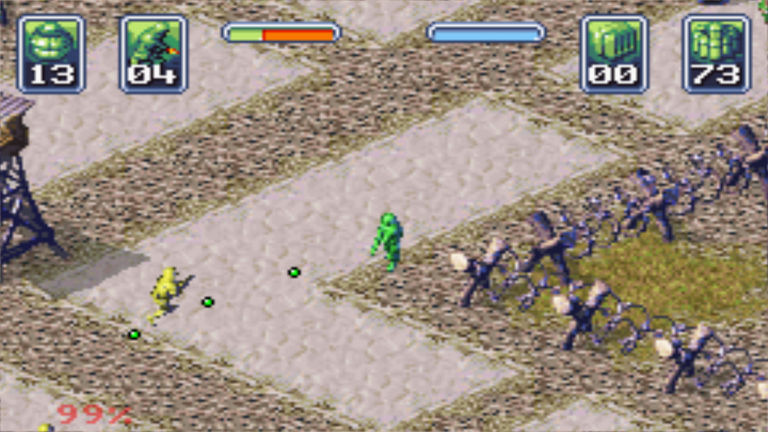 Source
Translated with www.DeepL.com/Translator (free version)
All Images Are Screenshots Of My Monitor
Separator Images:
Separator II Images:
---
---

---
---
Español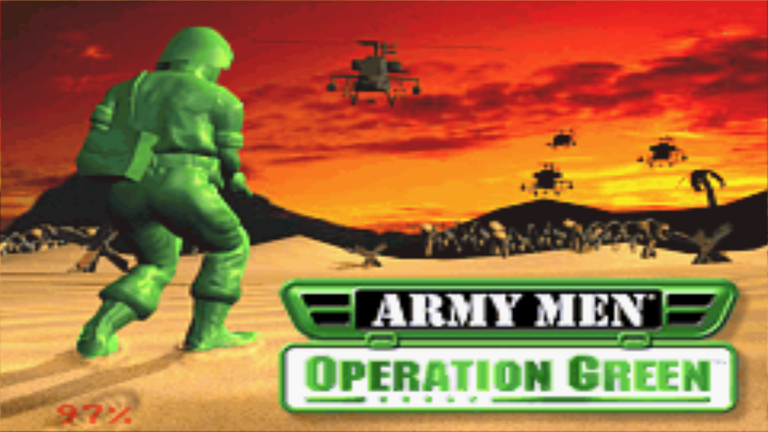 Tal vez uno de los juguetes más populares y conocidos del siglo pasado fueron los famosos soldaditos plásticos de color verde que venían equipados con su uniforme militar, así como su arma y que simplemente juntábamos en grupos para simular que dirigíamos soldados en una guerra imaginaria, llegando a ser un juguete tan icónico y popular es normal que con el paso del tiempo llegaran a existir videojuego basados en estos juguetes y en donde controláramos a estos pequeños soldados en guerras mayormente basadas en la segunda guerra mundial. Army Men se trata de una serie de videojuegos sobre los soldados de plástico verde y Army Men (Operation Green) se trata de una entrega con más de dos décadas de antigüedad debido a que fue publicado en el año 2001 y solamente estuvo disponible para la consola portátil de Nintendo la GameBoy Advance.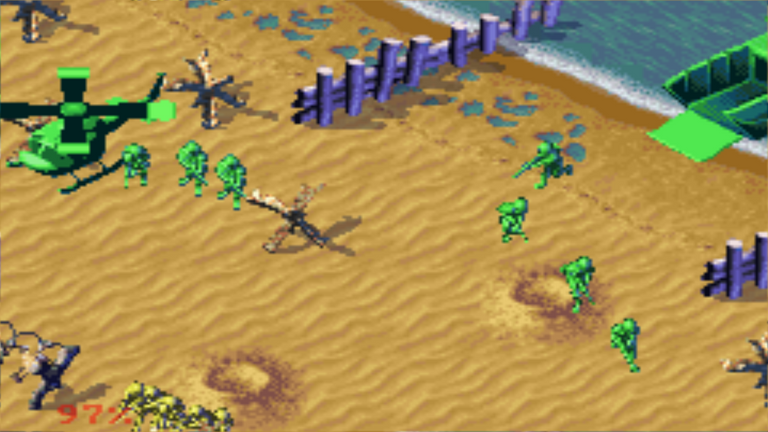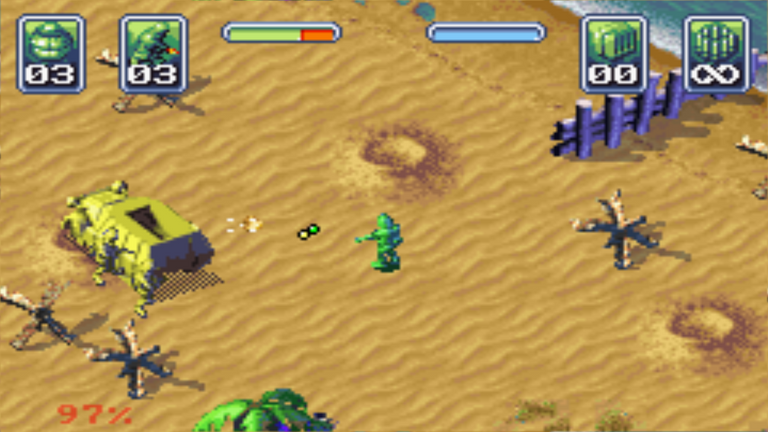 Army Men (Operation Green) cuenta con una historia que se puede considerar inspirada en la segunda guerra mundial y todo inicia con un desembarco en una playa lo cual podría estar basado en el Día D y el desembarco de Normandía, pero en esta aventura será el Día en la Playa. A pesar de que el juego comienza con el desembarco de varios soldados en la aventura solamente controlaremos a un único soldado de plástico verde y deberemos avanzar a través de las líneas enemigas repletas de soldados de plástico amarrillos los cuales serán la facción enemigos a la cual deberemos derrotar. En todas las misiones contamos con objetivos que debemos ir superando paso a paso para poder completar los niveles y los niveles son más extensos de lo que podríamos pensar.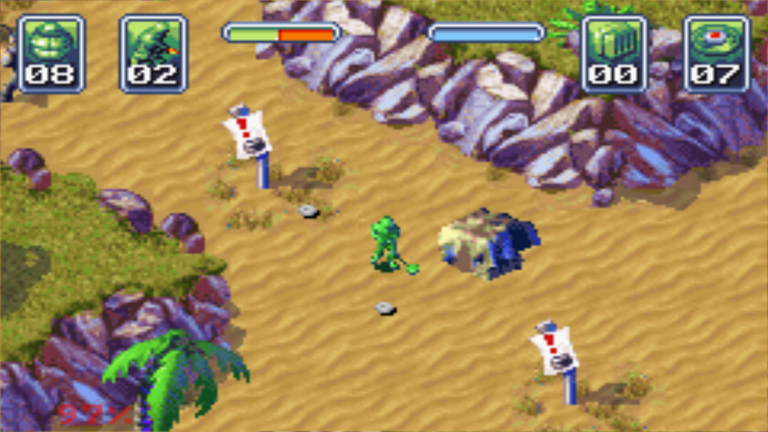 Las armas con las cuales contará nuestro soldado será un rifle de munición ilimitada, un rifle con mayor cadencia de tiro, pero el cual utiliza munición que podemos recoger por el escenario y también contaremos con granadas que podremos lanzar contra los enemigos las cuales, aunque pueden ser algo complicadas de apuntar de buena manera y ser algo lentas de lanzar son bastante útiles al contar con buen daño y un radio de explosión bastante amplio.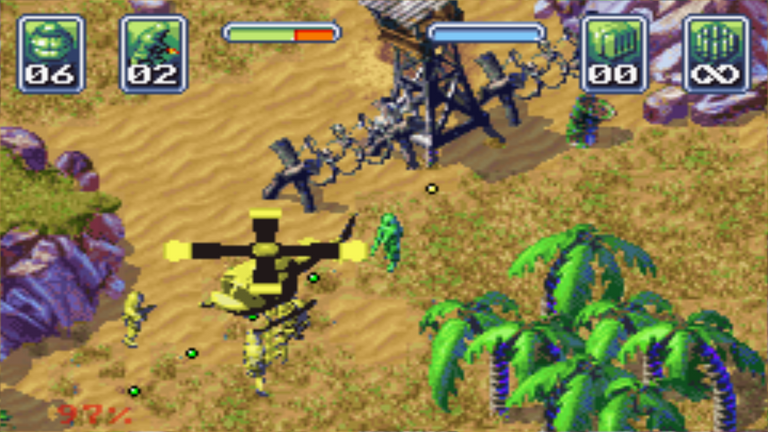 A diferencia de algunos videojuegos de guerra en este la vida de nuestro soldado no será la de un solo impacto, en su lugar contara con una barra de salud verde en la parte superior central de la pantalla y cada vez que recibimos daño sea por un impacto de bala enemigo o por daño de explosión como pueden ser las granadas o minas enemigas, nuestro personaje perderá una porción de salud en base al daño recibido. Del mismo modo contamos con una cantidad de vidas disponibles que se muestran al lado de la cantidad de granadas disponibles, cuando nuestro pequeño soldado de juguete pierde toda la salud también perderá una vida y en caso de contar aún con vidas extras podemos volver a revivir para continuar con la misión y sus objetivos.
Un aspecto positivo será que cuando pierdas una vida el soldado vuelve a aparecer en el mismo lugar en donde perdiste toda la salud y puedes continuar avanzado por el mapa sin haber perdido nada de tu progreso en el nivel como si puede suceder en aquellos videojuegos en donde cuando mueres vuelves a comenzar el nivel desde el principio. Del mismo modo podremos encontrar botiquines para recuperar la Salud al destruir cajas de recursos las cuales también pueden darnos munición y en ciertos puntos encontraremos corazones rojos que nos dan una vida extra.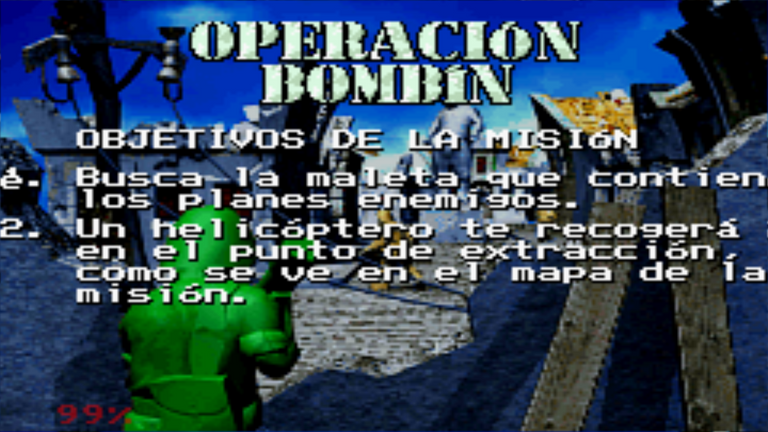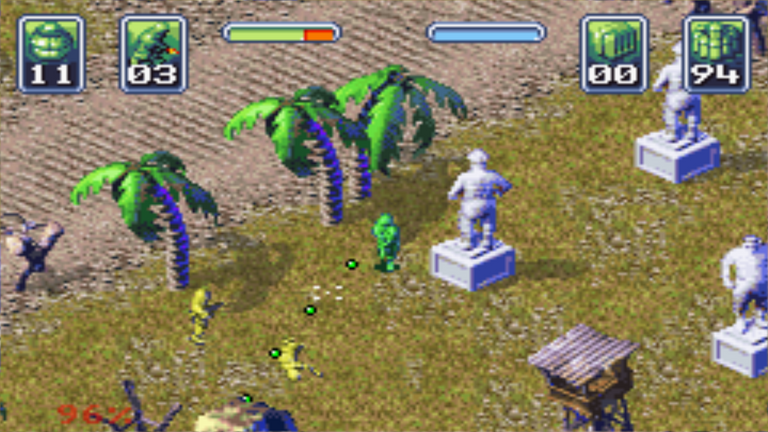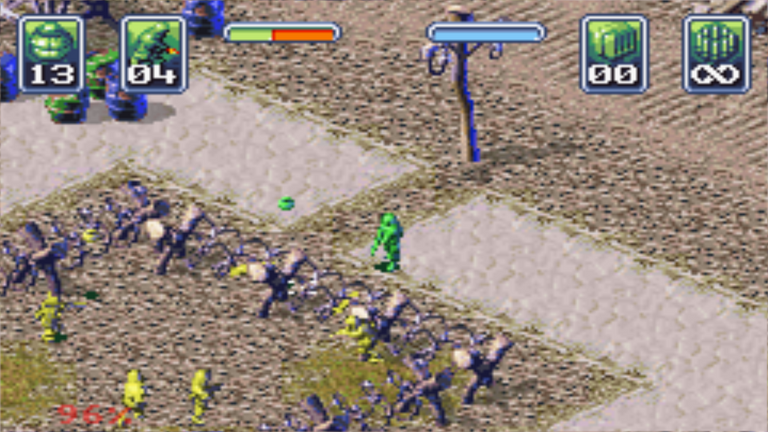 El estilo de la cámara de Army Men (Operation Green) será similar a una vista isométrica desde arriba, el resultado es una vista bastante cómoda y donde puedes ubicar de manera rápida a todos los enemigos bastante fácil y sin mayores inconvenientes. Por otro lado, el aspecto más incómodo y molesto de este videojuego serán sus controles de movimiento, los controles para disparar, cambiar de arma y lanzar granadas pueden llegar a resultar fáciles y sencillos de dominar en poco tiempo, pero el movimiento del soldado resulta en un control lento, tosco y bastante incomodo de manejar en un principio.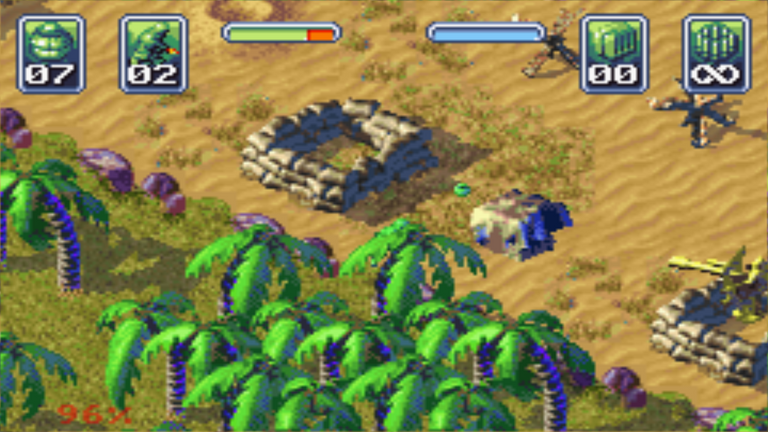 Con el Joystick o las flechas de dirección según sea el caso de cómo lo estés jugando o si lo juegas en Emulador con mando, controlan tanto el movimiento del personaje como la dirección en la cual apunta, esto se debe a que presionado la dirección vertical el soldado avanza en línea recta y al moverlo en las direcciones izquierda o derecha el girara sobre su eje en la dirección que presiones para luego desplazarse en línea recta cuando presionas el control vertical. Para moverte por el escenario puede resultar algo complicado, pero a la hora de intentar apuntarle de manera rápida a los enemigos, así como tratar de esquivar sus proyectiles se vuelve muy incomodo de dominar en un comienzo. También puedes desplazarte de manera lateral una corta distancia cada vez que presionas los gatillos derecho e izquierdo, con este método puede resultar más sencillo combatir y esquivar a un solo enemigo, pero cuando son varios suele ser complicado.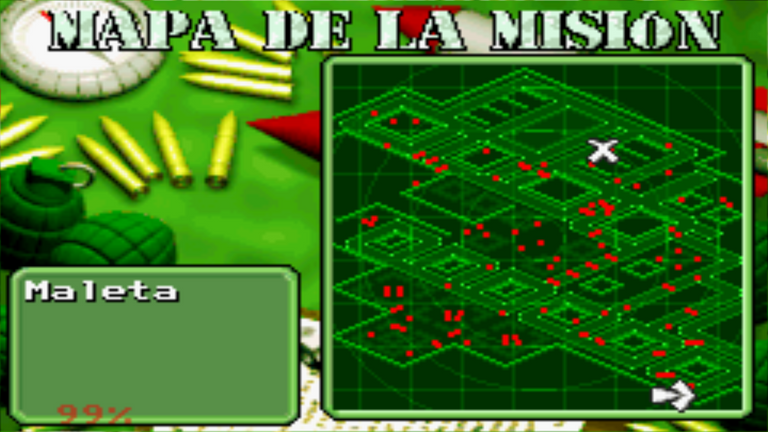 Army Men (Operation Green) a pesar de tratarse de un videojuego para la GBA es bastante extenso en sus niveles y desde el menú podemos abrir el mapa con lo cual veremos el tamaño de todo el escenario que deberemos superar, así como también veremos una serie puntos rojos los cuales nos señalaran a todos los enemigos que hay por el mapa de manera que incluso podremos saber cuántos enemigos nos encontraremos y en que parte del mapa se encuentran, como en este título no contamos con la opción para guardar nuestro progreso si contaremos con las contraseñas que se generan al completar cada nivel y con las mismas podemos volver a comenzar el ultimo nivel al que llegamos sin tener que volver a jugar todo el título desde el comienzo. A pesar de contar con los gráficos algo limitados de la GameBoy Advance el resultado tanto de los soldados como de los escenarios y vehículos con diseños de juguetes de plástico termina siendo bastante agradable a la vista y le da un aspecto más divertido a este título.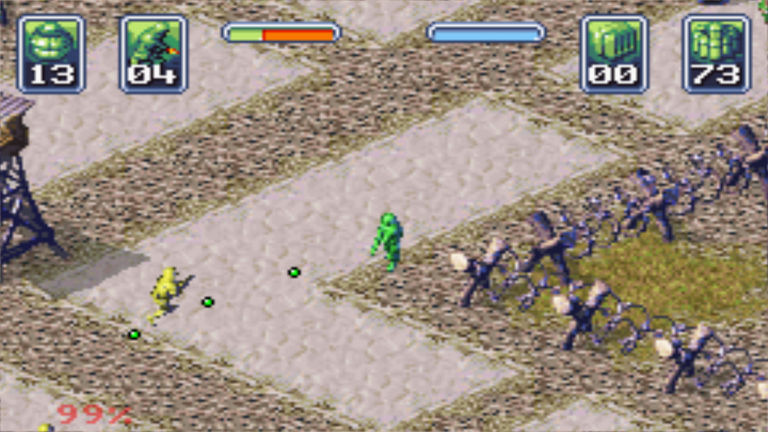 Source
All Images Are Screenshots Of My Monitor
---
Separator Images:
Separator II Images:
---
---