Rising Star Game - Progress In My Nineteenth Week [ENG -ESP]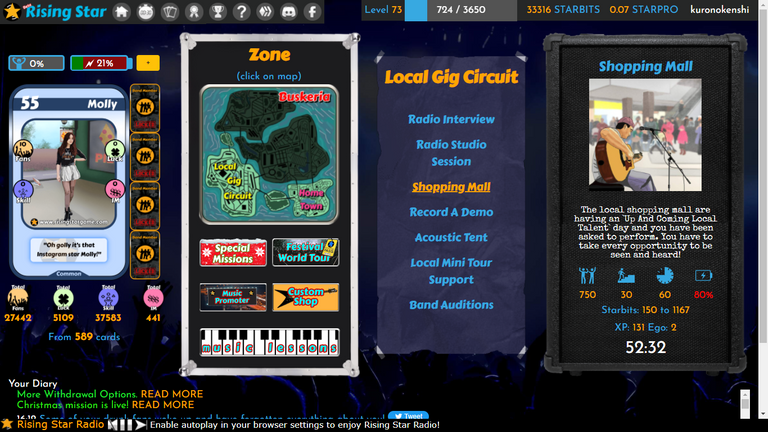 A strong greeting to all the Rising Star Game, I hope you are advancing wonderfully in your accounts and if you still don't play what are you waiting for to start. As every week I continue with my progress post and I have already reached week number 19 since I started in Rising Star, almost reaching 5 months. This time I bought again a combo of 12 packs of cards for 100K Starbits in order to get the new Christmas season card and continue my relentless search for my first legendary card. Below, I will show you the opening of the 12 packs of cards: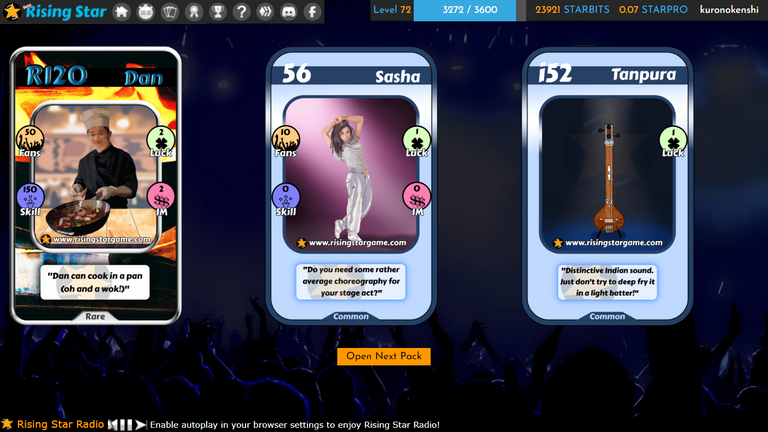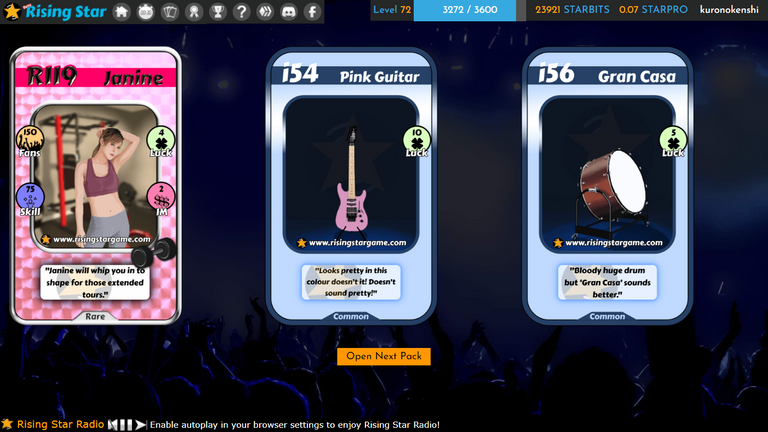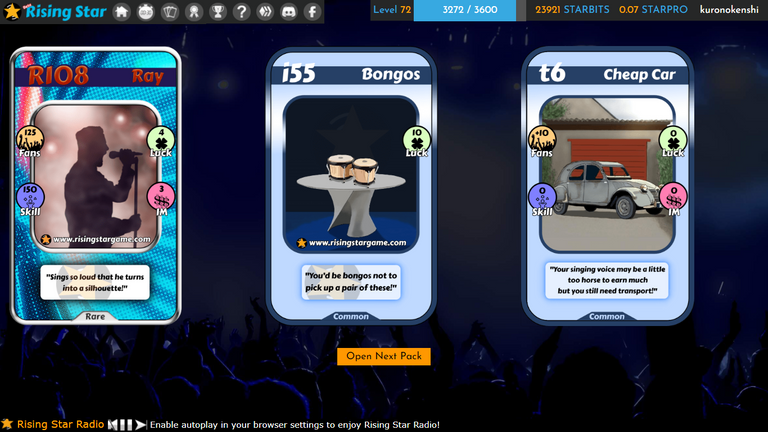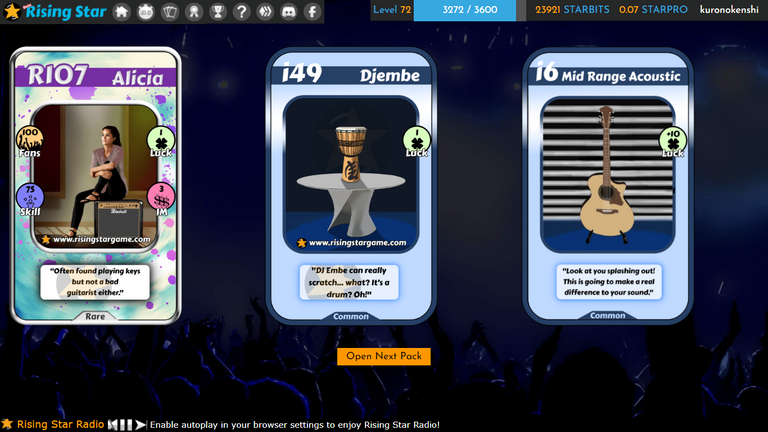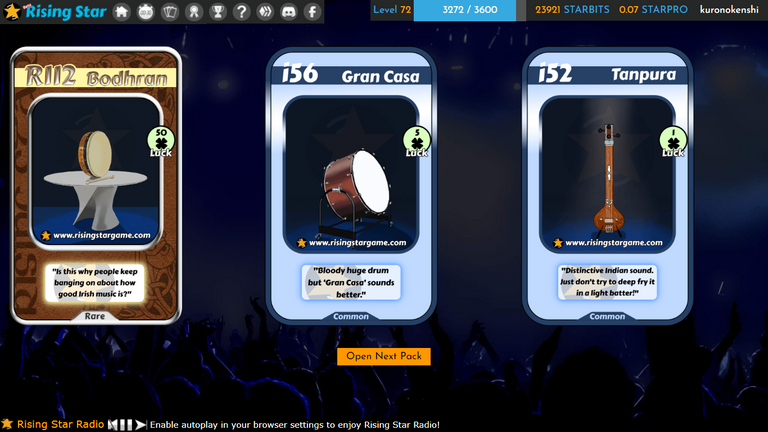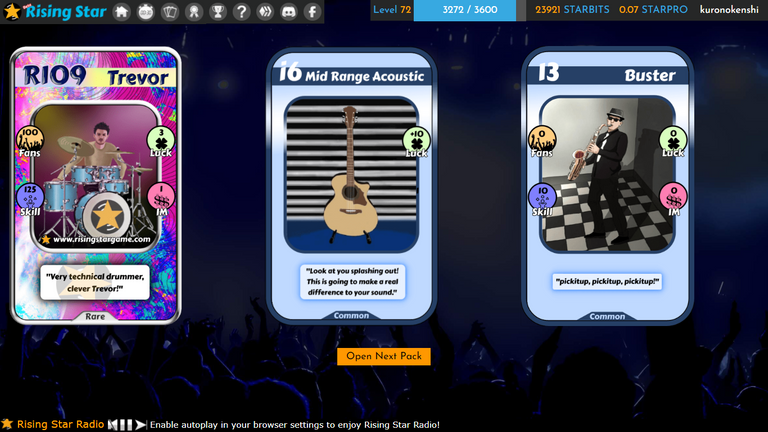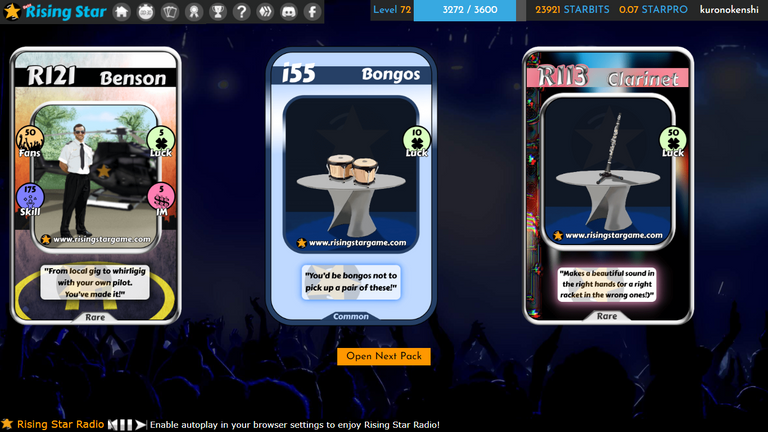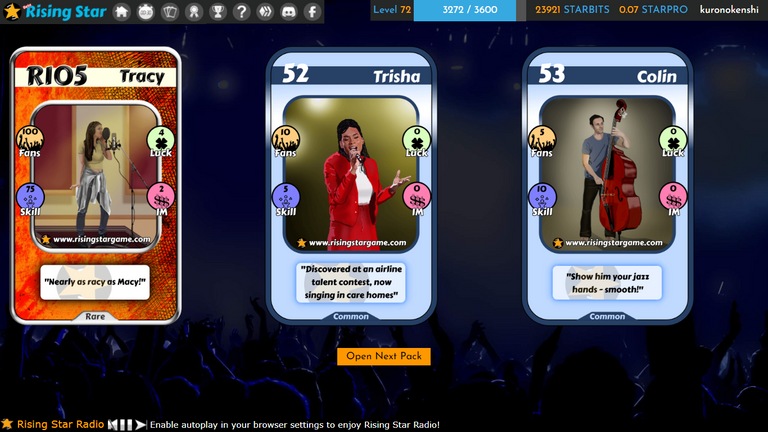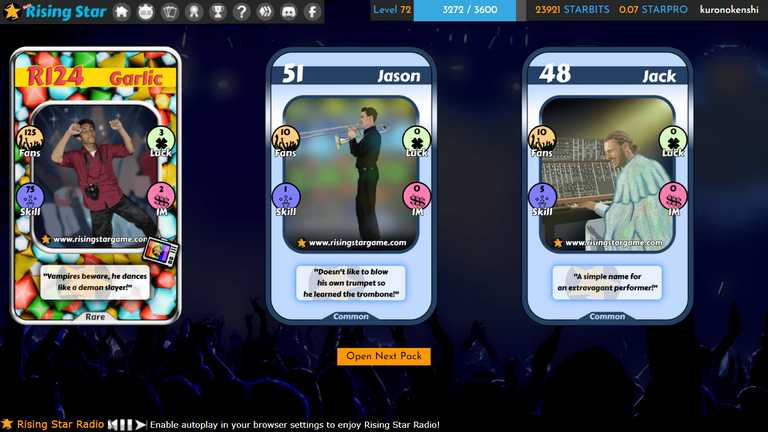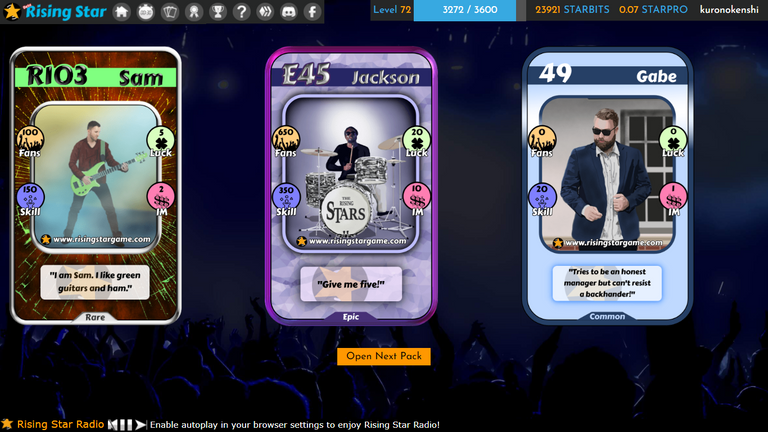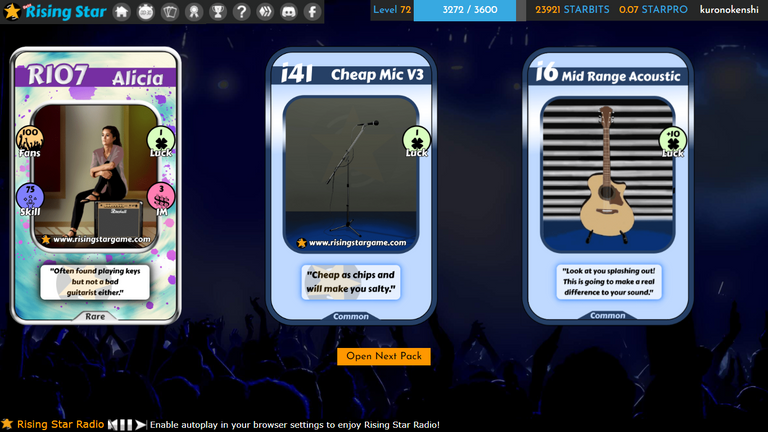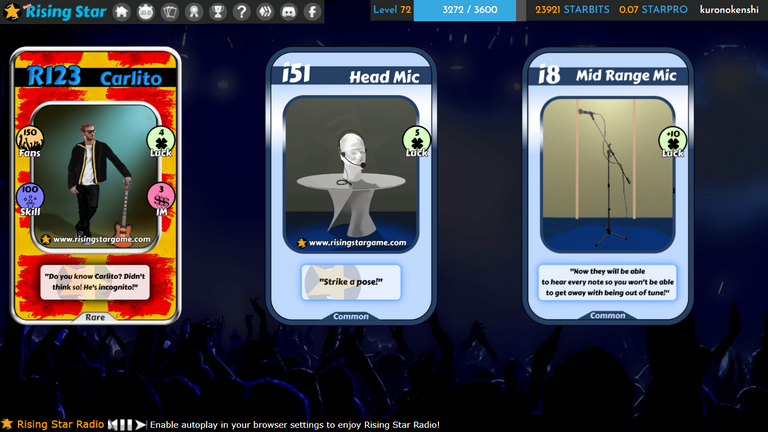 Unfortunately I did not manage to get the seasonal card so I will have to buy another 12 envelopes of cards to get it and start doing the seasonal mission to get the Christmas instruments especially the production card. In spite of not being able to get the special card I managed to get a good amount of rare musicians which give me a great number of FANS and SKILL. In the same way I was again lucky enough to get an Epic card in my 12 packs of cards and this epic card was: E45 Jackson. A new Epic card that I didn't have yet and that brings 650 FANS, 350 SKILL, 20 LUCK and 10 IM. A very good card to quickly increase the FANS while providing a considerable number of SKILL.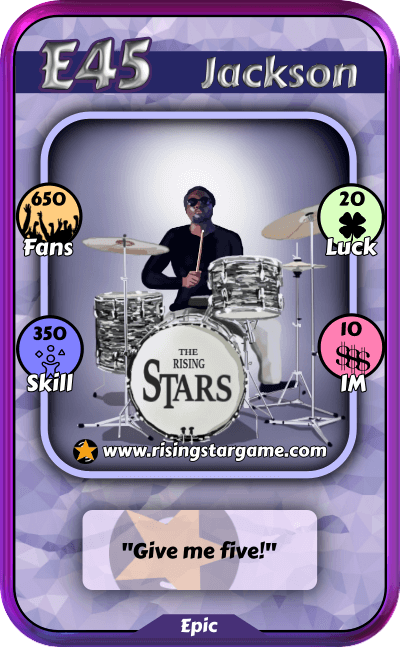 I have almost reached the 3000 completed missions, actually I am already at 2992 so in the course of the day I will get the 3000 and the pack of free cards. My total stats are: 26905 FANS, 5109 LUCK, 37583 SKILL of which 17356 are product of the music lessons, and lastly 441 IM. All this for a total of 589 cards. I'm currently at level 73 so I'm less and less to start with the band auditions and try to build my band to gain access to the third island. This week I will try to open another 12 envelopes to try again to get the special Christmas card.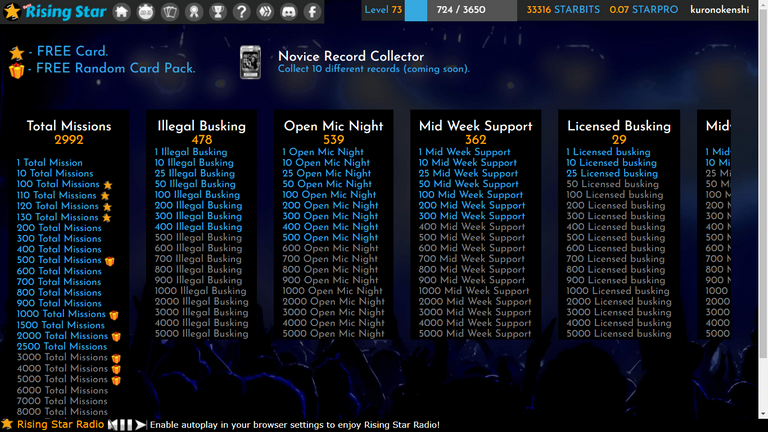 Translated with www.DeepL.com/Translator (free version)
All images were taken from my Rising Star account
Separator Images:
---
---

---
---
Español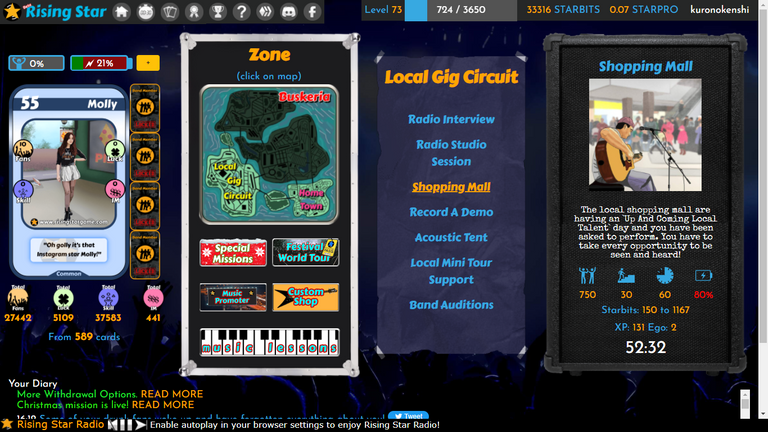 Un fuerte saludo para todos el Rising Star Game, espero que estén avanzando de maravilla en sus cuentas y si aún no juegan que esperan para empezar. Como todas las semanas continuo con mis post de avances y ya he llegado a la semana número 19 desde que comencé en Rising Star, ya casi llegando a los 5 meses. En esta ocasión volví a comprar un combo de 12 sobres de cartas por 100K Starbits con el objetivo de conseguir la nueva carta de temporada navideña y seguir con mi búsqueda incesante de mi primera carta legendaria. A continuación, les mostraré la apertura de los 12 sobres de cartas: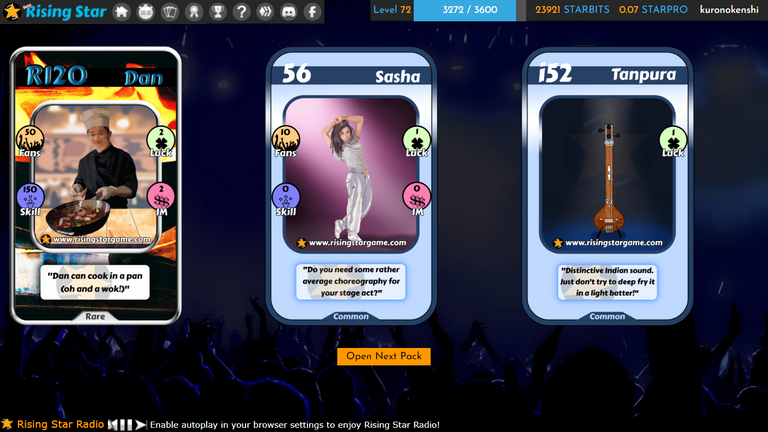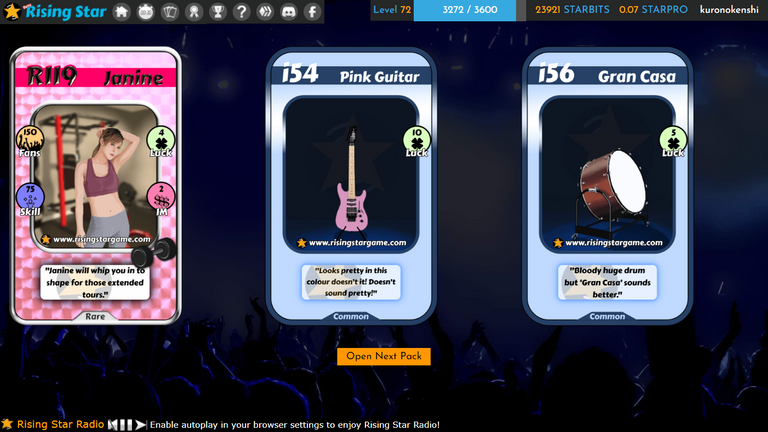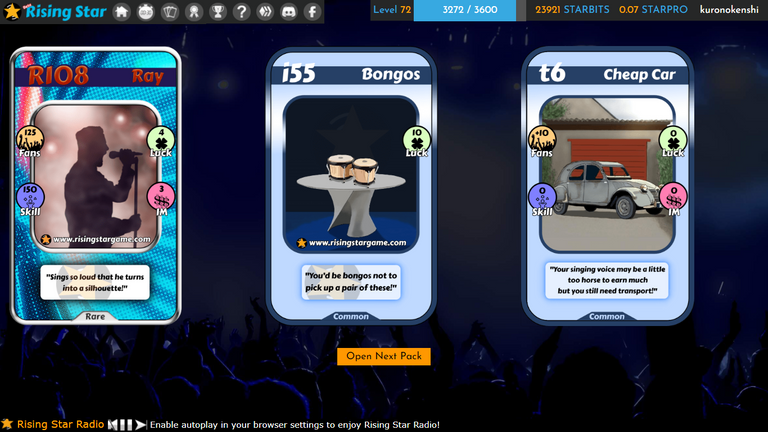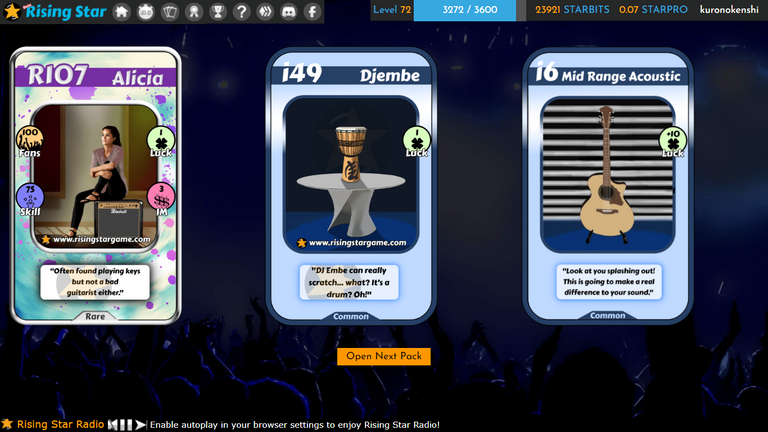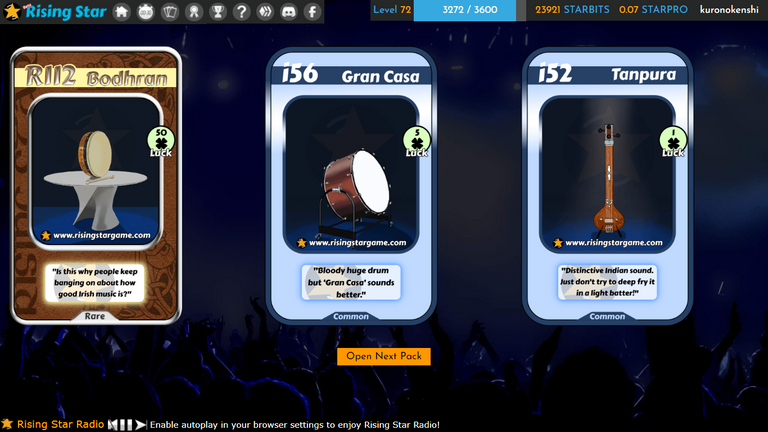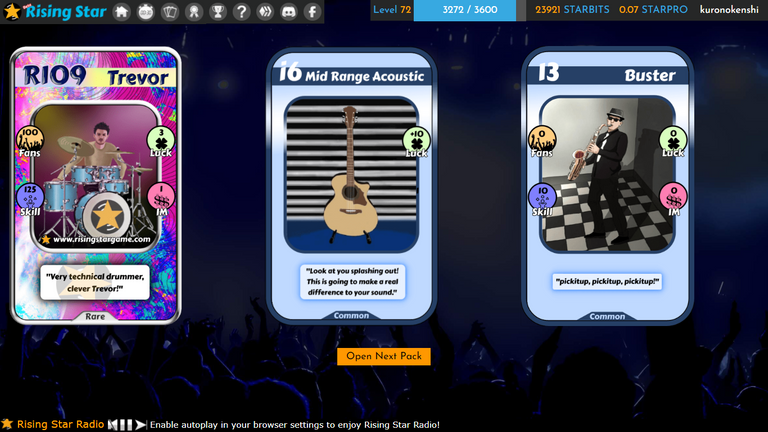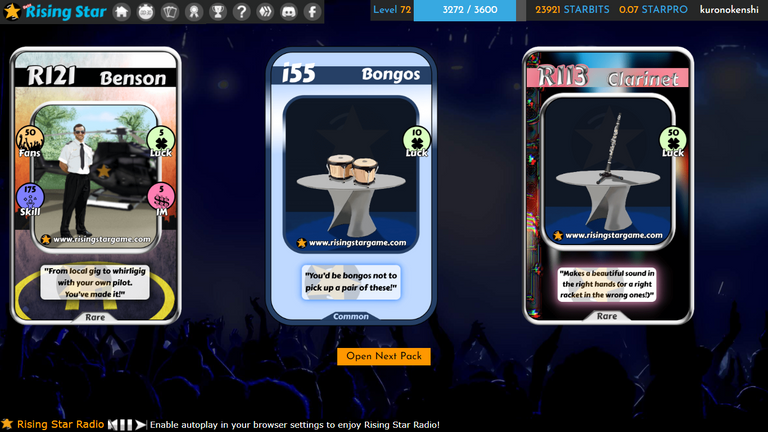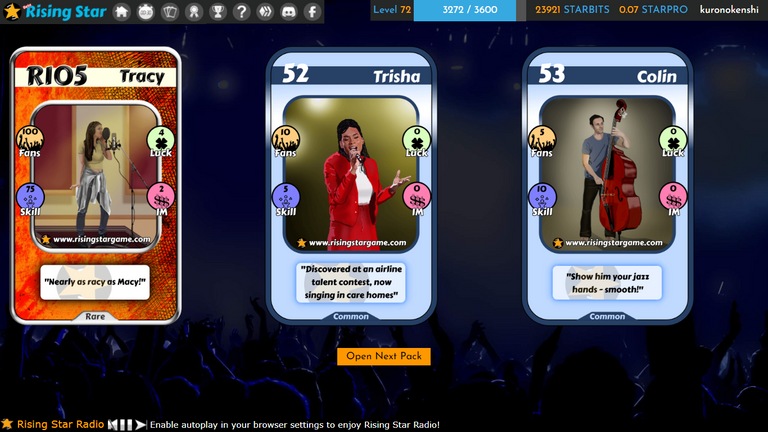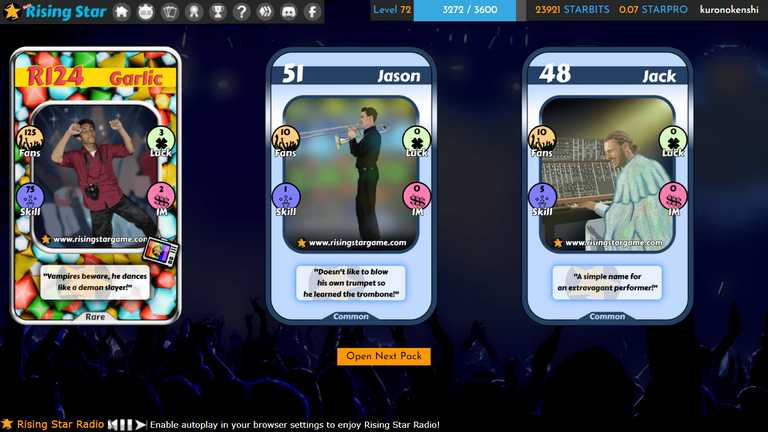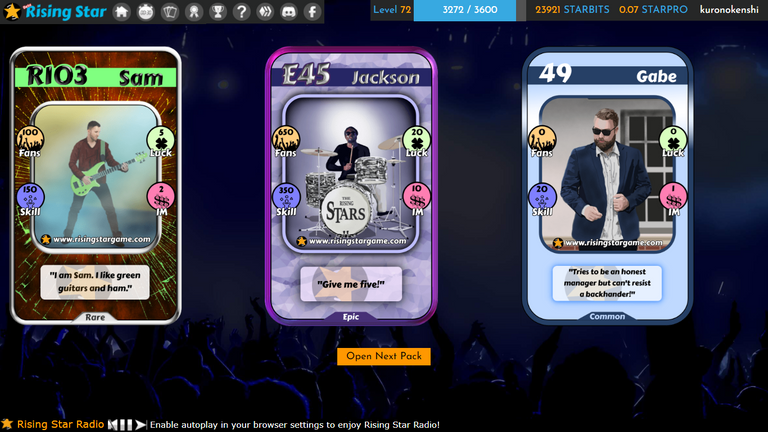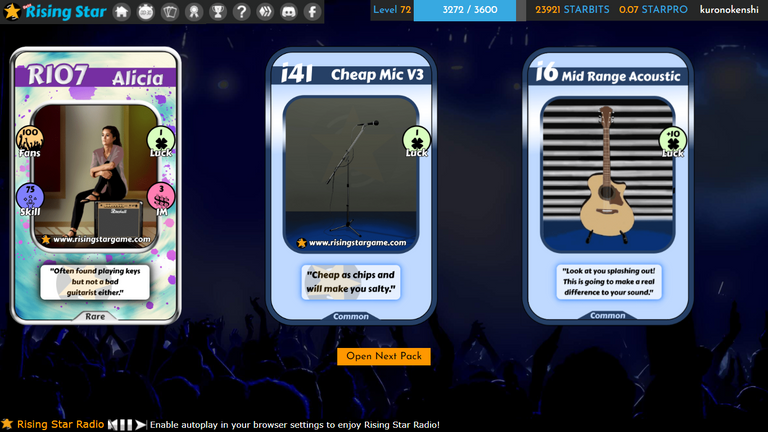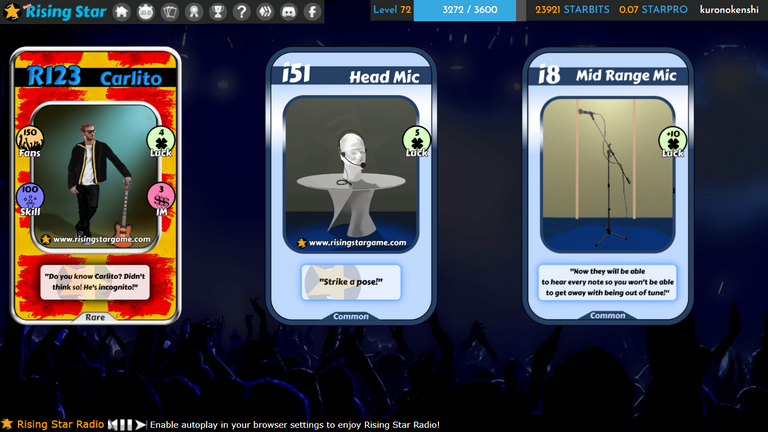 Desafortunadamente no logre conseguir la carta de temporada por lo cual deberé comprar otros 12 sobres de cartas para conseguirla y empezar a realizar la misión de temporada para conseguir los instrumentos navideños en especial la carta de producción. A pesar de no lograr conseguir la carta especial logre conseguir una buena cantidad de músicos raros los cuales me aportan un gran número de FANS y SKILL. De igual forma volví a contar con la suerte de obtener una carta Épica en mis 12 sobres de cartas y esta carta épica fue: E45 Jackson. Una carta épica nueva que aún no tenia y que aporta 650 FANS, 350 SKILL, 20 LUCK y 10 IM. Una muy buena carta para aumentar de forma rápida los FANS al mismo tiempo que aporta un número considerable de SKILL.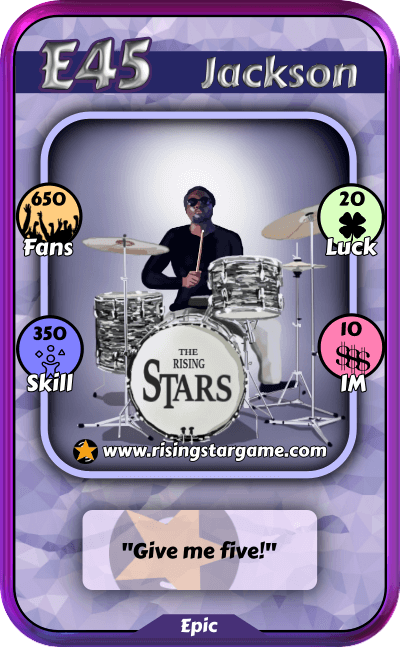 Ya prácticamente alcancé las 3000 misiones completadas, en realidad ya estoy en 2992 por lo cual en el trascurso del día conseguiré las 3000 y el sobre de cartas gratis. Mis estadísticas totales quedaron en: 26905 FANS, 5109 LUCK, 37583 SKILL de las cuales 17356 son producto de las lecciones de música, y por ultimo 441 IM. Todo esto con un total de 589 cartas. Actualmente estoy en el nivel 73 por lo cual cada vez falta menos para poder empezar con las audiciones de banda y buscar armar mi banda para de esa manera lograr acceder a la tercera isla. Esta semana buscare abrir otros 12 sobres para intentar nuevamente conseguir la carta especial de navidad.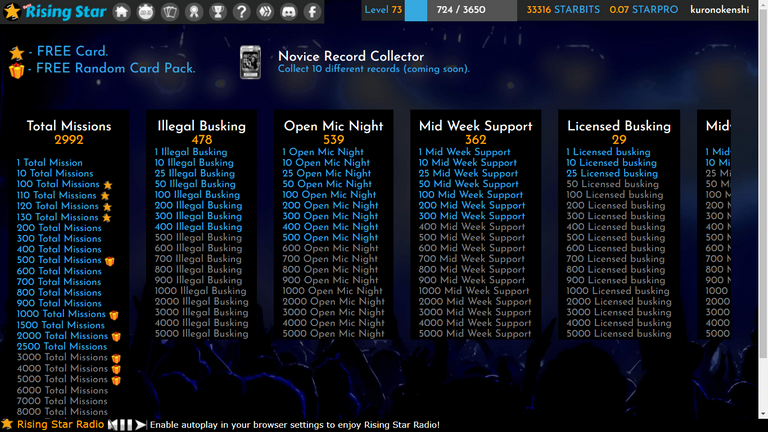 All images were taken from my Rising Star account
---
Separator Images:
---
---