Rising Star Game - Progress In My Twentieth Week [ENG -ESP]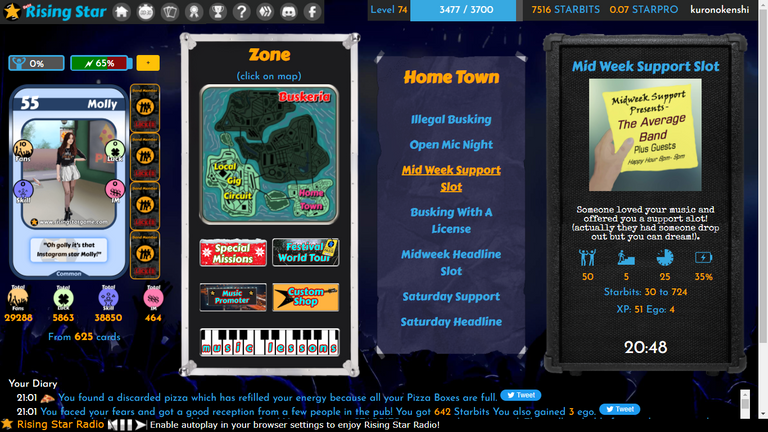 A big hello to everyone at Rising Star Game. Today I will continue with my weekly preview posts and this will be a special occasion for several reasons. First of all, this is my 20th weekly preview post which means that I have reached 20 weeks or 5 months since I started playing Rising Star Game which was a time that went by much faster than expected, secondly, this week I opened 12 packs again thanks to the 12 pack combo for 100K Starbits in addition to the free pack I got for completing 3000 missions. This has been my best opening of booster packs to date and now I will show you all the opened booster packs: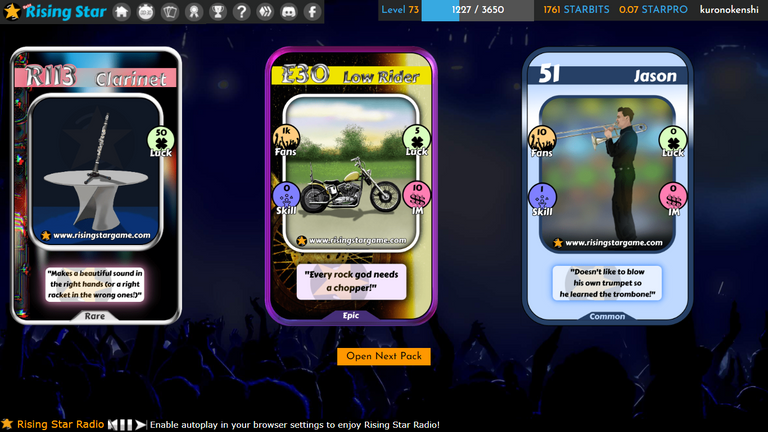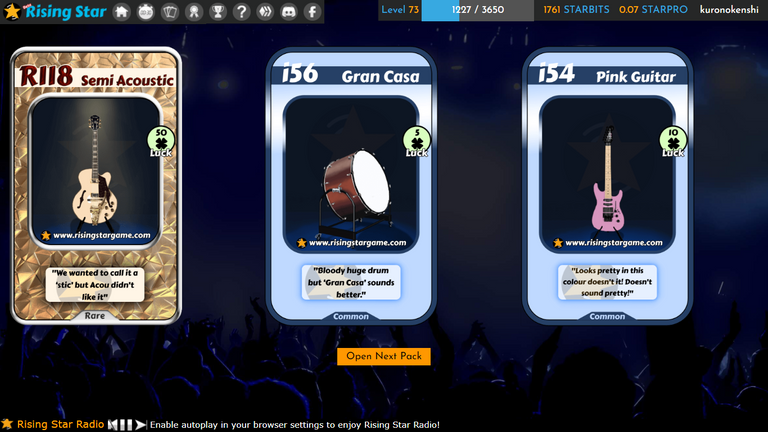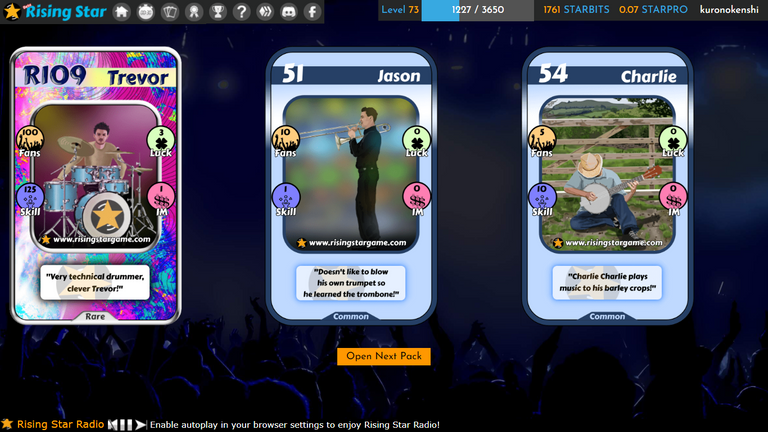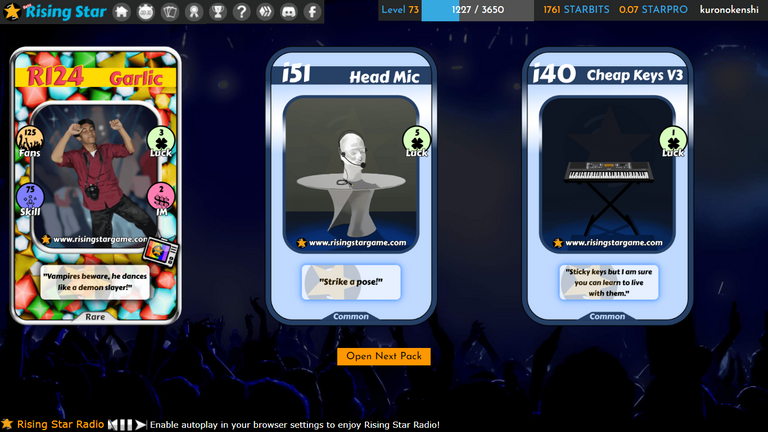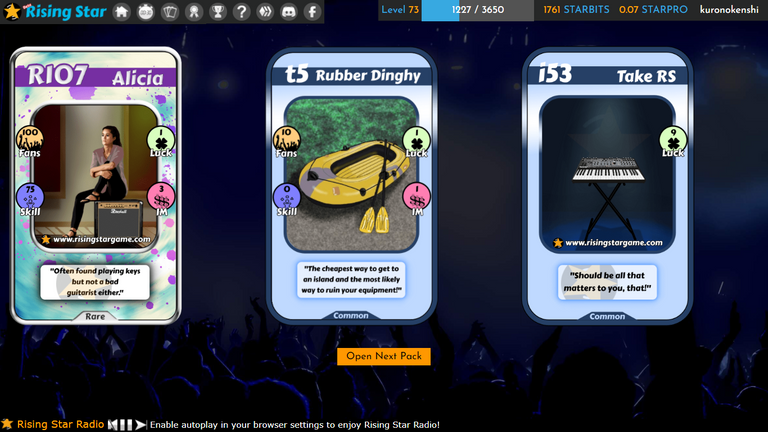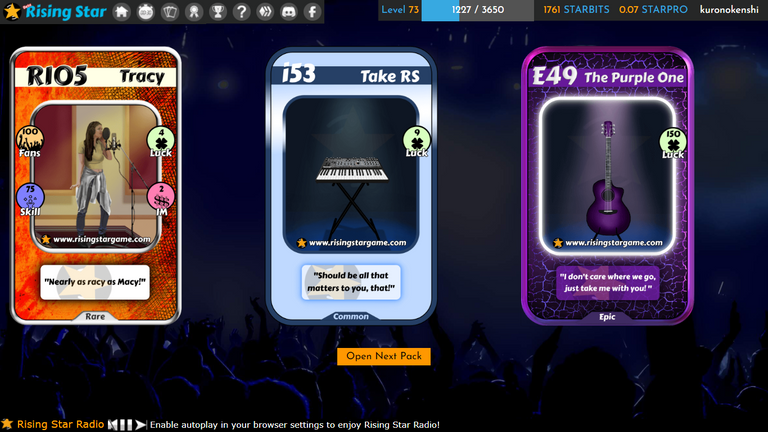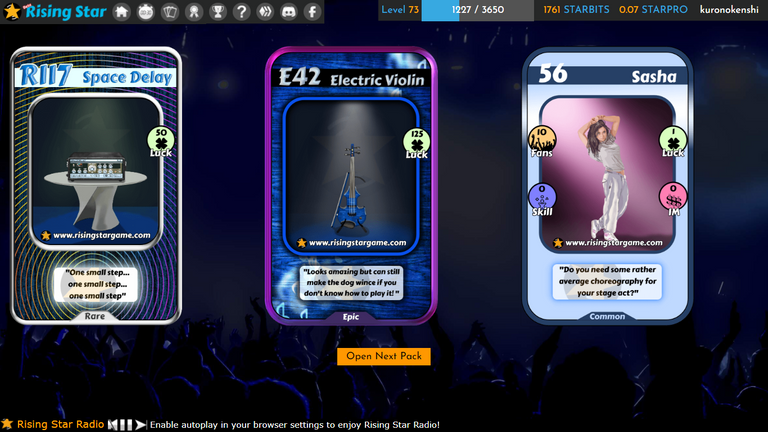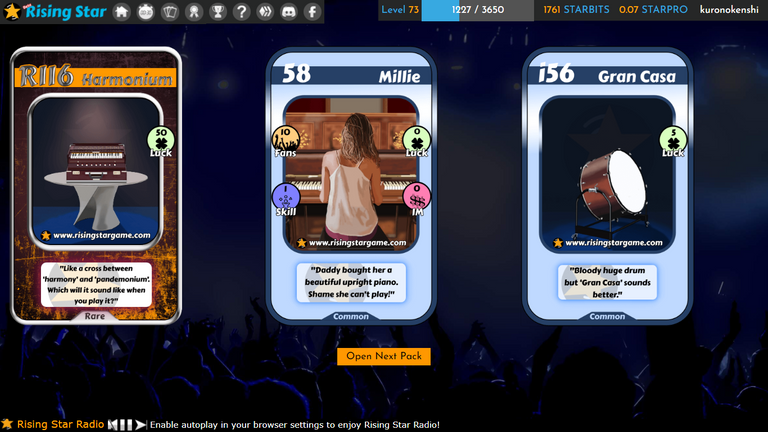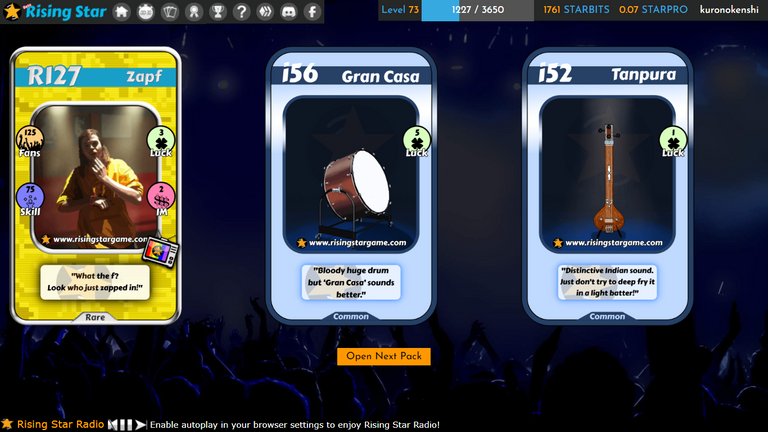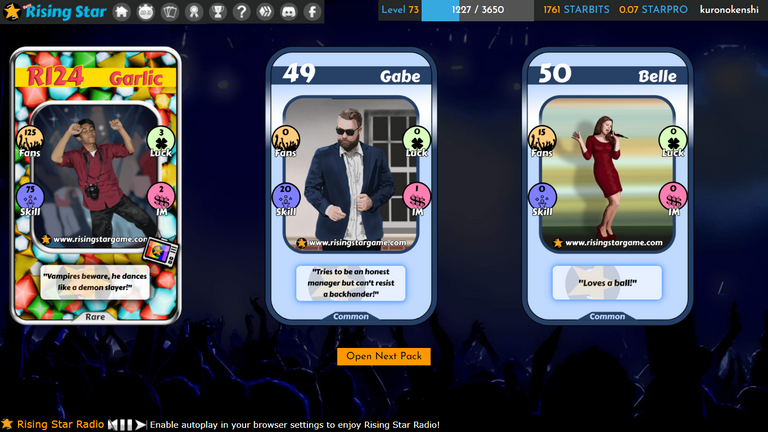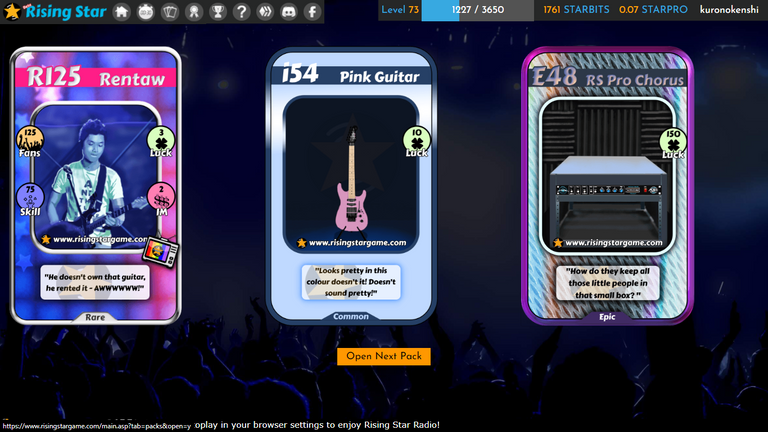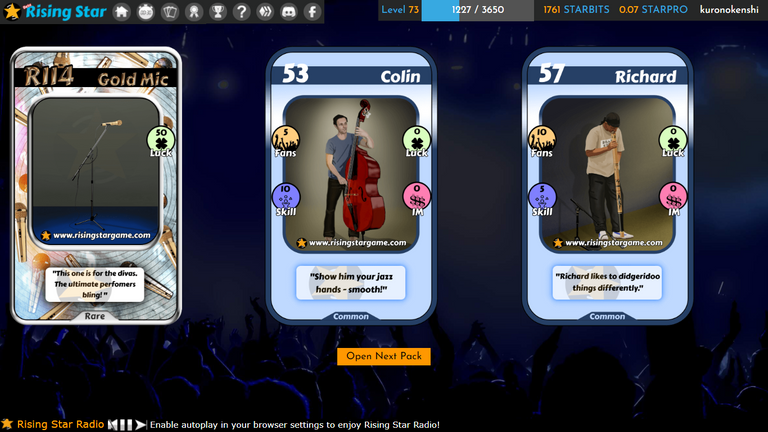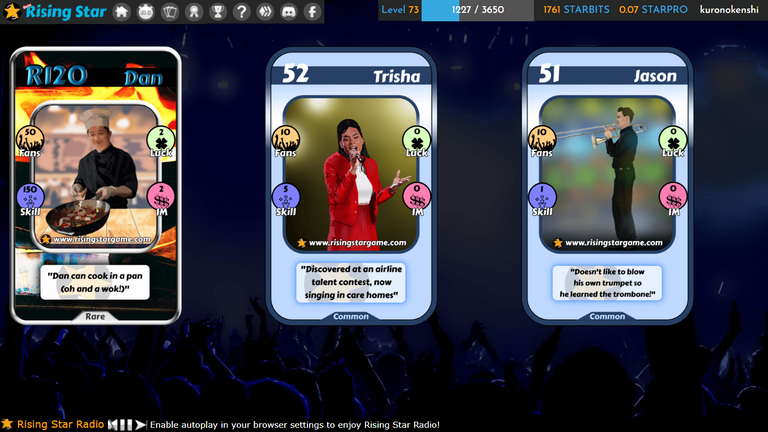 ---
Unfortunately I still don't get my first legendary card, but despite that I counted with great luck to get a total of 4 Epic cards in these 13 booster packs. The Epic cards I got were: E30 Low Rider which is a motorcycle style vehicle that I had considered buying but in the end I got in envelopes and it brings me 1000 FANS, 5 LUCK and 10 IM, the other epics were instruments like E49 The Purple One, a guitar of 150 LUCK quite nice in design but that does not serve me for the music lessons, E43 Electric Violin that has 125 LUCK that belongs to the Orchestra lessons, and finally E48 RS Pro Chorus which brings 150 LUCK and just helps with the lessons of production music so it serves me quite well.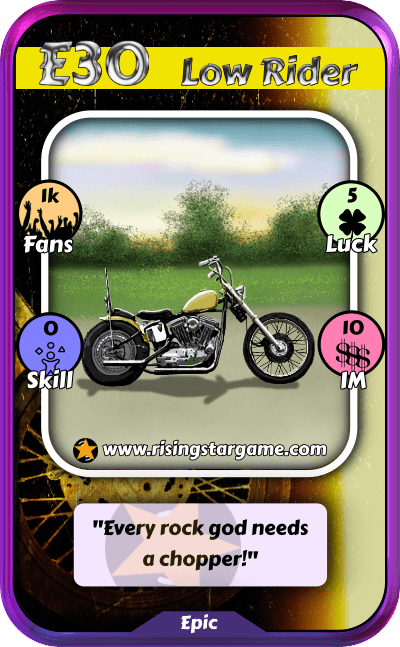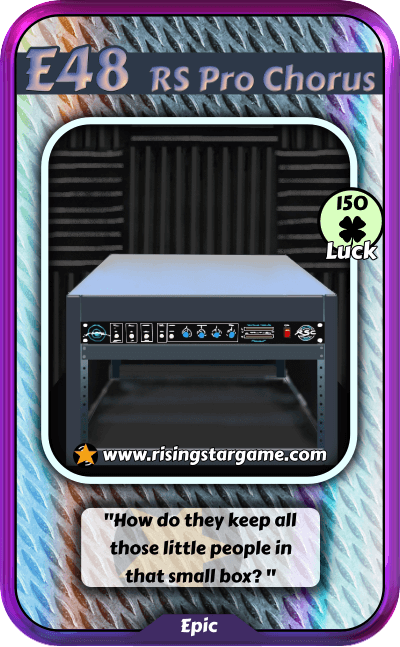 ---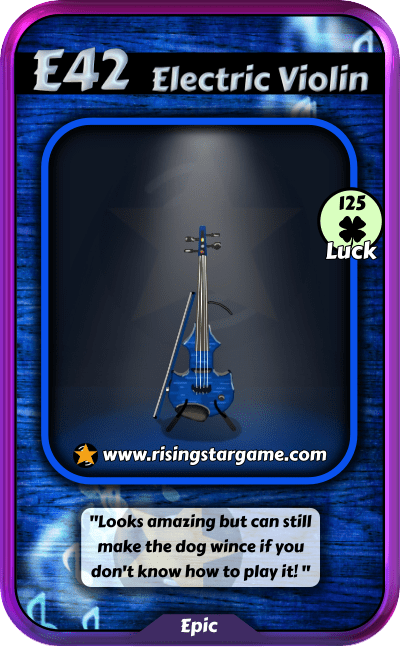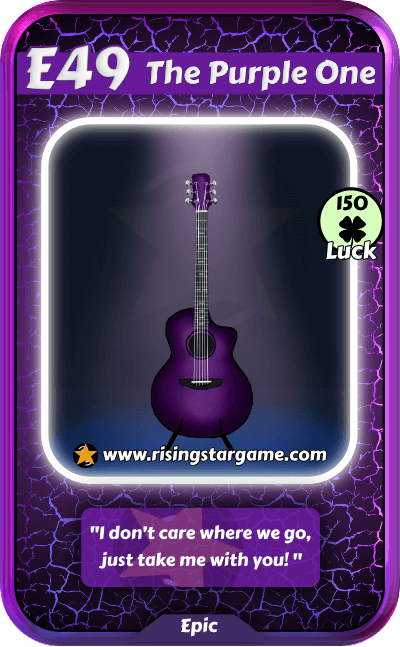 After all this opening of envelopes my general statistics increased in good measure and the same ones remained in a total of: 28535 FANS, 5863 LUCK, 38850 SKIL of which 18244 are product of the lessons of music, and finally a total of 464 IM. All this from a total of 625 NFT cards, I have also reached a total of 3145 completed missions. Additionally I am already at level 75 and I calculate that in the course of the day I will reach this level and with it I can start doing the mission to try to get the members of the Band and in this way I can finally reach the third island, although getting all the band members may take much longer than expected.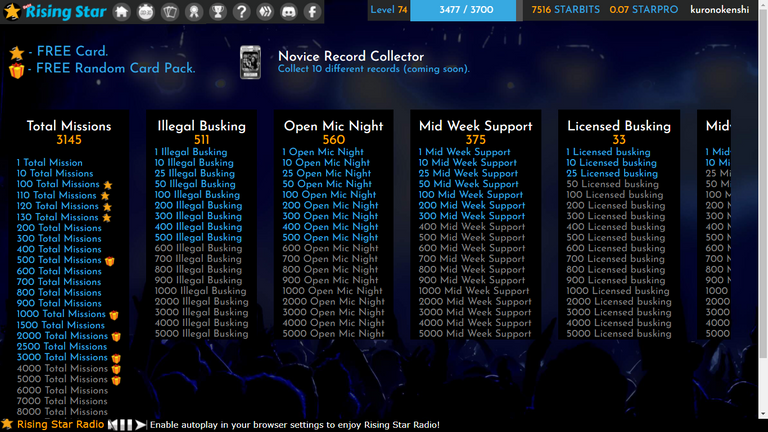 Translated with www.DeepL.com/Translator (free version)
All images were taken from my Rising Star account
Separator Images:
---
---

---
---
Español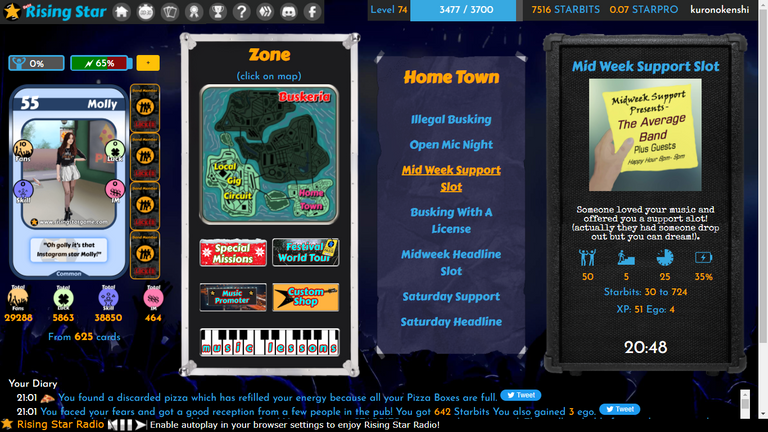 Un fuerte saludo para todos en Rising Star Game. El dia de hoy continuare con mis post de avances semanales y esta será una ocasión especial por varios factores. Primero que nada, este es mi post de avance semanal numero 20 lo cual significa que ya llegué a las 20 semanas o 5 meses desde que empecé a jugar Rising Star Game el cual fue un tiempo que se pasó mucho más rápido de los esperado, en segundo lugar, esta semana volví abrir 12 sobres gracias al combo de 12 sobres por 100K Starbits adicionalmente al sobre que obtuve gratis gracias a completar 3000 misiones. Esta ha sido mi mejor apertura de sobres hasta la fecha y ahora les mostrare todos los sobres abiertos: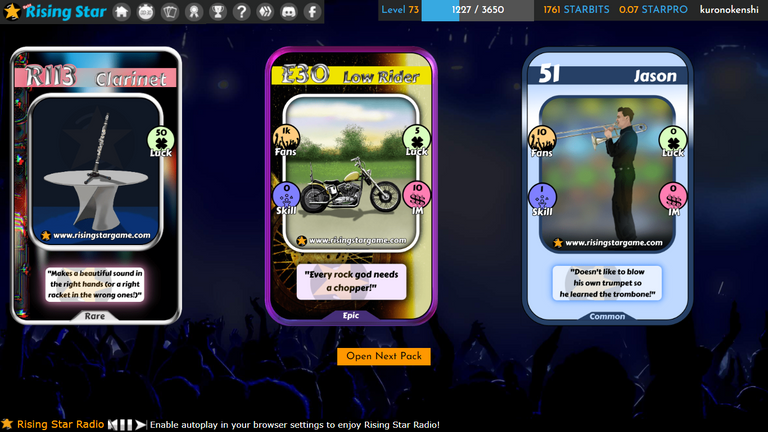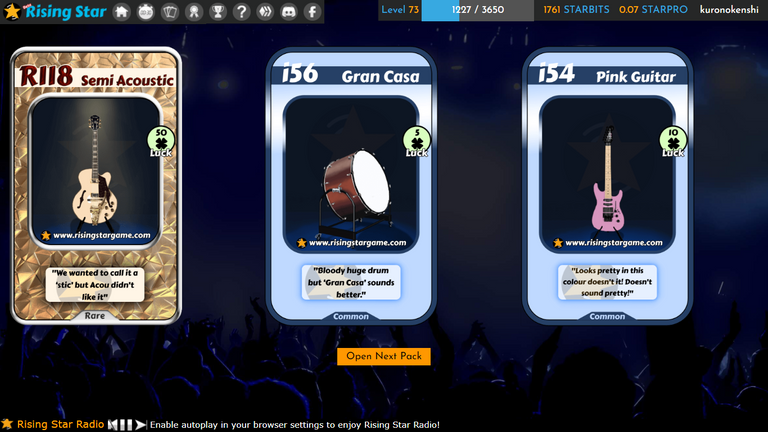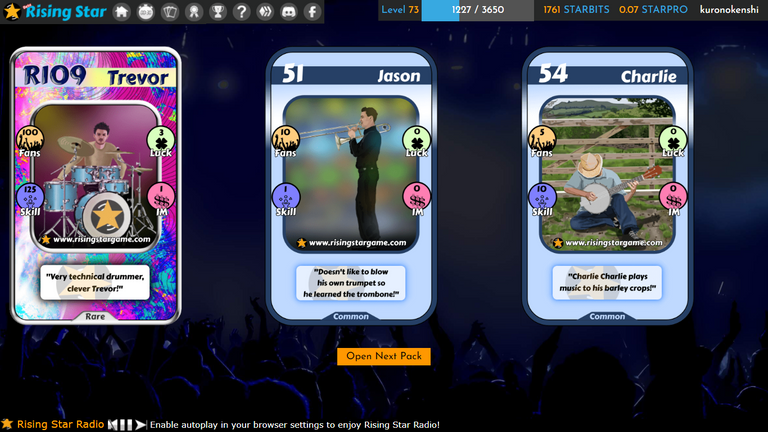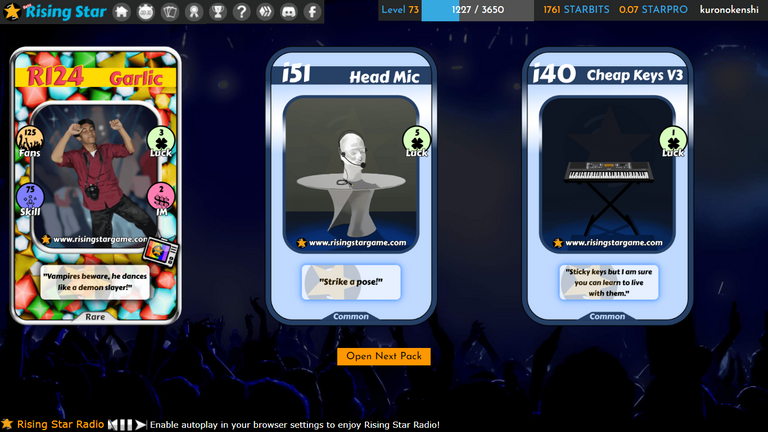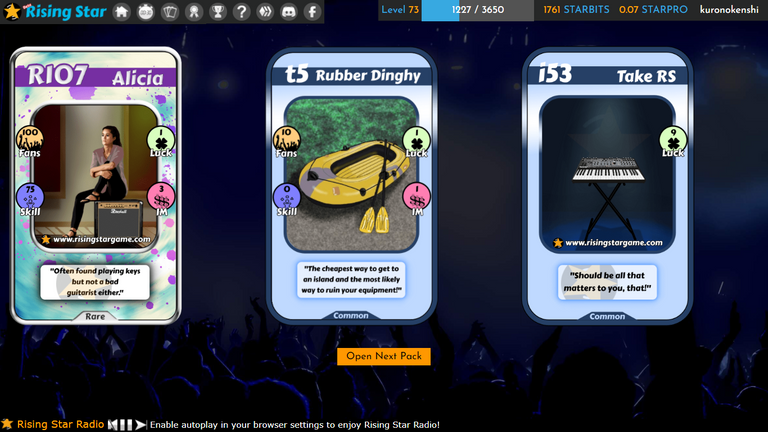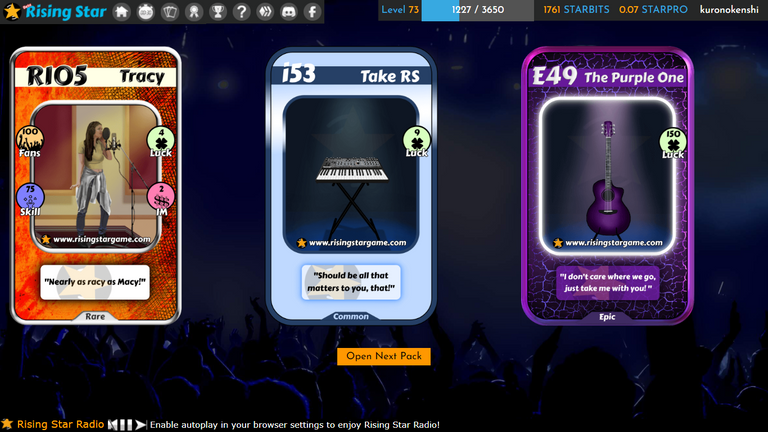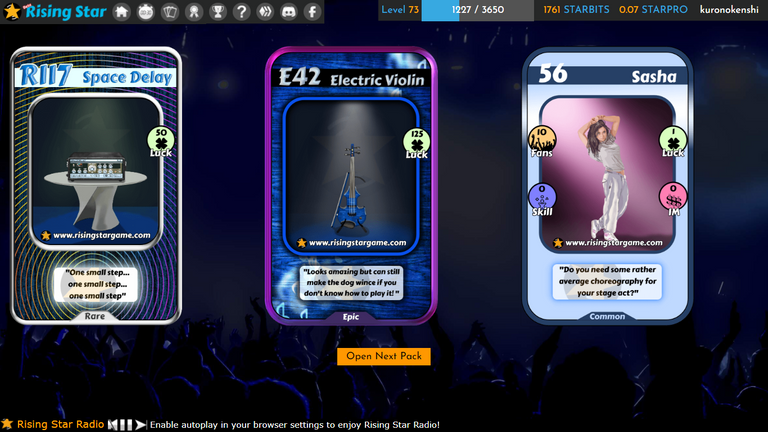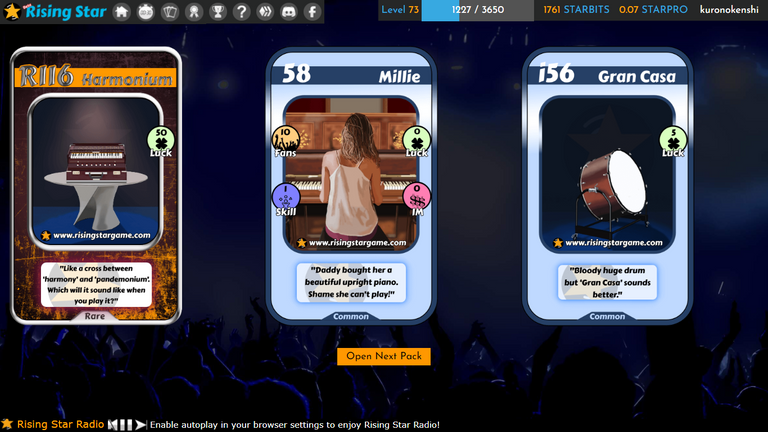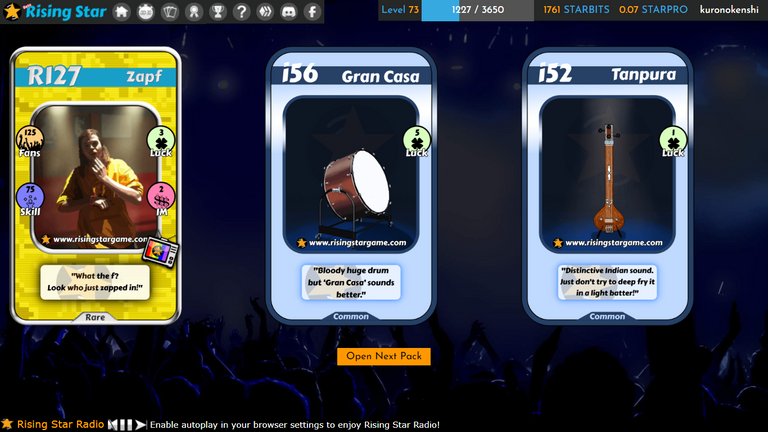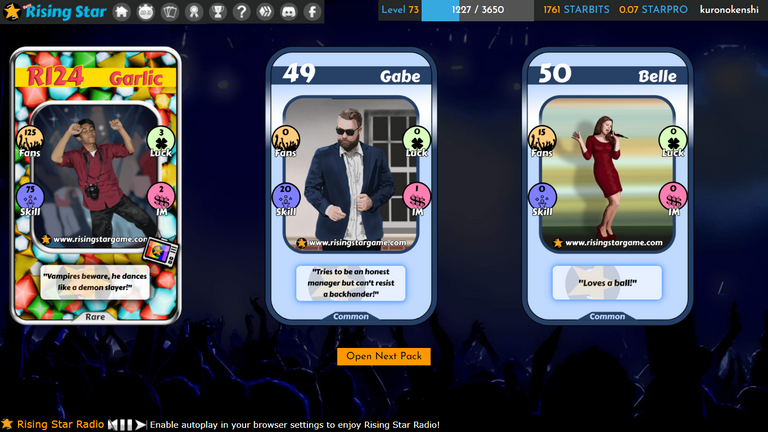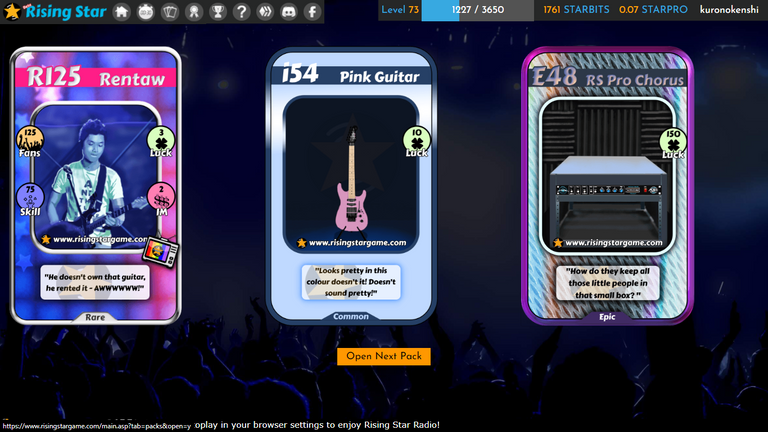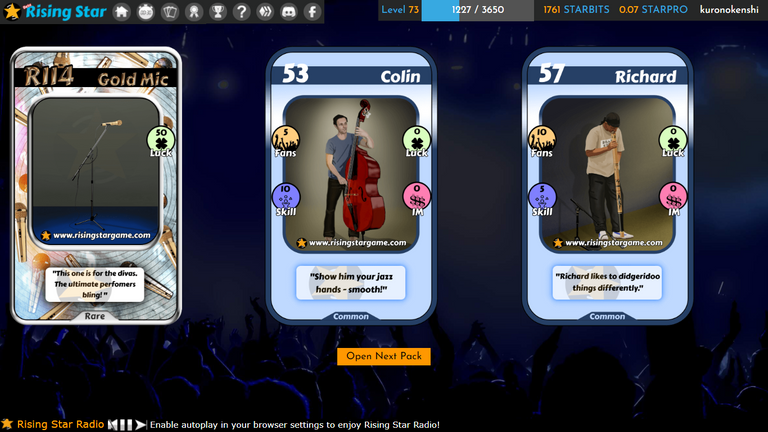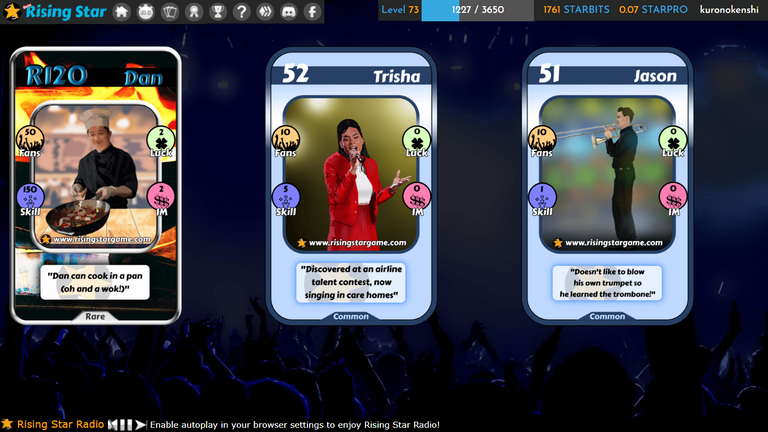 Desafortunadamente aun no consigo mi primera carta legendaria, pero a pesar de eso conté con una gran suerte al conseguir un total de 4 cartas Épicas en estos 13 sobres. Las cartas épicas que obtuve fueron: E30 Low Rider la cual es un vehículo estilo motocicleta que me había planteado comprar pero que al final conseguí en sobres y la misma me aporta 1000 FANS, 5 LUCK y 10 IM, las demás épicas fueron instrumentos como E49 The Purple One, una guitarra de 150 LUCK bastante bonita en diseño pero que no me sirve para las lecciones de música, E43 Electric Violin que tiene 125 LUCK que pertenece a las lecciones de Orquesta, y por ultimo E48 RS Pro Chorus la cual aporta 150 LUCK y justamente ayuda con las lecciones de música de producción por lo cual me sirve bastante.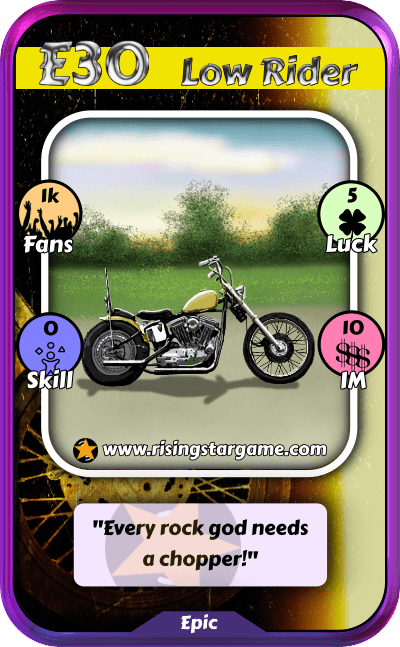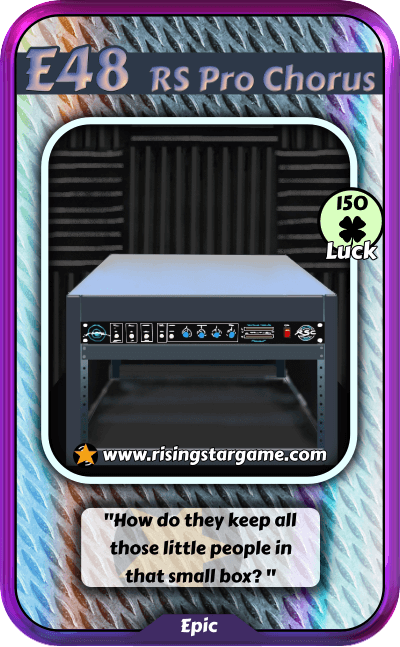 ---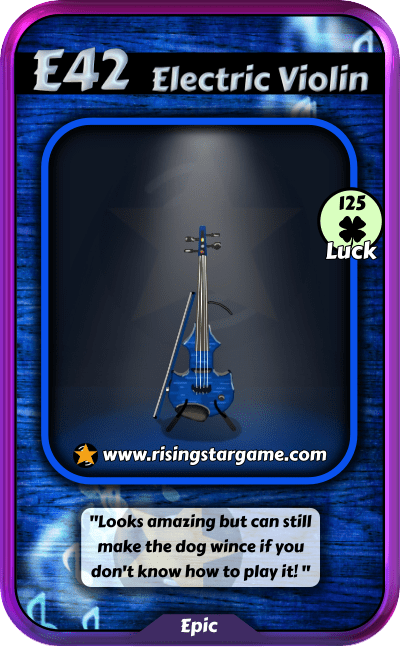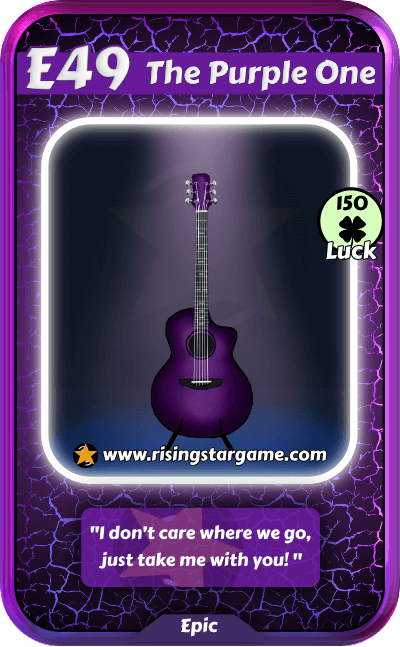 Luego de toda esta apertura de sobres mis estadísticas generales aumentaron en buena medida y las mismas quedaron en un total de: 28535 FANS, 5863 LUCK, 38850 SKIL de los cuales 18244 son producto de las lecciones de música, y por ultimo un total de 464 IM. Todo esto de un total de 625 cartas NFT, del mismo modo llegue a un total de 3145 misiones completadas. Adicionalmente ya me encuentro a nada del nivel 75 y calculo que en el trascurso del día lograre alcanzar dicho nivel y con ello podre empezar a hacer la misión para ir tratando de conseguir a los miembros de la Banda y de esa manera poder por fin alcanzar la tercera isla, aunque conseguir a todos los miembros de banda puede demorar mucho más de lo esperado.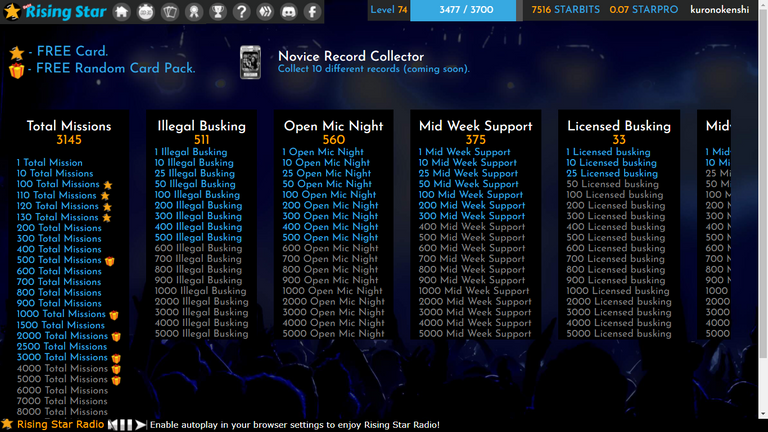 All images were taken from my Rising Star account
---
Separator Images:
---
---