Rising Star Game - Progress In My Twenty-First Week [ENG -ESP]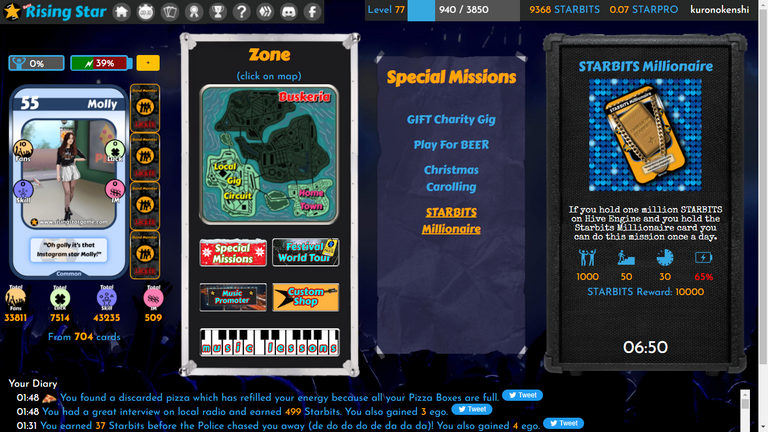 A big greeting to all the users in Rising Star Game. Continuing with my weekly progress posts, this time I'm already in my 21st week since I started playing in Rising Star. For this week besides buying again 12 booster packs with a combo of 12 packs for 100K Starbits, I also bought several individual cards to increase my stats in a better way. Below, I will show you all the booster openings, but sadly I was not very lucky and did not get any Epic cards nor did I get the Christmas season card.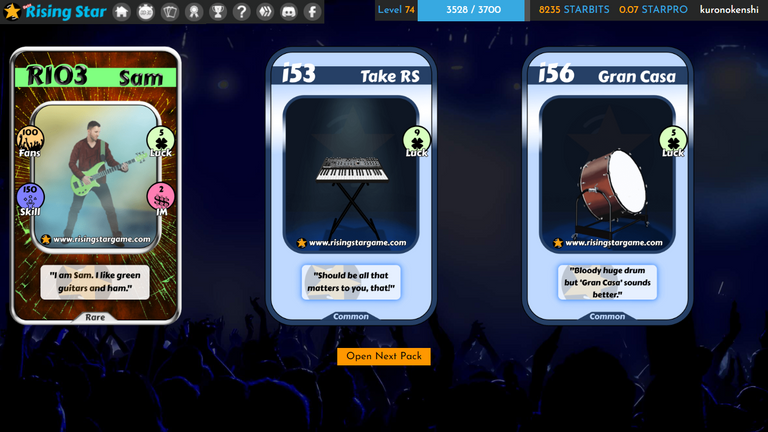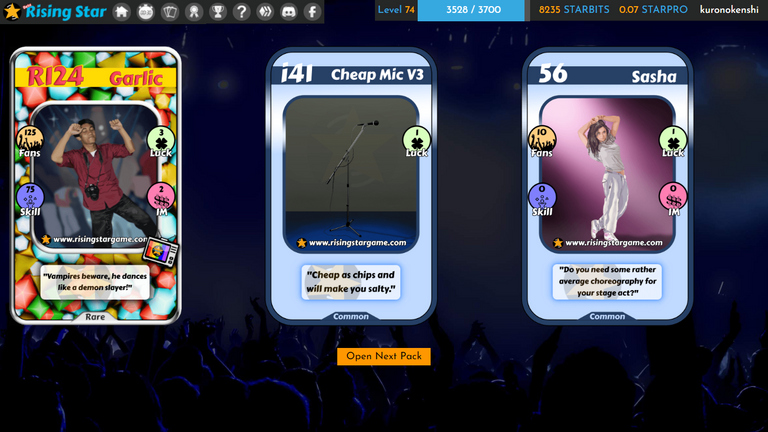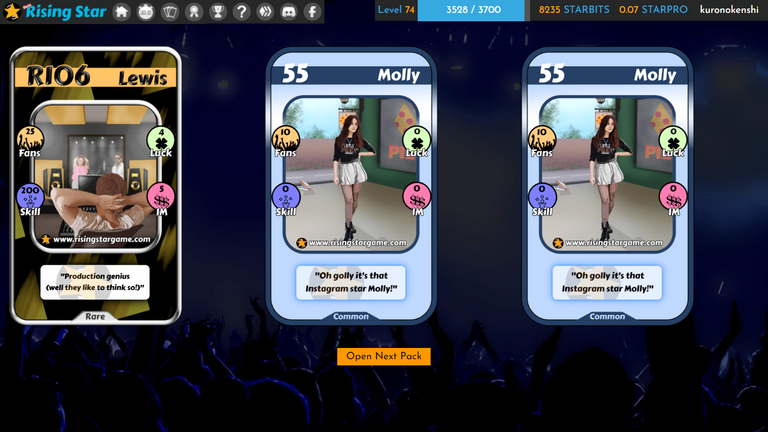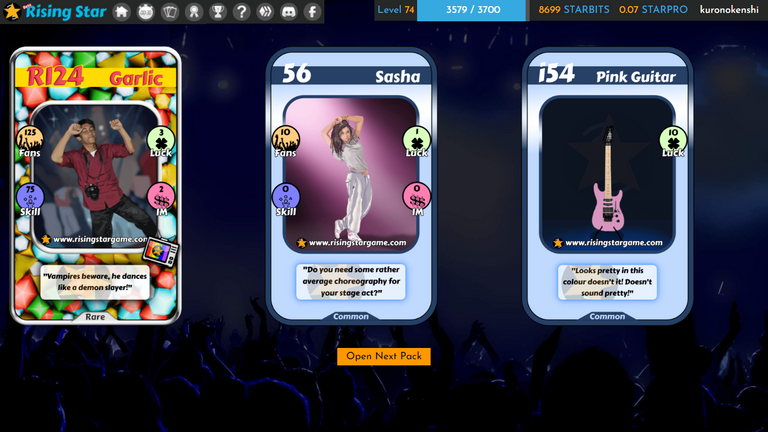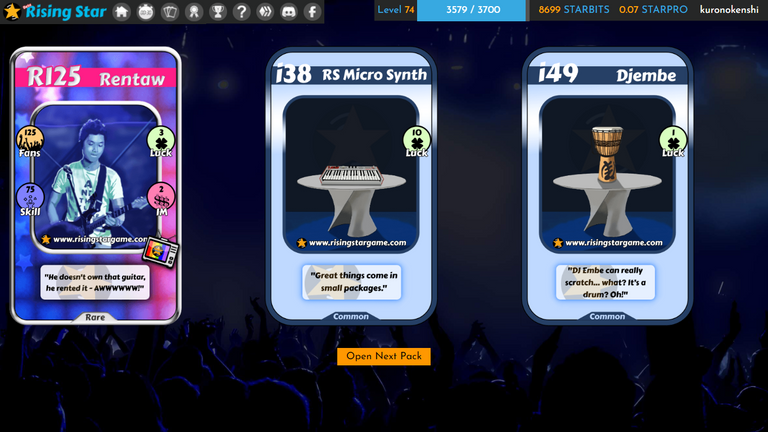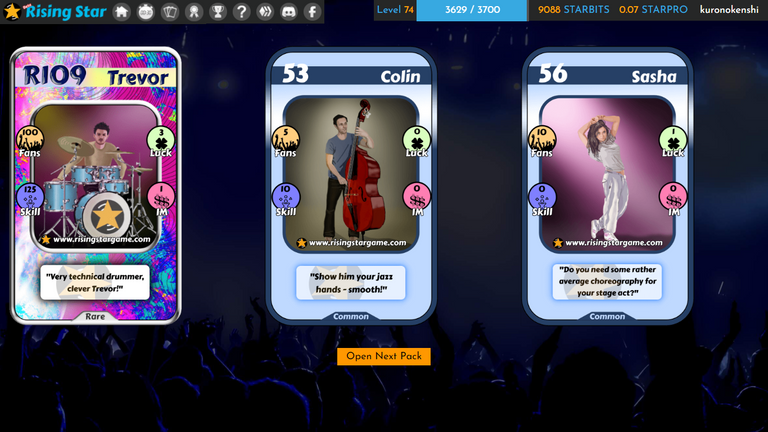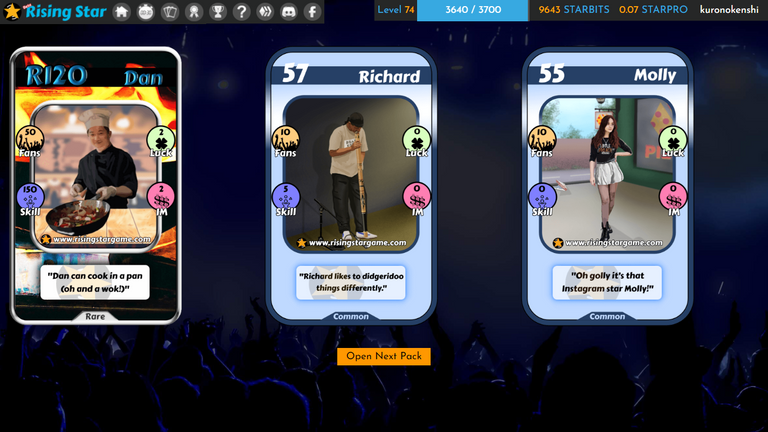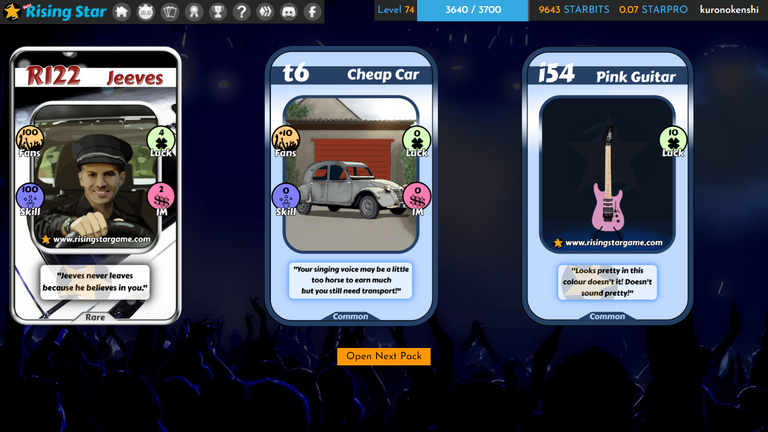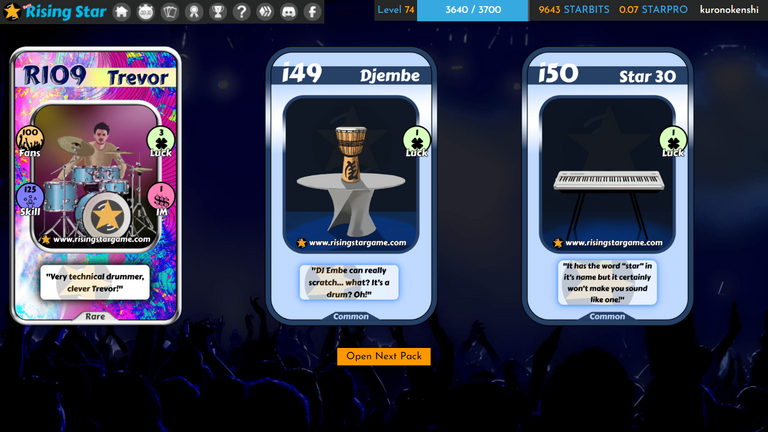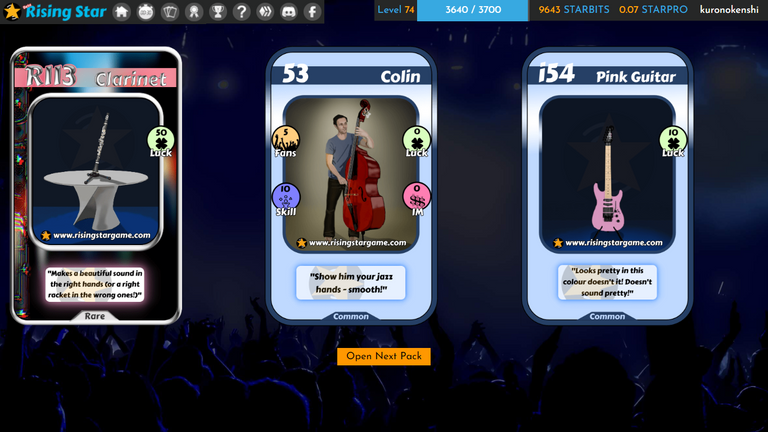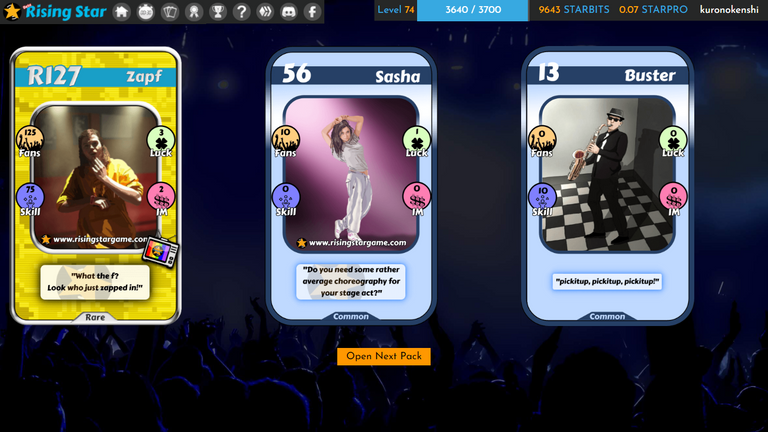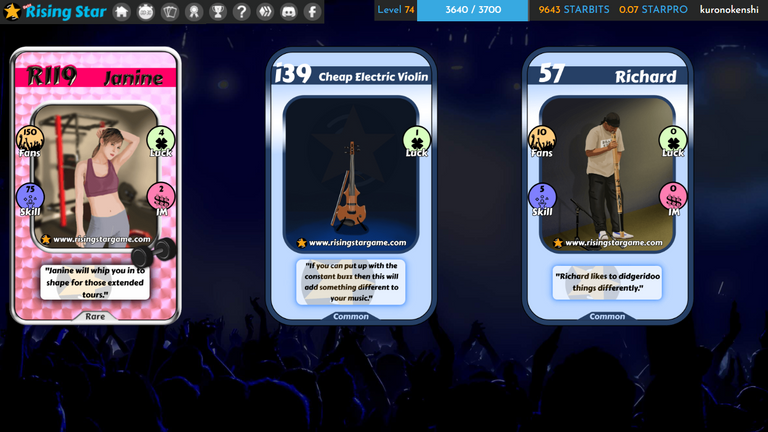 A good thing is that all the Rare cards I got only one was an instrument so I got good musicians to slightly improve my stats both in FANS and SKILL. The most outstanding was R119 Janine who gives me a total of 150 FANS which is very useful to improve my number of FANS and with it the total of Starbits I can get from the missions. In addition to all these cards I also invested what was produced during the week to buy several cards of R127 Zapf that I got at a good price and I thought it was a good card because of its 125 FANS. In order to level up all the extra EGO I got after buying musician cards I also bought a lot of instrument cards to get much more SKILL per music lesson and keep a high SKILL percentage.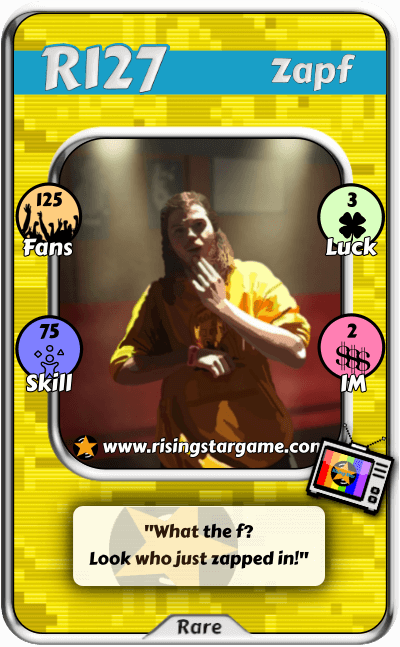 After all these purchases my stats went up to: 31175 FANS, 7514 LUCK, 43235 SKILL where 20607 are product of the music lessons and lastly 509 IM. All this product of a total of 704 cards. I also managed to reach a total of 3364 completed missions and my next reward will be a free envelope at 4000 completed missions, likewise reached level 77 but I have not yet unlocked any of the members of the band, but I guess it will be a matter of waiting to get them.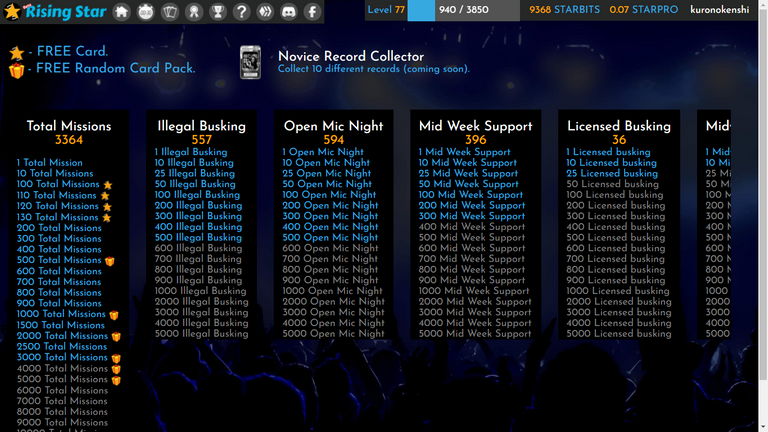 Translated with www.DeepL.com/Translator (free version)
All images were taken from my Rising Star account
Separator Images:
---
---

---
---
Español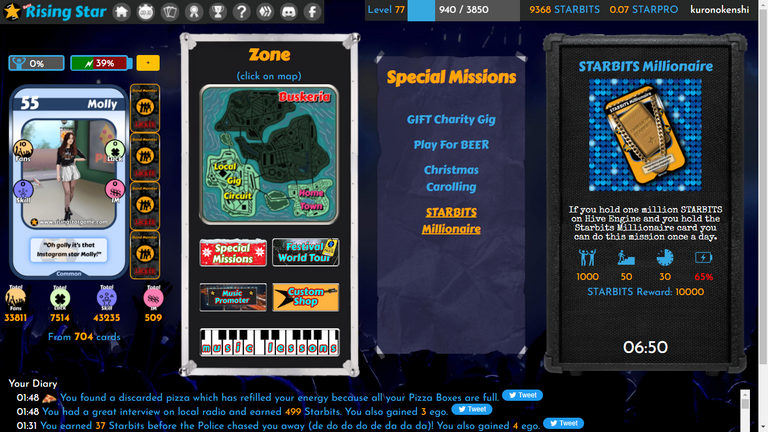 Un fuerte saludo para todos los usuarios en Rising Star Game. Continuando con mis post de avances semanales, en esta ocasión ya voy por mi semana número 21 desde que comencé a jugar en Rising Star. Para esta semana ademas de volver a comprar 12 sobres mediante con combo de 12 sobres por 100K Starbits, también compre varias cartas individuales para conseguir aumentar de mejor manera mis estadísticas. A continuación, les mostraré todas las aperturas de sobres, pero tristemente en las mismas no tuve gran suerte y no obtuve ninguna carta Épica ni tampoco la carta de temporada Navideña.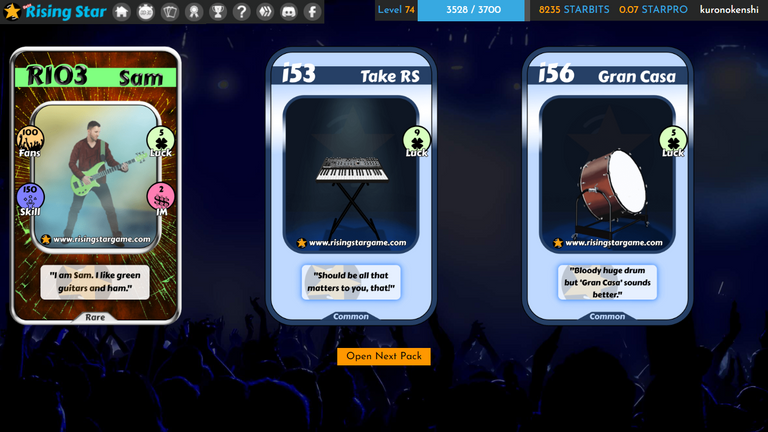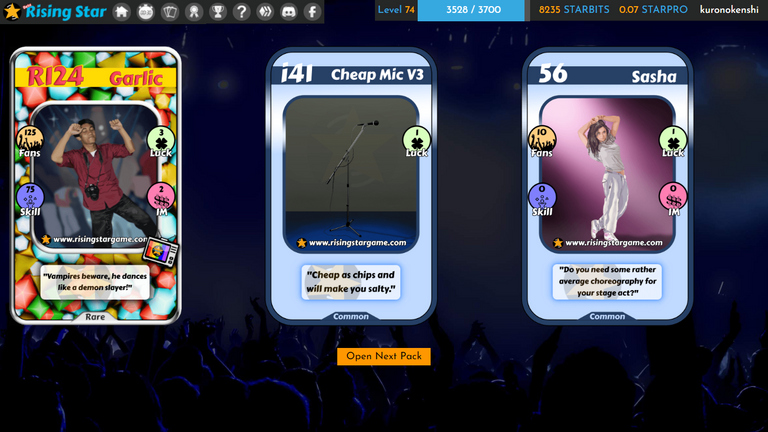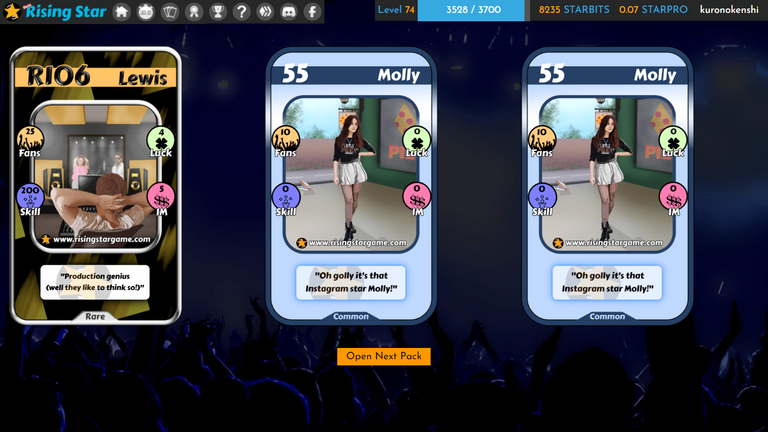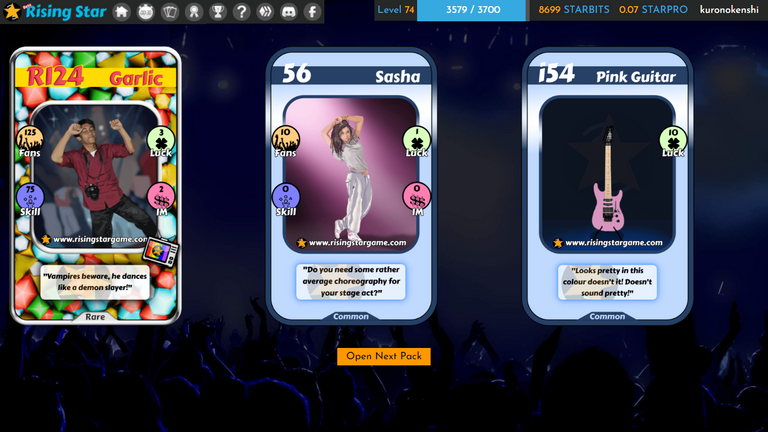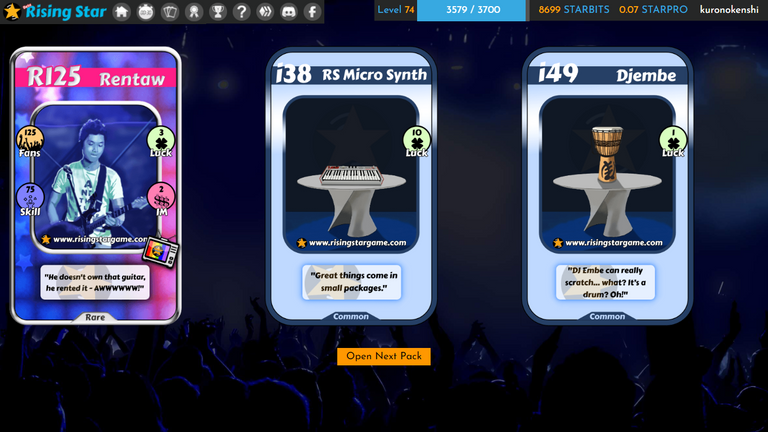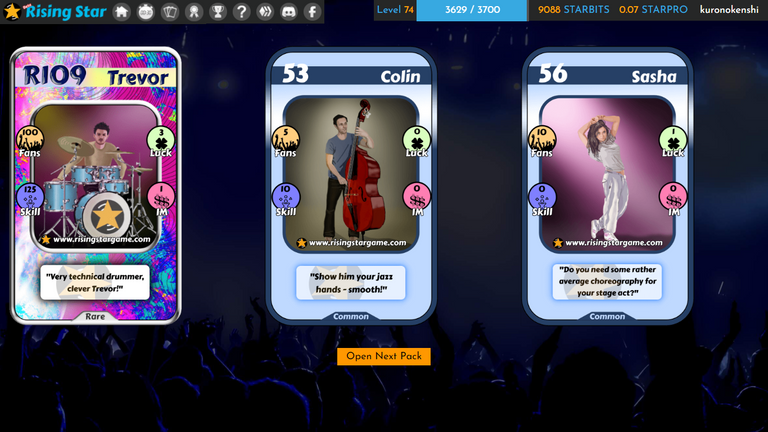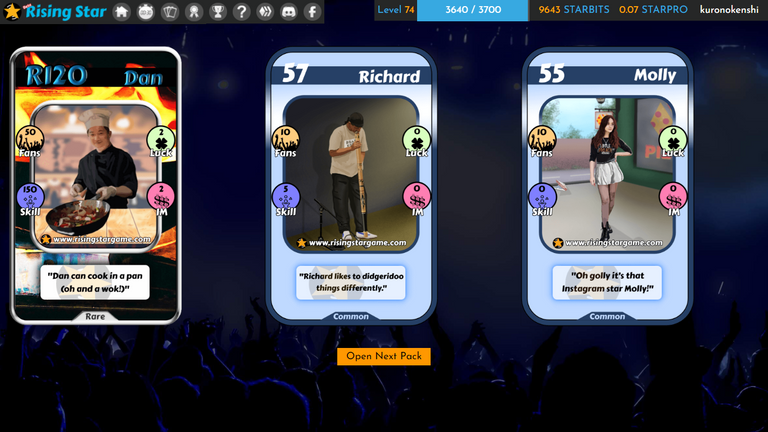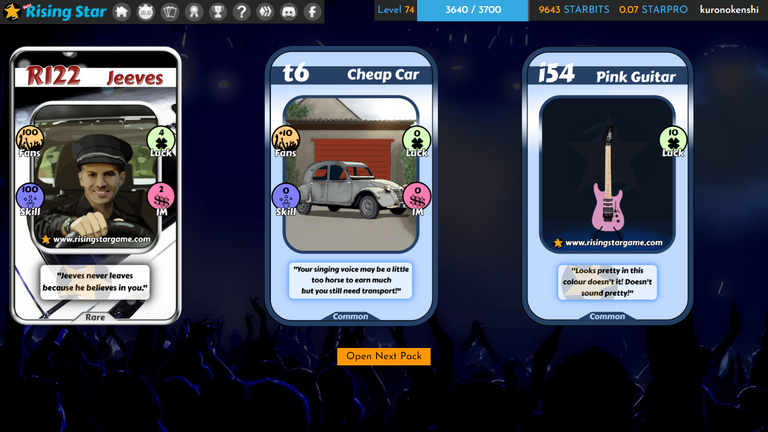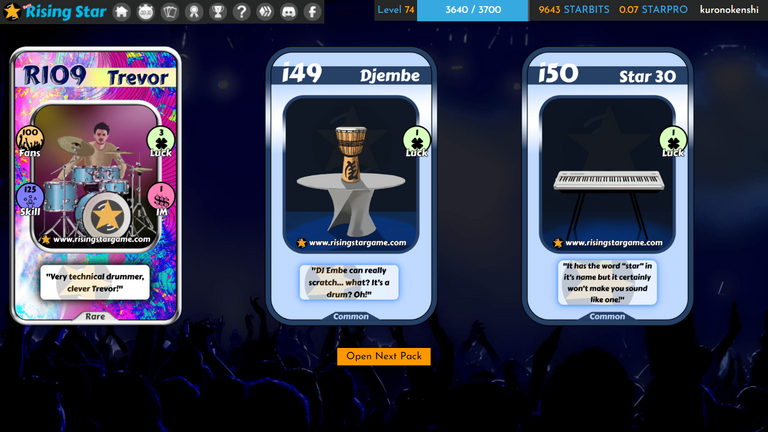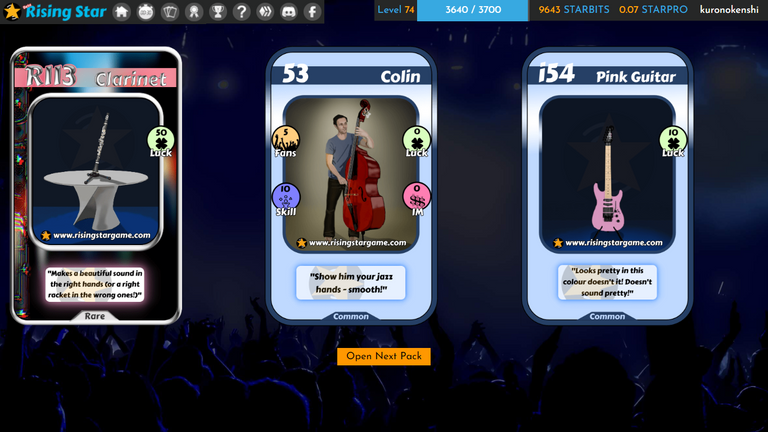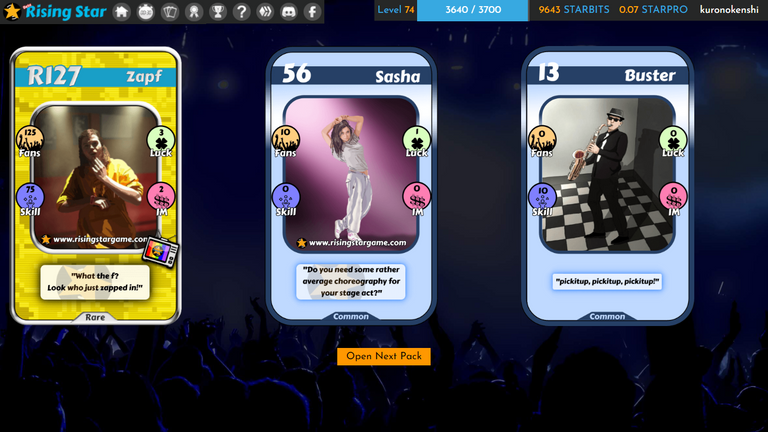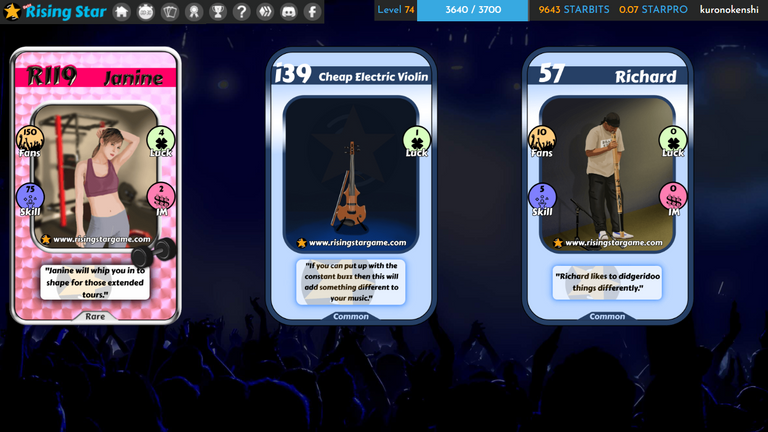 Algo bueno es que todas las cartas Raras que obtuve solamente una fue un instrumento por lo cual conseguí buenos músicos para mejorar ligeramente mis estadísticas tanto en FANS como en SKILL. Las más destaca se podría decir que fue R119 Janine quien me da un total de 150 FANS que me sirve bastante para mejorar mi número de FANS y con ello el total de Starbits que puede conseguir producto de las misiones. Adicionalmente a todas estas cartas también invertí lo producido a lo largo de la semana para comprar varias cartas de R127 Zapf que conseguí a buen precio y me pareció buena carta debido a sus 125 FANS. Para poder nivelar todo el EGO adicional que conseguí luego de las compras de cartas de músicos también compre una gran cantidad de cartas de instrumentos para de esa manera sacar muchos más SKILL por lección de música y mantener un porcentaje alto de SKILL.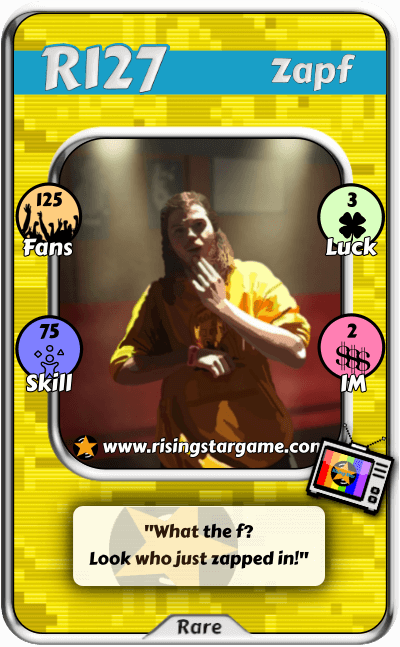 Luego de todas estas compras mis estadísticas subieron bastante quedando en: 31175 FANS, 7514 LUCK, 43235 SKILL en donde 20607 son producto de las lecciones de música y por ultimo 509 IM. Todo esto producto de un total de 704 cartas. También logre alcanzar un total 3364 misiones completadas y mi siguiente recompensa será un sobre gratis a las 4000 misiones completadas, del mismo modo alcance el nivel 77 pero aún no he desbloqueado ninguno de los miembros de la banda, pero supongo que todo será cuestión de esperar hasta conseguirlos.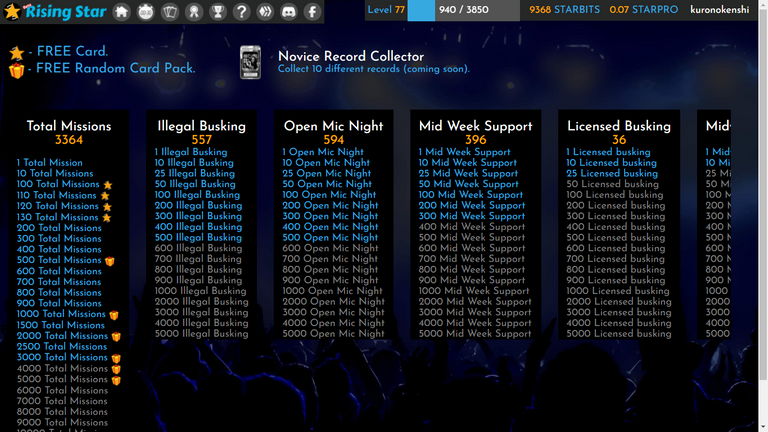 All images were taken from my Rising Star account
---
Separator Images:
---
---